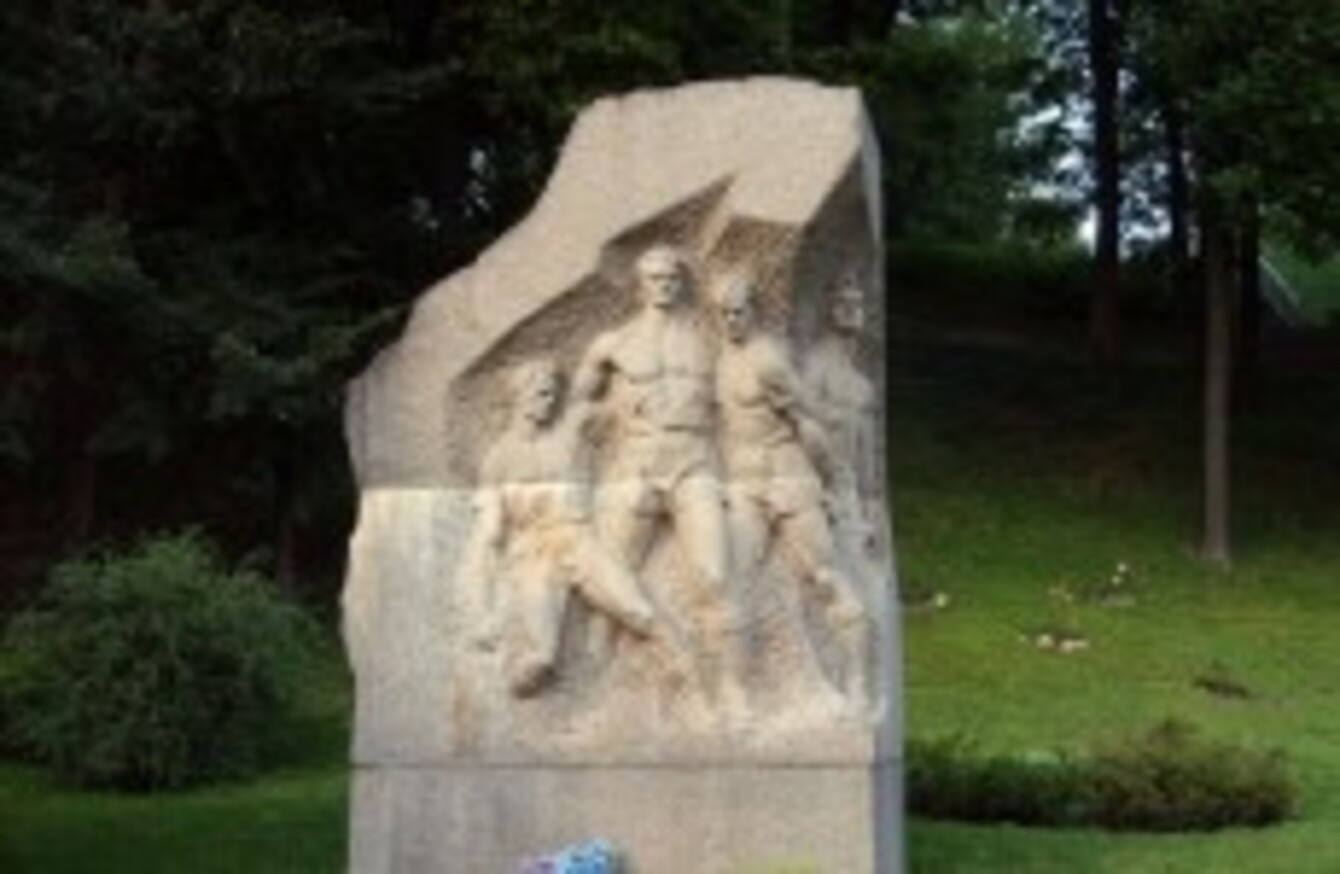 Image: Twitter @_MMTB_
Image: Twitter @_MMTB_
KIEV HOSTS ENGLAND'S quarter final tonight, an association with football that goes well beyond its famous teams Dynamo and Lokomotiv to one of the most talked-about matches in history.
The Start stadium is a crumbling arena not far from the city centre. The letters START are mounted on a stone colonnade but the letter "R" looks ready to fall at any minute onto the abandoned wooden terraces overrun with rubbish and weeds.
The dilapidated venue is a far cry from the overhauled Olympic Stadium, where the two best teams in European football will run out on July 1 in front of a capacity 60,000 crowd.
But 70 years ago the Start stadium hosted a match forever etched in the memory of Ukrainians, when a team made up of former Dynamo and Lokomotiv players freed from a prison camp played a FlakElf XI of soldiers and pilots of the Nazi German occupiers.
On August 9, 1942, several thousand people were in the then Zenit stadium to watch FC Start win 5-3 in a game later dubbed "The Death Match".
The story began several months before when former Dynamo goalkeeper Nikolai Trusevich found work after his release from a prison camp in a Kiev bakery, with the city occupied by German troops after they pushed back the Soviet Union's Red Army a year earlier.
Trusevich's boss, Josef Kordi, was a Dynamo fan and persuaded him to put together a team with some of his former team-mates, who found themselves on the streets, to play in a league organised by their hated occupiers.
With seven former Dynamo players and three from Lokomotiv, Start were very strong. The team, which played in red, won six times before playing FlakElf for the first time on August 6.
Start's winning run did not go down well with the German authorities, who thought it would be a source of inspiration for the local population and hit the morale of its own troops.
Nevertheless, Start ran out emphatic 5-1 winners and a rematch was organised for just three days later.
The stands at Zenit stadium were full on August 9 with German police and soldiers among the crowds. The match itself was hard-fought and marked by dubious refereeing by an SS officer.
Despite that, Start went into half-time 3-1 up. The players are then said to have received a visit from two German officials asking them them to throw the match. The team won the game 5-3.
History and legend diverge from reality after the final whistle.
In the 1960s, Soviet propaganda seized on the Start story and made two films based on it, suggesting that the 11 players were arrested after the match and immediately executed while still wearing their football jerseys.
In reality, that didn't happen. Start even played another match after "The Death Match" — and won again.
But several players on the team were later arrested on suspicion of being members of the Soviet secret political police, the NKVD. One of them, Nikolai Korotkikh, was tortured and died.
Other players were sent to the Syrets labour camp in the Kiev suburbs.
See Sport
Differently
Get closer to the stories that matter with exclusive analysis, insight and debate in The42 Membership
Become a Member
Smiling
Ivan Kuzmenko, Alexei Klimenko and Nikolai Trusevich were executed but a German court ruled in 2005 that it was impossible to prove that their deaths were linked to "The Death Match".
The same inquiry was not able either to establish beyond doubt whether German officials visited the Start dressing room at half-time and a photo even exists of the two teams at the end of the match, smiling.
Following the fall of the Soviet Union, one member of Start who survived the war, Makar Goncharenko, spoke out about how his former team-mates met their deaths.
"They didn't all die because they were good footballers or Dynamo players. They died like a lot of other Soviets because two totalitarian regimes went to war.
"They were victims of a wide-scale massacre. The death of these players isn't very different from those of a lot of other people," he said.
In Kiev, two monuments pay tribute to the FC Start players.
One is in front of the Dynamo stadium. The other, showing a player with a ball at his feet and striking down a Nazi eagle with Swastika eyes, is inside the walls of Start stadium.