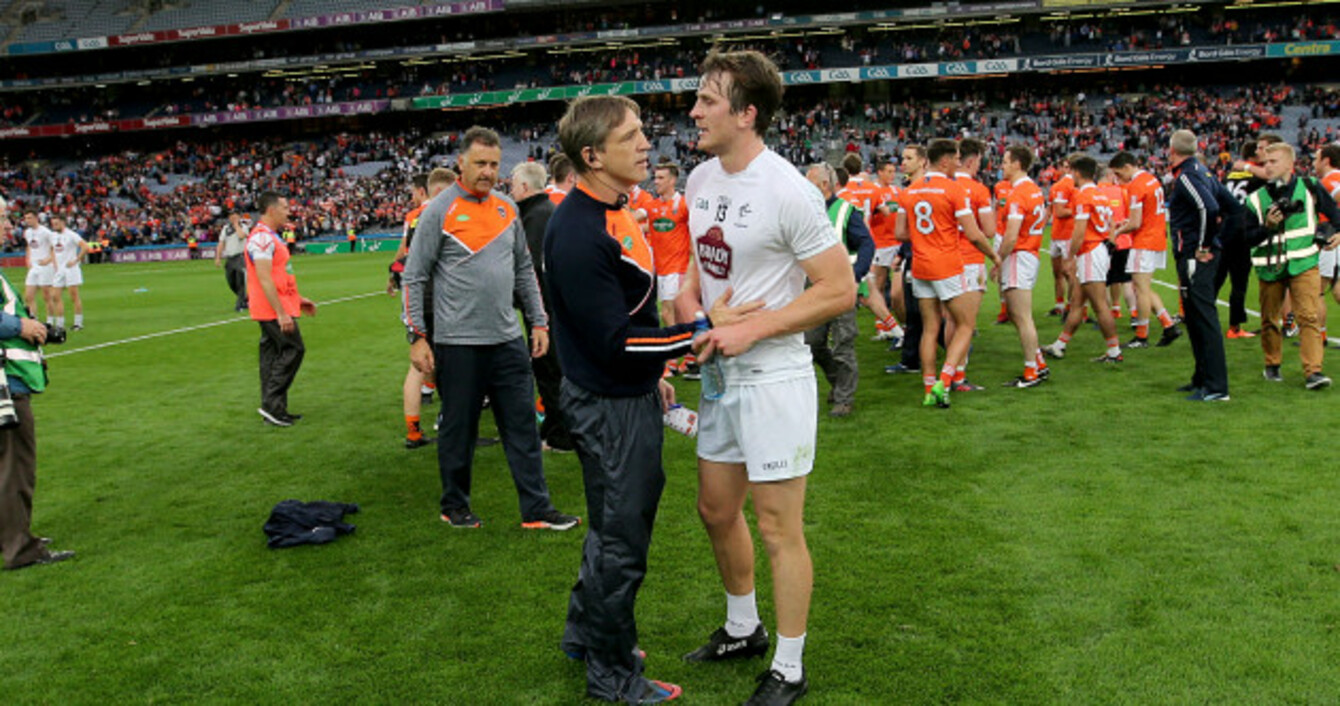 Armagh boss Kieran McGeeney and Kildare forward Paddy Brophy after the game.
Image: Donall Farmer/INPHO
Armagh boss Kieran McGeeney and Kildare forward Paddy Brophy after the game.
Image: Donall Farmer/INPHO
KIERAN MCGEENEY NEVER stops plotting and planning.
He brought a team that will play Division 3 next spring to Croke Park last night and put them out against a team that will be in Division 1.
League positions didn't concern him, he put a plan together for a championship match and it paid off. His Armagh team delivered a really big win over a Kildare side who had no shortage of confident backers before they went into action.
I felt Kildare would have enough to win but the level of confidence and loose talk about winning margins worried me. To be fair it wasn't just in Kildare that the team were tipped to win, it seemed the consensus around the country from all the talk that I heard about the game.
I was speaking to Kieran a few weeks back and knew that he was really down about how Armagh's match against Down in Ulster had gone. He talked about how they were a good group of lads, were continuing to learn and showed a great work ethic.
That was always the key ingredient with Kieran as a manager. You have to bring that great work ethic to every single training session and match, it can't be something you just switch on every now and again.
His players displayed that last night in Croke Park from the start and look at the contribution the Armagh subs made. Ethan Rafferty and Joe McElroy kicked some big points, Oisin O'Neill helped settle the game for Armagh in the last quarter.
It was an impressive win and Kieran will be delighted but watching him from the press box at the final whistle, I was struck by how reserved he was. Kieran spent more time going around to the Kildare lads to commiserate than celebrating with his own players.
Kildare was a big part of Kieran's GAA career. To see him so gracious in victory and not jumping around didn't surprise me. It pained me to see him put Kildare to the sword but I have to hand it to him for the achievement in turning Armagh's season around. I've been consistent in my view that I think he's a brilliant manager.
I text him during the week to wish him luck and told him of my hope that Armagh would lose by a point. They deserved to win by three points and I'd love to see him keep going this season.
It was a really disappointing night for Kildare football. Little things didn't work out. Two shots that hit the post in the first half by Niall Kelly and Ben McCormack. An effort to block down Andrew Murnin's shot before half-time and the ball spun his way for the goal rather than allowing Kildare to clear.
But I thought overall Armagh had that great hunger and drive. For anyone watching, there was only one team on their game when it was in the melting pot. Eoin Doyle was a big loss at centre-back, he's the conductor of the orchestra there for Kildare.
David Hyland went to centre-back but he was bombing forward too much in my opinion, wasting energy that would have been better served in defence. Behind him then Ollie Lyons was in a bit of trouble with Jamie Clarke in the first half and particularly in the second half.
Clarke delivered a big display that everyone knew he had in his locker. No better stage than Croke Park to do it, he looked really confident on the ball and was constantly able to peel away from the Kildare defence to point. Alongside him in attack, Gavin McParland kicked a few really good points.
Kildare never looked like getting a goal. Brendan Donaghy played the sweeper role very well, sitting in front of the full back line and that offered Armagh important protection. Kildare tended at times not to run the ball, coming back around to recycle the move instead.
When Kildare go lateral, they can look an average team. It's when they move the ball at pace, that they really make an impact. Fergal Conway was probably the best at breaking the line last night, he used his strength brilliantly.
After half-time saw Kildare have their best spell of the game. They kicked some great points but they had to put a lot into pegging Armagh back and never got two ahead. Niall Kelly showed flashes of brilliance but he was well marshalled by Mark Shields. I know how highly Kieran rates Niall and knew that Armagh would pay a lot of attention to him.
Armagh finished the stronger and it was disappointing to see Kildare not finish the job. I know it's easy to say that from the stands. I was out on that pitch often enough, in those pressurised situations in the closing stages of the game and know how difficult it is to dig out a victory.
I got flashbacks to Donegal in 2011 while watching the match. It was gripping stuff, Kildare again playing a major part in it but ultimately suffering defeat under the floodlights in Croke Park.
The stadium hasn't been a happy hunting ground and there's a lot of talk in Kildare about it. I remember many years ago at a Féile final in Semple Stadium, the late Tony Carew saying if you can't hurl here lads, you can't hurl anywhere.
I was reminded of that watching Kildare in Croke Park last night. To me the view of the fans about the stadium is not good enough, there is no excuse for not playing well on the biggest pitch in the country. I know the Kildare players won't be using that as an excuse. But we have to as a county start winning these tight games and not struggle when the pressure comes on in the last few minutes.
Of course it's easier said than done. But there's no one better than Cian and his management team to figure it out over the winter. Division 1 football will be good for Kildare next year. Maintaining status there is crucial so the players can learn their trade at the top. There's plenty positives from 2017 for Kildare but the last couple of games mean it all ends on a disappointing note.
It was a good evening's work for Monaghan yesterday. They killed the match off in the second half. Conor McManus was a massive player for them from frees and the Hughes brothers showed again at midfield why you'd love to go to war with them.
I was really impressed by Conor McCarthy when he came on. Every time he's introduced, he seems to deliver. I was talking to Paul Finlay before hand and I know people in Monaghan football have massive time for him. A concern for them was seeing Drew Wyle have another tough battle with Connaire Harrison, excellent again for Down. Monaghan will be happy enough to have got through it. They still seem a little bit off the top three or four but they have another shot at a quarter-final again.
A final word on the double-header of games. We got 77 scores and anyone who came in to watch or tuned in on television, would have been treated to a couple of brilliant matches. All this talk about the football being dead that was going around a couple of years ago has been proven for the nonsense that it was. Last night showed there's plenty life left in the sport yet.
The42 is on Instagram! Tap the button below on your phone to follow us!