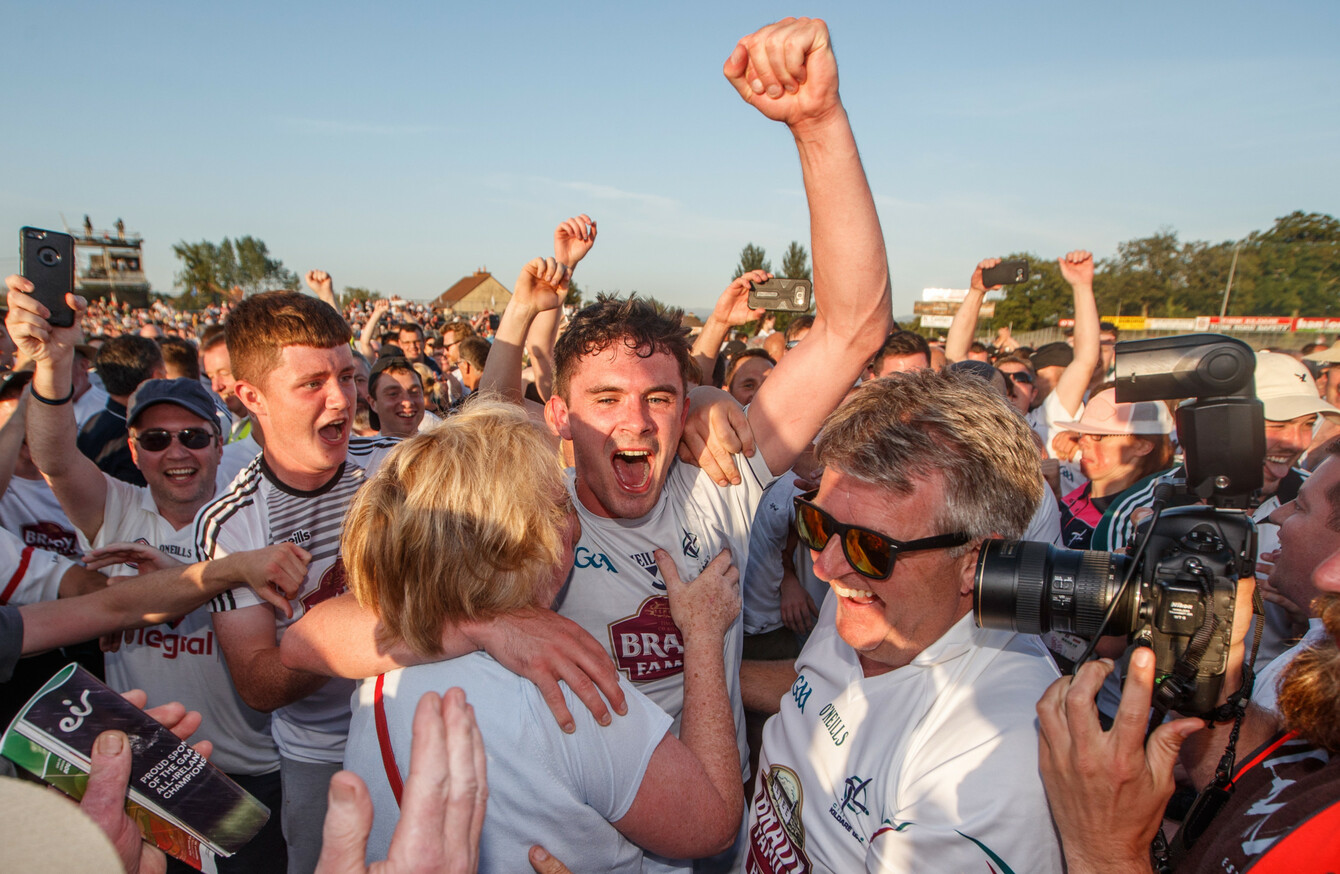 David Hyland celebrates Kildare's victory with his mother Maire after the game.
Image: James Crombie/INPHO
David Hyland celebrates Kildare's victory with his mother Maire after the game.
Image: James Crombie/INPHO
1. A famous Newbridge football night
A storm had whipped up all week over the location of this game but what ensued was a thorough vindication for those campaigning for provincial grounds to be utilised more and teams to be granted home advantage.
The atmosphere built steadily in Newbridge over the afternoon and come throw-in, St Conleth's Park pulsed with anticipation. It was one of those brilliant Saturday qualifier nights, enhanced by the good weather, and was the best supporter experience in these parts since Mick O'Dwyer's team won a 2001 epic against Donegal. It was a football night in Newbridge that the locals will remember.
2. Kildare claim qualifier scalp
Staging the match on home soil was one thing, the pre-match task then facing Kildare was for their side to produce a performance on the pitch and cap off a remarkable week with a victory that would inject major confidence into their setup. From the start Cian O'Neill's team were tuned in and indicated they had not been side-tracked by the row that erupted over the venue.
Tied at 0-9 apiece at the break and 0-14 apiece by the 49th minute, they then kicked for home decisively. By the final whistle they were celebrating after taking down a team of some stature and claiming a big qualifier scalp. For a side relegated from Division 1 and dumped out of Leinster by Carlow previously in 2018, the month of June has seen quite a revival.
3. Mayo run out of steam at the finish
In the end, it was just too much to expect Mayo to keep coming through these stern qualifier examinations. The resolve of this team has been unquestionable as they negotiated tricky hurdles over the last few summers but last night in the finale they could not match the energy of the team they were facing.
After Jason Doherty's 52nd minute point, Mayo only hit another 0-5 in the ensuing 25-odd minutes of action and one of those was in the last play of the game. With first-choice midfielders Tom Parsons and Seamus O'Shea injured and watching on from the stands, their chances were hampered. They kept fighting to the finish but ran out of steam as they tried to salvage their season.
4. Kildare's scoretaking and subs prove key 
The paltry total of 1-10 that they posted on the opening day in Leinster against Carlow at the end of May, was a striking facet of Kildare's play. It's one they have certainly rectified. 2-22 on the road against Derry, 1-16 away against Longford and now registering 0-21 against Mayo. Nine different players got in on the scoring act last night and they hit 0-14 from play.
Their subs were also a vital ingredient in propelling them to victory. Niall Kelly got on the scoresheet and was denied a goal by David Clarke, while David Slattery and Chris Healy injected dynamism to Kildare's play, notably helping them stretch Mayo by tearing into space on the wings. The experienced Eamonn Callaghan did his bit as well, confidently stroking over their final point of the game when he cut in from the left wing.
5. A strange end of season without Mayo
And so Mayo's 2018 season concludes on the last night of June. It's an early exit for a side that we have grown accustomed to seeing duel it out on the defining days of August and September. For the first time since 2010, Mayo will not be involved in the All-Ireland senior football last four.
They have packed quite an amount into that time frame – reaching four All-Ireland finals, losing out in two All-Ireland semi-final replays and another semi-final reversal back in 2011. There will be a period of reflection now and for a bunch of their long-serving players, the question of whether to go again will surface in the coming months.