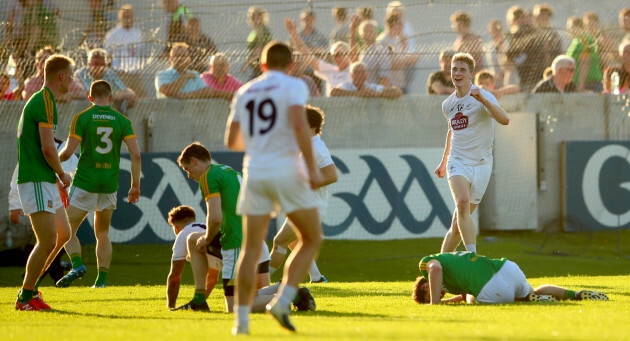 James Crombie / INPHO Daniel Flynn celebrates Kildare's second goal against Meath. James Crombie / INPHO / INPHO
ALTHOUGH MUCH OF the talk pre game was how both these teams were on a similar trajectory with new managers it was clear by the end that Kildare are much further down that road.
This game was won in the first half. Kildare out shot Meath by a ratio of 2:1 and were ahead by nine points.
That had a number of wides but that was just a reflection of how dominant they were. Their shot percentage at 50% for the first half is not a bad return.
The warm conditions meant there was a drop off in intensity but Kildare showed enough dominance in the first half to play the second in a lower gear.
Much of the talk before the game was the pace of the Meath attack but Kildare have pace throughout the team and the structure put in place but Cian O'Neill means they can fully exploit it.
Kildare's first score of the game came from wing back Keith Cribbin injecting some pace in proceedings.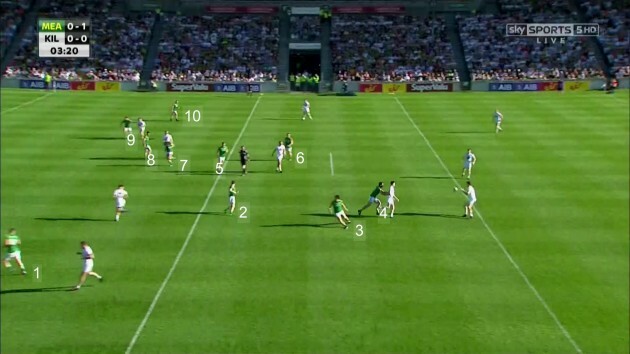 The ball finds its way to Cribbin and again Meath look fine defensively, with ten players in the shot above.
He does a nice side-step but the whole middle just opens up for him.
It forces the Meath cover to come out which leaves McNally one v one inside and he kicks a lovely point to kickstart his day.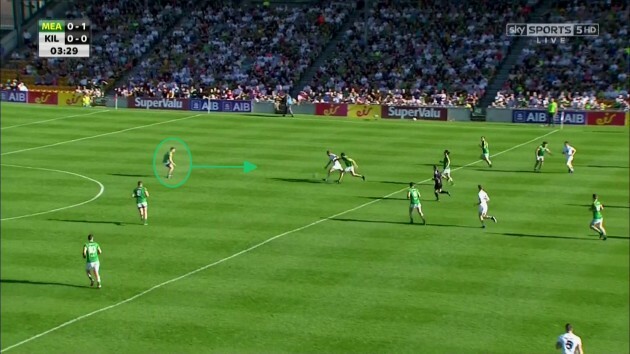 It was all too easy for Cribbin despite Meath having the bodies they just failed to put any really pressure on.
Every time the Kildare attack looked to stall they had a speedy runner arriving with almost perfect timing.
Eoin Doyle is captain and leader and his role within this team is to sit at all times.
He ventured forward once or twice but his role is much more about being a traditional centre back and holding the middle and allowing others around him take risks in attack.
Ollie Lyons is one of those players who will inject pace into the attack when it's most needed.
Here Meath drop a shot short in the first few minutes and it's Lyons who is closest to Mark Donnellan when he catches it.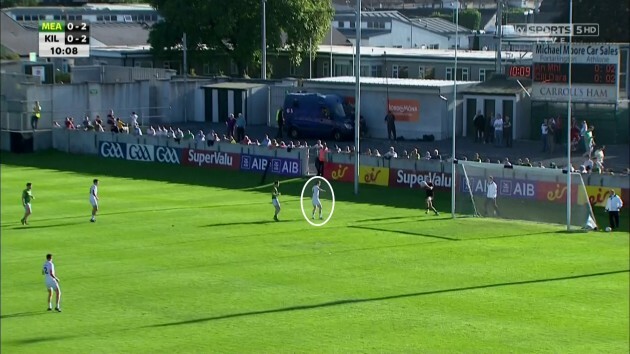 As the play progresses it's Doyle who sits in the middle and ultimately allows Lyons make his break forward.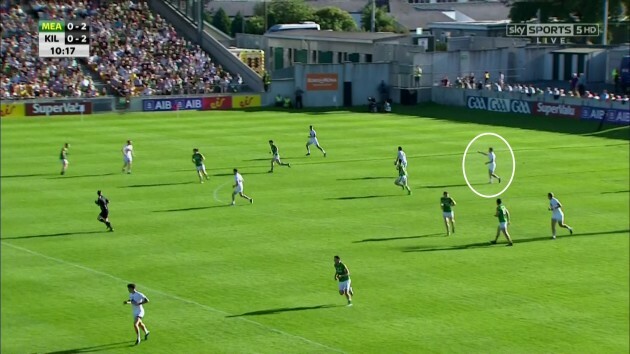 From a Meath perspective what has to be most disappointing is the lack of pressure they get on any Kildare player.
The problem here is the gap between lines. Meath have seven forwards in shot here with most of the remaining outfield players inside their own half.
If you are going to commit that many forwards in advanced areas, you have to put pressure on or else you should retreat.
In the end they do neither and Conway has acres of space.
Feeley picks the ball up in midfield just as Lyons arrives in shot.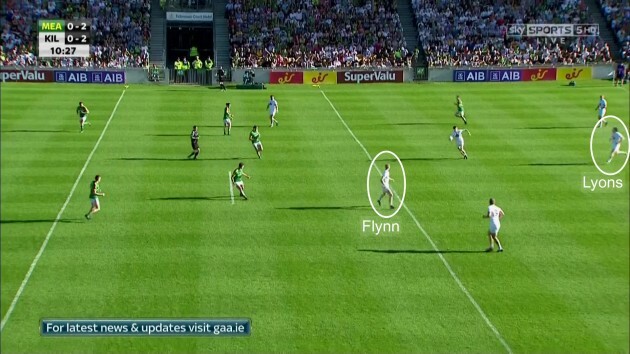 Rather than just running straight lines, Kildare set it up so as Feely comes across the pitch and Lyons can exploit the space opened between O'Sullivan and Menton.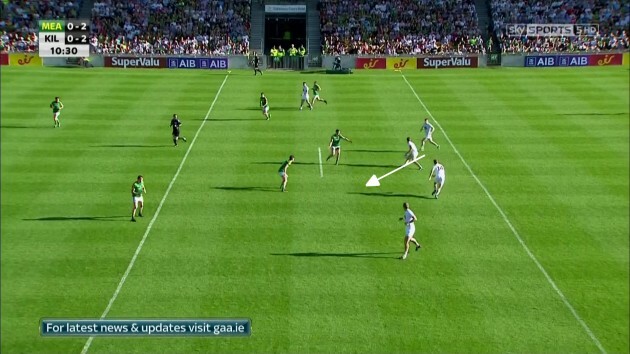 Moolick and Conway (two widest players) staying wide helps this play but the Meath players need to be more aware of where the danger is and cut off that middle space quicker.
Even as Lyons gets into space, Meath wing-back Padraic Harnan follows Niall Kelly out of the space that Lyons is running straight into.
In some aspects it's understandable that players have their mindset on marking a man, but we see with the better teams and defenders they are able to make decisions of when to follow their man and when to stand their ground.
They have an understanding of where the danger is right now rather than where their man is going.
Cillian O'Sullivan is running into the space that Niall Kelly is heading towards. Lyons is the danger down the middle but Harnan makes it too easy.
Niall Kelly does the right thing in getting out of the space but Harnan should realise who the real danger is here and stop Lyons.
Instead Lyons keeps going untouched and Flynn does brilliantly to create just a yard of space.
His pace and power was one of the standout factors in the game.
In this move he comes out to midfield but doesn't get in the way and when needed his run is timed to perfection.
Meath have a sweeper here. There is no problem with numbers but the speed of the attack and the decision making further out the field means there is very little he can do to stop the move.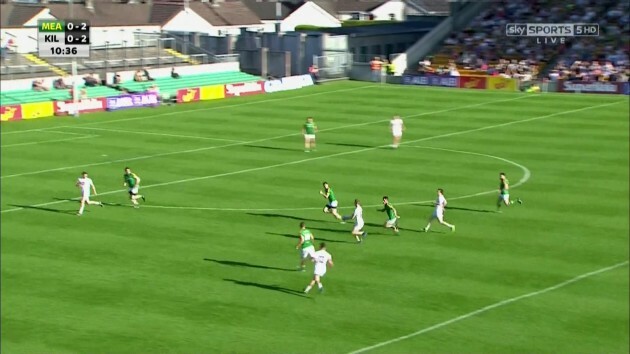 When Flynn takes his shot it's also worth pointing out that Brophy and McNally are deep enough to have kept the sweeper occupied and leave that space at the top of the D.
The second goal summed up a lot of what Kildare did well and Meath lacked. Peter Kelly comes out with the ball and despite being in the clear fumbles the ball.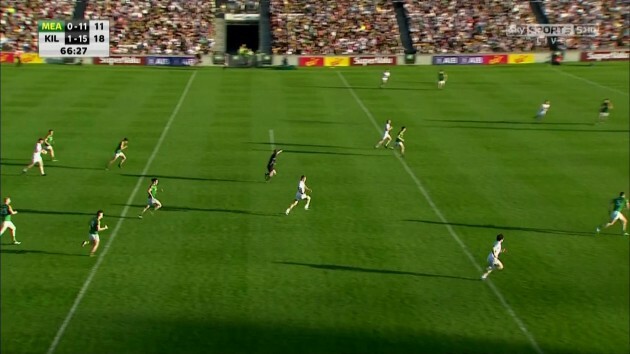 He ends up with three Meath men around him.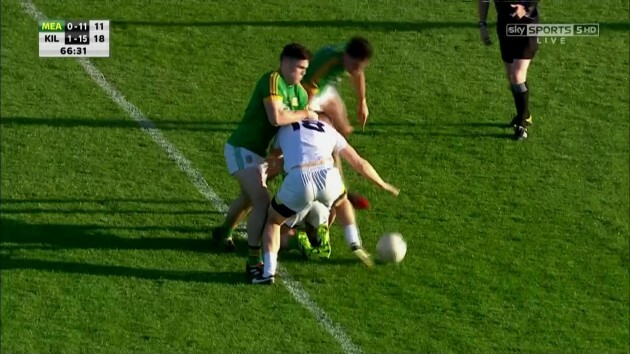 But Kelly still manages to out muscle them and come out with the ball. The game is probably done at this stage but there is no way Kelly should get out of here with the ball.
A quick pass and then lay off to Lyons arriving at pace.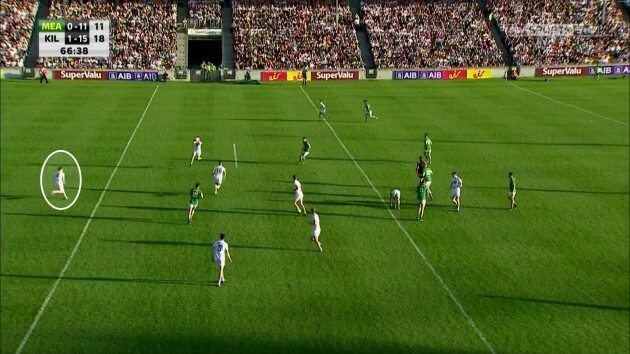 This time it's David Slattery who had a wonderful game that puts the after burners on and goes straight through the middle of the Meath midfield.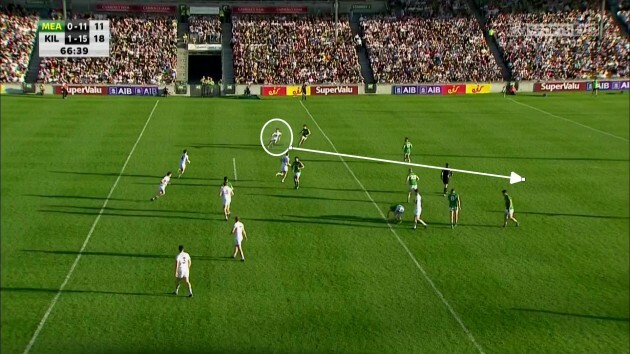 He's given himself some space to run into and this is difficult to defend against.
His run pulls in three Meath defenders and in the end it's a simple tap in for Flynn. This move showed Kildare's skill and timing in getting quick players on the ball at just the right time.
But it also showed Meath's lack of tackling in the middle third to stop this attack. Often Meath had the numbers but just made poor decisions and failed to get any sort of aggression into their game.
The individual battles throughout the field were won by Kildare. Mick O'Grady and David Hyland did great jobs in their man marking roles and having Doyle as the cover allows them to be aggressive in the tackle.
Physically Kildare just out-muscled Meath in every area of the pitch.
Kildare's solid spine of Doyle, Moolick, Feeley, Flynn and Brophy offers them all the brawn and no less skill as the likes of Cribbin, Slattery, Lyons and McNally offer the pace and precision to attack at pace and from all areas of the field.
All attention will now turn to the Leinster final and a likely date with Dublin. Maybe it's a bit early for this Kildare team but they look a whole lot more positive than their two Leinster outings against Wexford and Westmeath last year.
If nothing else they should be as competitive as any team in Leinster has been in the last five years.
The42 is on Instagram! Tap the button below on your phone to follow us!