It's all on the line this evening in Newbridge as the Lilywhites and Tyrone meet in a mouth-watering Round 3 Qualifier.
With questions asked about the future prospects of the losing manager in this tie, these are the teams Mickey Harte and Cian O'Neill have picked:
Kildare
1. Mark Donnellan (Maynooth)
2. Mark Dempsey (Moorefield)
3. Mick O'Grady (Celbridge)
4. Peter Kelly (Two Mile House)
5. Cian O'Donoghue (Clane)
6. Eoin Doyle (Naas – captain)
7. David Hyland (Athy)
8. Kevin Feely (Athy)
9. Fergal Conway (Celbridge)
10. David Slattery (Confey)
11. Chris Healy (Two Mile House)
12. Keith Cribbin (Johnstownbridge)
13. Adam Tyrrell (Moorefield)
14. Ben McCormack (Sarsfields)
15. Neil Flynn (Maynooth)
Tyrone
1. Niall Morgan (Edendork)
2. Hugh Pat McGeary (Pomeroy)
3. Ronan McNamee (Aghyaran)
4. Rory Brennan (Trillick)
5. Michael Cassidy (Ardboe)
6. Kieran McGeary (Pomeroy)
7. Frank Burns (Pomeroy)
8. Colm Cavanagh (Moy)
9. Brian Kennedy (Derrylaughan)
10. Matthew Donnelly (Trillick – captain)
11. Niall Sludden (Dromore)
12. Peter Harte (Errigal Ciaran)
13. Darren McCurry (Edendork)
14. Cathal McShane (Owen Roes)
15. Conor Meyler (Omagh)
'There has to be a concerted effort to score on the opposition kick-outs,' says Peter Canavan as he lays out his case with stats and video analysis on Sky Sports.
Cian O'Neill's been asked Sky's Dave McIntyre where he thinks Kildare can hurt the Red Hand this evening: "We focus very much on ourselves," he says.
"They've kind of flitted between different types of game plans and they have the players who can do that. Pretty much the last number of weeks we've just focused on how much we can improve match by match."
Dick Clerkin is the Sky Sports co-commentator and he reckons St Conleth's Park is looking mint with the pitch 'lush'. The42 GAA editor, Fintan O'Toole is there for us and will have a report on the whistle as well as plenty of reaction from the respective camps.
We're moments away from throw-in with the managers giving their final instructions.
Here's the anthem.
Kieran Donaghy, Peter Canvan and Senan Connell are all backing Tyrone to get out of there with the crucial win. But the consensus too is that this will be tight.
We're underway in Newbridge!
Jun 29th 2019, 5:05 PM
2'
First blood to the visitors with Peter Harte opening his account with a handy free.
Jun 29th 2019, 5:07 PM
7'
Jun 29th 2019, 5:08 PM
9'
GOAL! Michael Cassidy finishes to the net after he ghosts into the danger. Kildare are ruing missing tow early chances to open the scoring.
Jun 29th 2019, 5:14 PM
15'
Tyrone, who have the wind on their backs in this first half, add another point through Peter Harte before Neil Flynn responds and gets Kildare going.
Jun 29th 2019, 5:15 PM
15'
Jun 29th 2019, 5:18 PM
18'
Rory Brennan restores Tyrone's five-point advantage and then, as I type, Colm Cavanagh adds another.
Jun 29th 2019, 5:20 PM
18'
Keith Cribbin with a brilliant lofted point for Kildare and that was badly needed.
Jun 29th 2019, 5:20 PM
18'
Mattie Donnelly responds almost immediately as he jinks into space and clips one over.
Jun 29th 2019, 5:22 PM
19'
Neil Flynn kicks a good free for the home side.
Jun 29th 2019, 5:25 PM
23'
Black card! Tyrone's Brian Kennedy is trotting off; Hugh Pat McGeary is receiving treatment.
Jun 29th 2019, 5:27 PM
25'
Darren McCurry is in acres of space as he receives the ball and he knocks it with little fuss before Kildare respond through Fergal Conway. 10 minutes to half-time and the crowd realise their side need to narrow this gap before the break.
Jun 29th 2019, 5:33 PM
31'
Cian O'Neill has, it seems, been sent to the strand. Tyrone were awarded a 45 by an umpire who adjudged goalkeeper Mark Donnellan caught a high ball but let it go over the line. Tyrone missed the kick but the Kildare boss still had a stern word for the officials.
As I type, he's shown away from his bench but not in the stands.
Frank Burns tries a shot from an acute angle, it bounces off the post and goes over.
Jun 29th 2019, 5:34 PM
32'
GOAL for Kildare!
Just what they needed going in. Keith Cribbin hands it off to Kevin Feely, and he fires home.
Jun 29th 2019, 5:37 PM
35'
Adam Tyrell, who missed a free in the opening minutes, makes no mistake now and Kildare are within two points.
Peter Harte responds quickly however, as I type. We're into injury time.
Jun 29th 2019, 5:38 PM
35'+2
Darren McCurry adds another for the visitors and Tyrone have weathered the storm.
Jun 29th 2019, 5:39 PM
35'+3
Fergal Conway, who's been very bright in this first half, takes on the Tyrone defence and kicks an excellent point. We'll have four additional minutes.
Jun 29th 2019, 5:41 PM
35'+4
Half-time: Tyrone 1-9 Kildare 1-6
Jun 29th 2019, 5:47 PM
35'+9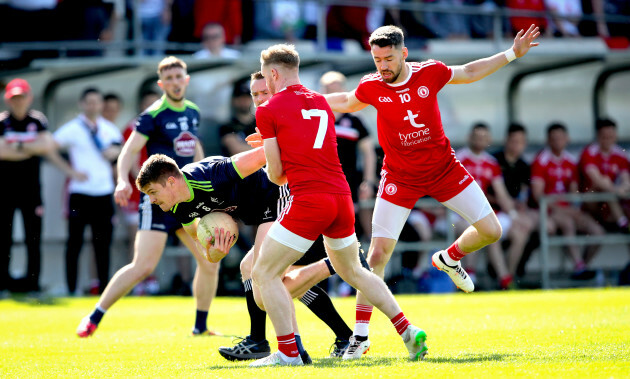 Ryan Byrne / INPHO Kildare's Kevin Feely with Matthew Donnelly and Frank Burns of Tyrone. Ryan Byrne / INPHO / INPHO
Jun 29th 2019, 5:59 PM
35'
Here we go again. The teams are trotting out and we'll be underway momentarily for what'll be the last half of the summer for one of these sides.
Jun 29th 2019, 6:01 PM
35'
Jun 29th 2019, 6:02 PM
37'
Frank Burns makes it three points from play for him today with the first score of the second period.
Jun 29th 2019, 6:04 PM
39'
A nice Tyrone team passage ends with Cathal McShane sending two Kildare defenders for their dinner with a lovely dummy and hop. Point for Tyrone again and the gap is five.
Jun 29th 2019, 6:06 PM
40'
'That breeze is picking up,' Dick Clerkin warns as Adam Tyrell converts a free. Can the home side go on another scoring run?
Jun 29th 2019, 6:07 PM
41'
Mattie Donnelly strikes it sweetly over the bar after a bottled-up Darren McCurry gets out of a tight situation to keep the ball and chance alive.
Jun 29th 2019, 6:08 PM
41'
Peter Harte with another for Tyrone, the gap is six and the visitors seem to be clicking up trough the gears.
Jun 29th 2019, 6:09 PM
43'
Kevin Feely lofts a big one over and that was badly needed for Kildare.
Jun 29th 2019, 6:12 PM
45'
Bad wide for Tyrone as goalkeeper Niall Morgan drags one to the left of the near post.
Jun 29th 2019, 6:13 PM
46'
Another great score from Kevin Feely, who's now scored 1-2 for the Lilywhites. Peter Harte reciprocates though with a beauty.
Jun 29th 2019, 6:15 PM
50'
RED CARD! Mick O'Grady picks up a second yellow.
Jun 29th 2019, 6:17 PM
51'
Kildare are down to 14 men as O'Grady — who looked injured anyway – is dismissed. Cathal McShane kicks over the free that was subsequent to O'Grady's foul.
Tough, tough task for the hosts now. Tyrone 1-15 Kildare 1-9.
Jun 29th 2019, 6:18 PM
53'
Tommy Moolick, who's only on, kicks a badly-needed point for Kildare.
Jun 29th 2019, 6:24 PM
59'
Adam Tyrrell will a great score to keep the Kildare in touch after a lull in the game. Cathal McShane curls to make it a five-point game again.
Jun 29th 2019, 6:26 PM
61'
Neil Flynn makes no mistake from a free and it's back to four. Kildare need to go full press now and 'go for broke' according to Dick Clerkin and Billy Joe Padden. Tyrone win the kickout.
Jun 29th 2019, 6:29 PM
63'
A silly foul and Peter Harte converts the free for Tyrone. Peter Kelly, though, keeps the scoreboard ticking over for Kildare. 1-17 to 1-13.
Jun 29th 2019, 6:30 PM
63'
GOAL! Darren McCurry scores for Tyrone.
Jun 29th 2019, 6:31 PM
66'
Tyrone 2-18 Kildare 1-13 Peter Harte with a great score and that's surely the end of the Kildare challenge.
Jun 29th 2019, 6:34 PM
69'
Connor McAliskey, who came on as a sub, adds his name to the scorers. With a few minutes to go, there's one or two heading for the exits now.
Jun 29th 2019, 6:35 PM
70'
Cathal McShane drives for goal but Mark Donnellan makes himself big and the shot goes over the bar. The whistle would be a mercy now.
Jun 29th 2019, 6:38 PM
70'+3
Tyrrell points for Kildare, though he went for goal, with a free.
Peter Harte is awarded the man-of-the-match award.
Jun 29th 2019, 6:38 PM
70'+4
Adam Tyrrell adds another one.
Jun 29th 2019, 6:41 PM
70'+7
Cathal McShane with another free for Tyrone and that's that.
Jun 29th 2019, 6:41 PM
70'+7
Full-time: Tyrone 2-22 Kildare 1-15
Jun 29th 2019, 6:43 PM
70'+8
No one will want to draw Tyrone after that impressive performance. It's the end of the road for Kildare this year and it'll be interesting to hear from Cian O'Neill in a moment.
What did you make of that?