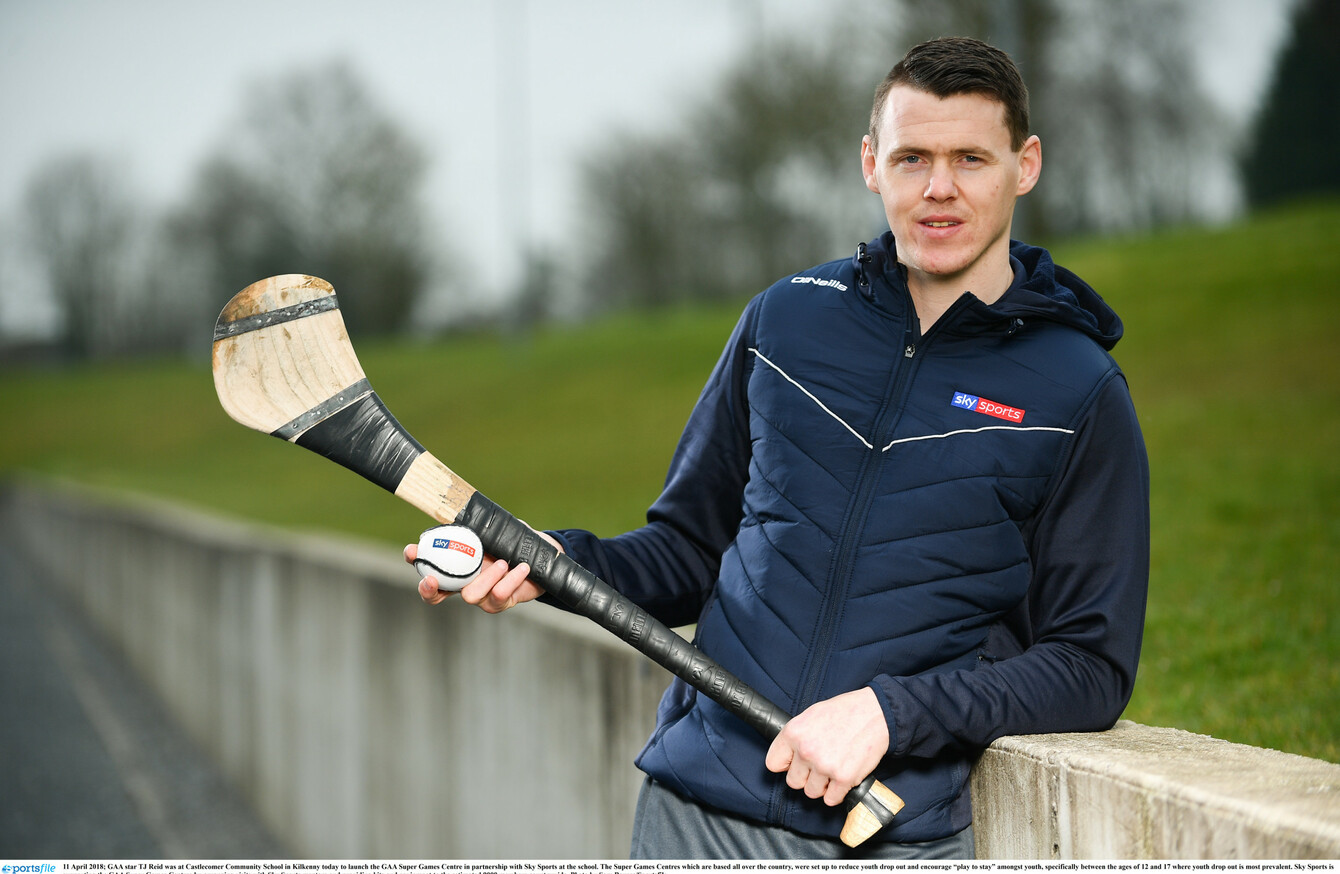 TJ Reid was at Castlecomer Community School in Kilkenny to launch the Sky Sports GAA Super Games Centre.
Image: Sam Barnes/SPORTSFILE
TJ Reid was at Castlecomer Community School in Kilkenny to launch the Sky Sports GAA Super Games Centre.
Image: Sam Barnes/SPORTSFILE
KILKENNY STAR TJ Reid believes there was a rush to judge the county's new wave of players in the wake of the retirement of their established lynchpins in recent years.
Reid shot a stunning total of 0-15 as Kilkenny claimed national silverware in last Sunday's hurling league final against Tipperary.
From their last All-Ireland final winning team in 2015, Michael Fennelly, Kieran Joyce and Shane Prendergast all retired last winter. Richie Power and Eoin Larkin were other players from that triumph three years ago who had previously retired.
Reid has seen team-mates from the 2014 Liam MacCarthy Cup success retire in JJ Delaney, Jackie Tyrrell, David Herity, Tommy Walsh, Henry Shefflin, Aidan Fogarty and Brian Hogan.
Kikenny's fortunes dipped from their customary heady heights over the past two campaigns with 2017 notable for a July championship exit and the lack of an appearance in Croke Park.
Reid admits that the focus on the illustrious figures that had departed the Kilkenny setup did start to enter their thinking.
"Definitely so, that's probably one of the big things. It was the big names that left and all the talk was who's going to replace Tommy Walsh or who's going to replace JJ Delaney or Joey Holden's not as good as JJ Delaney or Noel Hickey as a full-back.
"It does come into play big time. You can try and block it out. You can try and close your ears but it does creep in. Every paper you're looking at or every journalist was writing we've no full-back or who's going to fill JJ's boots."
Six players – Conor Delaney, Richie Leahy, Martin Keoghan, John Donnelly, Alan Murphy and Luke Scanlon – from last year's Kilkenny outfit that contested the All-Ireland U21 hurling final saw action at some stage last Sunday in Nowlan Park.
Paddy Deegan, James Maher and Bill Sheehan are others to have emerged over the past year for Brian Cody's side.
"It does take time to establish those positions," says Reid.
"We have players that are filling those boots now. You'll always have past players and it's about the future, it's about taking that jersey and trying to hold on to it.
"There was too much emphasis on taking over the jersey. I think those players, Tommy Walsh started off the same, same with JJ Delaney but they developed into great leaders.
"Those young players like Richie Leahy, Conor Delaney, Enda Morrissey, it's great confidence for those boys (to win the league). That's massive belief for those lads, knowing they can represent Kilkenny and knowing that they can perform and knowing they can take over.
"You have to give these lads a chance to make their own name. You have to give them a chance to established. Ten years time it'll be the likes of Conor Delaney or Enda Morrissey that'll be the heroes for Kilkenny."
Winning a first league medal in four years was a boost for Reid with a burning desire to triumph again fuelling his motivation this season.
"Each player will have their own ambitions, each player will have their own motivation. For me it's back to the winning. I hadn't won anything with Kilkenny in two years so that's a long time.
"It was All-Irelands, All-Irelands but losing makes you hungry for more. It comes down to the reality that we weren't good enough for the last two years. So that's a massive driving force for me.
"Four years is a long time for Kilkenny. Just seeing everyone on field after the game, it was something special. Something that you'll always remember for the rest of your lives.
"We're kind of on a high still. You have to reflect on it and you have to enjoy winning. It's a stepping stone towards the championship.
"I think myself and the players know we have to work a little bit harder now because the last two years we haven't been successful. I think individually we know that it's not going to be as easy."