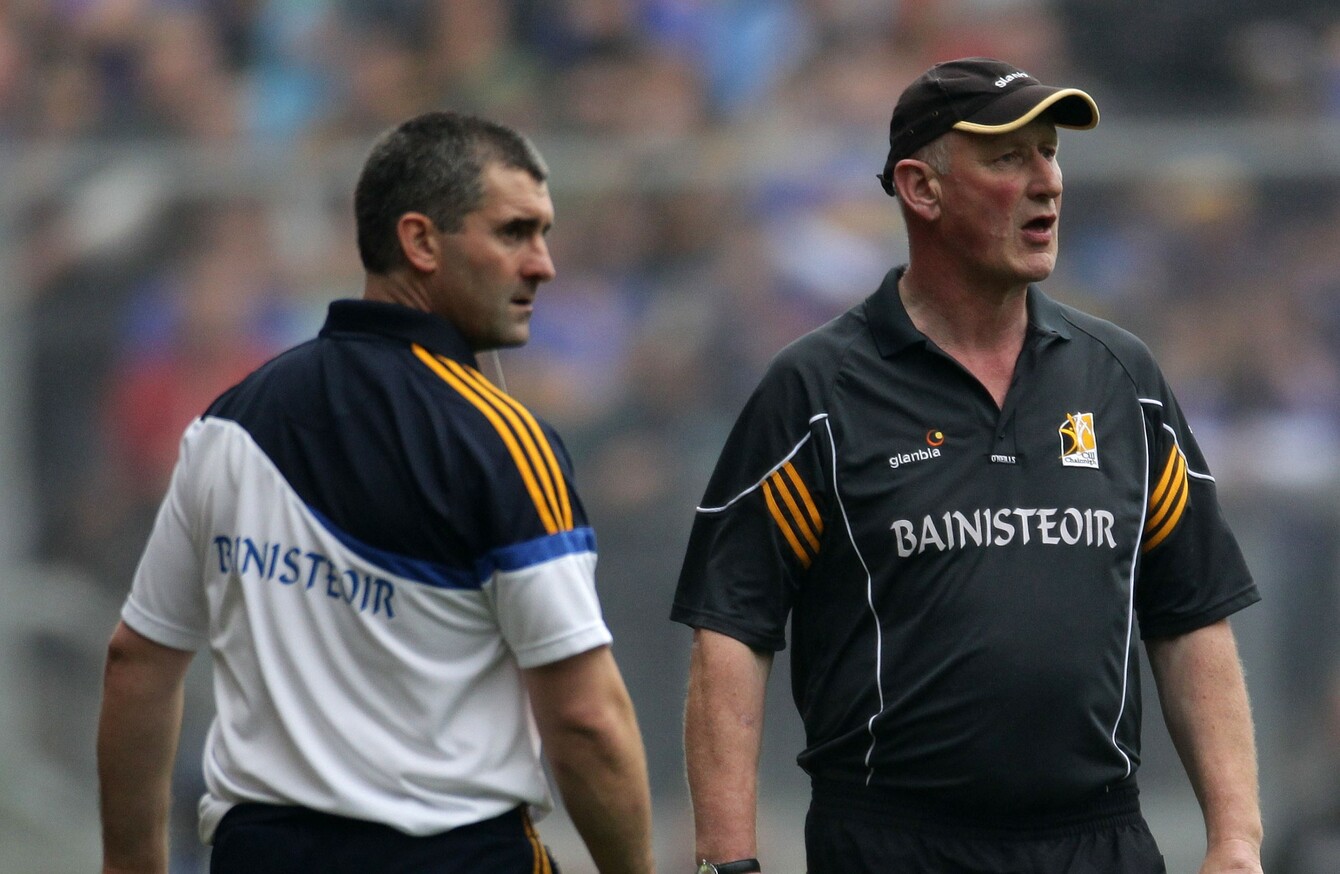 Liam Sheedy and Brian Cody patrol the sideline during the 2010 All-Ireland final.
Image: Cathal Noonan
Liam Sheedy and Brian Cody patrol the sideline during the 2010 All-Ireland final.
Image: Cathal Noonan
1. Cody vs Sheedy part III
LIAM SHEEDY IS hoping to achieve a rare feat on Sunday. He's aiming to become the first-ever manager to secure back-to-back championship victories against Brian Cody — albeit nine years on from his previous win. 
It's the third occasion Sheedy and Cody have clashed in an All-Ireland final, following the epic encounters of 2009 and 2010. The record currently stands at 1-1.
In his first season in charge a decade ago, Sheedy's side led early in the second-half before Henry Shefflin's controversial penalty helped Kilkenny to a 2-22 to 0-23 victory.
The following September, the Premier exacted sweet revenge and ended Kilkenny's five-in-a-row dreams with a clinical 4-17 to 1-18 win. 
2. Two traditional teams
Stylistically, the game has moved on significantly in the last decade yet Kilkenny and Tipperary haven't moved away from their traditional values. 
"As teams go they're the two most conventional teams that are in the hurling world at the minute so there will be an element of some tradition hurling as regards shape and structures," said Cats legend Jackie Tyrrell this week. 
Both sides have certainly adapted to the modern game. Brian Hogan and Eoin Murphy are happy to go short from their puck-outs if it's on, while their team-mates will work the ball through the lines far more often than they'd have done a decade ago. 
Still, neither team will shy away from a direct approach on occasion, given the ball-winning ability of either forward line. Old-school hurling with a new-age twist. 
3. Middle third battle
Prevailing in the midfield battleground will go a long way to deciding the outcome on Sunday. Kilkenny lorded the middle third for long spells against Limerick, cutting out their supply line into their talented full-forward line. They did so with a ferocity of tackling and by hunting down the ball-carrier in packs.
A similar approach will be required against a Tipperary outfit that will look to hit Seamus Callanan, John McGrath and Jason Forde with early ball at every opportunity. If the Premier get a steady flow of ball into their forward line, they'll do serious damage.
Similarly, at the opposite end of the pitch, Kilkenny will be hoping to provide the likes of Colin Fennelly, Walter Walsh and Richie Hogan with enough possession to hurt Tipperary.
Both sets of half-forward lines will drop deep into midfield, which will make it an extremely congested sector of the field. Whichever team comes out on top in the centre-field trenches will put themselves in a great position to win this game.
4. Intriguing match-ups
Match-ups have become such an integral part of the inter-county game. 
Seamus Callanan has scored a goal in seven straight games and TJ Reid is the heartbeat of the Kilkenny attack. Huw Lawlor is set for the biggest test of his young career on the Drom-Inch ace while Brendan Maher may be the man tasked with shutting down Reid's influence from open play. 
Colin Fennelly is another major threat in the Cats attack. He could be picked up by James Barry, Barry Heffernan or even Ronan Maher. Padraic Maher is likely to take on Walter Walsh, while Cathal Barrett will mark either Richie Hogan or Adrian Mullen – depending on who plays closer to goal.
The battle between Conor Browne and Noel McGrath at midfield will be another key contest.
In the Kilkenny defence, Cody may trust Paul Murphy to quell John McGrath's influence and Joey Holden is likely to be detailed on Jason Forde. If Padraig Walsh is paired with John 'Bubbles' O'Dwyer, we're in for another huge showdown between former All-Stars. 
5. Are we in for another classic? 
When these great rivals meet in championship hurling they're almost guaranteed to serve up a classic.
Granted, Tipperary were runaway winners in the 2016 final, but the 2014 drawn final and replay were right up there with the greatest games this sport has ever produced. 
There was no silverware on the line in the 2013 qualifier clash in the Nowlan Park cauldron but Kilkenny won a memorable encounter that evening. And when they met in three finals in succession between 2009 and 2011, we were treated to an enthralling clash each time. 
Another mouth-watering affair awaits.
Kilkenny and Tipperary meet in the All-Ireland senior hurling final at 3.30pm on Sunday. Specsavers are proud sponsors of Hawk-Eye at Croke Park. To make sure you don't miss a point, book an appointment online today at specsavers.ie