SATURDAY'S LEINSTER HURLING hurling semi-final was a gripping game to watch, all the way through.
It might have lacked a touch of quality at times but it was edge of your seat stuff.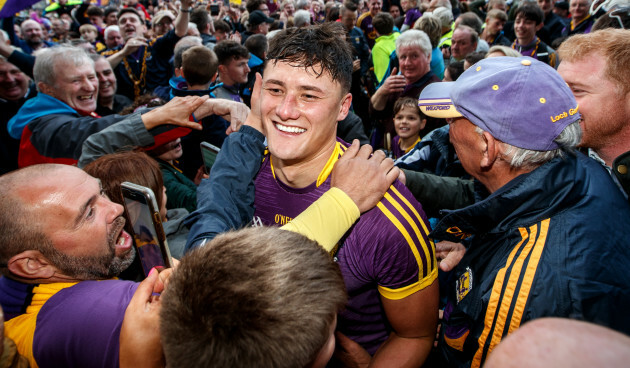 James Crombie / INPHO Lee Chin celebrates Wexford's win over Kilkenny. James Crombie / INPHO / INPHO
You had Wexford, the underdogs, really taking the fight to Kilkenny, and winning the game.
Kilkenny, a long way shy of the quality and substance we usually associate with them, were still right in the game until the end.
On another day, they could easily have snatched a draw, or even won the game, but Wexford were the more polished outfit.
Having looked at the game again in more detail, some key trends stood out for me.
Kilkenny's attacking dysfunction
This was one of the more surprising aspects of the game. Perhaps the key difference on the night was the effectiveness of the respective forward divisions.
Wexford's was far more cohesive, structured and efficient.
That was borne out in terms of the scoreboard and of Kilkenny's 3-11 tally, 2-7 came from TJ Reid, and he didn't manage a score from play.
TJ was still Kilkenny's best forward in overall play, I thought, while Colin Fennelly was very effective at full-forward.
Between them, they carried the attacking threat but no matter how good a team you are, that's just not sustainable.
Wexford had very strong performances all over their attack, with virtually all of them having a degree of success against their opposite numbers.
Lee Chin, Jack Guiney and Paul Morris all had storming games, albeit Lee came to midfield for the second half.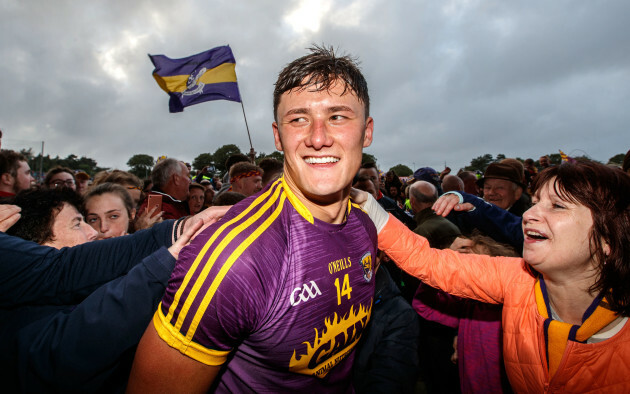 James Crombie / INPHO Lee Chin was magnificent for Wexford. James Crombie / INPHO / INPHO
Kilkenny's style has normally been very direct, it's something that's been one of their hallmarks over the years, the ability to win 50-50 ball.
In the very first minute, Colin Fennelly won a penalty and it looked like this direct approach would be a feature of their play again.
It appeared that they were prepared to play against an extra defender and early on, they worked that ball into Fennelly very well.
How they did it is a good example of how to play against the sweeper, as Conor Fogarty gains possession and prepares to play the ball down the tramline: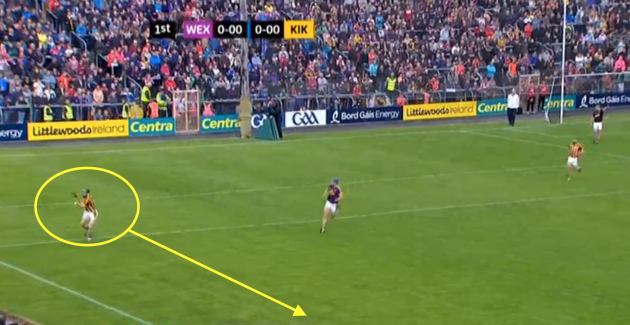 The recipient is Paddy Deegan, who has the chance to look up and deliver the ball inside: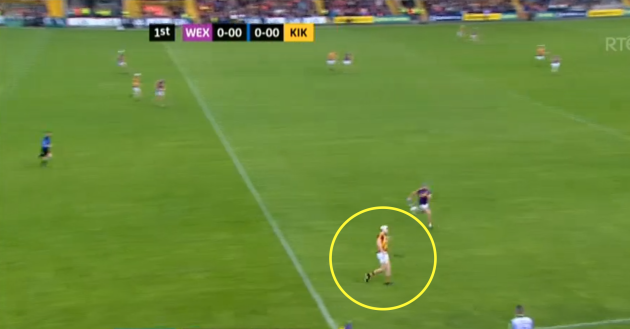 It's an excellent diagonal ball from Deegan into Fennelly, who's one-on-one inside with Willie Devereux (yellow circle in the next shot).
With Wexford still settling into their positions, Kilkenny catch them cold as back-pedalling sweeper Shaun Murphy (purple circle) can't make up the ground to offer Devereux assistance: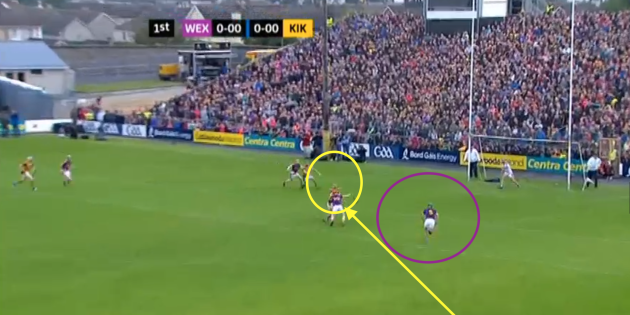 Unfortunately from a Kilkenny perspective, examples of this good play were few and far between from an attacking viewpoint, as the strategy became less and less effective as the game wore on.
Kilkenny route one option didn't work
I've compiled a 'rap sheet' to bear out my point here and if you get a chance to watch the game back, keep an eye out for these examples:
53 mins 53 seconds - In the first picture, Cillian Buckley is in possession, and in plenty of space, as he prepares to deliver the ball downfield:
It's a poor ball from Buckley, straight to the Wexford sweeper Murphy, who's in the purple circle. The ideal ball from Buckley should have been lower into Richie Hogan (yellow circle):
56:34 - Eoin Murphy puck-out is picked up by Shaun Murphy and he goes easily through two would-be Kilkenny tacklers. In fact, there's no tackle made on him at all. That's so unlike Kilkenny.
60:08 - Another long Kilkenny ball to the edge of the square, a free from Eoin Murphy, but nothing develops. It's just a pile-up of bodies and referee Fergal Horgan eventually throws the ball in on the 20m line, and Wexford clear their lines.
66:04 – Another long puck-out is meat and drink for Wexford, as Colin Fennelly is penalised for a foul on Liam Ryan.
There were so many of those examples in the second half, where the route one approach just didn't work for Kilkenny. In fairness to Wexford, that was also down to some very good defensive work on their behalf.
Here are some examples of that:
8:01 – A long clearance from Kilkenny's Kieran Joyce, who was under no real pressure. Liam Ryan is out in front of Padraig Walsh, thunders out and goes on to score a cracking long-range point.
In the picture here, we can see Ryan attacking the ball with conviction, as two Kilkenny players collide beside him:
That's a real statement of intent from the Wexford man, and an inspirational score follows from it.
23:53 – Kilkenny puck-out is brilliantly won by TJ Reid, who sends a lovely, diagonal ball in front of Ger Aylward. Not for the first time, Simon Donohue is out in front of Aylward, and gobbles the ball up.
24:58 – Shaun Murphy picks up another ball in front of the Kilkenny forwards, is tackled late by Ger Aylward and a free is awarded to Wexford.
27:31 – James Breen win a 50-50 ball in front of TJ Reid, simply tapping the ball down ahead of the Kilkenny man.
34th minute – Paul Morris tracks back to put in a brilliant hook on Lester Ryan. A ruck develops but Wexford win it again, as Diarmuid O'Keeffe moves clear before he's fouled.
Wexford did look vulnerable to the threat of Fennelly when the ball went in on the edge of their square but outside of that, Wexford were having much the better of the contests with the other Kilkenny forwards, winning 50-50 balls and numerous rucks.
Kilkenny didn't help themselves either in the first half with the number of really bad wides they shot.
Padraig Walsh hit a particularly bad one that drew the ire of inside men Fennelly, Hogan and Reid, who were all well-positioned if the ball was delivered in a more snappy manner: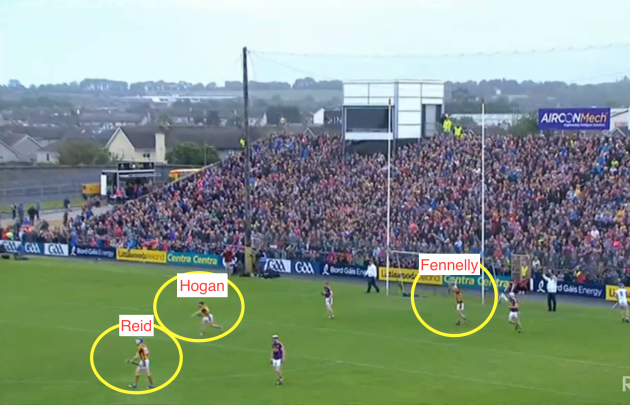 As you can see in the picture, Fennelly has his hand in the air, in an exasperated manner, and Hogan's also showing how frustrated he is.
Walsh's decision to shoot, from where he was on the sideline, was a poor one, given the elements.
Ger Aylward also had a shot wide from the touchline in the first half. In the next picture, you can see where Aylward has a go from.
He's under no real pressure but considering the elements again, it's a questionable choice: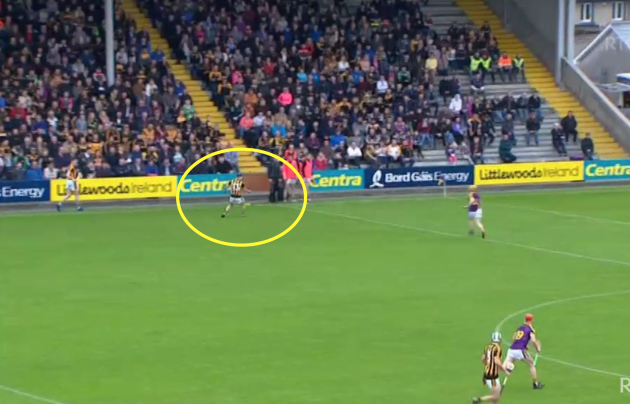 In the next screen-grab, we see the shortcomings in the Kilkenny forward line.
When the Cats didn't go long with the ball, they were looking to play a shorter type of game, but they're not comfortable with it.
Cillian Buckley (yellow circle) decides to play a risky handpass, which is cut off by the covering Wexford defender (purple arrow).
But why I've frozen it here is to show you the lack of movement and bunching of the other Kilkenny attackers (white circles) in shot, tight to their men and offering no real option to Buckley: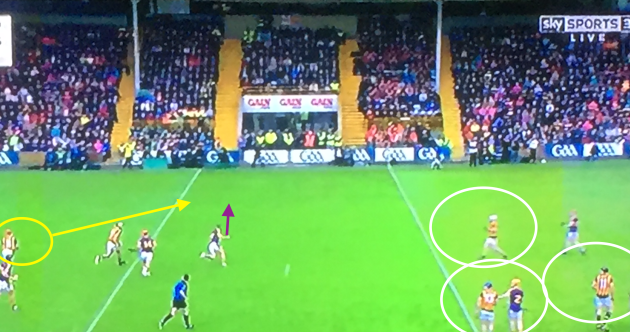 In terms of the themes outlined above, the second half wasn't hugely different.
We've become so accustomed to Kilkenny turning up the heat early in the second half and going on a run but what happened after half-time? Colin Fennelly won another long ball but took too many steps and was penalised. It was indicative of how they were playing all through the game.
The trend of good Wexford defensive play continued and as the Slaneysiders put the heat on around the middle third, there was an episode in the 37th minute where Lee Chin ran into contact with Walter Walsh, and dismissed the Kilkenny player to the ground as if he was a rag doll.
This was another feature of Wexford's play, their physical approach, as was highlighted when Harry Kehoe sent Paul Murphy crashing to the ground as the pair chased a ball on the right touchline. Sending Murphy careering like a skittle is no easy feat, let me tell you.
Kehoe's diagonal ball on that occasion picked out Paul Morris and when he committed to attack, and took on Robert Lennon, the Kilkenny man fouled him.
These key moments have been 13 years in the making, since they last beat Kilkenny in the championship.
In all aspects of their play, Wexford were at least equal to Kilkenny on Saturday, and better than them in most. They must derive huge satisfaction from that.
Lee Chin's influence
There's been so much talk about Lee Chin's performance, and rightly so.
He had an enormous game, particularly in the second half when Wexford played into the wind.
He was immense and his possessions for the game were up around the 20-mark.
One of the big moments of the game, and frozen in the next shot, was that immense catch seconds after TJ Reid's second penalty goal: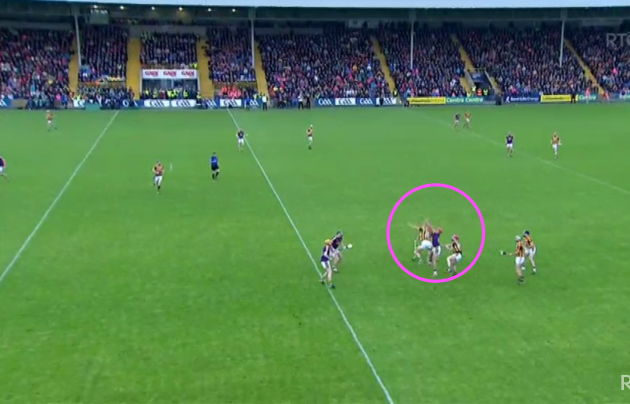 Chin comes down from the skies and accelerates away: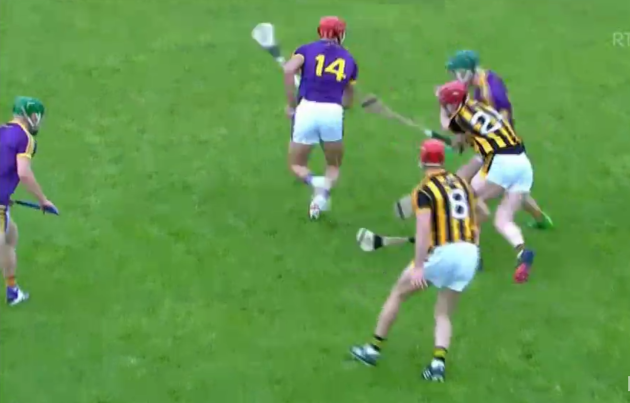 He goes on to stick the ball over the bar off his left hand side and what a statement this was, a sheer act of defiance.
There were other fine examples of Chin's influence in the second half:
38:28 – used the ball well in a deep position and Wexford's goal came from this passage of play.
40th minute – simple, short pass to Aidan Nolan, who shot wide when he should have scored a point.
43:10 – with his team under pressure, Chin wins a savage 'dirty ball' under the covered stand.
66:35 – Another phenomenal catch and transfer to Jack Guiney, who plays a great ball to Matthew O'Hanlon. Wexford weren't going to be beaten after that score.
67:22 - not content to rest on his laurels after that catch, Chin is back on his own 20m line to gather possession from Eoin Murphy's re-start puck-out.
Conclusion
Overall, Wexford were very impressive, even if they did make a couple of mistakes that could have proven costly.
Mark Fanning's goalkeeping error allowed Colin Fennelly a goal and Wexford, in general, struggled to handle Fennelly in that full-forward position.
But Wexford played with conviction, authority, belief and confidence, all built up on the back of a good National League campaign.
They've now brought those qualities into the championship and I really liked a score that originated early in the 50th minute.
I've referenced it above, when Harry Kehoe blew Paul Murphy out of it, but I just have to come back to it.
It started with a Fanning puck-out, leading to a tussle between that man, Chin, and Lester Ryan.
A ruck developed but Wexford won it and James Breen popped a ball up the line, which Kehoe chased.
Kehoe sends Paul Murphy to the turf, which is no easy feat: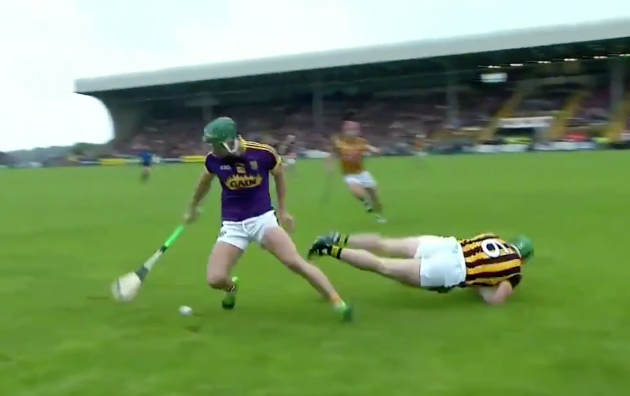 Next, Kehoe shows his power to move through Murphy, who's back on his feet, and Cillian Buckley: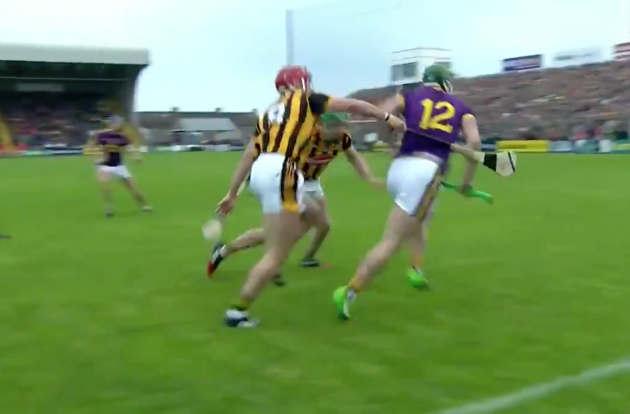 Kehoe then plays a diagonal ball across the face of goal, which Paul Morris latches onto.
What I really liked about Morris here was his commitment to attacking Robert Lennon, which sees him win a free-in for Wexford: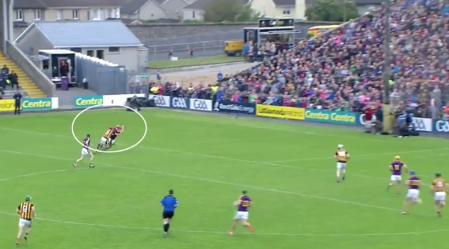 That passage of play might not look like anything too out of the ordinary but there's a lot in it, because it sums up an attitude from Wexford that we haven't seen for a long time.
Forgive me for referencing it twice, but it summed up Wexford's refusal to yield on the day.
In the passage of play that saw Cillian Buckley execute that superb block on Conor McDonald in the second half, we can see Wexford's commitment to attack.
Here, McDonald and Jack Guiney are both under the dropping ball, in the contact zone: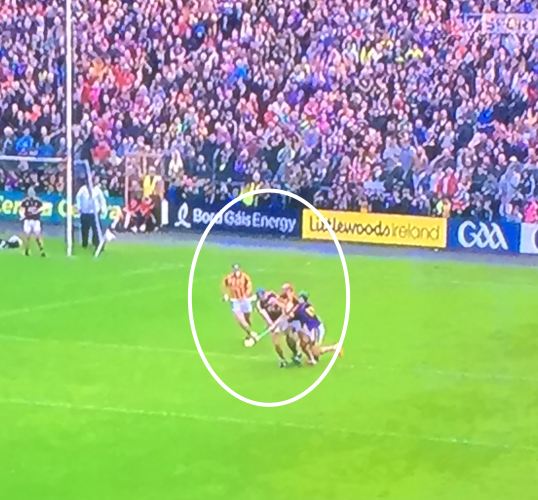 As they did in many collisions, Wexford emerge with the ball and Guiney (white circle) is preparing to off-load to McDonald (purple circle), who's peeled away and is calling for the ball: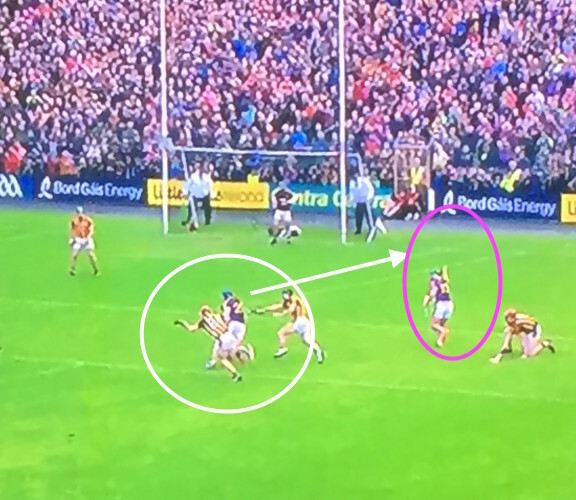 Again, that's just another demonstration of Wexford's physicality and intensity.
We were so used to seeing Kilkenny bully Wexford but this time, Wexford were calling the shots in the physical stakes, and in so many other facets of play.
The42 is on Instagram! Tap the button below on your phone to follow us!