IT WASN'T TO be the day of the underdogs in Dublin as both Kilmacud Crokes and Cuala secured their places in this year's Dublin senior hurling final on Saturday 5 November.
The favourites going into both matches made no mistake at the penultimate stage of this year's championship after seeing off O'Tooles and Lucan Sarsfields respectively in today's double header in Parnell Park.
Kilmacud Crokes 2-19
O'Tooles 0-13
O'TOOLES, THE ONLY Northside club of the four semi-finalists started the brighter in the first semi-final with three points from centre forward Niall Arthur.
But the O'Rorke brothers Oisin and Barry responded for Kilmacud Crokes moments before full-forward Oisin claimed a high ball in the square and toe-poked it beneath the on-rushing Brendan O'Loughlin after 11 minutes to make it 1-2 to 0-3 for Crokes.
After a lengthy stoppage in play due to a nasty looking leg injury to Kilmacud's Robert Murphy, play resumed with a score from his replacement Dillon Mulligan as the tide began to turn in favour of the 2014 champions.
This trend was to continue as the first half entered its final stages as Oisin O'Rorke, in inspired form, kept slotting over any free that O'Tooles coughed up.
With a host of chances wasted by O'Tooles, who were in search of their first championship final in five years, Crokes capitalised with a minute of magic from Ross O'Carroll which widened the margin.
A brilliant individual point followed by an even better goal reinforced a dominant performance for Ollie Baker's side as they went ahead 2-10 to 0-7 at the break.
The opening exchanges of the second half saw both sides trade scores as O'Tooles looked to keep in touch with the slick and stylish play of the favourites. Ger and Niall Arthur registered scores for the men in green and white but man of the match Oisin O'Rouke and Tipperary native Ryan O'Dwyer kept the O'Tooles comeback at bay.
A very wasteful O'Tooles outfit will be disappointed with their performance and a last minute red card shown to corner back Ciarán Gethings really summed up their day as Kilmacud march on to the county final on a final score of 2-19 to 0-13.
Scorers for Kilmacud Crokes: Oisin O'Rourke 1-11 (0-9f), Ross O'Carroll 1-2, Barry O'Rourke 0-2, Ryan O'Dywer 0-2, Dillon Mulligan 0-1, Fergal Whitely 0-1
Scorers for O'Tooles: Niall Arthur 0-08 (0-6f), Ger Arthur 0-2 (0-1f), Peadar Carton 0-1, Andy Morris 0-1, Liam Ryan 0-1
Cuala 0-13
Lucan Sarsfields 0-7
PART TWO OF semi-final day in the capital saw the meeting of reigning champions Cuala and a Lucan Sarsfields side in search of their first ever senior hurling title.
With only two scores a piece in the opening 20 minutes coming from Cuala's David Treacy and Lucan's Kevin O'Reilly, this encounter was a slow burner that never really got going in the first half.
Even with a much higher tempo than first match in Parnell Park, both sides were off target on numerous occasions in the first half, with shot selection at some stages being questionable.
Nicky Kenny registered his first and only score in the 23rd minute while Treacy pointed three more frees before the break for the four time Dublin champions.
Lucan's 23 year old centre half back, Chris Crummey raised a white flag to keep a goal between the sides as the first half came to a close with the Dalkey men leading by double scores.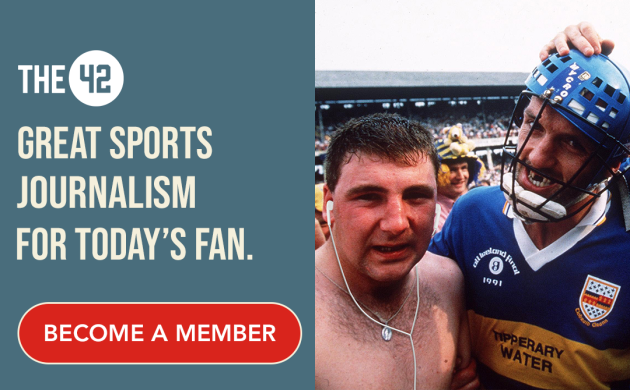 Both sides will have rued the missed chances in what was a mediocre first 30 minutes with Cuala off target eight times in comparison to Lucan's five wides.
Unfortunately for the large crowd in the Donnycarney sunshine, the standard of hurling didn't improve massively but the thankfully the excitement levels rose as Lucan pushed last year's champions to their limit.
Paul Crummey, Aidan Roche and two frees from Kevin O'Reilly kept the West Dublin men in touch but Treacy and Darragh O'Connell responded to leave Cuala with a slender lead as the match entered its dying moments.
It appeared experience was playing a major role. A massive score from midfielder Seán Moran gave Cuala the insurance score before late substitute Con O'Callaghan made it a five point game.
It was fitting that the scoring was wrapped up by man of the match David Treacy, who made it 0-13 to 0-7 and brought his personal tally for the day to nine points.
Scorers for Cuala: David Treacy 0-9 (0-8f), Nicky Kenny 0-1, Darragh O'Connell 0-1 , Seán Moran 0-1, Con O'Callaghan 0-1.
Scorers for Lucan Sarsfields: Kevin O'Reilly 0-4 (0-4f), Chris Crummey 0-1, Paul Crummey 0-1, Aidan Roche 0-1.