IRISH WINTER OLYMPIANS are not exactly 10 a penny.
Even rarer are those Games-bound athletes who were born in Ireland and actually spent a good portion of their upbringing in the country.
Yet there are a few exceptions to the general rule, and Kirsty McGarry is one. And while there have not been many top-level Alpine Skiers from Dalkey, there was still an element of fate to McGarry's story. After all, her parents first met on a ski instructor course. They proceeded to set up a business in France and the couple would invariably spend winters there, teaching the sport, while remaining in Ireland for the rest of the year.
"Pretty much when I was born, I was out there for winter, so I was lucky enough to grow up with a bit of snow and get used to it that way," McGarry tells The42.
The result of this unusual upbringing was not one but two remarkably talented athletes. McGarry's older sister Tamsen competed at the 2002 Games in Salt Lake City, in the process becoming the first female Irish Winter Olympian ever. In order to realise this dream, however, the family were forced to make huge sacrifices.
She was kind of the guinea pig because in Ireland, we didn't have much knowledge around it and we didn't have much support, so my parents had to sell their business in France to send her to the Olympics in 2002 and figure out what worked and what didn't with her."
While it was overshadowed to a degree by Clifton Wrottesley's incredible fourth-place finish in the skeleton, Tamsen impressed too with a creditable 35th-place finish out of 70 competitors in the women's slalom ski race.
The achievements by Tamsen and later Kirsty were remarkable at a time when winter sports in Ireland were in their infancy. Resources were minimal, to the extent that training with other countries was the norm.
"We were really lucky," McGarry recalls. "When we decided that it was something we wanted to try, we didn't really have a coach or a team in Ireland. [My parents] obviously put a lot of support into us. Thankfully, they don't regret it.
"I tried skiing a bit with the British team and I did a bit with the French, but you're always the outsider. So we would have to pay to train with them and the coaches are always focusing on the others really, because you're not really part of their teams — that was always a bit difficult."
Nevertheless, the younger McGarry was still talented enough to follow in her sister's footsteps and qualify for the 2006 Winter Olympics in Turin. Four years earlier, she had been in boarding school in Rathdown, while Tamsen was making Irish sporting history.
"I didn't even get to watch it, because they didn't show it on TV," she recalls. "So that was disappointing, but I knew she was there and I know she'd achieved her dream."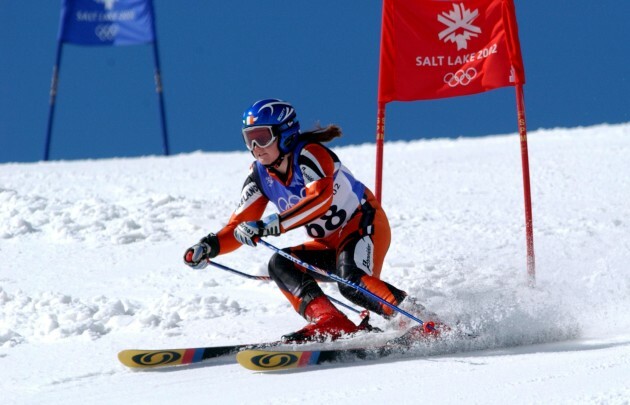 EMPICS Sport Kirsten McGarry's sister Tamsen was the first-ever female athlete to represent Ireland at the Winter Olympics. EMPICS Sport
The odds were stacked against her, but McGarry was well aware of the importance of retaining a positive attitude during her skiing exploits.
"I saw it when I was at the Junior Olympics one year," she says. "Obviously some of the smaller nations used to stick around together because we didn't have big teams.
"A Belgian girl, and I'll never forget this, she said: 'You know, look at what [the bigger teams] have — they have a physio with them, they have coaches, they have ski technicians. We have nothing, we're never going to make it.' I just thought: 'She will be out of the sport by the end of the year,' because as soon as you start thinking like that, you're done for.
"The way I saw it was how well we're doing with what little we have. I beat the French team girls and I thought: 'It's amazing, because I have literally half what they have.'"
When her big day arrived and McGarry's Winter Olympics debut occurred, she admits to being "very nervous".
Wrottesley, the hero of four years previously, was now chef de mission, and the younger McGarry sister carried the hopes of a nation on her shoulders.
I'd gone to a World Cup a couple of months before just to get used to that atmosphere. Even then, it was really intense, you're thinking: 'Should I really be here?'
"But on the day, I tended to be good at bigger events, I managed to pull it out and I was beating a lot of people, even at the World Cup, and I was quite close, compared to what I thought I'd be, to the winner.
"Then you get to the Olympics and I suppose the good thing is, you have the smaller countries that I would have trained with and seen on the circuit. I had a lot of friends there, which is really nice, so you have a lot of people you can train with and hang out with even though you're a smaller team.
"You've worked four years of your life for a competition in my case that's about a minute, so if you make one tiny mistake, that's technically four years of your life [down the drain].
"So yeah, it's absolutely nerve-racking, but you know that's part of sport and then I went to university afterwards and I was wondering why everyone was so nervous around exam time. The way I looked at it was: 'Well, if you fail, you can just repeat, this is nothing.'
"So for life, having that level of pressure and stress is good because other things don't really hit you as hard later.
"It really is [character building]. And I used to be really shy. Having to do things like that force you to grow a lot as a person, definitely."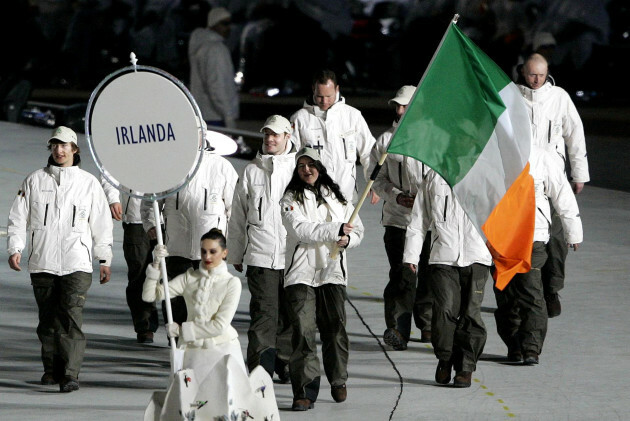 PA Archive / PA Images Kirsty McGarry leads her team out during the opening ceremony for the Winter Games in the Olympic Stadium in Turin. PA Archive / PA Images / PA Images
And like her sister was for the Salt Lake City Games, McGarry was Ireland's flag bearer in 2006.
"The best experience of my entire life and nothing's going to top it," she says. "People love Ireland, and just walking out into the stadium with millions of people and the roar even compared to the teams around you, when you're filled with adrenaline, I remember people waved their flags a bit… I'm getting emotional even talking about it. I think I was the only person who did not take a rest [when flag waving]. Your chest is exploding with pride. Definitely, nothing's ever going to top that."
Despite the great pressure of expectation, a 20-year-old McGarry ultimately produced a very respectable performance, finishing 32nd in the giant slalom. Less than favourable conditions did not help matters, but the Dubliner was content at managing to ski to the best of her abilities on the day.
"I suppose my goal was really to beat all the smaller nations and I definitely did that," she adds.
"I was the best of all the smaller nations. I was lucky, in the big events, it did kind of suit me, a lot of the girls [that I beat] had beaten me earlier that season.
"Conditions were really icy and really tough. All the other teams had ski technicians whereas I had to [look after] my own skis.
I was making sure my edges were sharp enough for the ice and I sliced my hand open when I skied the day before the slalom. They couldn't stitch it, because it would have been too painful, so they just put a bandage on.
"I was really happy, I got a finish and I beat all the girls I wanted to and I was the closest to the winner [in the event] that we've had so far. But hopefully, it won't stand for long and we can get some good athletes through."
McGarry would return to the Vancouver Olympics four years later — a feat she describes as a "bonus," given that she had started a degree in Physiotherapy at the Royal College of Surgeons in Ireland by then and so her focus was "divided". On the plus side, though, having university to think about as well did alleviate some of the pressure that goes with skiing and consequently improved the Irish athlete's performance to an extent.
The whole experience in Canada was also much more pleasant than it had been in Turin.
"The Olympic Village in Italy was thrown up very quickly, there was mud everywhere, I don't think it was quite ready for the athletes when they came in," she remembers.
"The drains, definitely by the smell, weren't done, a lot of us got sick. So Vancouver, Olympic village-wise [was better organised].
"All the helpers, everyone was really nice. Luckily, everyone loves the Irish, which is really lovely to go anywhere abroad. People are really open to you and supportive. People are cheering you on.
"The other thing was that a lot of the staff in the pubs and stuff were Irish, so they came to support me on the hill. I'd be coming down from training, there'd be Irish people around, which was really lovely to see, that people were aware what was going on."
Nevertheless, the day before the Slalom event, McGarry was overcome with nerves. A reassuring phone conversation with her sister, one of the few people who had first-hand experience of what she was going through, helped the younger sibling to regain her composure.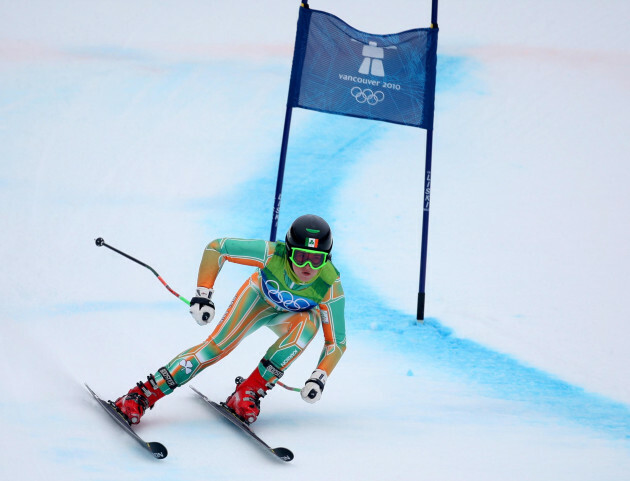 PA Archive / PA Images Ireland's Kirsten McGarry during her second run in the Women's Giant Slalom at the 2010 Olympic Games at Whistler Creekside. PA Archive / PA Images / PA Images
The eventual outcome, however, was unfortunate, as McGarry was disqualified from her event. One of her ski bindings was deemed to be a millimetre too thick, ending her participation in the competition before she even got the chance of a second run.
"When you finish, they measure your bindings, and it was only one of my skis, so it must have come out," she explains.
"I was obviously very upset at the time, because my time [59.28 seconds] was really good.
"To be honest, that's what I took from that: even though I was really nervous, I still managed to pull out a really good run, and no one can take that from me.
"When I look back on it, I'm still really happy with what I did. I've no major regret there, which is nice."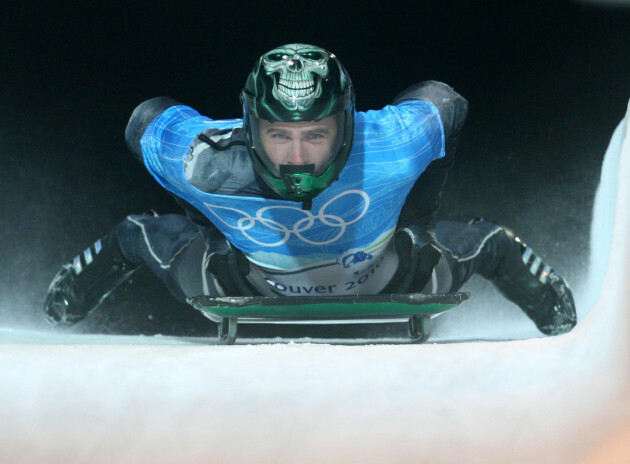 PA Archive / PA Images McGarry competed on the same team as a number of other Irish athletes, including Patrick Shannon. PA Archive / PA Images / PA Images
McGarry was still just 24 by the time the Vancouver Games came to a close, but she had enough of high-level sport and in particular, the inevitable politics that goes with it, by that stage. Instead, she chose to put all her focus back into university and her degree.
In many ways though, life post-Olympics can be just as challenging as those months and days leading up to the big event, but for different reasons.
"I didn't get it so much after Turin, because I think I was straight back into competition again," she recalls. "But after Vancouver, I came back to university and I definitely had a major low, to be honest. It was a big change to come back from the Olympic circuit, it really is, and then to come back and be sitting in a lecture, it's a big shock to the system and I definitely had a few weeks where I found that really tough, but I suppose I wasn't going to nothing.
"I still had goals and exams to pass. There was obviously only so much [dwelling on it] I could do before I could really get back into college again, so in that way, I was lucky, but I did experience a major down and if I didn't have uni to fall back on, I could imagine it would be worse.
For four years, there's a focus in your mind for this day or two. Even when you're still there at the end, I went to watch the other guys in the team compete — there's the closing ceremony and then we go out a little bit after the closing ceremony.
"Even when you're at the Olympics, you're still training every day that you're not competing. You're trying to eat well, you're doing your gym in the afternoon. You have that for four years and then suddenly, you get a bit of a break afterwards.
"It's a big change physically as well, especially sitting in a lecture theatre with a sore back."
So how did McGarry get out of this tailspin?
"When I came back from Vancouver, my family must have been away, so I was on my own. My sister got a new puppy — so I had to look after this puppy when I could barely look after myself with that low, because my family were away. When they then came back after a couple of weeks, my sister must have been doing something and my parents were supporting her, that helped me get back to normality. There's nothing like family to help you get back on your feet again.
"I think family and close friends are probably the thing that helped most, and having a routine. I don't know, but I can imagine if you don't still have a routine where you have to be getting up really early every day, then that would be more difficult."
RTÉ - IRELAND'S NATIONAL PUBLIC SERVICE MEDIA / YouTube
McGarry, who also recently took up horse riding, has not stopped skiing entirely since 2010. Three years ago, in the Giant Slalom element of the competition, she won the first part of the Inferno Downhill in the Swiss Alps, which is dubbed 'the world's craziest race,' an event that has been taking place annually since 1928.
It meant more history was created by the Dubliner, as McGarry became the first athlete from Britain or Ireland to win at the Inferno series for almost half a century, beating countless fellow male and female competitors in the process.
Last January, she was back competing in the longest downhill race in the world once again and emulated her previous achievement.
I won the GS again, but I messed up in the Downhill [a subsequent event]," she adds. "It's really tough, so it does motivate me to keep myself fit all year."
For the most part though, it is through McGarry's work and academic life rather than her increasingly sporadic sporting one that she sates the burning competitive desire inside her, a factor that makes the Dubliner so remarkably talented in a number of disciplines. In addition to working as a chartered physiotherapist, she is now back studying medicine, as if competing in two Olympics and everything that came with it wasn't enough on its own.
"Even when I was working, I wanted to be the best physio. I wanted to keep learning, I wanted to do courses. I find I'm quite empathetic as well, so I really want to do the best for each patient and person. Even when I was in college and doing exams, [my competitiveness] definitely came into everyday life."
The42 is on Instagram! Tap the button below on your phone to follow us!