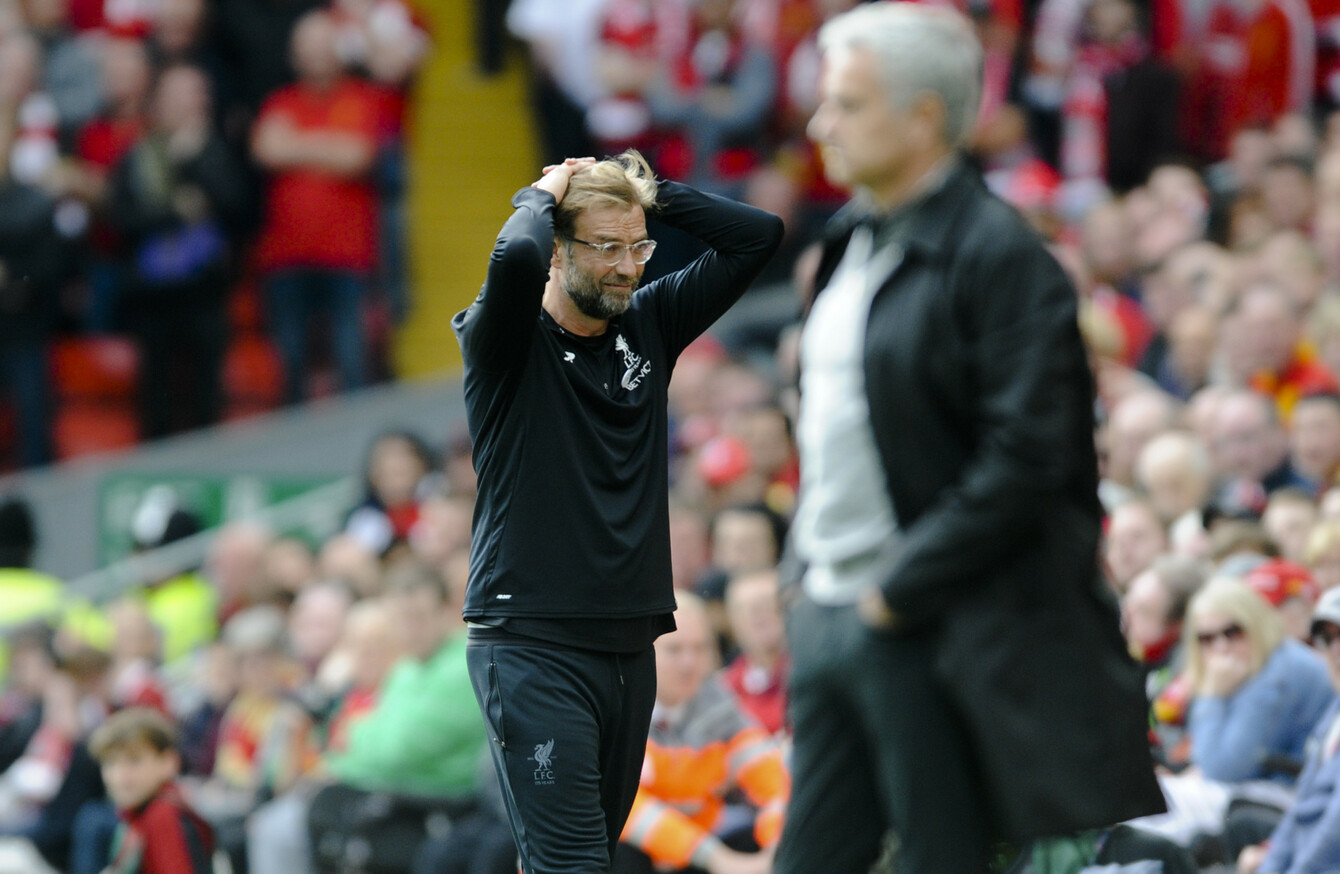 Klopp with Mourinho in the foreground.
Image: Rui Vieira
Klopp with Mourinho in the foreground.
Image: Rui Vieira
JURGEN KLOPP CRITICISED Jose Mourinho's reserved tactics during Manchester United's 0-0 stalemate with Liverpool today.
Having landed just one shot on target throughout the game, Klopp told Sky Sports that "Man United came here and wanted a point. They got it.", whereas Liverpool attacked the game in the hopes of getting the win.
"The performance was worth three points. We were the better side, the more active side."
Goalkeeper David De Gea saved United on a couple of occasions, stopping an effort from Joel Matip just before the break.
And overall it was United's defense that saw more of the game, with Romelu Lukaku only getting 22 touches on the ball throughout the game. Klopp also said that he wouldn't be a popular man if he adopted a similar approach.
For sure you could not play this way at Liverpool, but it's okay for Manchester United."
The German deemed Liverpool 'unlucky', and referred to a 'clear penalty' that referee Martin Atkinson failed to give.
At the same time, he pulled a number of positives from Liverpool's performance at Anfield, particularly that they kept a clean sheet.
"So far we've only lost one Premier League game. Everyone can see we're not far off Manchester United. I thought the boys did well," he added.
"We have to think about our performance and our situation after this game it's not worse. We wanted to win, everyone could see that. "There were a lot of brilliant individual performances for us in a very difficult game. "We need to continue working really hard and at one point it will happen for us. We need a little bit of luck."
The draw leaves Liverpool seven points off leaders Man United after eight games, in a less than ideal scenario for Klopp's men.
"I said to the boys after the game, we've already decided to take the hard way when we joined Liverpool", he joked.
Subscribe to The42 podcasts here: