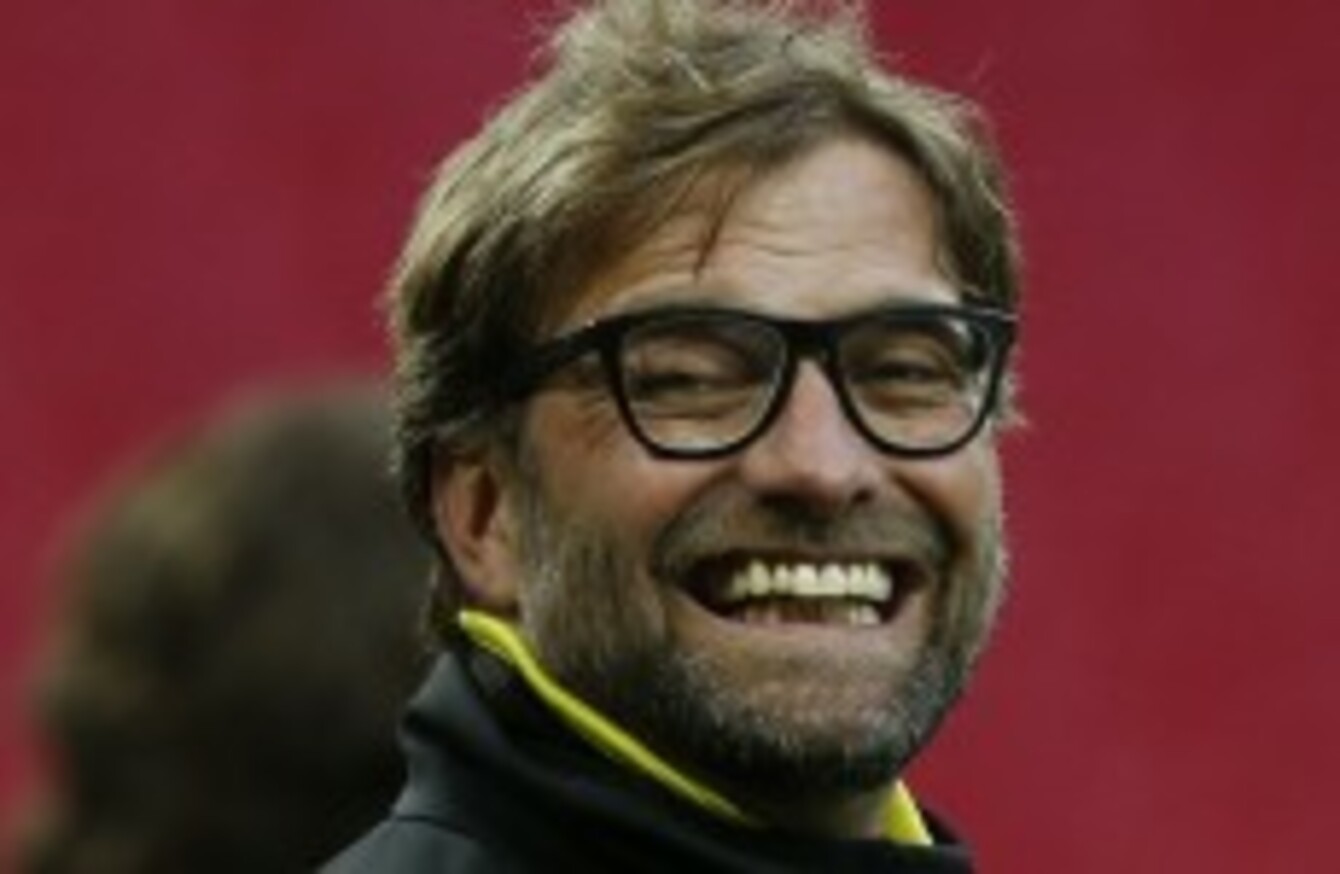 Jurgen Klopp continues to make friends wherever he goes.
Image: Matt Dunham/AP/Press Association Images
Jurgen Klopp continues to make friends wherever he goes.
Image: Matt Dunham/AP/Press Association Images
HE KEPT HIS audience waiting.
It wasn't, however, his fault. And the real reason for it only gave the charismatic Jurgen Klopp another chance to grab a laugh out of the assembled press.
"Given this awful traffic in London, we'll have lunch, see how long it takes us to get to the match. We had police accompanying us. Are we not allowed use these sirens in England? If we're going to have to get to the match punctually tomorrow, they'll have to put those blue lights on!"
Klopp certainly lights up many rooms. Before his pre-final press conference, it was notable how many more journalists who didn't even have to write up on it were determined to get into his appearance rather than Jupp Heynckes's. That's no slight on the Bayern Munich coach. As safe as the 68-year-old plays it, you get the feeling Klopp's personality would overshadow most coaches at this point for sheer personality. That was also the case ahead of the semi-final against Jose Mourinho's Real Madrid.
In fact, when you consider it, Klopp is probably theKl coach to have most enchanted the public since the Portuguese properly broke through around 2004. Even Pep Guardiola, for all his charm and qualities, came accompanied by Leo Messi and Barcelona.
As dynamic as Borussia Dortmund are, Klopp still strikes out on his own. He has genuine charm, joking with journalists, laughing with some about their reluctance to speak German, before suddenly turning serious and laying out just why the Dortmund project is so distinctive.
He wasn't, however, the only one to complain about the traffic. Bayern were also 25 minutes late for their press conference, while Sebastien Kehl offered a line that perhaps even trumped his manager.
"Road to Wembley is a good title. It took us an hour and a half. We are a bit surprised about the area the stadium is in."
A good 90 years after the stadium was officially opened, Kehl [open itals] slams [close] its planners. He does, though, raise a valuable point. On the underground train to the stadium a few hours before kick-off, a Dortmund-supporting family asked whether they'd have time to get to the Fan Zone.
Unlikely, I'm afraid. It's at the other end of this line and about an hour away. This is perhaps the one thing about hosting the final in a city as big and expansive as London – which is where I live and somewhere I genuinely love. In order for as much of the area as possible to get a taste of the Champions League final atmosphere, it means all the individual elements must be spread out. As such, other than Wembley Way in the hours before the game, there is no obvious centre to go for the ambience to build. Of course, Dortmund and Bayern fans took over some of the famous landmarks such as the fountains of Trafalgar Square, but you then had to travel an awful long way to keep it going.
Otherwise, the atmosphere was as excellent as has been built up, but also occasionally as edgy as has been creeping.
The very writing of this article was delayed because of some of the aggro outside the stadium. As I made my way up Wembley Way, a rush of about 200 fans sprinted the other way, pursued by police on horseback. It started after about 10 Dortmund fans and a dozen Bayern fans squared off before going for each other. The police were quickly into disperse it, but not without a few arrests.
It was only so striking because it has actually been so rare around Champions League finals of late. The Bayern-Internazionale showpiece of 2010, for example, had no such trouble. That, to a certain degree, speaks to the nature of the rivalry.
For the most part, though, there were only good vibes, as fans intermingled and sang.
This, after all, is the one they've been waiting for.