KEEP YOUR FRIENDS close and keep your enemies closer — wise words as we prepare to kick off the 2012 Six Nations tomorrow afternoon.
With that in mind, we have convened a meeting of some of Europe's top rugby bloggers to find out exactly what they're expecting from this year's tournament.
Who are the ones to watch? Where are their side's strengths and weaknesses? And, most importantly, what do they think of Ireland's chances?
We begin today with part one, featuring Scotland, Italy and England.
David Denton during the team announcement at Murrayfield (Lynne Cameron/PA Wire/Press Association Images)
Scotland
Rory Baldwin is the editor of Scottish Rugby Blog, and has offered a fan's view on Scottish rugby for Five Live, ESPNScrum.com and BBC Wales.
How do you expect Scotland to do this time out? Edinburgh have done very well in the Heineken Cup, and Glasgow are going well in the Rabo. The best thing has been the way they both close out close games that a few years back they would have lost. Edinburgh scored a bucketload of tries too, and not all of them Tim Visser.
If those aspects can be transferred to the international stage, we should see an improvement. Better than fifth would be nice!
Which area of the Scottish side keeps you awake at night with worry? Surprisingly, not Dan Parks. Even with Jackson out injured, we have at least two alternatives (Weir and Laidlaw) who should soon be ahead of him in the pecking order.
What worries me are the mental switch offs, especially in defence. We have a team that can compete with any of the others in the Tournament, but are more prone to silly lapses during games we are competitive in. If we can stop that, we should have a good chance of winning more often than not.
Who's Scotland's key man for 2012? Our new captain, Ross Ford. If he can sort his throwing at the lineout and ensure a steady stream of possession he could be absolutely the man for the job for years to come – his workrate in defence and physicality on the ball have been far above that of his challengers for the shirt so far this season. He's attuned to the offloading style that Robinson wants to play as well, and his discipline is good.
Who's the one rising star we should all keep an eye on? I'm hoping David Denton, who is a big rampaging ball carrying back row, can have a similar impact this year to Richie Gray last year – his hair is the same which could make them hard to tell apart. Kelly Brown's injury has definitely increased his chances of a spot at six or eight. We are all pretty excited about Greig Laidlaw at 10 too, if he gets the chance.
Your (brutally honest) thoughts on Ireland and their chances… Ireland are — like so many of the teams this year — tough to call. They don't actually seem to be in transition though, strange for a post-World Cup year. Sure it's an "ageing" first team we are likely to see from Kidney, but there is no shortage of talent snapping at their heels, and he'll have to pick them eventually.
O'Driscoll is a massive loss, as Shane Williams is to Wales; the sort of player who can scores out of nothing is invaluable, but so is the big game experience of the many in the Irish squad who remain.
Who'll win the tournament (and are they good enough to win a Grand Slam)? I am ever hopeful of a Grand Slam for Scotland but our opening fixtures are potentially very hard — England, Wales, France.
World Cup form suggests the overall winner should be France or Wales. France could win a Grand Slam, but otherwise I think the fixture list makes it unlikely — Wales have Ireland in Dublin first up. If I was a gambler I'd go with France. Or Scotland, of course.
The great thing about this tournament is you never really know what is going to happen until Day One is over, and that is why we all love it.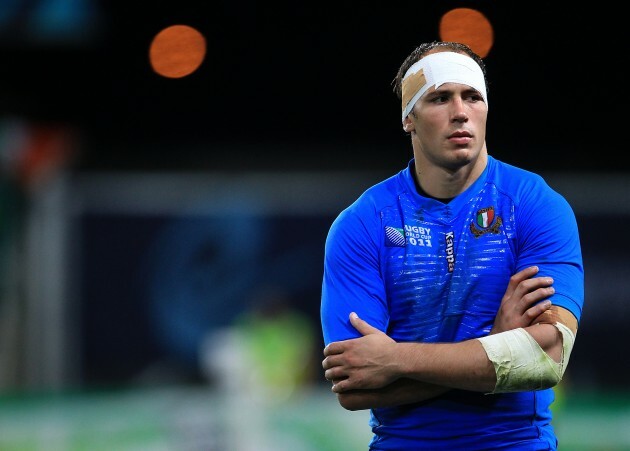 Italy's Sergio Parisse (Lynne Cameron/PA Wire/Press Association Images)
Italy
Dario Mazzocchi is a 29-year-old journalist from Lodi, near Milan in northern Italy. He has been managing Right Rugby with his colleague Abr since 2007.
How do you expect Italy to do this time out? Tough question, because it's the beginning of a new chapter. Jacques Brunel has promised more-or-less French rugby with deep and creative play and wants to improve our back line; so, that's a good challenge.
Honestly, I don't expect a lot because the real new changes will start in summer, with new faces and an improved relationship between players and coach. It's not easy to change a whole management in few weeks, but I think we'll have fun.
Which area of the Italian side keeps you awake at night with worry?

Our scrum could be the weakest area, in a paradoxical way. Everyone knows the Italian pack strength, the fact is that they must confirm it when they'll be under pressure. Sometimes in the past it didn't happen.

Looking at the Six Nations squad, I'm afraid the wings will be the weakest part of the team. A clear example — Giovanbattista Venditti is a strong boy (stout and fast) but he lacks determination when he's on the pitch with his team, Aironi. Everybody must be ready.
Who's Italy's key man for 2012? As a former (and very poor) back-row, I bet on Robert Barbieri. He has grown up a lot, he's part of a strong back row (Parisse, Derbyshire, Zanni) and he shown his mental strength and ability playing with his team, Benetton Treviso, who have been tough opponents in Pro12 and Heineken Cup. A good ball carrier and a cynical fetcher.
If Brunel's plans become reality, Tommaso Benvenuti could make the difference in the offensive situations, too.
Who's the one rising star we should all keep an eye on? Fabio Semenzato, to see if he can build on his last experience in the Championship. I'm quite sure he wont fail.
Your (brutally honest) thoughts on Ireland and their chances… Ireland never die. Last year, they ruined England's expectations of a Grand Slam; at the Rugby World Cup, they won against Australia in a huge physical match.
From my point of view, Ireland won't win the Six Nations. They didn't change head coach but, like Italy, they are entering a new phase – and they'll miss Ronan O'Gara's drop-goals.
Who will win the tournament (and are they good enough to win a Grand Slam)? I say France and they could also be good enough to win a Grand Slam, but we shouldn't forget they can be able to do everything. I mean, they can win a match without problems, but at the same time they can complicate their own plans. It's the French way. Don't forget they made it to the Rugby World Cup final with two defeats in the pool stage.
And I'm curious to see Wales: they have heart and passion, they had a good World Cup and now they're called to confirm that form and to win.
Joe Marler in action for Harlequins (Joe Giddens/EMPICS Sport)
England
Total Flanker is an overweight, opinionated, 40-something, injury-prone loose forward still deluded enough to believe he can still play rugby despite all the evidence to the contrary. His blog features his utterly biased, often unfair and mostly uninteresting views on the game of rugby.
How do you expect England to do this time out? Impossible to say. New coach, new squad, new attitude. We'll definitely be going into the first game at Murrayfield as underdogs but win that one and the confidence will soar. Lose and it will seem like a very long tournament stretching ahead.
Which area of the English side keeps you awake at night with worry? Apart from a general lack of international experience throughout the squad, the biggest cause for concern is our forwards' inability to secure quick ball at the breakdown. It's been a problem for what seems like an eternity and it's an area forwards coach Graham Rowntree needs to get right.
Are the new faces in the squad up to it? Time will tell.
Who's England's key man for 2012? Owen Farrell. It's massively unfair to heap so much expectation on one so young and inexperienced, but England really do need him to take a "duck to water" approach to international rugby. The alternative is to rely on Charlie Hodgson for points, which doesn't bear thinking about.
Who's the one rising star we should all keep an eye on? Farrell aside, I'm going to stick my neck out and say Joe Marler, assuming he is given an opportunity. It's true he does have issues as a scrummager, but I'm hoping that Rowntree can iron out the creases and Marler's value as a dymanic ball carrier can't be underestimated, despite the stupid haircut. Whether he is international class remains to be seen but there's only one way to find out…
Your (brutally honest) thoughts on Ireland and their chances… Ireland will definitely miss BOD but were always going to have to learn to play without deity in the midfield at some stage. There's still a shedload of experience in the squad, however, and the players will all be on a high after their recent Heineken Cup successes. I'd be very surprised if they didn't finish in the top two.
Who'll win the tournament (and are they good enough to win a Grand Slam)? Ireland or France. I doubt a Grand Slam will be up for grabs this year but, especially with the French, you just never know.
I'm sure Wales fancy their chances but I'm unconvinced that they can carry forward their World Cup form. Their performance in November against Australia suggested not.