YESTERDAY, WE BROUGHT you the expert opinion of rugby bloggers from Scotland, Italy and England, all of whom had their own different expectations for this year's Six Nations.
Before we head over to the Stade de France this afternoon for the tournament opener, here's part two of our fan preview featuring Wales, France and, of course, Ireland.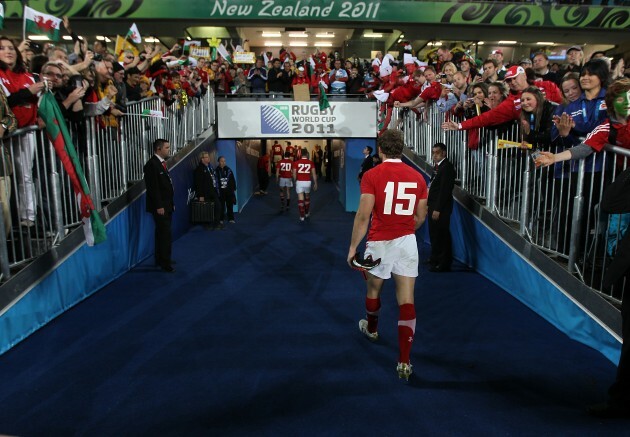 Leigh Halfpenny heads down the tunnel following the Rugby World Cup bronze medal final (David Davies/PA Wire/Press Association Images)
Wales
Woodster is one half of the team behind TheCoalFace, a blog written by Welsh fans for Welsh fans. The CoalFace looks to provide detailed analysis and discussion about everything related to Welsh rugby, and thrives on the debates that arise from carefully written opinion pieces.  Cymru Am Byth!
How do you expect Wales to do this time out? After our World Cup campaign, I think we could be forgiven for expecting Wales to perform considerably better in this Six Nations than the last three. However, injuries have tempered our expectations somewhat. I still feel that we have the team to win the thing, but think we'll slip up against either Ireland or England
Which area of the Welsh side keeps you awake at night with worry? Without question, the number 10 jersey. Over the last few years we've developed a pack of forwards who can compete with the world's best (although we do have a bit of an injury crisis at lock) and have backs who on their day can really perform.
However, we currently only really have one player who can perform at the highest level at fly half — Rhys Priestland, and he is currently injured. We saw in the World Cup that we really miss him when he isn't on the field, and the idea of James Hook filling in for him does not fill me with confidence.
Who's Wales' key man for 2012?

It might be cheating but I'm going to have two. Our captain Sam Warburton is crucial at the breakdown — without him we don't really have a spoiler who can disrupt opposition ball, so if he wasn't available it would be a massive blow.

The other one is Adam Jones, who is the cornerstone of our scrum and we really don't have the strength in depth to be able to cope without him. Honourable mention to Rhys Priestland who we discussed earlier.
Who's the one rising star we should all keep an eye on? Toby Faletau has continued his form since the World Cup and has been phenomenal at regional level for the Dragons. I'm expecting him to really pull up some trees in this year's Six Nations.
Alex Cuthbert has scored quite a few tries for the Blues and with a space vacated in the team through Shane Williams' retirement, he could well make an impact this year. One for the future is Wales Sevens star Harry Robinson who has made his first Wales squad this time around. He's got electric pace and a touch of Shane Williams about him; do keep your eyes peeled for his development.
Your (brutally honest) thoughts on Ireland and their chances… Ireland are a bit of a misnomer for me at the moment, as Ulster, Leinster and Munster are currently ruling Europe but the national team has not followed suit. I think they've got a great pack (particularly the back row), line out and driving maul, but I'm not terrified by any of your backs. The backline appears shorn of creativity without BOD, and I think Ireland may well struggle for tries this year.
Having said that, they've got Wales at home first off, which we're expecting to be a really tough game. Win that, and momentum is with them.
Who'll win the tournament (and are they good enough to win a Grand Slam)? It's a really tricky one. England are a bit of an unknown quantity, with basically a new team and a new coach and the same could be said of France. They could both go either way. Ireland will always be there or thereabouts while I can't see Scotland or Italy competing near the top.
I'm biased so I'm going for Wales. If we beat Ireland in Dublin, then I think we'll go all the way and get the Grand Slam. If we lose then France may sneak it, but I don't think they're good enough to get a Slam.
(David Davies/PA Wire/Press Association Images)
France
Pierre Renaud writes for Rencontresaxv.fr, one of France's top rugby blogs. Every day, Recontresaxv tries to bring a fresh point of view about rugby.
How do you expect France to do this time out? After a surprising Rugby World Cup and a gorgeous final against New Zealand, I hope France will affirm their European superiority.
Which area of the French side keeps you awake at night with worry? Les Bleus are under a new management and we don't know which strategy Philippe Saint-André wants to apply. This the only unknown thing. The mix between old and young players is the best way to perform this year during the Six Nations tournament.
Who's France's' key man for 2012? France's most important player is still Thierry Dusautoir (the Dark Destroyer). But there are also William Servat (hooker,  Stade Toulousain) and Aurélien Rougerie (centre, Clermont).
Who's the one rising star we should all keep an eye on?

The best young player is Wesley Fofana. Wesley plays for Clermont and scored three tries in the Heineken Cup (

2 against Leicester

) and three tries in the Top 14 this season. He is brilliant with Clermont and performs to provide space.
Your (brutally honest) thoughts on Ireland and their chances… Ireland is still able to win the Six Nations. This year, the "big clubs" — Munster, Leinster, Ulster — showed in Heineken Cup that Ireland is ready to win the Six Nations. They have got the players to win the Grand Slam…
Who will win the tournament (and are they good enough to win a Grand Slam)? As I said, Ireland and France are the two teams which could win the tournament. France are the favourites, because the game against Ireland is at the Stade de France. It's the second match in Six Nations fixtures but certainly the most important.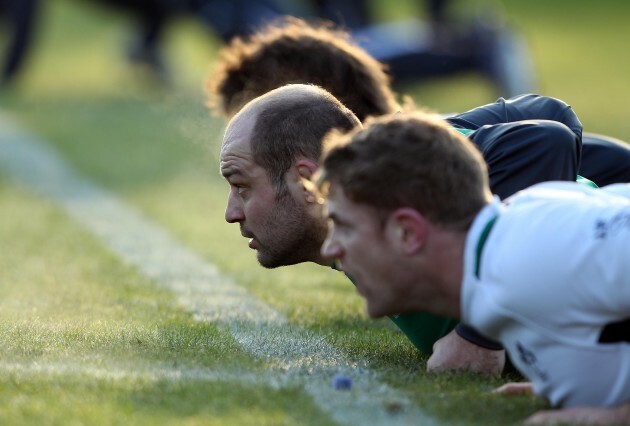 Rory Best at Ireland's training camp in Maynooth on Wednesday (©INPHO/Dan Sheridan)
Ireland
Whiff of Cordite is the rugby nerd's blog. If you like to think about rugby, and have a brain, you'll like them.
How do you expect Ireland to do this time out? It all depends on the first game. If we lose to Wales and then France, Ireland have their backs to the wall, and the pressure could well make a win in Twickers more difficult to come by than it would otherwise be. However, if we beat Wales, then it is easy to envisage the team having enough poise and confidence to pull Twickenham out of the bag (we will lose in France come what may).
We're leaning towards scenario two, and think Ireland's one urgent performance per tournament will be against Wales – they really want this one after events in NZ. Four wins, but not enough try-scoring threat to think about a title on points difference.
Which area of the Irish side keeps you awake at night with worry?

The coaching staff. Ireland's defence was excellent at the RWC, and has been consistently so for a long time. If they could score tries, they would be world-beaters. But they can't. They are lateral and predictable for the most part, and easy to defend against.

Post-RWC, Gaffney was cleared out, but he was replaced by a combo of defence and kicking coach. Maybe it will work, but it doesn't sound good despite the players making positive noises in the press. We would like to have seen a proven name with international experience come in with some fresh ideas and perspective – get the players challenged again. The comparison between provincial and national performances is getting starker, and it does not make good viewing for Deccie et al.
Who's Ireland's key man for 2012? No doubt here – it's Keith Earls. Ireland will be without their captain, leader and key defensive link man, and they are replacing him with a young man who prefers the wing and has concentration issues. It will take a long time for the memory of Fat Manu strolling past him in August to fade.
Earls has the talent, but has yet to prove he has the application. If Earls swims, Ireland will have a strong defensive game with added pace at 13. If he sinks, they concede more tries and will struggle to score them in return.
Who's the one rising star we should all keep an eye on? Ireland have a pretty settled team, and don't expect many new faces. However, there is a decent crop of young things coming through, and in a variety of positions.
The best of them could be young Nevin Spence at Ulster – he is a hard-running and defensively solid centre. Injury has curtailed his progress this year, and he has played mostly at 12 when fit, where the boshing temptation can prove a bit too much. Spence is still 21 and has already held tackle bags for the big boys. If he gets a run at Ulster and further develops his distribution skills, it shouldn't be too long before Deccie comes calling.
In terms of this year's tournament, Dan Tuohy may get a start at second row — he is a very un-Irish skilful and modern lock — and Peter O'Mahony might come in in the event of injury.
Who'll win the tournament (and are they good enough to win a Grand Slam)? It's hard to look past France. Their squad is perfectly balanced – they have nearly all won honours at club or international level and are settled and experienced, yet have something to prove.
Expect the introduction of a couple of newbies – Maestri for sure, and potentially Fofana as well (although the incumbent 12, Maxime Mermoz, is youthful and talented as well). Every line is arguably the best in the tournament, and the bench is incredibly strong.
We should say that William Servat can't go on forever and his back-up, Dmitri Szarzewski, is not a top-class player. But for now, its hard to see who will beat them. Wales in Cardiff is the biggest test, but their record there is second to none. Grand Slam for France.