KOBE BRYANT PREPARED himself for the LA Lakers NBA match-up with the L.A Clippers by bowing to the inevitable and joining Twitter.
The basketball legend put @kobebryant live yesterday and, after just 22 hours on the social networking site, has 432,235 followers.
Bryant kicked off his tweeting days with this:

Just the 46 characters for Kobe.
Bryant briefly took over the twitter account of Nike basketball last week and posted pictures of a suit he was wearing to a game and an ice bath he was not keen on dipping his toes in after a training session.
The 34-year-old scored 38 points for the Lakers but it was not enough to prevent the Clippers taking the Friday night clash.
Chris Paul contributed 30 points for the Clippers while teammate Blake Griffin netted 24 and could have done more damage had he knocked picked up a couple of personal fouls early in the match.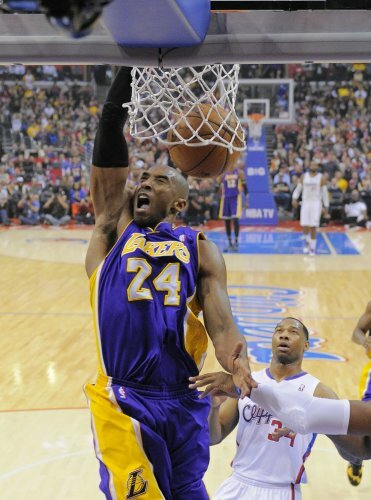 Bryant deposits a dunk. (AP Photo/Mark J. Terrill)
The Clippers won 107-102. It is first time since moving to L.A, in 1984, that the Clippers have won their first two games against the Lakers
Following the game, Bryant logged on and dropped another tweet that read, 'Thoughts of self doubt Am I done? Is this how my career will end?? I REFUSE to give in to these thoughts. #strongwill #countonchallenges'
He also retweeted a user that posts quotes from deceased rapper Tupac Shakur. The retweet read 'If you fall, stand tall and come back for more'.
Bryant may be flying, picking up tens of thousands of followers every hour, but he is still way behind LeBron James.
@King James currently dominates Twitter with 6,870, 767 followers.