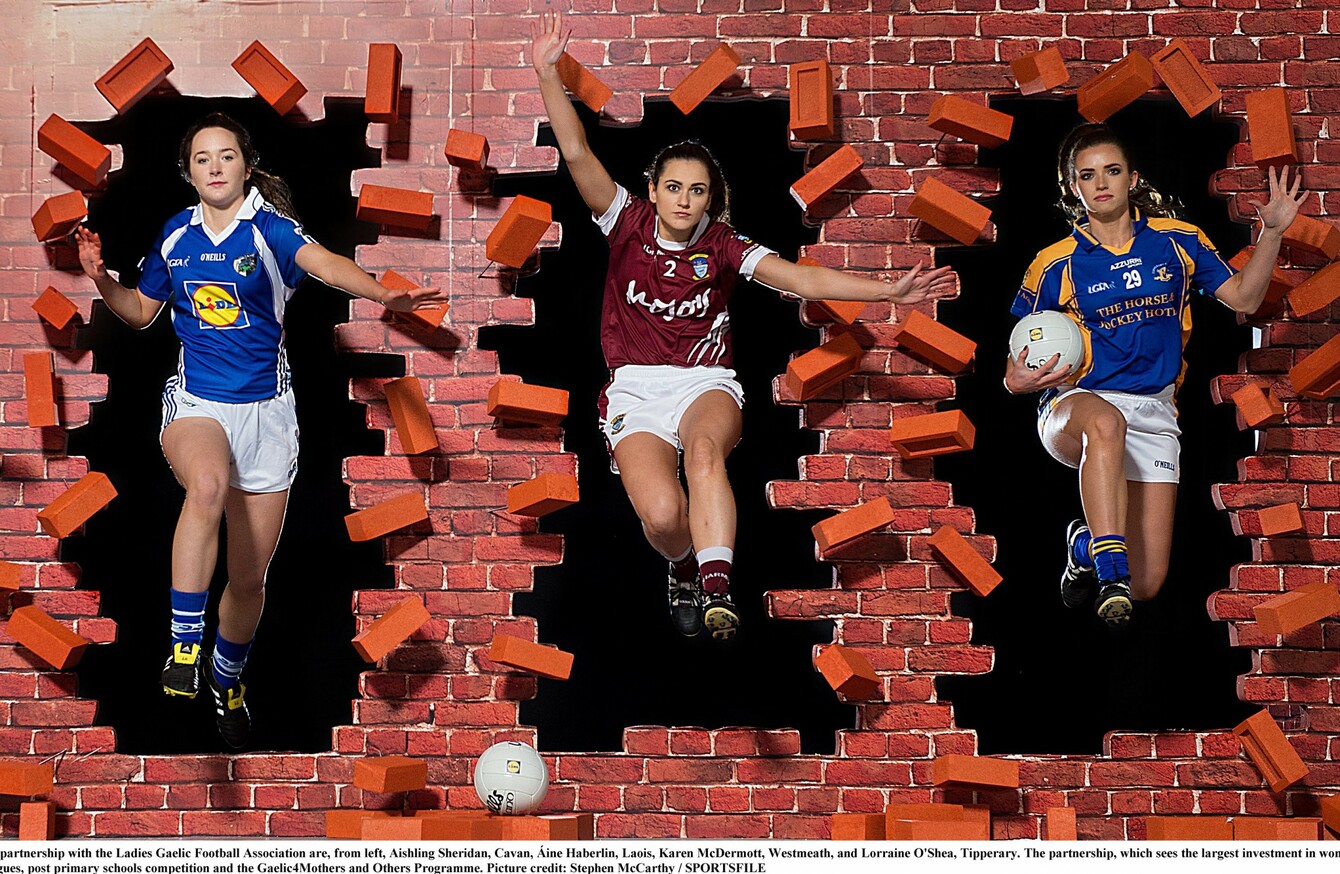 Lidl announced their three-year partnership with the Ladies Gaelic Football Association today.
Image: Stephen McCarthy/SPORTSFILE
Lidl announced their three-year partnership with the Ladies Gaelic Football Association today.
Image: Stephen McCarthy/SPORTSFILE
THE PRESIDENT OF the Ladies Gaelic Football Association has defended their controversial Ladyball marketing campaign and believes the level of coverage it has generated, realises their goal of getting people talking about the sport.
The campaign went viral on mainstream and social media last week. It provoked a storm of reaction before it was revealed last Friday that it was an advertising ploy as part of a new partnership between supermarket chain Lidl and LGFA.
The pink ball was marketed as a "a soft touch for a woman's grip" and designed for "a lady's game", leading many to voice their disgust at the campaign's "sexist language".
It was confirmed yesterday that Lidl is set to invest €1.5 million in Ladies Gaelic Football in year one of a three-year deal.
They will become the LGFA's official retail partner and the title sponsors of:
The Ladies National Football Leagues
The Post-Primary Ladies Football Schools Competitions
The Gaelic4Mothers Programme
LGFA President Marie Hickey reckons the end justifies the means.
"Someone actually said to me the other day, 'and who's actually making them'. So that just goes to show the effectiveness of it. I mean we've had coverage all over the world as a result which has been wonderful.
"Initially when they put the ads out about it, I was getting phone calls about how ridiculous this is and how demeaning it is. When it transpired what it was really about, I think people thought 'wow, what a wonderful way to raise awareness'.
"Any advertising campaign, no matter how controversial it is has a focus. I think because of the fact that Lidl have shown how they really are supporting the serious athletes of our players in this campaign, shows really what it's all about.
"It's an advertising campaign and you see women in those kind of clothes in lots of different advertising campaigns. I didn't see a problem with it to be honest with you."
Be part
of the team
Access exclusive podcasts, interviews and analysis with a monthly or annual membership.
Become a Member
The level of international reaction did take the Ladies Football Association aback with media organisations like The Washington Post and The Daily Telegraph covering the story.
"I couldn't believe it how quickly it just got everywhere. It just goes to show when you come up with something controversial or with a good idea, and it catches on, how it just spreads so quickly.
"The amount of people who are aware of it now, it's just amazing. Other years we've had launches, press conferences and you'd have a handful of people around the place.
"Here we have a crowd today and lots of interest and lots of questions. It speaks for itself."
Hickey is hopeful that such a high-profile campaign can have the knock-on effect of increasing attendances at ladies football matches.
"Getting people out to games. That's been my priority from the very beginning but also the coverage that we would get for our games and our sport. Social media, newspaper media, TV media, all of that. It's really showing the success in that way.
"We'd have a target of 40,000 for this year but ultimately we'd like to see Croke Park full on All-Ireland day. I don't think there's any reason why that can't happen."
"We have over 160,000 members, so if even half of them came out we'd fill Croke Park. It's important that the club members and the people on the ground come out and support the players and support the teams."