WE'RE BACK FOR Round 2 of Lance and Oprah.
As always, we'd love to hear your thoughts on the interview. E-mail ben@thescore.ie, tweet @thescore_ie, post a message to our Facebook wall, or leave a comment below.
You may need to refresh the page for YouTube videos and other elements to display correctly.
Welcome back. After sitting up into the early hours for the first installment of Lance Armstrong's attempts to clean some of the skeletons out that enormous closet of his, we've been home for a mid-evening nap and are all set for Part 2.
By now, just about everyone will have seen, heard or read how it went down last night but, just in case, here's our recap of events:
In a series of Yes/No questions from Winfrey at the start of the interview Armstrong admitted using banned performance-enhancing substances, including EPO, during all seven of his Tour de France wins.
He later admitted using a "particular cocktail" of EPO, testosterone and blood transfusions.
He apologised: "I made my decisions. They're my mistake. And I'm sitting here today to acknowledge that and to say I'm sorry for that."
Asked if it was possible to win without doping Armstrong said "not in that generation", but said that the culture in the peloton did not compare to the widespread practices in East Germany in the 1970s and 1980s.
"I didn't invent the culture, but I didn't try to stop the culture, and that's my mistake and that's what I have to be sorry for, and the sport is now paying the price because of that."
He disputed USADA's claim that he continued to dope following his return to cycling in 2009 and said he rode his final Tours clean. By admitting dopingonly as far as 2005, he appears to be positioning himself outside the World Anti-Doping Agency's eight-year statute of limitations.
He said that he was a bully and an "arrogant prick" who tried to control the narrative. He said that after beating cancer he wanted to win at all costs and, though he doped before his cancer diagnosis, it was only afterwards that he became a bully.
He described Michele Ferrari, the Italian doctor who has a lifetime ban from cycling for his involvement in doping, as "a good man and a smart man."
Asked if he felt that his use of PEDs was cheating at the time, Armstrong said no and that he had to look up the definition of "cheat" in the dictionary.
"The definition of cheat is to gain an advantage on a rival or foe, you know, that they don't have or that they — you know, I didn't do it that way. I viewed it as a level playing field."
Asked about the alleged cover-up of a positive test at the 2001 Tour of Switzerland — the test which Tyler Hamilton alleges Armstrong "took care of" with help from officials in the International Cycling Union (UCI) — Armstrong flatly denied the story.
"There was no positive test, there was no paying off the lab, there was no secret meeting with the lab director."
He refused to answer a number of questions about Betsy Andreu and her testimony that she heard Armstrong openly admit doping while in hospital, saying "I'm not going to take that one on."
Asked if he would take part in a truth and reconciliation process in cycling Armstrong said if invited, "I'll be the first man in the door" — though he conceded he has no "moral platform."
Regarding the US Department of Justice's decision in early 2012 not to pursue a case against him, he said he thought he was "out of the woods. And those were some serious wolves."
He said that his fate was sealed when friend and lieutenant George Hincapiedecided to co-operate with USADA's investigation: "George is the most credible voice in all of this. We're still great friends."
Got all that? Good.
Not long to go. And no, there is no meaning to those three numbers. It was pure coincidence that I pressed 'PrtSc' at that moment…
We're told the programme will cover:
The Livestrong foundation
His children
His mother
What's next for Lance Armstrong?
Oprah begins by asking does he feel "disgraced". Armstrong says he feels "humbled" and "ashamed". "This is ugly stuff", he adds.
He goes on to talk about all his sponsors dropping him, beginning with Nike. The only one he hadn't expected to leave was the Livestrong foundation.
Lance says his "most humbling moment" was when he was told by Livestrong that he needed to consider stepping down as chairman.
He says he wasn't "forced out" but was aware of the pressure. "It was the best thing for the foundation… but it hurt like hell".
"Are you facing your demons?" Oprah asks.
Lance answers with the word he used most regularly last night: "Absolutely. It's a process and we're at the start of that process."
We return from a particularly lengthy ad break and Oprah asks does he think doping contributed to his cancer. He respond that although he's not a doctor, he doesn't think so.
She then shows a video clip from November 30 2005 of Lance telling reporters that he denounces drug-users and says he fully understands that all his sponsors would go if he was found guilty of doping.
Oprah: Who is that guy?
Lance: That's a guy who believed he was invincible He's still there. I'm not going to lie.
Armstrong continues by admitting he owes a lot of people apologies. Do you owe David Walsh an apology?
After a long pause, he answers: "I'd apologise to David."
But what would he say to the millions of people who supported him through thick and thin?
"I would say 'I understand your anger, your sense of betrayal. You supported me forever through all of this and I lied to you. And I'm sorry."
Armstrong goes on to say that he'd love to compete again. Not in the Tour de France but there are "other things.
He then says:
I deserve to be punished. I'm not sure I deserve the death penalty."
Lance says he thought tweeting this picture was a good idea at the time: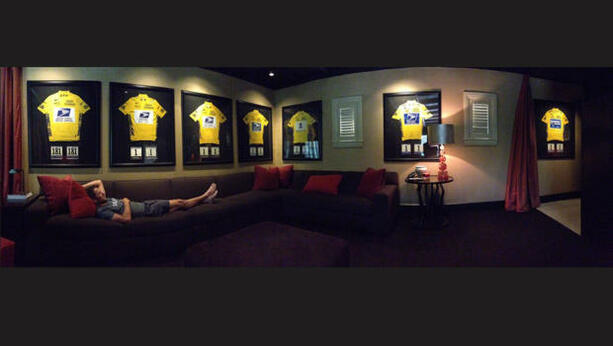 The interview turns to talk of his ex-wife Kristin and his kids. He tells Oprah that she believes in "truth, honesty and intergrity" before adding: "We believe differently on a lot of things"
Oprah again guilty of asking good questions first time out but failing to follow them up adequately.
There's a first sign of tears from Lance when he tells a story of his son Luke defending him. If someone says something to Luke in the future, Lance says he told him not to defend his father and just say: "Look, he's sorry."
Asked if he thinks his ban from racing will be lifted, Armstrong answers that he would like to have it lifted out of selfishness but realistically, he can't see it happening.
He adds that the motive for doing this interview was the well-being of his children. Really, Lance?
Oprah's next question: Have you lost everything?
"I've lost all future income. I don't like thinking about it but that was a $75m day (when all the sponsors left). Gone and probably never coming back."
You can tell by the questioning that we're nearing the end.
Oprah: Will you rise again?
Lance: I don't know. I don't know what's out there. I do not know the outcome but I'm getting comfortable with that. I'm deeply sorry for what I did. I may say that thousands of times but I may not be enough.
Oprah: Are you a better human being from this?
Lance: Without a doubt. It happened twice in my life. When I was diagnosed I became a better man but I lost my way. It's easy to sit here and say that but I can't lose my way again. I'm in no position to make promises but that's the biggest challenge in my life.
I had it but things got too big, too crazy. Epic challenge.
Oprah: It's an epic story. What's the moral?
Lance: For me, I just think it was about that ride and losing myself and doing all those things along the way. Then the ultimate crime was betraying all those people.
Oprah: I hope the morale is what Kristin told you. The truth shall set you free.
End credits. You're kidding me, right?
Instead of dealing with the real issues, he was allowed the platform to claim he's become a better human being for admitting the truth when he had no other choice. Extremely disappointing.
Right, if you've sat through the entire two-part interview and are now feeling more than a little hard done by, don't worry… you're not alone. I'm always thankful of the company but tonight I'm especially grateful. We'll have reaction pieces up on the site shortly but they'll still be there in the morning so go get some sleep! Night folks.