Updated on 15 February 2015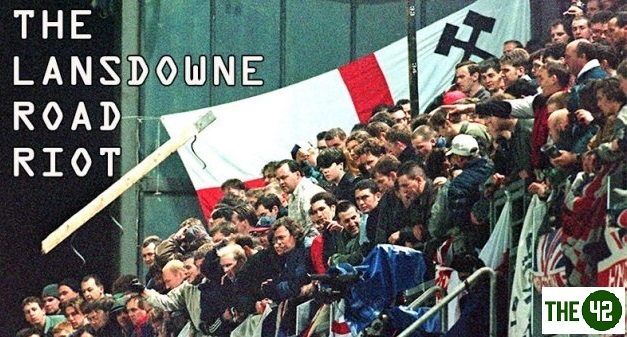 THIS WEEK MARKS 20 years since the famous meeting of Ireland and England at Lansdowne Road. The international friendly last just 27 minutes. The rioting of some travelling fans in the old ground as Jack Charlton's side led 1-0 in Dublin saw Dutch referee Dick Jol call time on the match. Players, fans, media and officials were left watching missiles rain down from the upper tier.

In their own words, this is their story.
George Hamilton, RTÉ TV commentator on the night: "It had almost become a regular thing for Charlton teams to play England at that stage. They had played in Stuttgart in 1988, in Cagliari in 1990 and for European Championship qualifiers – later that same year  and also at Wembley in '91. There were four matches in quick succession then a four year gap to this game. It meant they were familiar opponents and there was nothing other than great anticipation before the game. I can't remember there being anything different about the build-up. "
Denis Irwin, right-back on the night: "We were a strong side at the time. England had a bigger pot to choose from but I think they knew it was going to be a tough game in Dublin."
Bernard O'Byrne, former FAI chief executive: "That night is etched in my memory. I had the dubious distinction of being the head of security for the match. We had a lot of meetings with the Gardaí and with the English FA. We expected a small amount of dubious fans to come from England. We had about three of four times the amount of meetings, preparations and rehearsals that we would have before any other match. There had been some tensions before. We expected some kind of incident but we still expected a good sporting occasion."
Billy Stickland, pitchside photographer for Inpho: "The Irish team was incredibly popular back then. It was the era of Jack's Army and it was a very prestigious match to have the English over. They didn't anticipate that yahoos would come over and ruin the match. There was not much aggro before the game so nothing to indicate what was to come. I believe a lot of them came over on the ferry that day and landed in Dun Laoghaire. When it started, most photographers were on the end goal-lines. I was up on the touchline, in front of the West Stand, when it all started. I had my back to it all so didn't realise how serious it was for a couple of minutes.
"I never saw it coming at all. I'm not 100% sure but I can't remember any of the newspapers building it up as a massive occasion or potential flash point. It took everybody by surprise. I really don't think the Gardaí or the FAI thought about it like that. There were certainly no provisions made for it."
George Hamilton: "There had been an issue at Windsor Park in 1993 and '94. It was more of a big deal to play Northern Ireland in relation to expecting trouble. England's rugby team came to Dublin every year, the soccer team had been here and Charlton was the manager so there was no big deal. If you remember where all this was heading, the campaign would end at Anfield with a play-off against Holland for a place at Euro 96 in England. We had been to Euro 88, Italia 90 and the World Cup in '94. So what about Euro 96?
There was great excitement that it was going to be a European Championship in England. The expectation was there that we could do really well in this match. Ireland had three wins out of three, no goals conceded and were playing ahead of a big games against Northern Ireland and Portugal. It was a February evening. It got dark early bur I don't recall it being a bad night weather-wise. In those days, the old Lansdowne Road stand was wonderful. You would go up as part of the crowd and into the press room and the commentary positions were just off it. In the press room, we had tea and sandwiches with the same old faces who had been covering the team for years and were assembling once again. So we had a bit of banter and there was no indication that there was anything wrong."
David Murphy, journalist: "President Mary Robinson came out and she was booed by the supporters. I think there was a flicker in people's heads saying 'Hang on, this isn't right. There's something going on here'."
Ben Eglington, RTÉ cameraman in the west stand: "We arrived early in the morning to set it all up then went off for a tea break. When we came back the whole place was covered in Union Jacks and the fans were up there. Andy McKiernan was the unit manager and said I didn't have to go up if I didn't want to. As you look onto the pitch on the right hand side roughly along the edge of the 18-yard line is where I was situated. The only way to get in or out was through the stand. I had to walk in through the fans when I was going into the camera position.When I went up, the fans around the area were grand so I didn't think there would be any hassle at all.
"Beardley looks to hook one into the air. It goes high. Phelan heads away towards Sheridan. He can lay it off to where the spare man Staunton is at left-back at the moment. Forward to little Terry Phelan. Plays it infield, good pass to Sheridan. Quinn calls for the ball. Still Sheridan. Slips it in for David Kelly… gets a shot… And a goal! David Kelly has done it again. Great play from Ireland." — Gabriel Egan, RTÉ radio commentator on the night.
George Hamilton: "From memory, Ireland were giving as good as they got and began well enough to be in the position to take the lead. And they did that through David Kelly. It wasn't a surprise at they had done it before."
Kittybrew / YouTube
David Kelly: "The goal still counts in my house; that's good enough for me. We were really looking forward to the game as we still had the bulk of the squad from USA 94. We fancied our chances and were keen to get the bragging rights over our team-mates at our clubs over in England. We started very well and, as Jack always had us playing, we were putting pressure on them when they had the ball. Everybody knew their role and responsibility. I had a couple of half chances but we were confident and controlling things.
"I remember the goal clearly. Terry Phelan played the ball into the left-hand side of the area. I managed to get my shot off near the back post. It hit the top of David Seaman's arm and scooted in. He would've been disappointed that he didn't stop it. Getting the lead was a great start and, for myself, it was a fantastic moment."

Denis Irwin: "We played very very well in the opening 20 minutes or so. You spoke to Ned Kelly he was the goalscorer that night. And they were sat in the wrong area anyway – it's always easy in hindsight — but it didn't make sense sticking them up there. And it just looked like they were fighting amongst themselves and causing trouble. Seats started spilling onto the pitch kind of thing and seats were being ripped out and that."
George Hamilton: "The night was taking shape nicely before it all kicked off. I don't know exactly how it started but it did. At the front of the upper deck, we operated from these little cabins. The windows are tilted away from you. When you were sitting you had a perfect view but your peripheral vision beyond the pitch was somewhat masked because of the geography of the cabin. You didn't see what was behind you at all. You had no idea what was going on in the stand that you were in. I was unaware of what was happening until I heard from the director, who said there was something going on. And then they showed the pictures. I stuck my head right out to see and it was happening back behind me — crazed people ripping up seats and tossing them down onto the pitch."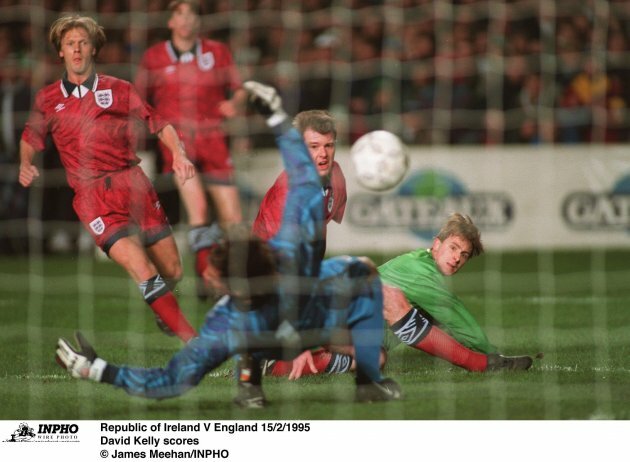 David Kelly scores. Pic:  James Meehan/INPHO
"I see a bit of trouble in the crowd I think as English supporters are on their feet throwing things down from the stand. It really is unseemly scenes down here at Lansdowne Road. I can't get a view of the throwing – I think it's cushion covers or seat tops. They're just being hurled down from the crowd. It's the English fans who are doing it. The Gardai are gathering around now. They're ripping up pieces of wood and pelting them down on the guards. I think the referee might have to call a halt to proceedings. Jack Charlton going outside. The referee is calling his players off the field of play. He's looking at his watch. Once more, the travelling English fans have disgraced themselves." — Gabriel Egan
Denis Irwin: I don't think they had any alternative but to take us off the pitch. It's the first and only time it ever happened to me in my career. And we just sat in the dressing-room wondering if the things that are coming through are correct. And the match was called off and it was a great shame because as I said we started really well against our great rivals.
Billy Stickland: "There was an element of 'this is a news story' in my thinking at the time so I started to take pictures again. Jack Charlton came out onto the pitch but when they made the decision to call off the game, it got worse. There was no diversion of the game any more.
Ben Eglington: "I didn't really break out until David Kelly scored the goal. When I saw the broken seats flying across my head, I thought it was getting a bit rough. Then the game got stopped. There were wooden seats in the old Lansdowne Road and I looked behind me to see them breaking them up and throwing them over. I think they got in with Irish fans and were fighting down below. I was stuck in the middle of it and I couldn't get out so I sort of hid as best I could.
MCCULLOU/PA Archive/Press Association Images
Steve O'Rourke: "I was 12 at the time and was quite scared when it all kicked off. The hardest thing was knowing people in that section of the stadium and not knowing if they were okay or not. This was well before mobile phones were everywhere so it wasn't until they got back home that you were able to find out if they were unhurt. That was difficult, especially with sketchy reports that people had died."

David Kelly: "Everything seemed to happen really quick. The ball went out of play and there were murmurings in the crowd. I could see that there was a disturbance in the top tier. Very quickly, things started getting down on top of the Irish fans and we were whizzed off the pitch. We all thought that it was a minor disturbance that would get sorted and we would be back on the pitch in a few minutes. It escalated rapidly but none of the players or coaches had any real inclination of what was going on. I remember Jack going up to the pitch but he came back down soon after and we were hurried onto buses.
"It was only after we got back to the hotel and turned on the TV that we saw just how bad it was."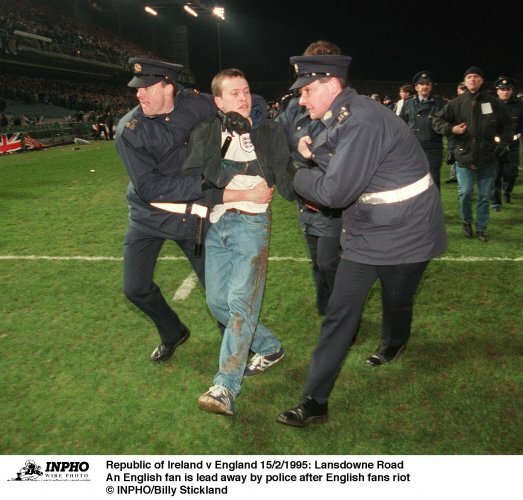 Billy Stickland: "It was really dangerous. One photographer was hit on the head by a piece of a chair and knocked out. He was a young lad, worked for The Sun. When he came about, he was visited by Mary Robinson in the hospital. We all tried to take shelter from the flying debris and then fans started to run out onto the pitch. The gardaí were not prepared for it but they were trying to isolate the hooligans into one section."
Steve O'Rourke: "I think a lot of people stuck around longer than they should have because initially it felt like the game might re-start. Looking back now that seems ridiculous but it's not every day you get a chance to beat England so I'd say that was more in hope than expectation."
Ben Eglington: "I was thinking about trying to climb down the cables to get out of there but they were fighting underneath me as well. I was lucky with the fans that were surrounding me as they were English fans but a lot of them had their kids with them. They were saying that the others hadn't seen me yet and just to keep my head down. The ones that weren't rioting stayed there and kind of covered me. Only for them they probably would have thrown the camera and myself over the side. There were very few police in the stadium at the start. I was screaming to get the police up here. I think I was there for about 20-25 minutes then the police came up."
Henry Winter: "I was just sitting there sort of writing the usual football correspondent embarrassed piece about yet more shameful behaviour by the English hooligans, although this clearly had an extra political part to it, and this England fan ran over and started shouting at me and a couple of the other journalists that he recognised. He said 'we didn't start it'. We were on deadline and you don't really argue with nutters like that usually but we said 'listen, you clearly did' because the atmosphere had been really good before that and then the England fans triggered it. He said 'you're wrong, you're wrong', turned, ran away, and kicked a police dog on the way, which kind of undermined his argument.
"It was an embarrassing night from the England fans' perspective. I thought it was an embarrassing night from the English Football Association's perspective too because if you go to someone's house and trash the place, you apologise immediately — and they didn't."
George Hamilton: "Absolute hooliganism. A riot. The first thing I noticed was one of the 'lifeboats' up on the front of the stand, where a cameraman would be placed on the 18-yard line. There were two of them. The one to the right was directly below where those ripping up wooden seats were. A guy called Ben Eglington I knew well was the cameraman. His dad Tommy played for Everton and and Ireland. All Ben could do was hunker down behind one of the cameras.
"It was quite obvious that they would have to stop the match. People joke and ask me how do you not swear when your commentating and maintain a degree of detachment. When you put the headphones on and clamp a microphone to your mouth, you have to be aware that you're not speaking to your mates in the pub. Even though the circumstances are crazy, you do find yourself in a zone that you carry your way through. You just carry on doing what you're there to do."
"There are stewards gathered around there and more coming across to try and sort this out. It's a dangerous place to be standing. It's right of the halfway line, up by the corner flag to the right. Some of the Irish fans being baited by the English there trying to retaliate."
David Kelly: "There was a real feeling of disappointment that something like that could lead to a game being called off. Looking back, a lot of good has come from that sense of shock and disappointment as there is CCTV now, better stadia and better policing at games."
Denis Irwin: "When we were hauled off the pitch we knew how serious it was and then as time went on and the match was abandoned. Safety's always a priority obviously. England were trying to root the problems out for years and years and there had been trouble when they travelled away but to have it on your own doorstep, was a bit of a shock I suppose. We obviously sat in the dressing-room and we were aware of what was going on but it was just a bit of a shock to be honest. We wanted to get out and get on with the game and hope it would settle down but that didn't happen of course."
George Hamilton: "My most lasting impression of it all was Ben in his little lifeboat trying to stay out of the line of fire. It was awful. I feared for his safety because there was nowhere for him to go. I remember Jack out on the pitch. He was a very proactive manager and engaged with the fans throughout his career. He would have seen what he could do. The worst incident I ever saw at a match was Hillsborough but that wasn't a riot and I had never seen anything like this. It wasn't a fight with anybody. They were destroying the place more so than attacking people. The gates were locked as that's what happened in those days. Nobody was leaving as they were watching the match. The guards were to come in but they were locked out and couldn't."
Steve O'Rourke: "Funnily enough my abiding memory of the night will always be something I didn't see until afterwards, that kid on the field crying. I remember thinking how easily that could have been me."
Billy Stickland: "I got a picture afterwards of the English manager, Terry Venables, in the team bus afterwards. He was just sitting there, looking forlorn. Jack would have had a great effect on the Irish fans in his heyday but he felt powerless that night. He was embarrassed by it as there were his fellow countrymen tearing up his team's stadium."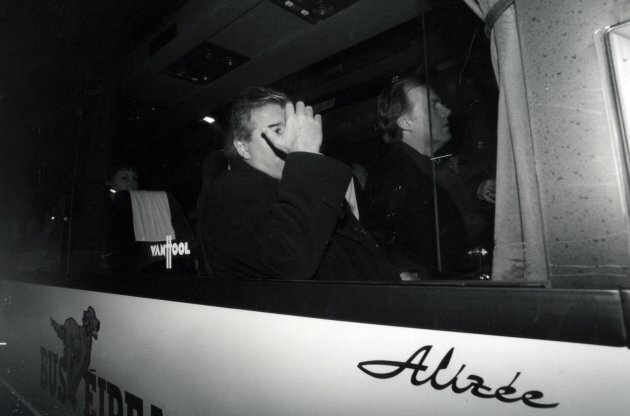 George Hamilton: "There was no Garda presence or riot squad. It wasn't a 'them against us' but just the English fans causing destruction. The other side had no interest in getting involved and got out of the way. You had a crowd that was rioting with no one to riot with. It was bizarre. Usually they would engage the forces of law and order but they were outside the gate. I'd be the last to criticise them for the situation they found themselves in but it was rather strange that they weren't able to gain access to the stadium.
"Maybe with hindsight and despite the fact that footballing relations between Ireland and England were good at the time and the Northern Irish situation was still problematic, they might have approached the policing of the event in a different way."
Henry Winter: "I can remember staying in town that night and talking to Irish people. They were coming up saying 'well it's not your fault, it was only a few of them', and I was thinking I've got a decent pair of eyes and I could see the England fans who were rioting. This wasn't the minority. This was clearly orchestrated and clearly a huge humiliation for English football."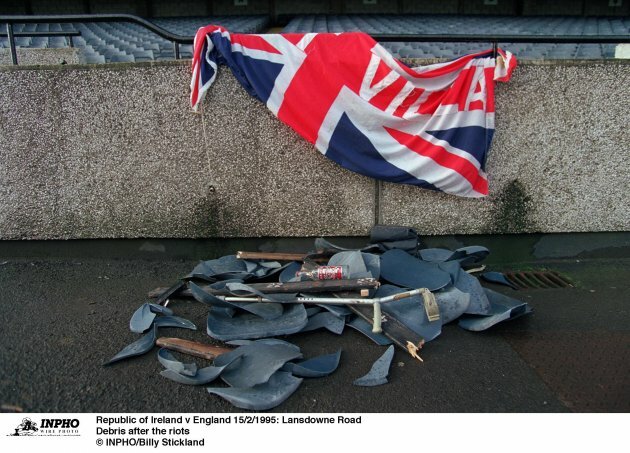 Debris after the riots. Pic: INPHO/Billy Stickland

Billy Stickland: "I remember going back the next day and seeing what looked like piles of rubble on the pitch. It was all the bits of seats that had been broken up and thrown. There was a limp, wet Union Jack on top of it all. It was quite a poignant picture."
Unofficial Irish Video Archive / YouTube
YouTube: swgarrett1980
First published May 2014. Interviews by Ben Blake, Pat McCarry, Steven O'Rourke and Adrian Russell. Henry Winter and Ben Eglington spoke to Newstalk's weekend show; Bernard O'Brien and David Murphy quotes taken from RTÉ documentary; Gabriel Egan commentary from RTÉ.