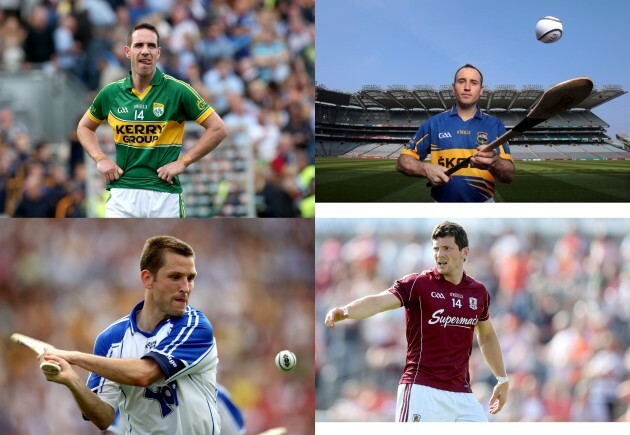 INPHO Declan O'Sullivan, Eoin Kelly, Ken McGrath and Micheal Meehan all set to get the Laochra Gael treatment. INPHO
- A version of this article was originally published on 2 September 2015
GAA FANS FROM Waterford, Kilkenny, Limerick, Tipperary, Kerry, Galway, Meath and Armagh will all have a special interest in the new series of Laochra Gael on TG4 which was officially launched today.
GAA President Aogán Ó Fearghail was on hand to launch the new season in Nemeton TV in Ring, Waterford this afternoon.
The new season of the popular show is back next month.
Three-time Allstar winner Waterford's Ken McGrath and nine-time All-Ireland senior hurling winner JJ Delaney will both feature.
2010 Tipperary All-Ireland winning captain Eoin Kelly, 1973 Limerick All-Ireland medallist Richie Bennis and Cork's John Allen – an All-Ireland winning player and manager – complete the hurling participants.
The football focus is on All-Ireland champions Declan O'Sullivan (Kerry), Trevor Giles (Meath) and Stephen McDonnell (Armagh).
Galway ladies footballer Annette Clarke will also be involved as will the Meehan brothers who backboned Caltra's All-Ireland club outfit in 2004 and also starred for Galway.
Here's the full line-up.
JJ Delaney (Kilkenny), 5.55pm, Sunday 21 February

Ken McGrath (Waterford), 5.55pm, Sunday 28 February

Declan O'Sullivan (Kerry), 5.55pm, Sunday 6 March

Richie Bennis, 5.55pm, Sunday 13 March
Stephen McDonnell (Armagh), 5.55pm, Sunday 20 March

Eoin Kelly (Tipperary), 5.55pm, Sunday 27 March

John Allen (Cork), 5.55pm, Sunday 3 April
Trevor Giles (Meath), 5.55pm, Sunday 10 April
Annette Clarke (Galway), 5.55pm, Sunday 17 April
The Meehans (Galway), 5.55pm, Sunday 24 April