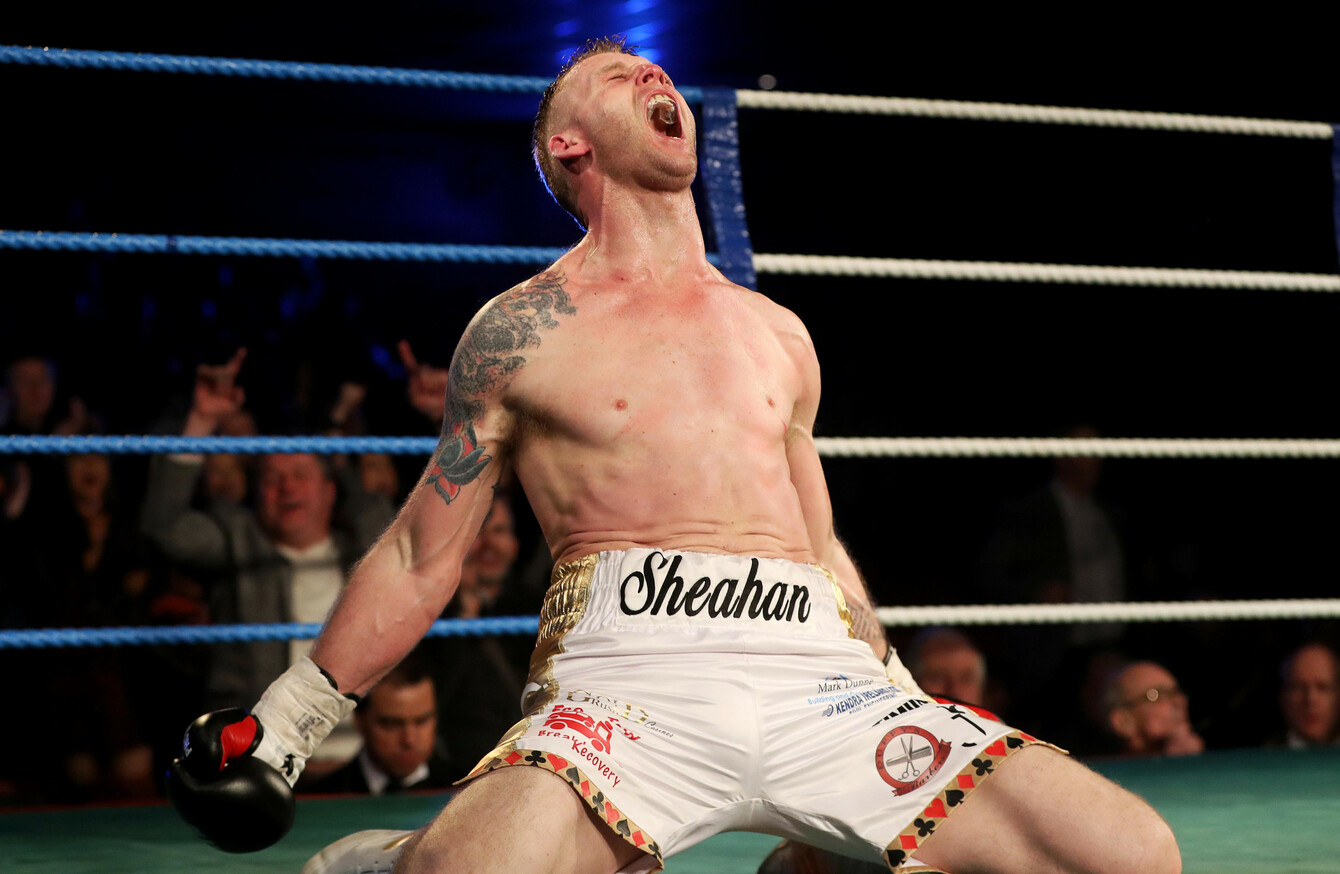 Gavan Casey reports from the National Stadium, Dublin
IRISH AMATEUR BOXING legend Roy Sheahan has won Ireland's inaugural Last Man Standing competition, pocketing €26,000 as well as €5,000 for his amateur boxing club, St. Michael's Athy, less than two months after temporarily stepping away from a building site to chance his arm in boxing's professional ranks.
The 32-year-old former four-time Irish Senior Elite champion entered the middleweight tournament as the least experienced fighter in professional terms, with just one pro bout under his belt – that being a four-round warm-up taken last month so that he could apply for the BUI boxing licence he needed to enter in the first place.
One of the most popular characters in the sport in Ireland, Sheahan took the undefeated records of Vladimir Belujsky and Jack Cullen, and saw off Irish super-middleweight champion JJ McDonagh, en route to a sizeable cheque and a fast-track toward the top of his division.
He is the first ever winner of the Red Corner Promotions and Assassin Promotions-inspired event – Ireland's first Prizefighter-style pro boxing competition, which saw the sport return to Irish terrestrial TV for the first time in seven years through broadcasters TG4.
There won't be a cow milked down Athy, and all that.
Quarter-finals
The four seeded contestants got the job done in their respective quarter-final bouts.
Before Belfast's Ger Healy could get going in the opening bout, JJ McDonagh – the BUI Irish super-middleweight champion – creased him with a left hook that would wake the dead. Healy protested his immediate stoppage but was consoled by his prodigious trainer Ray Ginley, who like those of us sat ringside had seen McDonagh's rasper and wished to see no more.
McDonagh appeared to signal to his corner that he had injured his elbow, but told the press as he made his way to his dressing room mere minutes after he had emerged: "I'll fight with one arm! I'll fight with one arm!"
Next up, Navan man Chris Blaney – the tournament's second seed – went hell-for-leather with late replacement Owen Jobburn of Stoke-on-Trent, whose ancestors hail from Athlone.
Jobburn shaded the early exchanges but in a balls-to-the-wall firefight, Blaney willed himself to victory, finishing with a classier and more explosive array of shots to put his sizeable support at ease. The Ricky Hatton-trained Blaney was awarded the contest 30-27, 30-27 and 30-26 by the judges – the last of which was farcical where the first two were probably generous. Jobburn played his role in what was an exhilarating back-and-forth, albeit somewhat devoid of quality at times.
Irish amateur legend Roy Sheahan was the bookies' favourite to win Last Man Standing as recently as Friday, but as third seed had invited 'Slovak Rebel' Vladimir Belujsky out to play for what was, on paper, perhaps the most feverishly anticipated last-eight clash. And what read well on paper manifested itself in the ring, and then some.
Slovakian-born Cork man Belujsky rattled Sheahan early with some thudding shots in close, but the four-time Irish Senior Elite champion from Athy – not two months removed from a building site – found his rhythm and range to swing the bout in his favour from halfway through the first: under pressure from the onrushing Belujsky, Sheahan produced a peach of a straight-right counter to plant the 22-year-old on the seat of his pants.
Having taken the first 10-8, Sheahan's fleet footwork continued to bamboozle the more one-dimensional Belujsky. The 32-year-old rocked Belujsky again with a sweet, cupping left on the back of a strong straight right. Belujsky continued to have minor success, but his task fast became quixotic.
Sheahan was awarded the fight 30-26 on all three judges' scorecards.
In the fourth quarter-final, Bolton's Jack Cullen saw off dark horse Nick Quigley 30-27 x3, outworking his Liverpudlian opponent in a clear and concise unanimous-decision win.
Cullen would face Blaney in the semis, but first up it was McDonagh versus Sheahan.
Semi-finals
It was the Athy man who started the brighter against the visibly larger McDonagh, who looked every pound of the 175 he took with him to the ring.
A sharp Sheahan straight right in the middle of the first stanza staggered McDonagh briefly, and by the second Sheahan was showing none of the wear and tear of his previous scrap; McDonagh, doubtless the fresher given his early stoppage of Healy in the quarters, didn't seem particularly troubled bu his supposedly hurt right hand, but struggled to establish his jab against his silky-smooth adversary.
The second followed a similar pattern, with Sheahan's straight right frequently finding a home and causing wreck. Sensing the bout was slipping away, McDonagh's corner roared for him to 'work', and as he tried to, he wound up landing atop Sheahan as both slipped to the canvas awkwardly as the bell rang to end the second. It earned him a stern stare from Sheahan, who was well in the ascendancy through two.
Flustered, McDonagh would take Sheahan to the canvas twice more as their legs tangled, but despite his conspicuous frustration, the Athy stylist kept his composure to comprehensively outbox the boxer en route to another unanimous-decision win.
Sheahan, for whom the sport had become an afterthought until his chance-your-arm decision to go pro from out of the blue, was into the Last Man Standing final. McDonagh went home with €7,000 for his troubles – €5,000 of which was awarded for scoring the fastest KO of the night versus Healy.
Jack Cullen and Chris Blaney entered their semi-final with identical records of 10 fights, 10 wins, and three stoppages, but where Blaney might have been fancied as the puncher of the pair, it was Cullen who sat down on his shots to greater effect in a complete barnburner. In keeping with their mirror-image records, both men traded thunderous right hooks with about 20 seconds to go in the first – Blaney's the more thudding, it seemed, but he'd soon get a taste of Cullen's own pop.
Enjoying the better of a ferocious exchange halfway through the second, the 24-year-old Bolton man known as 'Little Lever's Meat Cleaver' gave his Navan opponent the chop: a thunderous right hook sent Blaney crashing to the canvas, and his legs scarcely recovered.
Cullen kept the heat on his foe, and to Blaney's credit he couldn't be accused of leaving anything in the squared circle. The knockdown, though, was key, as Cullen reached the final by way of a deserved unanimous decision: 29-27 x3.
Final
The final was a battle between two undefeated boxers, albeit two of Roy Sheahan's three pro wins to this point had been attained during the previous hour.
The 11-0 Cullen had the disadvantage of having fought his semi slightly more recently, and began on the back foot as Sheahan laid down a marker with his laser-like jab. He landed a fine combination on his English opponent as he retreated halfway through the opener, but Cullen finally found his mark moments later as he backed Sheahan to the ropes.
The Kildare man, though, looked more at ease, frequently causing Cullen to miss wildly before delivering crushing blows to head and body.
Within a couple of blinks towards the end of the first, it was over: tail up, the Irish amateur great cornered Cullen and unleashed an almighty, unanswered barrage to lift the roof off the Stadium. The referee came to Cullen's aid not a moment too soon, and Sheahan collapsed to his knees centre-ring in maniacal celebration, suddenly 26 grand the richer.
Almost from nowhere, the sensational slickster has become a serious player not only in Ireland, but in the European middleweight division.
Other action
In what was technically the headline event of the evening, Dubliners Craig O'Brien and Jay Byrne almost took the roof off the 79-year-old arena as they waged war for the BUI Irish light-middleweight title.
Teak tough veteran Byrne gave his all in what was a compelling derby, but it was the undefeated Celtic champion O'Brien who had the edge throughout.
It was, perhaps, surprising that he outfoxed Byrne to the extend he did: Byrne had shocked another seven-fight undefeated opponent, Gerard Whitehouse, in his last outing, but O'Brien laid plain that he was the superior boxer as took a hard-earned unanimous decision win on scores of 98-92, 99-92 and 98-92.
O'Brien, whose youth and early 20′s were blighted by crime and the untimely losses of close friends, has turned his life around through the professional sport under Paschal Collins.
His record improves to 8-0, while the gallant Byrne's drops to 6-4.
Dublin light-weltwerweight Victor Rabei emerged victorious from a fight-of-the-night contender with Belfast's Mark Morris, as the latter – visibly in trouble after three rounds of what was a gruelling encounter – was pulled by his corner ahead of the fourth and final round.
The Moldovan-born youngster improves to 4-0(1KO), and while Morris' record drops to 3-2, his stock arguably rises provided he came through the contest relatively unscathed.
Dungarvan's Dylan Moran registered his fifth victory in the pro ranks – his third quick. The 23-year-old former kickboxing world champion made short work of the previously 4-2 Hungarian Gyula Rozsas in what was the final bout before the main tournament began.
Earlier in the evening, Leinster Rugby athletic performance coach Cillian Reardon made his long-awaited professional debut, but had to do so the hard way: the St. Michael's BC-trained middleweight wound up fighting an Eastern European cruiserweight who once took Stevie Collins Jr the distance, but proved his boxing venture was no sideshow as he displayed a stellar arsenal en route to a 40-36 points win.
Reardon, roared on from ringside by Cian Healy and other Leinster and Ireland stars, built on his jab to find a home for his right uppercut and straight right, also displaying fine footwork in a maiden pro win.
On his pro debut, @leinsterrugby athletic performance coach @creardon0 wound up fighting a cruiserweight who took Stevie Collins the distance (Reardon is a middleweight), but got the job done in style. 40-36. #LastManStanding pic.twitter.com/Zw3nfVwqA0

— Gavan Casey (@GavanCasey) March 3, 2018