THIS WAS THE scene this morning as Rory Best had his bags packed and ready to go to Australia with the British and Irish Lions.
The Ulster, Ireland and Lions hooker waved goodbye to his wife Jodie and children at Heathrow after a dramatic Saturday on which Dylan Hartley literally talked his way out of the squad and allowed Best fill his seat on the flight to Hong Kong.
As Lions head coach Warren Gatland fielded questions before departure today, he could find no defence for the cut-loose Hartley.
Dylan's a young man who has made an unfortunate error," Gatland told The Telegraph.
"To play the game you have to play on the edge, but unfortunately he's gone to the edge of the cliff and jumped off it. That's the only analogy I can draw."
"I called him yesterday and left a message on his phone. He left a message on my phone today thanking me for the call."
Gatland reiterated that Best's omission had been a difficult decision to make in the first place and he was now happy to have Ireland hooker on board.
©INPHO/Dan Sheridan
"Everything that's been written and people saying how unlucky he's been is 100 per cent correct because I had those doubts initially myself." Gatland continued.
"When we made the selection, the debate on hooker took by far the longest on and was he really unlucky.
"As soon as Dylan was ruled out he was the obvious choice, it was not even something we had to talk about.
"Sometimes fate can intervene and a player who was very unlucky to miss out never has a chance to step up and fight for his place."
Earlier, Best tweeted that he still can't believe he received the late call-up from Gatland.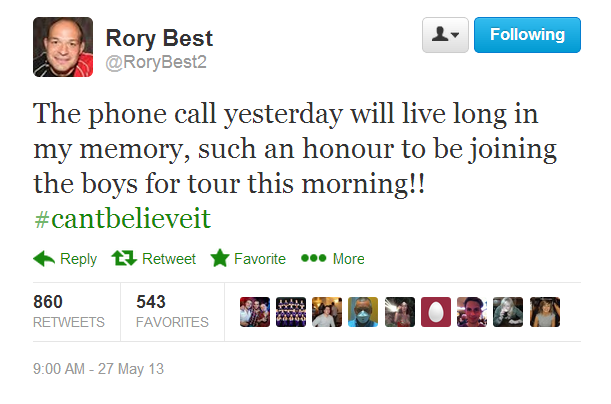 And he elaborated on that this afternoon:
"It's something you dream of, an absolute honour to be here. I had to pull over on to the hard shoulder to make sure I didn't veer off the road at that stage.
"When you don't make the initial squad you try to stay fit and always keep your phone by your side.
"When the call came through it was a number I didn't recognise. I don't normally answer those but for this I made an exception. It was great news."
The man who had been in line to captain Ireland this summer then thanked his followers for the support shown in what must have been a disappointing month when he felt his Lions chance had passed.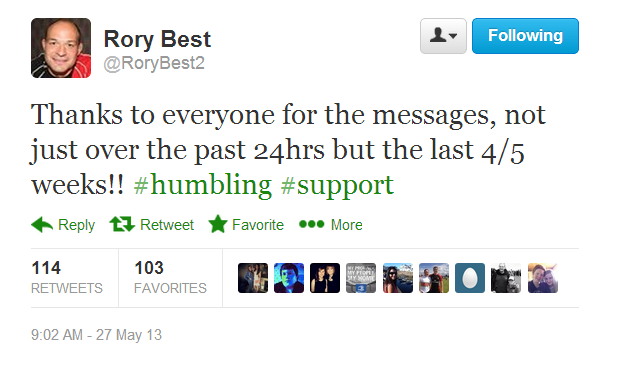 "When the squad was announced that was as low as I've felt." Best added. "We were training at Ulster at the time and more and more people on our management were avoiding eye contact with me.
"Nobody avoids you when it's good news, so I had an idea from that. It was bitterly disappointing and on that Tuesday afternoon I allowed myself to dwell on it and think deeply about the whole thing."
He'll have plenty of time to think again on the plane to Hong Kong.