WHEN CORA STAUNTON signed her Australian Football League Women's (AFLW) deal last month, there was no shortage of conversation around the move.
The Mayo veteran links up with Greater Western Sydney (GWS) Giants, with many saying that she'll become the first Irish player to feature in the AFLW.
She won't though.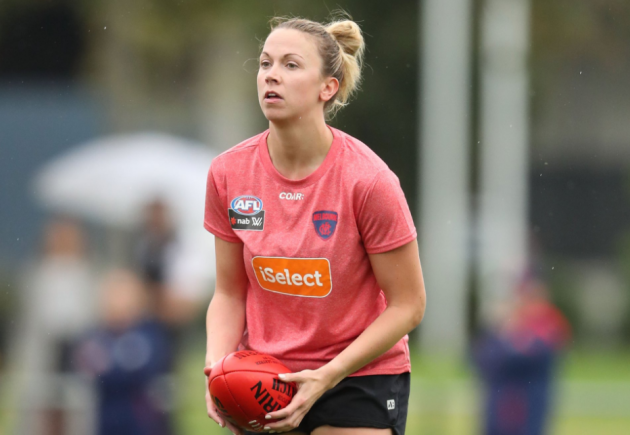 Melbourne FC Twitter Melbourne FC Twitter
Laura Corrigan Duryea became the first Irish player to feature in the inaugural competition this year gone by. She starred for Melbourne FC throughout their campaign, and they've signed her up again for another season.
In brief — 10 years ago, the Cavan native set out on an around-the-world backpacking trip. She headed for Thailand, did a month there and then on to Australia.
An inter-county player at the time, she got sucked into the Gaelic football scene in Melbourne and fell in love with the place. From there, stemmed an unlikely adventure to Aussie Rules.
An opponent in Gaelic Park one day told her she should try it out. She went to training shortly after, absolutely loved it and has never looked back.
After years of tireless efforts with her club Diamond Creek, Corrigan Duryea was selected as a free agent by Melbourne in November 2016 and since then, she's put down a pretty solid stint with the side. She was a key player as they won five of their seven games, and just missed out on a coveted spot in the Grand Final.
"It's funny because so many people still don't know anything about me," she laughs in an in-depth reflection on her year over the phone with The42.
"Obviously with all of the Cora news coming out, it's funny. I keep getting tagged in articles like 'Cora's the first Irish player, the first international player'.
"People are getting very heated about it and I'm like, 'Sure listen, it's grand, don't worry.' It is what it is. She's Cora Staunton, I'm nobody, fine!"
The 34-year-old first got wind of the news about a month ago, or maybe more. Her brother works in Dublin and knows a few Australians and people involved in the footy world, as she puts it.
He heard a whisper through the grapevine and of course, got on the phone to his sister straight away. Obviously excited by the news, Corrigan Duryea went in search of contact details for the players in question.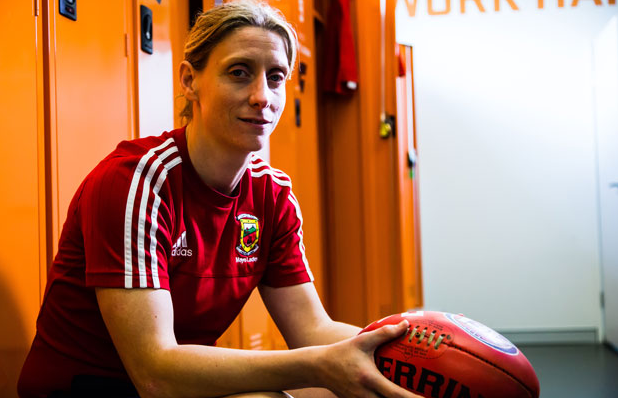 www.gsagiants.com www.gsagiants.com
The rumors circulating were surrounding Mayo attacking duo Staunton and Sarah Rowe. And so there was a text or two sent towards the homeland.
"I messaged the two of them, said who I was and just said 'I hear you're thinking about coming out, ah it's brilliant, you'll love it. If there's anything you want to ask, I've been playing here for 10 years and obviously played in the AFLW last year. Any questions, concerns, queries, I'm more than happy to answer anything. Or if you come out, I'm more than happy to show you around. Best of luck in whatever happens,' you know.
"That was probably three, four weeks ago. Sarah messaged me back the next day and was like, 'Oh it's so good of you to get onto me, thanks so much. I'm thinking of coming out at Christmas…'
"I didn't hear anything from Cora, but she was obviously trying to lie low. I sent her a text saying 'Congratulations, best of luck, see you out there' kind of thing [after she got picked].
"Since she's got back to Ireland, she sent me a message to say 'Thanks very much, sorry I couldn't say anything but it was all a bit on the down low. It'll be lovely to meet up with you at some stage and have a chat about things.'
It's very exciting, obviously. When I left Ireland 10 years ago, she was superstar. She's still a superstar. It's going to be exciting. I'm possibly going to end up marking her at some stage.
At some stage she says, but then: "Round One, we're playing against each other so who knows, who knows?"
Saturday, 3 February 2018 is the date set, and the venue is Casey Fields.
Last year, Melbourne were beaten by GWS in just one of two losses. Next season there's an early chance to make amends.
A potential debut for Staunton in the AFLW, with a strong chance that the Irish pair will end up marking each other. An occasion Corrigan Duryea is relishing already.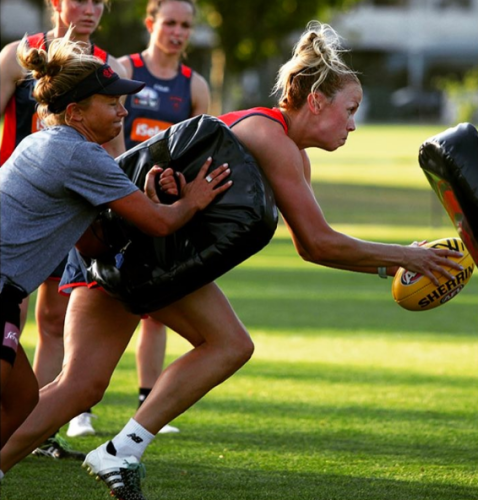 "Yes, we definitely owe them for last year," she smiles.
"I never thought I'd be playing against Cora Staunton in Australia, I'll tell you that much!"
She's never faced the Carnacon forward on the Gaelic field. When Corrigan Duryea played with Cavan, they were in the intermediate and junior ranks at the time, while Mayo were flying high at senior.
Twelve years ago though, a team of Australians came out to play in Ireland and she's pretty sure she remembers watching Staunton feature. Then again, she's not certain.
One thing she is certain of though, is that Staunton will transition to the game fairly easily.
"I don't think that the physical side of it will be a problem for her," she continues.
"We all know she's a strong girl, she's a smart footballer. It's more going to be the timing and the bounce of the ball and judging and kicking the ball. Just the rules and stuff I suppose.
"But she's got that much experience. She's played at the top level in Gaelic, soccer, rugby so it's not like she can't switch codes! It'll be intense. She's going to have to really fast track through all of the training, and skills and rules.
"But yeah, the coach at GWS is a great fella. One of my Diamond Creek mates Tanya Hetherington, she's just been picked up by them too and so far so good. She said she's had a really positive experience. By the sound of things, it'll be great.
"Obviously Nicholas Walsh is from Cavan. I was messaging him too, having a bit of a giggle with him about it. She'll have plenty of support and she's got family there, so that will all obviously help. The sooner she gets out here, the better, that she'll get her head around the ball and stuff like that.
"Definitely looking forward to Round One, it'll be interesting!"
In terms of her own transition to Aussie Rules, it took a bit of getting used to, she admits. The heat, the physicality, the length of the game all took some time to adjust to.
"The length of the game definitely was challenging," she says as she casts her mind back.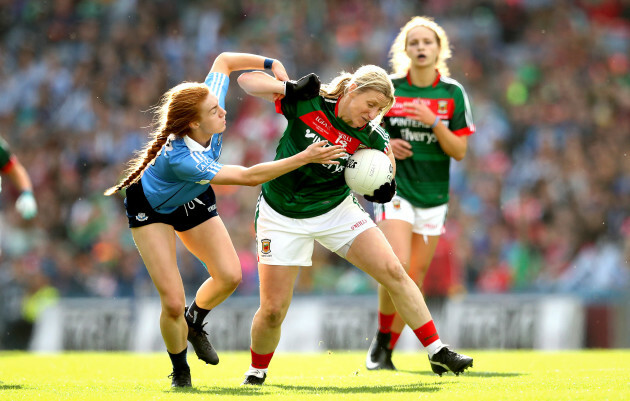 Ryan Byrne / INPHO Ryan Byrne / INPHO / INPHO
"Because we're playing in the summer though, the quarters are shorter. I think we play 17-minute quarters and then you probably end up playing 23-24-minute quarters in the normal season.
"The smaller ball, 16-a-side, there's a bit more space in the forward and back line. I'd say the biggest change is getting used to the shape of the ball and just learning how to mark it properly. Marking it, kicking it, just judging that bounce. It could bounce anywhere, so just getting your body behind it and things like that.
She continues: "Listen, I'm sure they're going to put a lot of work into her [Staunton], knowing that she's coming as a fresh player.
"There's a lot of players coming from basketball, netball, cricket, that have never played before so she's coming from probably the most similar sport in the world so I'd imagine she'll adapt fairly lively."
She said it before Staunton's move, and she'll surely say it time and time again now: she wouldn't be surprised if more and more Irish girls went over to play.
It looks like Corrigan Duryea is the start of something exciting, this new link between Ireland and the AFLW, and she's more than honoured.
"Since Cora's come on board and there's obviously been a lot of media around it. I've had a lot of girls from Ireland messaging me and asking me what the first season was like, how would you get into it, when would you have to come out.
"I've had maybe two or three girls from home messaging me and I'm sure there's more asking them different questions and stuff. Sarah's coming out at Christmas. I'm pretty sure a couple of the AFL clubs, maybe even Melbourne, are speaking to other Irish girls. They've been spotted.
"I'm pretty sure next year there'll be even more and it'll just continue growing.
"As much as we all love playing for our counties, there's nothing like winning an Ulster final, an All-Ireland final, but [there's] the chance to be a professional sportsperson in any sport, to be paid for doing what you love.
"I know obviously it's not the sport you've grown up with but it's such a similar sport, and the opportunity to come to Australia for a few years to do it, I can't see why girls wouldn't want to jump at it."
#NewProfilePic pic.twitter.com/2QgTFNU2zq

— Laura CorriganDuryea (@IRISHCREEKER) July 26, 2017
Earlier in our conversation, she told me about a trip back home during the summer, and she touches on that again as the call comes to a close on the subject of future Irish players in the AFLW.
In July, she was invited to the Ladies football championship launch in Croke Park. Obviously delighted to be asked to the function by the Ladies Gaelic Football Association (LGFA), she gave a glowing account of the day.
"That's why I was really surprised that I got invited to Croke Park," she concludes.
"Knowing all the buzz of Tadhg Kennelly and how he's kind of received at home now after all the players he's purged to come over here and play.
"I felt a bit awkward on the day but everything was great. We'll see if we get the same reception the next time I go home if 10 county players move over to Australia to play! They might be cursing me."
February 2018 and that clash between Melbourne and GWS, and Corrigan Duryea and Cora, is mentioned once more just before we hang up.
"Hopefully I'll be ringing to say that I roasted Cora Staunton!" she grins. "We'll see."
A full piece on Laura Corrigan Duryea's 2017 and the AFLW's inaugural season will be published on The42 in the coming weeks.
Subscribe to The42 podcasts here: