AN ERA THAT features big-name signings like Dan Carter and a shiny new stadium such as the U Arena in Paris would surely count as the most glamorous in most clubs' histories.
Not so for Racing 92, Munster's opponents in the Champions Cup semi-finals tomorrow.
In the late 1980s, the Parisian club was home to the 'Show-Bizz' generation, a group of players who pulled off a series of audacious stunts on and off the pitch but also reached the 1987 French championship final and then won the 1990 edition.
yvon rousset / YouTube
The pink bow ties 'Le Show-Bizz' wore in both of those finals remain the symbol of that era and also the logo of Eden Park, the clothing brand that spawned out of Racing's daring, controversial and downright fun antics at that time.
They drank champagne on the pitch at half-time in their 1990 final victory. On other occasions, they painted their boots gold, wore fake bald caps, jogged out in berets, ran onto the pitch in blazers and black bow ties, painted themselves black, and more.
They once even tried to convince the then-mayor of Paris, Jacques Chirac, to allow them to arrive onto their home pitch in Colombes in a helicopter just before kick-off in a league game. That one was vetoed but there was no limit to Le Show-Bizz's imagination.
Releasing a pop record? They did that too with 'Quand tu Marque un Essai' [When you Score a Try]. From being a source of annoyance to opposition teams, Le Show-Bizz became a national sensation and appeared on national TV shows 13 times.
Racing Club, as it was known up until a merger with fellow Parisian side US Métro in 2001, had won three titles early in their history in the late 1800s and early 1900s, but had only one further title in 1959 to celebrate before Le Show-Bizz came along.
Franck Mesnel, one of the ringleaders of Le Show-Bizz and the co-founder of Eden Park, remembers those years when they put Racing on the map with fondness.
"It was almost a way of motivation for us," says Mesnel. "Each time you did one of these jokes, you had to perform.
"We always kept our values like respect and those rugby values, but we had that impertinence, as we say in French."
Le Show-Bizz came as a way of Racing living up to and mocking the stereotype much of the rest of France had about Parisians – the stuck-up snobs from the capital.
Current World Rugby CEO Brett Gosper was part of that generation too, having joined Racing in 1981 when the club was still in the lower divisions. Australian Gosper was part of the regrowth of Racing in the years that followed.
"We got into this habit of wanting to annoy the provincial sides because they all saw us… it was rare for a first-grade, top Parisian side to be in the mix… and they all saw us as the show ponies from Paris," says Gosper.
The rebirth of Racing Club began when president Jean-Pierre Labro, whose money was made in oil, started to invest more heavily in the '80s.
yvon rousset / YouTube
"With a cigar in his mouth, he decided he would go and acquire the best players he could find," says Gosper, who was a centre in his playing days.
The great Jean-Pierre Rives was at the club as Racing built themselves into challengers, while the high-profile scrum-half Gérald Martinez and flanker Laurent Cabannes also arrived in the '80s.
Rives had retired by the time Racing finally reached a final, but Mesnel proved a key signing at out-half in 1986, just before the Parisian club took off on a run to the final.
"Franck was playing in a proper third division Parisian suburban club called Saint-Germain, quite a chic part of the Paris suburbs," recalls Gosper
"His mate was a scrum-half in Racing's second team and told the coach he had a friend who was quite good and who he could bring down to training.
"We were playing touch and he really looked quite good, his hands, the way he sidestepped. We thought he must not be able to tackle if he had been playing third division. But he could tackle, there was nothing wrong with him!"
Mesnel takes up the story.
"I met the coach, Robert Paparemborde, and lied to him and told him I was a fly-half, when I was a centre in Saint-Germain because the president's son was playing at 10!
"I had pace and that quality was very helpful for me. Robert understood quickly that I wasn't a fly-half because of my kicking – I was powerful but not precise – but I told him my dream was to be a fly-half and he just told me to go out and be a rugby player."
The addition of Mesnel proved key and within a year of his move to Racing from the third division, he was playing in a World Cup final for France against New Zealand.
By the time Mesnel joined Racing, the Show-Bizz period was well underway.
"It was already there at Racing when I arrived, but without the performance," says Mesnel. "Everybody was already wearing pink undershorts and our mascot was the Pink Panther, things like that.
"The spirit was here and I think I maybe just added a little bit and we started to perform better. We began to make these jokes on the pitch but also to perform."
Then based in the leafy Bois de Boulogne area of Paris, Racing was an omnisport club at that time – their facilities including swimming pools, volleyball courts, restaurants and much more.
"It was the amateur era but, of course, there were incentives the way only Racing could do it," says Gosper.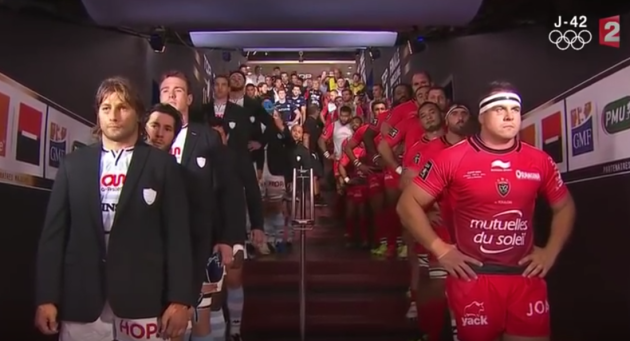 France 2 Racing wore blazers before the 2016 Top 14 final against Toulon in tribute to Le Show-Bizz. France 2
"It was like a very wealthy country club that would fund the sports teams. They would find players jobs, players were paid directly in cash each month – win, lose or injured – your apartment was looked after, your meals were looked after.
"It was very secretive – no one would ever talk about their deal with anyone else. We all used to joke with each other that they were the highest-paid player."
The results were spectacular and after starting with minor things like playing Glen Miller music during their warm-ups and wearing pink shirts after games, the Show-Bizz element of Racing truly picked up as they headed towards the play-offs in that '86/87 season.
"What happened during that year was that we kept on saying that this would be the last game we played, we would be knocked out, and we were almost more interested in being remembered than being good," says Gosper.
The league clash away to the then-great Bayonne in January of 1987 was when Le Show-Bizz's stunts truly took off.
They ran onto the pitch wearing traditional Basque berets, both to pay respect to the greats of the Bayonne club and also to annoy their opponents.
"That first idea came from [wing/fullback] Jean-Baptiste Lafond," says Mesnel, who also has fond memories of time spent with the likes of Willie Anderson, Hugo MacNeill and Brendan Mullin after Ireland-France games.
"The most important step was to convince the forwards," continues Mesnel. "We told them we wanted to make this joke but we needed to have the green light from them.
"We couldn't do it without them, because they put their nose where I didn't put my feet! They said we could go for it, but not to forget their importance. We say that there are people in rugby who move the piano and people who play the piano.
"We usually say the backs play the piano but we never missed an occasion to talk about how important our forwards were."
When Racing reached the quarter-finals of the championship in April of '87, against Brive in Clermont-Ferrand, their backs came onto the pitch wearing blazers and black bow ties.
"We ran into the centre of the field, waved to the crowd, ran off and took the blazers off and played," says Gosper. "That incensed Brive but we went on to win in extra time."
A week later, for the semi-final against Toulouse in Bordeaux, Le Show-Bizz's stunt was to wear white Bombay shorts instead of their regular rugby trunks.
France tv sport / YouTube
"We kept winning," says Gosper. "Paparembord, our coach, was really gruff but he sensed that these things made us win, so he tolerated all this stuff.
"It was like 'Fine, If you guys want to play the clowns, you better win.' We did, we kept winning."
Le Show-Bizz had more than captured the nation's attention by that stage, with the great commentator Pierre Salviac proving to be one of their most ardent fans.
The public profile of the club exploded even further when a group of Racing's backs, including Mesnel, Lafond and Éric Blanc, another of Eden Park's co-founders, released 'Quand tu Marques un Essai'.

"We were all very friendly with a singer-songwriter who owned a bar in Paris," explains Gosper. "Franck and four of the guys from the backs, who all had playboy kind of looks, they released a record.
"They appeared on every variety TV show in France in those weeks leading up to the final. They were proper household names.
"They were on the front cover of L'Equipe, there were big discussions about Le Show-Bizz. It was controversial outside Paris but in Paris, it was just seen as quite funny."
Of course, the final against Toulon at Parc des Princes in Paris would need a special stunt to top off a remarkable season.
"During a dinner before the final – because all those ideas came during dinner with one or two beers – we decided we wanted a symbol for the spirit of Le Show-Bizz," says Mesnel.
"It had to be a little bit French, a little bit arrogant, very paradoxical because we were playing with good performances but also with jokes. We decided to keep the bow tie and paint it in pink this time.
"It was a party in Parc des Princes, so we felt it was a perfect occasion to wear the pink bow tie on our jersey."
The sight of Racing's backs running onto the pitch with pink bow ties around their necks was a bizarre one and remains so to this day.
Racing lost that final on a 15-12 scoreline but their antics had captured the imagination of the rugby public, with a gigantic TV audience tuning in to watch them play in their pink bow ties.
Mesnel went on to play for Grand Slam winners France at the '87 World Cup, where they reached the final against New Zealand at Eden Park.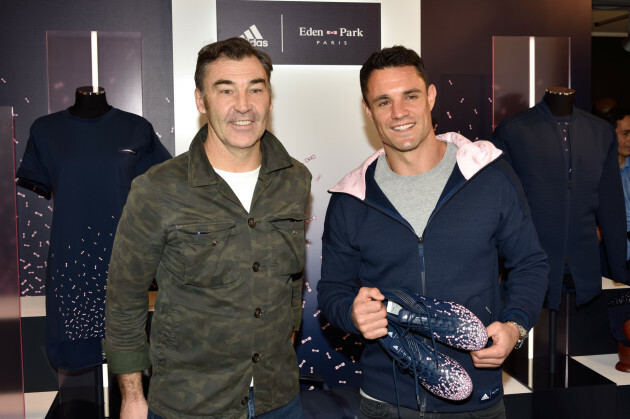 Wyters Alban / ABACA Mesnel with Dan Carter at an Eden Park event this year. Wyters Alban / ABACA / ABACA
With Le Show-Bizz having picked up major media attention, Mesnel returned from that World Cup convinced that there was something more in the pink bow tie. He linked up with his sister, Sandra, who married Racing centre Blanc, and they founded the Eden Park brand that year.
"The press built up the logo before we even decided to go into business. We thought about launching a wine, champagne, something else – and eventually we began to think that a rugby jersey would be a good idea," says Mesnel, who explains that Irish rugby great Ollie Campbell is Eden Park's distributor in Ireland today.
"We saw that it could be a good idea to put it into fashion with some adaptation. We knew how to destroy jerseys, so we thought we could also build them."
Two relatively poor seasons followed the highs of that '86/87 campaign and Le Show-Bizz's antics before and during games gradually died away as they attempted to help the club back to the peak of the French game.
That said, there were still memories like Racing's players painting their faces, arms and legs black to honour the birthday of their Guinean prop Vincent 'Momo' Lelano, or players wearing bald heads to mock an opponent in a friendly manner.
Gosper had retired by the '89/90 campaign but remained very much part of the club and watched as they went all the way to the French championship final again, this time against Agen.
The pink bow ties returned and Lafond even handed one to French president François Mitterrand when he shook hands with the players before kick-off.
Racing won that final 22-12 after extra time but it is best remembered for the quite incredible sight of Le Show-Bizz drinking champagne at half-time, with the game still in the balance.
"One of our wingers, who was injured, told us that to celebrate the final he would come on at half-time with champagne," says Mesnel.
Gosper laughs at the memory: "I was sitting with friends and family of the team and we thought they surely wouldn't do it. The backs all walked across, took a glass and had a sip, and went on to win the game!"
"It was real champagne, I can tell you," says Mesnel. "I just remember seeing [Agen hooker] Pierre Berbezier and his team looking at us drinking it.
"I saw their eyes and they were thinking 'those guys are totally crazy, how can they drink champagne at half-time?' It was maybe doping and maybe it was good to push us to win the second half!"
Racing Club declined soon after securing that title and they faded down the divisions once again before current president Jacky Lorenzetti bought the club from some of the Show-Bizz generation, who had hoped to return it to former glories.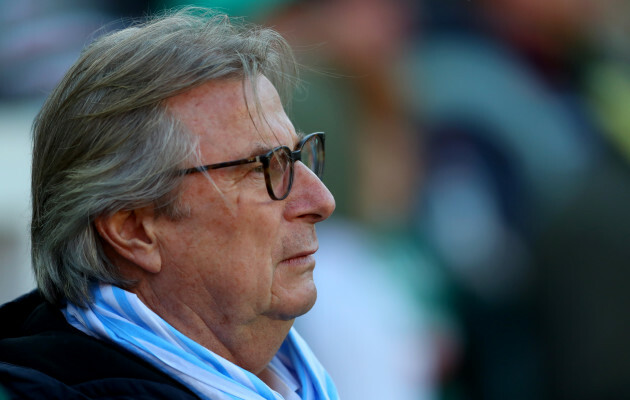 James Crombie / INPHO Current Racing president Jacky Lorenzetti. James Crombie / INPHO / INPHO
Before the 2016 Top 14 final victory against Toulon in Barcelona, Racing's players paid tribute to Le Show-Bizz by wearing blazers out onto the pitch.
And in January 2017, Carter and his team-mates again ran onto the pitch for a Top 14 clash with Toulon in blazers and also sipped a glass of champagne on the pitch before kick-off.
"The link is still here, even if the club is now in a different story," says Mesnel. "Jacky owns the club and financially that's the truth, but the club doesn't just belong to one person.
"It's all of our story, even before us with the 1959-winning team, it's their story. There is history there. You saw it in 2016 when the players came out for the final with their blazers on.
"It was amazing and funny to see that. They're doing their own thing now as well, because it must come from the inside but it's still part of the personality."
The42 is on Instagram! Tap the button below on your phone to follow us!