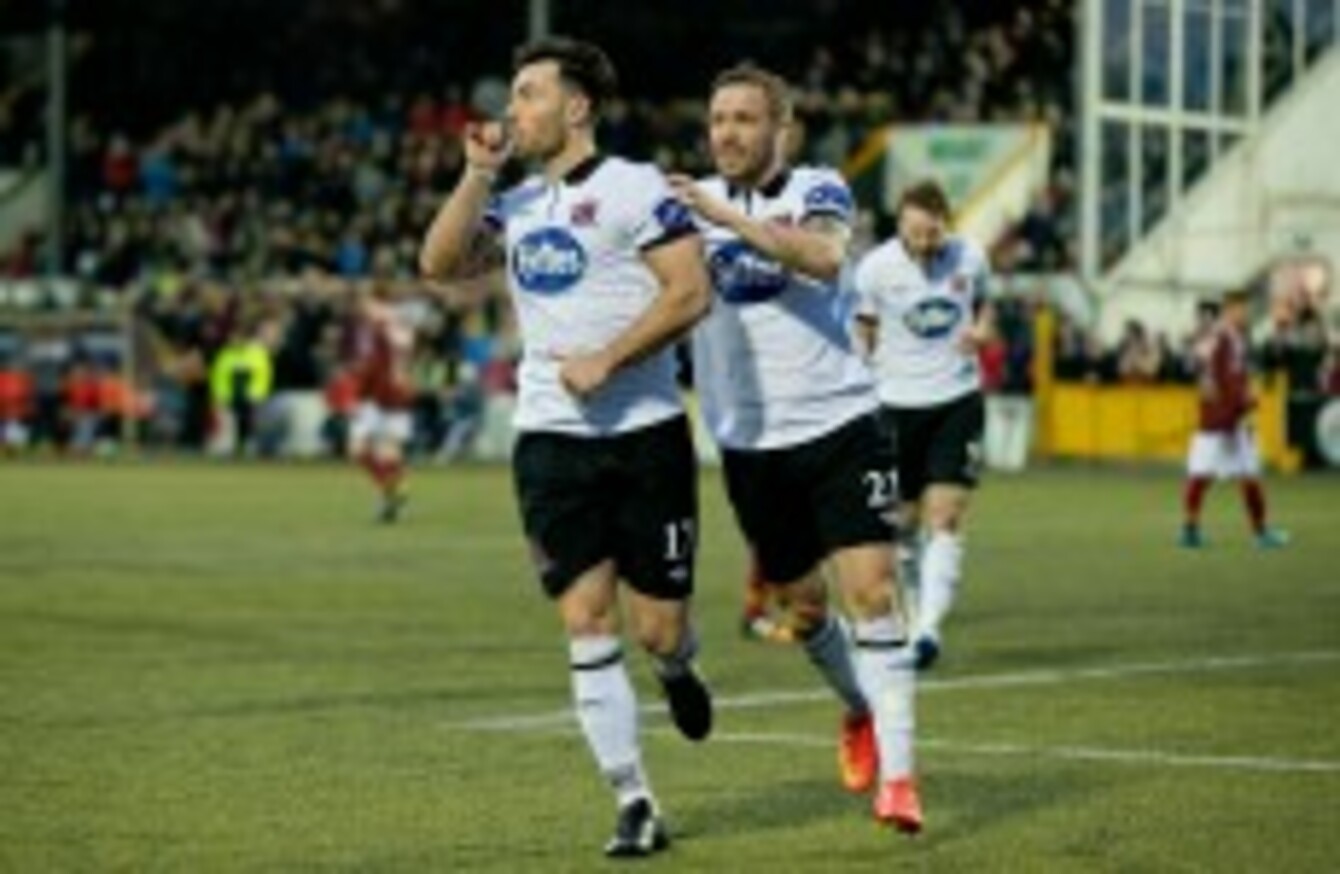 Richie Towell celebrates with Darren Meenan after opening the scoring for Dundalk against Galway United.
Image: Morgan Treacy/INPHO
Richie Towell celebrates with Darren Meenan after opening the scoring for Dundalk against Galway United.
Image: Morgan Treacy/INPHO
Richie can do no wrong but teamwork makes the dream work for Dundalk
Richie Towell's treble for Dundalk against Galway United makes him the league's top scorer so far, with seven goals. If you included his effort in the President's Cup, the midfielder has eight in total for the campaign already. Pat Hoban's departure asked many questions about Dundalk's goalscoring abilities — namely, whether David McMillan could fill the centre-forward void — but it's been a team effort in 2015. Their 18 league goals have come from eight different scorers.
- Barry Landy
Strength in reserve keeps Cork City in hot pursuit
At home, John Caulfield's side have won four from four, scoring 12 goals and conceding none. That they continued their good run of form against Longford Town without captain John Dunleavy, Alan Bennett and John O'Flynn in the squad shows the greater depth available to the Cork City manager this season. More options allow him to tweak the team game-to-game, and so far it's reaping rich rewards.
- Denis Hurley
Shamrock Rovers on the right track but the best is yet to come
This was by no means a vintage performance from Rovers but they had far too much, even in second gear, for a limited Bray outfit. That Pat Fenlon was able to shuffle his pack and make four changes from Friday without weakening his side underlines the strength of his squad in Tallaght. Stephen McPhail, Sean O'Connor and Danny North were all unused substitutes on a night when the visitors were in complete control from start to finish.
Not many teams come to the Carlisle Grounds and leave without breaking sweat, but this was a job well done by the seaside. As McPhail was given the night off, it was another Irish international pulling the strings. Keith Fahey returned to the side and he put in a performance which suggests he's hungrier than ever to reproduce his form of a few seasons ago. Only Cork City can come close to matching the strength in depth of Rovers, and although they're four points off the summit at this juncture, you get the impression there's a lot more to come from Fenlon's side as the season progresses.
- Ryan Bailey
Blue Monday for Limerick in front of 354 at Jackman Park
Just 354 people turned up to watch a pretty dull encounter between Limerick and Derry City. While you could count the amount of visiting supporters on one hand (long trek, Monday evening), the Carey's Road venue was like a graveyard. It wasn't a scene fit to host a Premier Division game and Limerick badly need to address it.
While the club can't treat these games as a mere curtain-raiser to the Markets Field return, there is a sense that the Garryowen fortress of old could reignite interest. I'm sure the first game or two will carry a sense of nostalgia for many, but that may run out very quickly if this Limerick side keep making individual errors that frustrate those in attendance.
- Andrew Cunneen
Lloyd Buckley shines as Drogs are rewarded for attacking approach on the road
Johnny McDonnell must be commended for his tactics against a St Pat's side that came into the game off the back of a good result away to Bohemians. Choosing to play two up top meant Drogheda always had an extra offensive outlet, and although their attacks were intermittent throughout, the visitors looked dangerous whenever they broke.
With a home game to come against Longford Town on Friday, the point earned in Inchicore will make the build-up to that winnable game all the more easy. Furthermore, the performance of Lloyd Buckley, at only 18 years of age, was a real positive for Drogs.
- Simon Walsh
Are League of Ireland referees too keen to go to their pocket?
It has been suggested numerous times this season that referees across the League of Ireland have been a little bit card-happy. In Monday evening's meeting between Sligo Rovers and Bohemians, referee Rob Rogers handed out five yellow cards. Three of those were given to Bohs players in the first 45 minutes. It was possibly a scrappy affair — you could argue that — but did it really warrant so many bookings? It didn't seem like it. A simple talking-to could have been enough in some situations, although admittedly not all.
- Jessica Farry