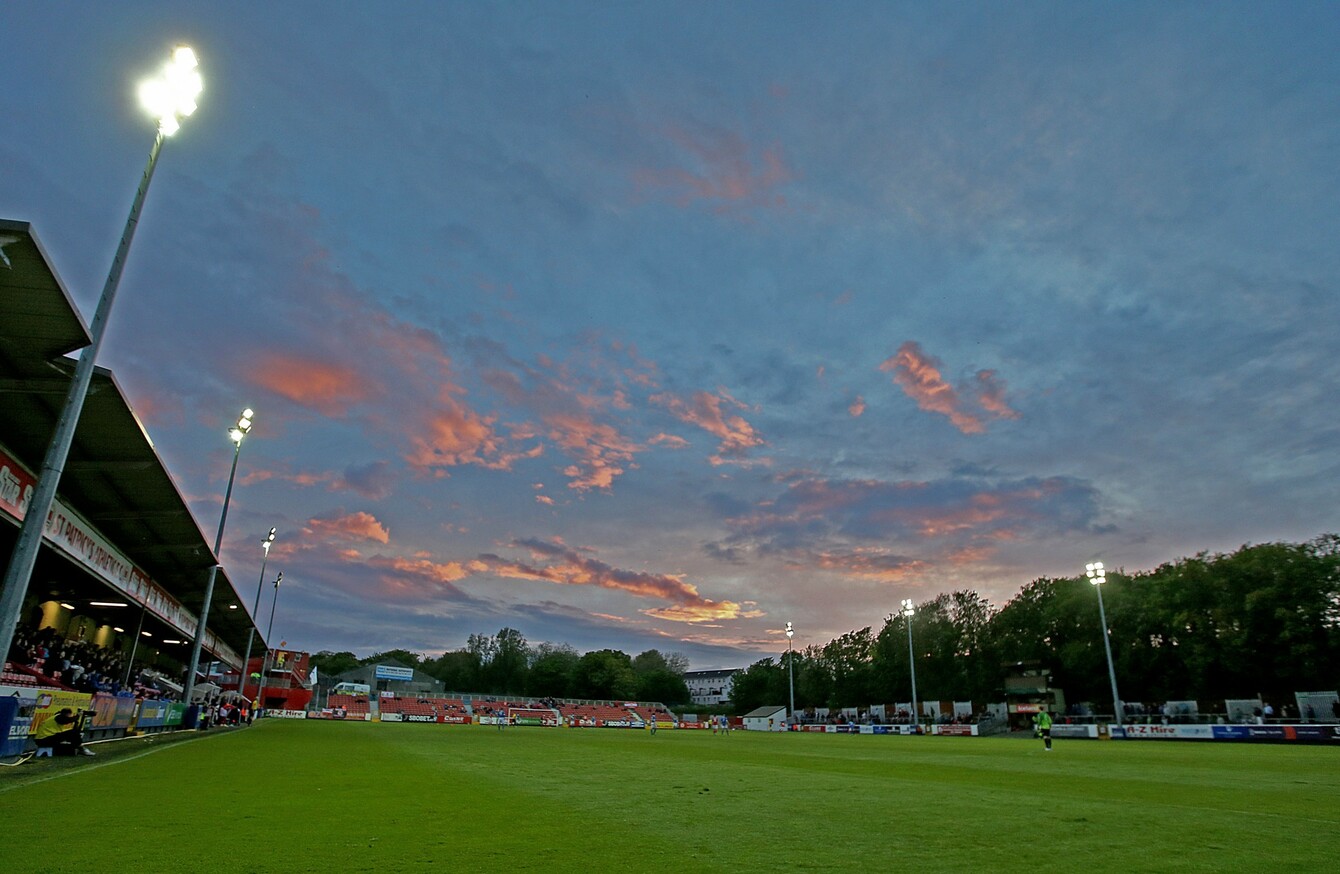 Richmond Park (file pic).
Image: Donall Farmer/INPHO
Richmond Park (file pic).
Image: Donall Farmer/INPHO
THERE IS NO doubt that Darragh Markey is a special talent. It's rare for a player to be handed a senior debut at 17, but in March of last year, he got the chance to do just that.
In St Patrick's Athletic's opening game of the 2015 campaign, the youngster replaced Chris Forrester in the 81st minute of a 1-0 loss to Shamrock Rovers.
It represented a remarkable couple of months for the Crumlin-based footballer, who had only joined the League of Ireland club the previous summer from renowned Dublin schoolboy side Cherry Orchard, who also count Andy Reid, Glenn Whelan and Keith Fahey among their former players.
And Markey, who was also one of three players nominated for the School's International Player of the Year at the most recent FAI awards, was understandably somewhat apprehensive ahead of this momentous occasion. Nevertheless, he acquitted himself well in these pressurised circumstances and has been used sporadically off the bench by Pat's ever since.
You're a bit nervous at first, but the lads are good lads," he tells The42. "They welcomed me in. Once you get playing, you get used to it. You have to get used to the pace of the game and all that — that comes with training.
"It was a derby, so it was a bit intimidating coming on. We were losing at the time as well, so we were chasing the game. But it was a great experience to get in so young."
The introduction of the U17 and U19 domestic leagues in recent times has helped create a more stable pathway into senior football for young Irish players such as Markey, and he is far from the only teenager to get opportunities in the League of Ireland of late.
Shamrock Rovers, in particular, have been commended for blooding new players this season, with the policy paying off in memorable fashion back in July, when Sean Boyd was among the youngsters to line out, as he marked his first game as a professional with a goal.
Pat's have also adopted a policy that puts faith in youth, with 19-year-old Jamie McGrath and 22-year-old Sean Hoare — both of whom played the full 90 minutes in their recent EA Sports Cup triumph — two notable examples of inexperienced footballers that have really caught the eye.
Consequently, 19-year-old Markey feels very much at home in this environment: "It's a very young squad," he says of Liam Buckley's side. "You could fill out a sheet of 11 players under 21 and we'd still have a very good team."
Moreover, when Markey is not training or playing football, he is usually focusing on his studies. The Dubliner is currently undertaking a finance degree in Maynooth University on a scholarship as part of an arrangement with Pat's.
I can get a degree while playing full time, which is important, in case you get seriously injured or for (something to do) after your career," he says.
Having passed his first year, he is just starting back up again for the new semester and is braced for a hectic schedule once more, with his football training taking place every weekday morning apart from on Wednesdays.
"I have a lot of morning lectures, which I have to miss for training. But (it's okay) once you work hard after training, get your notes online and do extra study — it balances out."
Source: stpatsfctv/YouTube
It's a busy and often quite intense lifestyle, and so nights out with the lads are unsurprisingly rare, though Markey understands that such sacrifices are necessary as he aims to become a top-level footballer.
I don't get out a lot, because we train most mornings, but I still get to hang around my mates, relax and watch the football at home," he says.
Born in Lucan, Markey has lived virtually all his life in Crumlin with his parents and two sisters. This situation could have changed last January, however. Markey went over to Scotland for a trial with Celtic amid rumoured interest from other British clubs to boot.
"I went over there and did well," he recalls. "I scored in a friendly against Kilmarnock. We won 5-2.
It didn't work out for one reason or another, but I'm happy to be here in Ireland playing full time. My main goal is to try to play regularly in the first team and establish myself at Pat's, and then hopefully I can go a bit further if things work out."
So while Markey's dream of playing football in Britain is on hold for now, he realises that the League of Ireland is by no means a bad alternative.
With a number of players in the current Ireland squad, including Seamus Coleman and James McClean, having cut their teeth with clubs on these shores early on in their careers, Markey is hopeful of following a similar path to stardom.
"I've got an education here and I'll hopefully get a degree as well. You also get good experience playing here in a men's league.
Hopefully you go over then as an established player with a reputation and experience playing with senior players.
"(Spending a career in the League of Ireland) wouldn't be the worst thing though. The standard over here is good — look at Dundalk, they're proving that it's not the worst league in the world. Obviously the main goal is to get over to England, but you just never know, it might not happen.
And Dundalk's success just proves that teams in Ireland can challenge at a high level if they have the right players and the right team spirit."
In addition to the likes of Daryl Horgan and Stephen O'Donnell, one other player who has undoubtedly enhanced the League of Ireland's reputation is Chris Forrseter, the Peterborough star who Markey got to know during their brief time together at Pat's.
"I was just coming in and he was still there. He helped out the young lads and some of the stuff he did in training was just too good," he explains.
"He was good for us — he gave us good advice. Now you look at him, he's captain of Peteborough. It just proves it's possible to go through the League of Ireland and do well over there."
Like Forrester, Markey is a ball-playing attacking midfielder. An Ireland underage international, creating chances and controlling the play, rather than more stereotypical Irish traits such as physicality, are ultimately fundamental to his game.
"One of the main reasons I joined Pat's is that they are one of the teams in the league that get it down and play football the right way.
"For some players, the long-ball game doesn't suit them.  There are obviously times when you have to go long, when teams are pressing you high and you're losing it at the back — then it's obviously the right thing to do. But if you have the players to do it, I think you should try to play the right way."
He adds: "I'm not one of the most physical players, so I do rely a lot on the technical side of the game."
With Irish football not exactly blessed with a huge array of creative and technically gifted ball players currently, footballing aficionados in this country will be desperately hoping individuals such as Markey can make the grade at the top level in years to come. And the early signs, at least, are promising.
The42 is on Snapchat! Tap the button below on your phone to add!