Paul Dollery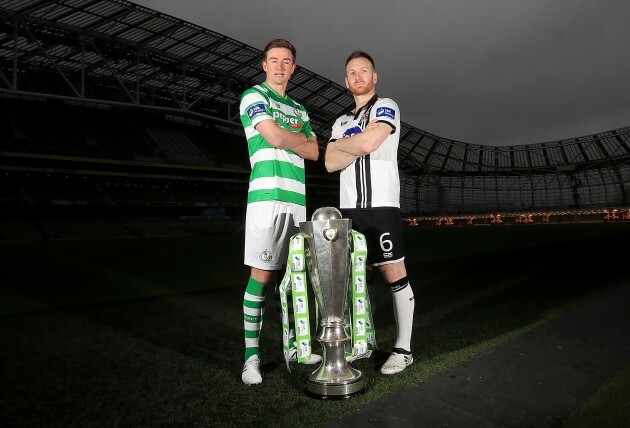 Donall Farmer / INPHO Shamrock Rovers' Ronan Finn and Stephen O'Donnell of Dundalk. Donall Farmer / INPHO / INPHO
Which team has strengthened the best in the off-season?
AFTER A DIFFICULT 2016, Shamrock Rovers have invested heavily in their squad by adding players who have proven calibre at this level, such as Ronan Finn, Darren Meenan and Roberto Lopes, as well as bringing the likes of Paul Corry, David McAllister and Graham Burke home from England.
Having ended last season with an excellent run of form, Bray have also recruited well. If they can replicate that in 2017, Keith Buckley, Anto Flood, Aaron Greene and Gary McCabe could help to put them in contention for Europe.
But perhaps the best business has been done by Martin Russell in Limerick. On-loan defender Tommy Robson got a start for Sunderland in the Premier League last season, while Brazilian striker Rodrigo Tosi and French midfielder Bastien Hery are also intriguing additions. But the signing of Chiedozie Ogbene from Cork City was a fantastic coup. A match winner with a potentially promising future, John Caulfield could soon rue Ogbene's departure.
Who is the one player you're most looking forward to watching?
There's some superb individual talent in the league this year. Patrick McEleney could be vital to Dundalk's title defence. Cork City's Sean Maguire appeared to be brimming with confidence in the President's Cup after finishing last season as top goalscorer. Bray could have a big season if Dylan Connolly produces the goods again. I could go on all day about the players I'm looking forward to watching, but I'll go for Alex O'Hanlon at St Patrick's Athletic. He clearly has plenty of talent having been with Liverpool for five years. Hopefully he can perform well in the League of Ireland, build some self-belief and kickstart a successful career in the game.
Do you expect anyone to do a Dundalk-style run in Europe this season?
It's very difficult to see it happening again to that extent. What Dundalk achieved was very special and shouldn't be taken for granted. As much as we'd like to believe that that's the standard for the League of Ireland now, it's going to be very difficult to replicate. I don't expect Stephen Kenny's side, despite making some promising new signings, to go on that sort of a run without Daryl Horgan, Andy Boyle and Ronan Finn.
With a favourable draw, Cork City could make some progress in the Europa League. After eliminating Swedish Cup holders BK Hacken and going close against a very good Genk side in 2016, they have the experience in those big games now. Making it to the group stages, however, requires a lot of good fortune and the margin for error is slight. Hopefully we can see some more European heroics from at least one of the League of Ireland sides.
Who's coming up and who's going down?
Under new ownership and with Pat Fenlon steering the ship, Waterford have made some impressive signings and seem to be best placed to take the only promotion place.
With a quarter of the Premier Division set to be relegated, most of the teams in the division will be concerned. I'll go for Finn Harps, Galway United and Drogheda United to be the victims of the new structure but I wouldn't be surprised if Bohemians went down.
And, finally, who'll win the Premier Division?
It's really difficult to call.
Dundalk's personnel losses have been well publicised. They've coped without star players in the past (Patrick Hoban, Richie Towell) but this year they've been hit in terms of quantity as well as quality, paying the price for their unprecedented success. A lot rests on the shoulders of Patrick McEleney to fill the void left by Daryl Horgan and Ronan Finn, while the contributions of Michael Duffy and Conor Clifford could also be important for the champions.
As I've already mentioned, Shamrock Rovers have made some very exciting additions but if the title race is as intense as it has been in the past few seasons, I'm not sure the Hoops have enough quality just yet to oust Dundalk and Cork City. But time will tell how they gel as a team.
The main advantage Cork City looked set to have this year was continuity, but that has been scuppered by the departure of Kenny Browne on the eve of the new season. If they can plug that gap alongside Alan Bennett at the heart of their defence, this could finally be their season.
With no great conviction, Cork City to end a 12-year wait.
Ryan Bailey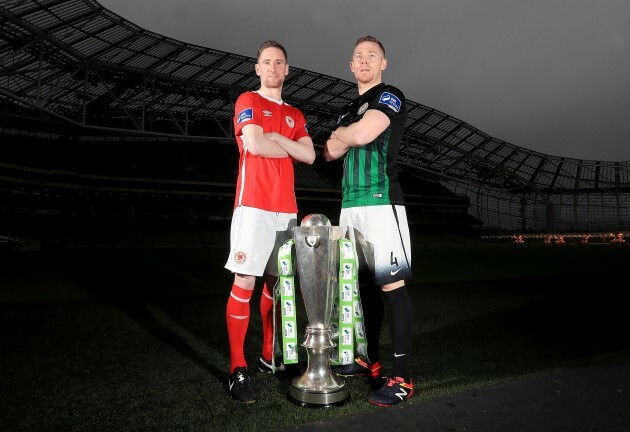 Donall Farmer / INPHO St Patrick's Athletics' Ian Bermingham with Bray Wanderer's Conor Kenna. Donall Farmer / INPHO / INPHO
Which team has strengthened the best in the off-season?
Both Dundalk and Cork City have made shrewd acquisitions to further strengthen their respective squads but Shamrock Rovers' recruitment drive appears to be the most impressive. The arrival of Paul Corry and Graham Burke and return of Ronan Finn, in particular, really bolsters their engine room while Roberto Lopes, Darren Meenan and Ryan Connolly are all proven at this level and exciting footballers in their own right.
Who is the one player you're most looking forward to watching?
Sean Maguire is certainly the League of Ireland's standout player and his decision to commit to Cork for 2017 was not only a major boost for John Caulfield but also the entire league. With Daryl Horgan now plying his trade with Preston, you get the sense the 22-year-old will emerge as the star of the show and his direct running, technical ability and skillset makes him the most exciting player in the domestic game.
Do you expect anyone to do a Dundalk-style run in Europe this season?
In a word, no. What Dundalk achieved last year was remarkable and while we would all dearly love for it to be repeated this time around, it's incredibly hard to see. That's just being realistic.
Who's coming up and who's going down?
Finn Harps and Limerick, both of whom came up last year, are going to struggle in the top-flight while Waterford under Pat Fenlon should prove too strong in the First Division.
And, finally, who'll win the Premier Division?
Cork City. After three successive years as the bridesmaids, John Caulfield's men will be desperate to end Dundalk's reign as Premier Division champions and lift the league title for the first time since 2005. There is very little to pick between the two sides and after last year's FAI Cup final, the balance may just finally be about to tip towards the Leesiders.
Paul Fennessy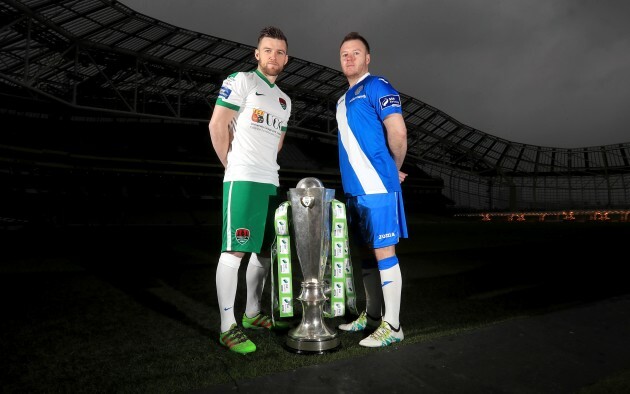 Donall Farmer / INPHO Cork City's Steven Beattie with Johnny Barrett of Finn Harps. Donall Farmer / INPHO / INPHO
Which team has strengthened the best in the off-season?
Shamrock Rovers have definitely improved their squad significantly. Ronan Finn, Darren Meenan and Robert Lopes are all players good enough to get in any side in the league, while Sam Bone, Michael O'Connor and Graham Burke join what is an already talented crop of youngsters.
Who is the one player you're most looking forward to watching?
Ronan Finn. He was the best player on the pitch despite ending up on the losing side in last year's FAI Cup final and looks as good as any player in the league technically. At 29, he knows Irish football well at this stage and it looks like Shamrock Rovers will be basing their team around the talented Dubliner, having made him club captain after stealing him from Dundalk in the off season.
Do you expect anyone to do a Dundalk-style run in Europe this season?
Not to detract from Dundalk's performance in Europe last season, but I often think luck can play a big part in how well teams do. Cork, for instance, last season were a team with the potential to qualify for the group stages, but they were unfortunate to be drawn against a very good Genk side who are still in the current competition, while the tie was closer than the 3-1 aggregate score suggests. So Cork and Dundalk certainly have the potential to make a big impact in Europe in the coming campaign, though emulating the levels of performance Stephen Kenny's side reached in 2016 is a big ask.
Who's coming up and who's going down?
It's natural to expect the teams with the inferior resources to struggle, so I expect the likes of Finn Harps, Galway and Drogheda to be near the bottom come the end of the campaign. Limerick were so impressive in winning the First Division last year, and they've signed some promising players, including impressive teenage winger Chiedozie Ogbene from Cork, so I think they have a decent chance of surviving.
In the First Division, Waterford seem well equipped to go all the way given the players they've signed and the resources at their disposal.
And, finally, who'll win the Premier Division?
It's hard to look past Dundalk. They have clearly lost some important players, though they still have a good core of footballers in the side that know what it takes to win the league and in Stephen Kenny, a coach of the highest calibre. That said, I expect it to be a tight title race. Cork have shown their potential, beating the Lilywhites more often than not last season, while Shamrock Rovers look to have bought well and should be expected to seriously contend given the players that have been brought in.
Ben Blake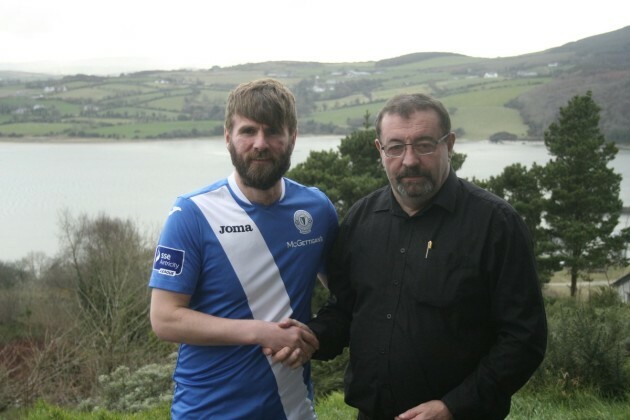 Twitter / FinnHarps Finn Harps' latest arrival Paddy McCourt. Twitter / FinnHarps / FinnHarps
Which team has strengthened the best in the off-season?
When you look at sheer quantity, Shamrock Rovers are out in front and they appear to be building a talented, young group under the Stephens — Bradley and McPhail — but you'd just like to hope they will be given the time to develop as a team by the fans. Last season's runaway First Division champions Limerick have strengthened nicely ahead of their return to the top flight and I wouldn't be surprised if Martin Russell's side were pushing for those European spots. Elsewhere, Bray Wanderers have also done well in the transfer market by adding experienced league winners like Anto Flood and Gary McCabe to an already decent squad.
Who is the one player you're most looking forward to watching?
Okay, he may be 33 years old and his best days are no doubt behind him but just the idea of seeing Paddy McCourt back terrorising defenders in the League of Ireland has got me feeling all nostalgic. The enigmatic winger showed flashes of supreme talent throughout his career and could be a shrewd signing for Finn Harps if they can keep him fit.
It will also be intriguing to see if the likes of Graham Burke (Shamrock Rovers), Michael Duffy (Dundalk), Conor Clifford (Dundalk) and Shane Griffin (Cork City) can regain confidence through playing regular football and get their careers back on track after difficult spells across the water.
Do you expect anyone to do a Dundalk-style run in Europe this season?
Dundalk's run to the Europa League group stages last year breathed new life into Irish football and really captured the imagination of Irish football fans up and down the country. Emulating those achievements will be incredibly difficult especially when you take into account the players they have lost, but Stephen Kenny has shown why he is the league's top manager during his time with the Lilywhites and, with a bit of luck in the draw, I believe they have a chance of going just as far this time around.
Who's coming up and who's going down?
With three teams going down, there's a real danger that over half the league could get sucked into a relegation battle. Drogheda United boss Pete Mahon and Ollie Horgan of Finn Harps have already admitted that the restructuring of the Premier Division could have huge implications for their survival hopes and I would tend to agree. Bohemians finished eighth in the table in 2016 but Keith Long has another job on his hands to keep them out of the drop zone.
Waterford are undoubtedly the team to beat in the First Division with their new-found wealth of resources but it's unlikely to be a Limerick-style dominance and Longford Town and UCD will have something to say in the promotion race.
And, finally, who'll win the Premier Division?
The bridesmaid for such a long period, Cork City came close again last year and actually had Dundalk's number in their head-to-head record, but were ultimately undone by dropped points elsewhere and the magic of Daryl Horgan on that night at Oriel Park in October.
Getting their hands on silverware with their FA Cup win will have reinvigorated John Caulfied, his squad and the fans so we're in for another fascinating chapter in what has become one of the great rivalries in Irish football.  They have said publicly that the four-in-a-row isn't a motivation, but Dundalk will be hell-bent on equalling that record set by Shamrock Rovers in the 1980s. This could well be the most evenly-matched title races yet but I feel the Lilywhites will just shade it thanks to Kenny.
The42 is on Instagram! Tap the button below on your phone to follow us!