THE WORDS 'WORLD Cup' have been a permanent fixture on Leanne Kiernan's whiteboard in recent months.
The Republic of Ireland and Liverpool striker has long kept the prop in her bedroom; scribbling down goals and targets, wiping them out as she meets them, and establishing new ones.
When Vera Pauw's Ireland qualified for their first-ever major tournament last October, Kiernan was watching from her home away from home on Merseyside.
Her season was all but over before it even began, the Cavan woman left nursing a serious ankle injury after Liverpool's Women's Super League opening win over Chelsea.
Soon she had those two words scrawled across her whiteboard.
A constant reminder of the possible light at the end of the tunnel.
"I'll never forget that game against Scotland," Kiernan tells The 42, back in action as the target moves into full view eight months later.
"I was in my cast, I was only out of surgery. I remember screaming at the telly, my mother was over with me and a few of the girls, I had them all dressed in Irish jerseys. I remember at the end whistle, I just cried and I cried and I cried — just with pure enjoyment that we finally proved people wrong that we can qualify for a tournament. And obviously that I was part of it at the start [of the campaign].
"I remember being in the situation that I was out of surgery and it just felt like the season was done. I had nothing to look forward to. And then when we qualified for the World Cup, I just said, 'Right, that's my motivation' straight away. I had a whiteboard in my room and every day I'd get up, work hard in the gym, come home and rest and everything was towards it. That was my full focus.
"I just always had in the back of my mind that every session I did was to get me towards a World Cup. I'm happy that I made it back in time to be available to be picked."
Kiernan, Liverpool's 2021/22 Player of the Season and top goalscorer, made her return in the Reds' penultimate game of the season two weeks ago, a 3-3 draw with Aston Villa.
The smile on her face before coming on the pitch as a substitute just before the hour-mark at Villa Park said it all.
It's great to see you back out there, @kiernan_leanne 💜#BarclaysWSL @LiverpoolFCW pic.twitter.com/M90e8jPLkw

— Barclays Women's Super League (@BarclaysWSL) May 21, 2023
"That was an amazing feeling. It's been a tough season but it's been nice to have the reward of getting back playing and feeling good. Eight months later, I've a bit of muscle back in me legs!
"The first few months were hard because I was getting a few setbacks and you just think, 'Will I ever get back on that pitch?' It's just nice to see that my hard work actually worked out in the end and I made it back before the end of the season."
Setback after setback, this was another long road for the 24-year-old. Perhaps an extra frustrating one, as the timeframe kept getting pushed out and the comeback trail extended as the clock ticked on.
Kiernan won't shy away from that adversity, learning a lot about herself through the physical and mental hardship and ultimately coming out the other side a better version of herself.
"It was a mentally challenging year for me, probably the hardest year since becoming professional," she concedes.
"The first game of the season, to be told that you're going to be out for most of the season when I really wanted to work on last season and really express myself this season in the WSL… that was taken away from me.
"You know what? Some days were very, very tough, but then you had your good days too. I definitely came out mentally stronger and resilient from what I've been put through for the last year. You get to know a lot more about yourself. You get to work on yourself. I got to work on my self care and what was good for me and what wasn't good for me.
"I had really good people around me to guide me towards my end goal. I have great family members that were very good for me. Obviously it wasn't ideal but physically, I'm probably in the best shape I've ever been in."
"I suppose eight months in that gym, I'd want to be," she adds with a laugh.
Kiernan can't speak highly enough of Liverpool and the support on offer through her rehabilitation. "I was blessed to be in the right club for it to happen I guess," the Balieborough native says, with a nod to the staff — especially sports therapist Chris Underwood — and her team-mates, who were there from the second it happened.
Two of those were fellow Irishwomen Niamh Fahey and Megan Campbell, with assistance and guidance also coming from the international set-up through her absence.
"I've kept in contact with Vera and Ireland were very good for showing me support if I ever needed any help.
"Megan especially has been through a lot of surgeries and rehab so she was very, very good for me. She's very knowledgeable, and good at explaining not to panic: Rest when you need to rest, work when you need to work. And obviously Fahey joined me in rehab for a few months. She was a great motivating factor because we both had the same goals in our mind, to make Australia — or make the opening squad anyway. She's just great craic, she'd make you laugh in the worst of times."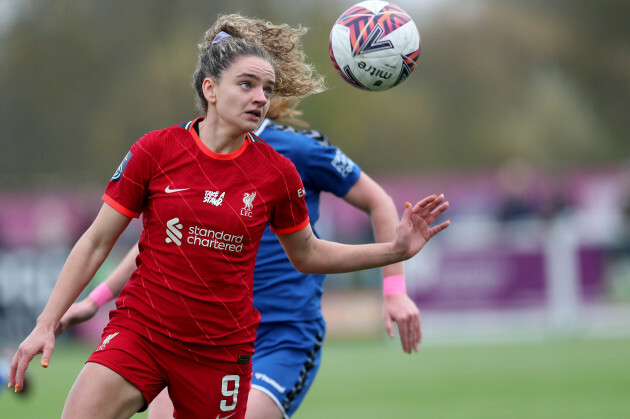 Alamy Stock Photo Kiernan was Liverpool's top scorer in the Championship last season. Alamy Stock Photo
One of the best moments from the eight-month slog was her first time back on the pitch straight-line running, that feeling of the behind-the-scenes graft paying off.
"I remember thinking, 'Jeez, I feel good. I still have that athleticism, I haven't lost it'. All my Wattbike sessions and all the circuits in the gym really stood to me when I was back on the pitch. I felt back to myself.
"It's hard not to be motivated when you have the chance to play for the World Cup squad in the summer. I had no excuse not to work hard. 
"It would have been a lot nicer if everything had went to plan, I'd have been back a good bit earlier to show the girls at Liverpool and the fans a bit of Leanne Kiernan this year. Unfortunately that didn't happen but I'll be back better than ever next season."
In the meantime, it's all about this summer. As we speak, Kiernan is on a beach in Portugal, relaxing and soaking up the sun ahead of a big few weeks.
First, it's back to Liverpool to resume full training ahead of Ireland's World Cup extended training squad announcement on Friday.
Camp kicks off in Dublin on 12 June, and the former West Ham and Shelbourne star is upbeat about her prospects.
"Obviously it wasn't ideal at the start of the season but I definitely am feeling good, I'm feeling confident. I definitely know I've done everything I could possibly do to make that squad. We just have to wait and see, I guess."
Whatever happens, happens, but Leanne Kiernan knows exactly where she wants to be.
"All I know is that I've done everything possible to put myself in the best position to get into that camp. We'll see from there."