LITTLE DID LEANNE Kiernan know what lay ahead as she pulled on her school jumper on the first day of sixth year last September.
Of course, the Leaving Cert was one certainty, and she knew that there'd be football. And plenty of it.
What followed in the closing months of 2016, both on and off the field, was a roller coaster for the 18-year-old sensation. Originally from Balieborough in Co. Cavan, Kiernan plays her football with north Dublin side Shelbourne.
First off, Mark Leavy's side took the Aviva by storm on the first Sunday in November, beating Wexford Youths 5-0 to take home the WFAI Cup. And on a personal level, it was even more of a dream day for Kiernan as she starred the show.
17 at the time, she bagged a hat-trick and hit the headlines following her glittering display.
Then in early December, the Red Pandas were crowned Womens National League (WNL) champions following an unbeaten season. In between, there was her first senior Ireland cap, and she rattled the net on the same occasion.
Lifting the WNL trophy for the first time in the club's history called for further celebration however — European football in 2017.
And here they are, ready to open their Champions League campaign tomorrow afternoon.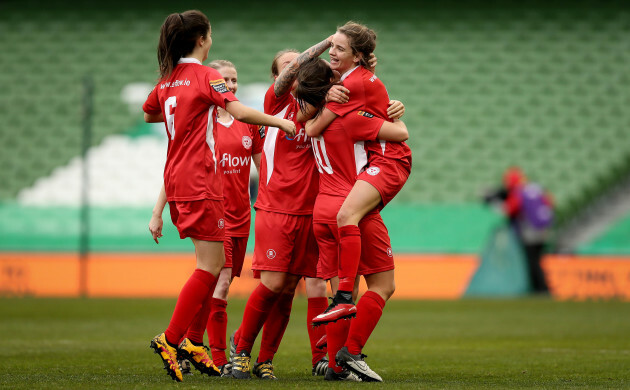 Ryan Byrne / INPHO Kiernan celebrates with her teammates that day at the Aviva. Ryan Byrne / INPHO / INPHO
The Leaving Cert and the countless hours of study are but a distant memory now, with Kiernan and three of her Shelbourne teammates — Kate Mooney, Courtney Higgins and Lynn Craven — receiving their results last Wednesday.
Not many can say that they played Champions League football six days after opening their Leaving Cert grades, and Kiernan smiles as she's congratulated on the feat. She says that she's happy with last week's outcome, but doesn't delve too deep into it.
She'd much rather talk football.
"It's a dream come true, to be honest," she tells The42, when asked about the feeling of receiving her results and gearing up for Champions League football within a week.
"I'd never expect it. Especially with all my best friends on the team too, and we're all playing together. What more could you want? Going to Champions League after getting your results on Wednesday!"
Understandably, there's a great buzz in the Shels camp, as the perfect blend of youth and experience hit the road to Belfast for the four-team qualifying group stage this week.
"There's loads of excitement," Kiernan continues. "It's great for the club's name, for Shelbourne to be in this big competition. We've a lot of young girls on the team, so we're all very excited.
"It's great for the club, to get ourselves up with those bigger clubs in England and that. They get great publicity, and hopefully we'll get the same."
Although they had the dream 2016, this season hasn't been quite as plain-sailing for Shelbourne to date.
They opened their season with three draws in their first four fixtures — the other was a 3-0 loss to Peamount United.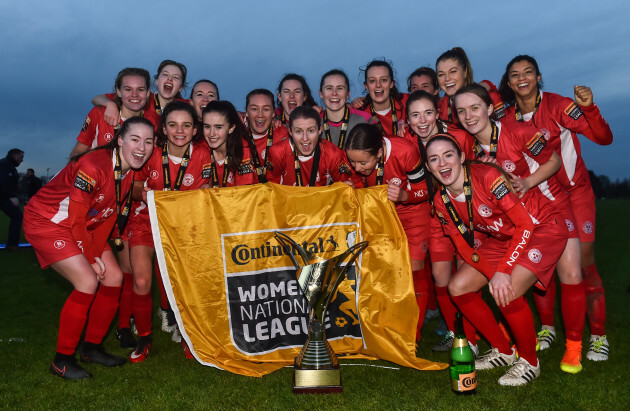 Ramsey Cardy / SPORTSFILE Shelbourne with the WNL trophy last December. Ramsey Cardy / SPORTSFILE / SPORTSFILE
Slowly but surely, things have come together, and they seem to have peaked at the right time, their last outing a hard-earned 3-2 win over leaders Wexford Youths, cutting their deficit on the table to four points with much more football to be played.
"We were struggling at the start with injury and with new players coming in, just trying to get a feel for each other and getting used to each other on the pitch.
"We've picked ourselves up in the league and we're starting to perform better which is great. Eventually, it's coming together and it's a great time to come together with Champions League. We can't complain at the minute!"
Over the past few weeks, Shelbourne have had several boosts. They've resigned American striker Gloria Douglas who was involved in last year's historic successes, Rebecca Creagh has returned from overseas and captain Pearl Slattery has made her comeback following a break.
"With the likes of Gloria Douglas back now, and Pearl Slattery back in team, we've a lot of competition with the younger players that were filling in for them and doing very, very well.
"We have no real injury concerns so we'll be flying fresh come Tuesday. We've a big, strong panel fighting for places. There'll be a lot of competition in the team."
Midfield duo Alex Kavanagh and Roma McLaughlin are just two of Kiernan's clubmates who, like her, have recently graduated through the underage ranks to don the green jersey at senior level.
Niamh Prior, Tiegan Ruddy, Jamie Finn, Alannah McEvoy and Isibeal Atkinson are among those rising stars lining out with national youth sides.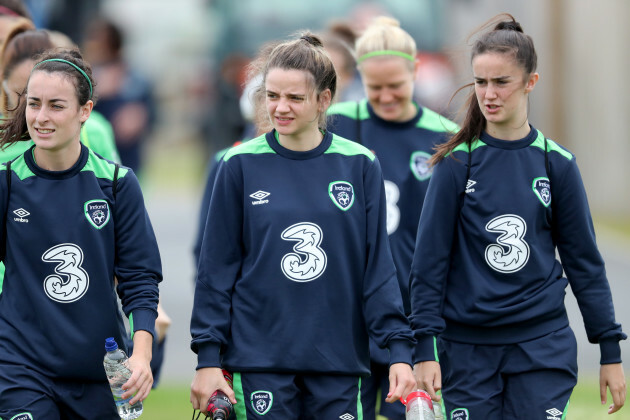 Bryan Keane / INPHO McLaughlin, Kiernan and Kavanagh on international duty. Bryan Keane / INPHO / INPHO
It's Shelbourne's first time at the Champions League but before the merge, Raheny flew the flag in 2014.
With several players still involved, they'll be hoping to emulate the feat of topping their qualifying group, but also banish the ghosts from their Round of 32 exit on that asking.
"We have a very, very young team. It's a much different team to the Aviva last year. A lot of young girls have come in like Lynn Craven, Kate Mooney, loads of young players that have great potential with the team that are doing well.
"Experience is a huge thing though. It's great to have that on the team too, like our captain Pearl [Slattery] and Seana Cooke and Siobhán Killeen who have been there before.
"It's good for them to teach the younger girls how to recover after each game and that. It's going on for a week and we have three games in the week, so it's a lot to learn.
"It's good to have the experience as well to keep you cool and calm you down on the pitch if we're winning and that."
And in terms of the tournament, Kiernan is hoping that this 'almost home advantage' will run hugely in her side's favour, as well as the range within the squad.
"When people see it's in Northern Ireland, some people would be like 'Why is it not in a hot country?' but when it's in a hot country, you have to change to the climate, you have to eat their type of food, you don't have that much support.
"But it's great now that it's up in Belfast, sure it's only an hour up the road for some of us. All the families and friends, there's buses going from Dublin, here and there, so it's great.
📸All smiles on the road to Belfast! #RedArmy pic.twitter.com/fV9uMG4nwv

— Shelbourne Ladies FC (@shelslfc) August 21, 2017
With the mini-tournament nature of the qualifying stage, the Dublin outfit face three games in a week, as Kiernan pointed out — the first tomorrow against Medyk Konin [kick-off 2pm]. The Polish side beat Wexford Youths 6-0 at the same stage in 2015.
Finnish side PK-35 Vantaa are next up on Friday evening, followed by Northern Irish champions Linfield Ladies next Monday.
With the group winners and the best-placed runner-up through to the knockout stages to join the 21 clubs who got byes, Shelbourne will be hoping to get their bid off on the front foot tomorrow.
"We have probably one of the strongest teams first, the Polish team. If we can get around that, we'd be happy," Kiernan smiles.
"We're just going to keep our heads down and use all we can to our advantage — looking up videos of them, and seeing what they're like.
"Hopefully we'll bring it together on the day and beat them."
Shelbourne v Medyk Konin — August 22, 2pm
Shelbourne v PK-35 Vantaa — August 25, 7.30pm
Shelbourne v Linfield — August 28, 4pm
Subscribe to The42 podcasts here: