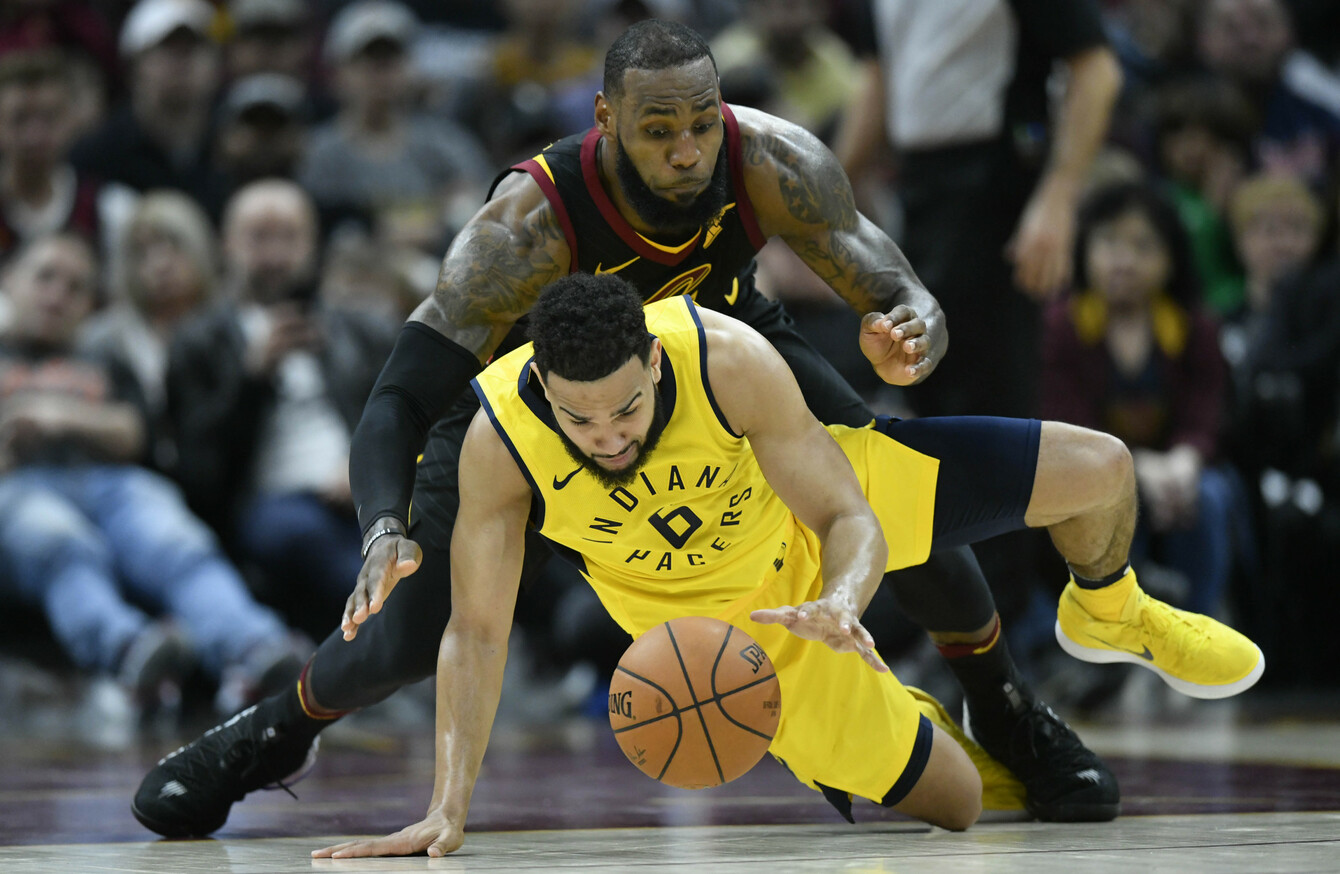 LeBron James and Indiana Pacers guard Cory Joseph reach for a loose ball in the fourth quarter in game one of the first round of the 2018 NBA Playoffs.
Image: SIPA USA/PA Images
LeBron James and Indiana Pacers guard Cory Joseph reach for a loose ball in the fourth quarter in game one of the first round of the 2018 NBA Playoffs.
Image: SIPA USA/PA Images
FORGET LEBRON JAMES making his eighth consecutive trip to the NBA finals — the Cleveland Cavaliers star might have trouble just getting out of the opening round of the play-offs.
Victor Oladipo scored a game-high 32 points to power the Indiana Pacers over the host Cavaliers 98-80 on Sunday in the opening game of their first-round NBA play-off series.
"Stay calm, stay composed, play the game I have all year long," Oladipo said of the key to his overwhelming day. "This was a great team win."
James had won 21 first-round play-off games in a row until the rout, having never before lost the opener in a first-round NBA post-season series.
James, seeking his ninth career trip to the NBA finals and fourth league title, had not dropped a first-round play-off game since the New York Knicks beat Miami in the fourth game of the 2012 opening round, a minor setback on the Heat's title run, a career first for James.
James said falling behind in a series just motivates him to step up his game.
"I'm down 0-1 in the first round. I was down 3-1 in the finals. So I'm the last guy to ask about what I'm gonna be like the next couple days," James said.
In the late game, league MVP candidate James Harden exploded for 44 points as the Houston Rockets beat the Minnesota Timberwolves 104-101.
The Pacers jumped ahead 33-14 after the first quarter and led by as much as 23 in holding off the Cavs, who came no closer than seven points the rest of the way.
"You can't ease into the play-offs," said Cavs coach Tyronn Lue. "I thought (Indiana) came in and they attacked us."
James had a triple double in a losing cause with 24 points, 10 rebounds and 12 assists. The rest of Cleveland's starters only managed 25 points, Kevin Love with 17 rebounds but only nine points.
J.R. Smith had 15 points off the Cavaliers' bench while Myles Turner had 16 points and Bojan Bogdanovic added 15 for Indiana.
The Cavaliers had their lowest-scoring first period of the season and only five baskets with six turnovers in the opening quarter, drawing boos as they walked off at half-time trailing 59-38.
- Celtics edge Bucks in OT -
The Boston Celtics nearly fell victim to another Eastern Conference opening upset bid before edging visiting Milwaukee 113-107 in overtime.
Al Horford scored 24 points and grabbed 12 rebounds for Boston and Terry Rozier, starting in place of injured Kyrie Irving, added 23 points.
Marcus Morris scored 21 off the bench while Jaylen Brown netted 20 and Jayson Tatum contributed 19 points and 10 rebounds for the Celtics.
"We've been down a lot, a lot of injuries, and we've always found a way," Horford said. "Morris made some big shots, Tatum down the stretch, Terry — that's what we're all about. We just find a way."
Greek star Giannis Antetokounmpo led the Bucks with 35 points, 13 rebounds and seven assists and gave the Celtics headaches until fouling out in overtime.
Khris Middleton added 31 points, hitting five-of-seven three-pointers, with eight rebounds and six assists in a losing cause.
In Houston, Harden led a big fourth-quarter run as the top-seeded Rockets held off the Timberwolves in game one.
Harden made seven-of-12 three pointers but the Rockets had their hands full with the eighth seeded Timberwolves.
Minnesota star Karl-Anthony Towns failed to get untracked Sunday, scoring just eight points, well below his season average of 21.3 points.
Andrew Wiggins had 18 points for Minnesota, who are making their first playoff appearance since 2004.
The42 is on Instagram! Tap the button below on your phone to follow us!