CALL IT NAIVETY, call it optimism, but there was a period of time Lee Chin thought his trip to Winter Wonderland in Wexford over Christmas would be enough to at least give him the basic skills required for switching from hurling to ice hockey.
He soon learned it wouldn't even come close.
"I'd done a small bit (of skating) back in Wexford, in a Winter Wonderland that was there over Christmas," he said today talking about his time with the Vancouver Canucks on The Toughest Trade which airs at 10.35pm on RTÉ Two on Friday.
"It wasn't near the level of what I was doing in Canada though. I was going in straight lines and turning in a big loop and that just doesn't cut it over there.
"I knew I was going to be surprised when I got there, but I didn't realise I would be so surprised. (Surprised by) what level I had to get to. Not to compete, but even just to be on the ice with these lads. I suppose I thought that, if you could skate in a straight line and turn back around, I'd be fine.
"But when I got there, and saw the speed the game is played with my own eyes, I thought 'this is something I'm not able to do,' especially after the first day.
"The confidence was low," he laughs.
And some of it did scare him:
"There were no similarities (with hurling) at all, absolutely none.
"And that was another thing that scared me because I thought, when I got there, I might have one or two things I might be able to show them but then I got there and I was like 'no, I've got nothing, absolutely nothing, so I'll just have to get these boys to show me what to do.'
"The stick is so different, the length of it, the grip, everything is so different and I just felt no similarity at all.
"The other thing that did help was the fact that I train a lot of here and so I had core work and core strength and just being active all the time, that stood to me more so physically and mentally.
"These lads grew up doing this, they're so used to it, they'd do this (skate) the way I'd walk down the street, that's how easy it is to them. When I saw how quick they were on the ice and how intense it was, it did scare me."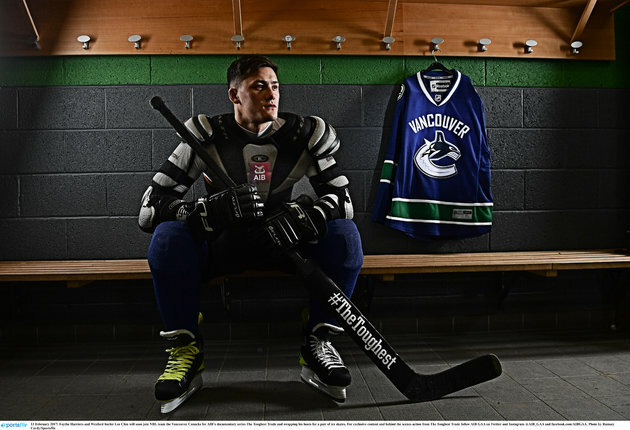 Ramsey Cardy / SPORTSFILE Lee Chin before he went to Canada. Ramsey Cardy / SPORTSFILE / SPORTSFILE
Chin was surprised by the elegance of the sport, considering how brutal it can look on TV but many of his new team-mates at the Vancouver Canucks weren't surprised by hurling, having used YouTube to educate themselves in the days building up to his arrival.
"They welcomed me with open arms. The hospitality of the Canadians themselves was great, they're top class people.
"I think they had a lot of interest in what we're doing here and a couple of them knew, knew what the game was, and then a couple of them were on YouTube 24 hours beforehand.
"When one of the lads didn't decide to do his homework, I left it up to the other lads to explain it to him. I think they described it a bit better than me in the way they could understand it."
They were, however, surprised by how many people turned up for an amateur sporting event:
"They couldn't believe that we would fill a stadium of 85,000 capacity on an All-Ireland day.
"They couldn't believe that mainly because we're amateurs and we don't get paid. They couldn't believe that we attract so many fans and have such a big stadium for an amateur sport.
"The Rogers Stadium that the Canucks play in has a capacity of 18,000. They couldn't fathom that we have 85,000 coming to a game.
"When I first got into the stadium the ice looked really small and compact because the crowd in right on top of it. I was thinking, 'I thought it would be bigger than this'. Then I went to a bigger rink and realised, 'This is big enough.'
"I got into the stadium and thought, 'This place might hold 100,000.' You just don't know. Maybe it goes all the way up the back.
"Then you ask and they tell you 18,000. I was surprised with that. I thought, 'It's not much really, compared to what we have in Croke Park or Thurles.'"
And what was it like telling Davy Fitzgerald that he was going to take part in the latest series of The Toughest?
That was the only thing I was a bit apprehensive about, telling Davy that I was off to Vancouver to play ice hockey for a week in the middle of the National League.
"When I got the call, it was like 'great, it'd be an absolute pleasure to be involved in the show.'
"And, when it was mentioned that it was ice hockey, the interest levels went up again because it's something I might never get a chance to do and it was so different from what the other shows were.
"I just had to think of a plan to get around Davy, although it wasn't too much of a plan, pretty much just a conversation. He was very good with me, he was happy enough for it to go ahead and he knew well what it meant to me to experience that as well."
AIB-sponsored The Toughest Trade will air this Friday 10 March on RTÉ Two at 10:35pm. Next to experiencing the trade this year will be Wexford hurler Lee Chin and retire Canadian ice hockey pro Alex Auld.