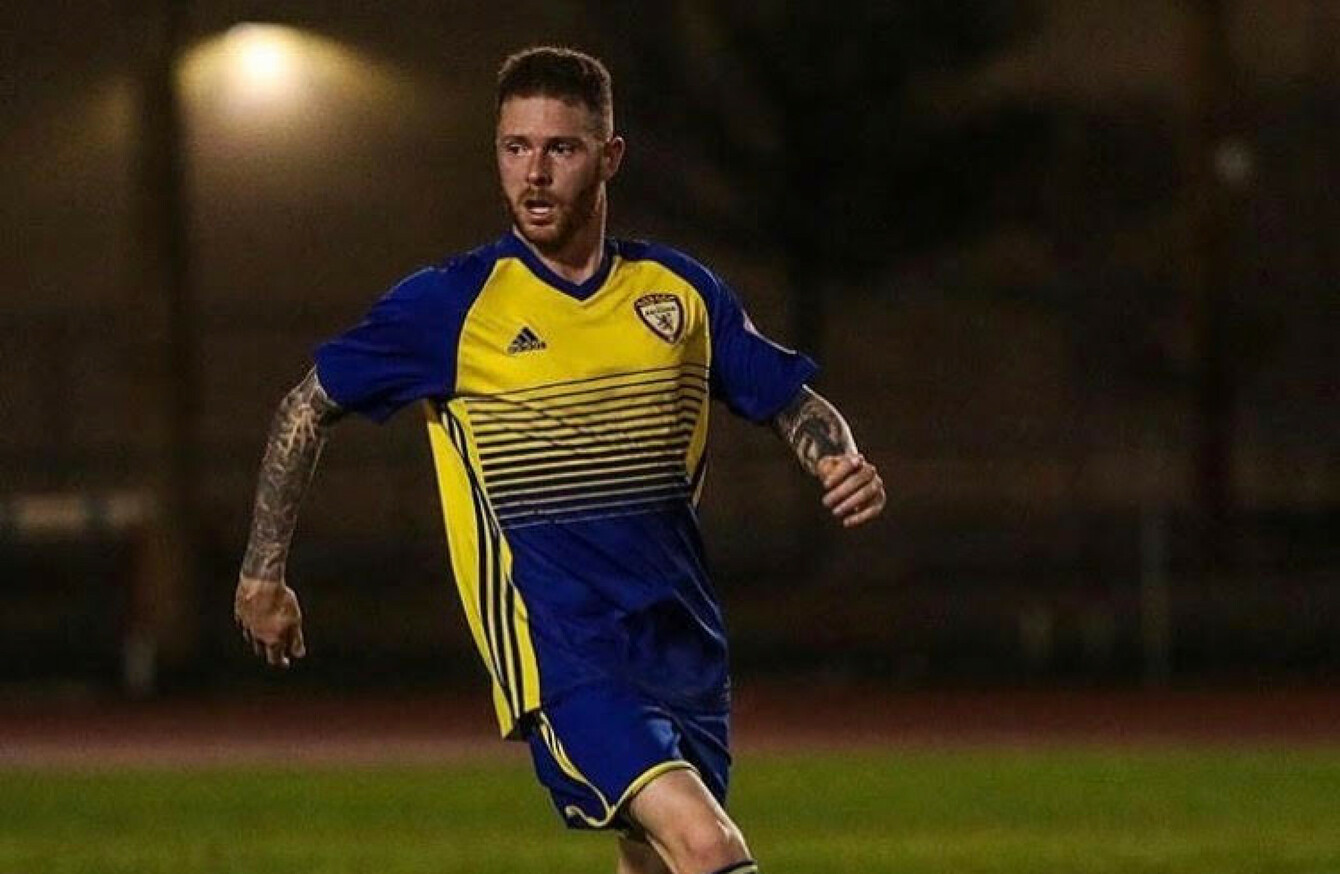 DESPITE THE UPHEAVAL, Lee J Lynch has a plan.
After leaving his native Limerick last month after three seasons on Shannonside, he's only been with FC Arizona for a fortnight and just experienced his first league game on Saturday evening.
But, already, he feels the move has been worth it.
The original plan was to play in the North American Soccer League (NASL), but shortly before Lynch arrived in the US, it was confirmed that the league would not be active for 2018.
The reasons are complicated and widespread but it ensured some high-profile clubs like Miami FC and the New York Cosmos didn't have a home. And, for clubs who were set to make the step up – like FC Arizona – it meant having to stay put. For now.
So, Lynch is currently getting used to the National Premier Soccer League (NPSL). Though the United States does not use a tiered league system (there's no promotion/relegation), it's generally regarded as the fourth-tier.
But, the club is really in a holding pattern. They boast an ambitious owner in Scott Taylor and when the team was launched last year, he was already discussing wanting to make the jump to NASL level.
And Lynch has the same kind of objectives.
"I've always been interested in America and the football scene out there," he says.
Out of all the trophies you can win in Ireland, I'd won four out of five and I was proud of that. I enjoyed my time in Limerick and maybe I wanted us to push a bit more. But they'll try and stay mid-table now and stay in the division. So I was thinking it may have been time to try something new for a season or two, just to see. I'm still only 26 and I have time to make the move out here. I spoke to Richie Ryan and Eamon Zayed and to James Chambers a bit too and they said to definitely come out here. They were filling me in on the fact that the NASL isn't going to go ahead now and so there's only two pro leagues currently: one is MLS and the other is the United Soccer League (USL). But because of what happened with the NASL, it meant that a lot of the players were available to go to the USL. A lot of the squads were finalised in November and December and I'd only come out here in January.
But, I've come in here really early. I'm at a club where the owner has ambitions. He wants to play in the NASL, he wants to build a stadium. The league is okay. It's got its good and bad points but it's a different style of play and it's fresh and new and there's all the travel to games and that's exciting. But the owner has spoken loudly about his plans. FC Arizona are going to be one of the teams who will make that step up. I'd prefer that to be sooner than later but it's out of my control. All I can do is come out here, play and see what happens."
Lynch says that his decision to come to the US wasn't motivated by the continuous changes at Limerick.
In less than a year, the club went through four different managers while long-time chairman of the club, Pat O'Sullivan, is openly canvassing for new investors after admitting he can't continue to shoulder the financial burden alone.
"I was really happy at Limerick," Lynch says.
"I was comfortable. I'm from there. I had my family around me, my girlfriend was there. Maybe I would've liked us to be a top-four team and we just weren't there yet and decisions didn't help in the off-season. The better the squad is the more it will do. It's such a small league that the bigger clubs hoover up all the good players, which is understandable. Limerick are where they're at and all the players can do is go out and play each week and try and finish as high as possible.
The management changes are up to the board. Everyone in Limerick, especially me being from there, knows how much Pat has put into the club and what he wanted for the club but, at the end of the day, he's just one man. And he's come out numerous times and said that he can't keep doing it on his own. And I think the penny has finally dropped that that's the case. He's had to tighten up funds and tighten up in certain areas and that's understandable. Nobody in Limerick, even though all the fans, and especially the players, would love to see European football at Markets Field, would ever put any blame on Pat. Because there wouldn't be that high level of football in Limerick if it wasn't for him. I suppose Limerick are hoping that Pat gets another investor on board or that someone can come in and buy the club and that it pushes it forward to where it should be. Because the club has got everything it needs now. It's got Markets Field, it's got great training facilities, it's got a great fanbase. And all the fans and the players just want to see success for Limerick. Obviously the aim is to stay in the league this year and hopefully they can have a great off-season and then see where they can go."
For Lynch, he felt the time was right for a change. His two-year contract at Limerick was up and there was interest from other League of Ireland clubs. Instead, he took a gamble. Motivated by the success of other Irish players in the US, he swapped the Garryowen Road for the city of Mesa, about a 20-minute drive outside Phoenix.
"I was hoping for a little bit of a change and this came about and I jumped at it," he says.
"I wanted to try something new. A different style of football that would excite me, that could push me. A different competition that would refresh things and push me harder. I was open to the changes and we'll see what happens.
Lee J Lynch signed some autographs for some young fans after the big announcement 📷 by @AriannaGrainey pic.twitter.com/vj0uXWZem1

— FC Arizona (@FCArizonaSoccer) March 6, 2018
"Richie and Eamon have done really well out here and I know I can do well out here too. Some people close to me may have been surprised by how far I've moved away but others were really happy for me because they know how good America can be if you get your foot in at the right club. So I'm just going to get my head down and enjoy the excitement of being in a totally different league and country. There's more opportunity here, especially once the new league starts. I'm out here nice and early so I can get my name out there. But it's going to be an exciting few months."
Like any US sports league, the NPSL is separated into regions and conferences and there's the regular season as well as play-offs. In their debut campaign, FC Arizona claimed their conference title and will look to build on that success this term.
Lynch is quickly getting used to the transition despite the radical differences. A couple of hours drive from the Mexican border, the Arizona weather is an issue. It's dry, intense heat. Even in mid-March.
"We start training at 7am and at the very start it shocked me to be in that early," he says.
"For Arizona, it's still 'cold' at that time. But come 9 o'clock in the morning, it's really, really hot. And all I keep hearing is, 'Just wait until the summer months hit'. Apparently, you can't go out during the day. The air conditioning is on in the house, in the car. And I'm even starting to see that at training. We tend to finish up about 9am or just after it and once we're doing some rondos afterwards, you really start to feel the heat.
But the club has been really good to me. I have my own apartment with a pool and gym. I've got a car to pop to training or go wherever I want. My girlfriend has been over for the last two weeks and Arizona is known for its hiking and the scenic mountains so we've been doing a lot of that after training. The owner has given me everything on my doorstep, really. I can get back from training by 10am and have a bigger breakfast. The gym is 20 steps from my front door. It's brand-new. There's a pool, a jacuzzi so I can recover after training and then get ready and enjoy the lifestyle. Take a stroll or hike and then pop into these lovely towns for some lunch. And you can't really do those things back home. So, it's been worth it. It's just about getting my head down for the next few months and see what happens. Who knows what will happen over the next few months?"
The move hasn't overwhelmed him. Ever since his mid-teens and his first stint in the UK, Lynch has got used to different cities and different countries. There's a curiosity there and also an appreciation that his profession allows him the opportunity to travel the world if he wants to.
There's always a level of uncertainty but he's used to that too.
"I always lived away from home, with the exception of the three seasons with Limerick and when I got the move to West Brom I was only 15." he says.
"I was happy to make the change for now. I'm not saying I won't be back playing in the League of Ireland. I'll definitely be back at some stage. I'd like to stay out here longer but the NPSL season only goes until July/early August and the owner can't help that the new league won't start until next year. So, time will tell on that.
It is hard being away from my family but you have to make sacrifices with work, as everyone else knows, and football is my job. I wanted to make the change, I wanted to step out of the comfort zone and I think the rewards can be good. I just have to get my head down and play well. There are major opportunities that can come about because there are so many teams here and who knows what might happen or who I can catch the eye of? For me, that's worth coming out here for."
"My name will be in the market here and hopefully I will get looked at by a couple of clubs. Who knows what can happen over here? From what I've seen so far – the football, the lifestyle, the area – I'd definitely like to be here for the future.
But that's out of my control right now."
The42 is on Instagram! Tap the button below on your phone to follow us!