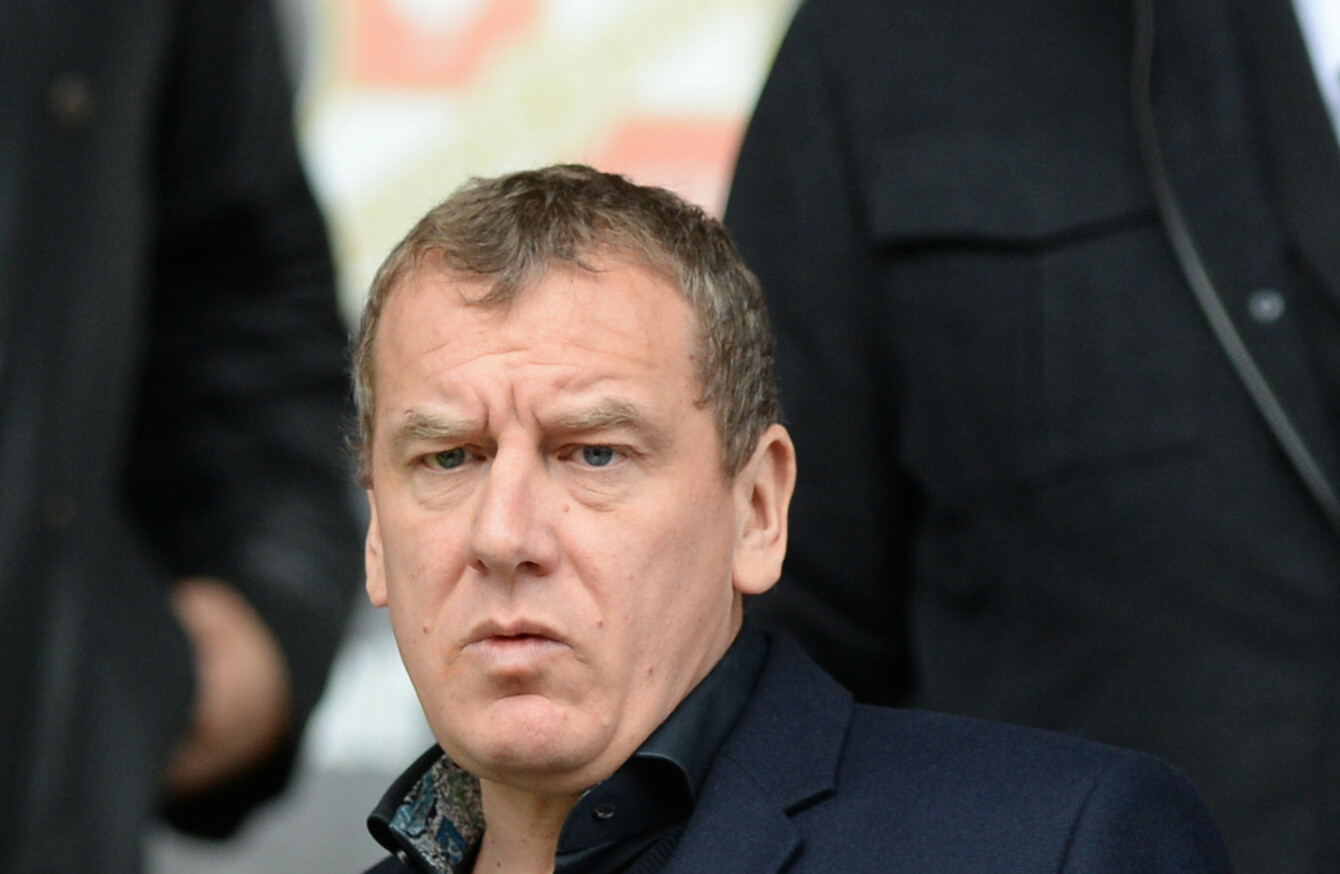 Lee Power is chairman of both Waterford and Swindon.
Image: EMPICS Sport
Lee Power is chairman of both Waterford and Swindon.
Image: EMPICS Sport
2017 HAS BEEN both a great and terrible year for Lee Power.
Of the two sides for which he is chairman, Waterford were promoted to the League of Ireland's top flight, winning the First Division title in the process, while Swindon were relegated to League Two.
"That probably sums football up," Power tells The42. "There's highs and lows and I've experienced both in one year.
"It was a big blow getting relegated with Swindon, we didn't see it coming.
"It's quite hard, and then later on in the year, we achieved our goal with Waterford and got promoted."
The Swindon experience was particularly tough to swallow. In the 2014-15 season, they were on the brink of promotion to the Championship. Despite a limited budget in comparison to the clubs around them, they finished fourth in the division, but were ultimately beaten 4-0 by Preston in the League One play-off final.
The following season, the decline began, as Swindon ultimately had to be content with 15th place, which was disappointing considering the heights they scaled the previous year.
And then last year, disaster struck. The club who competed in the 1993-94 Premier League were relegated to League Two, having finished 22nd out of 24 teams, a considerable six points away from safety.
So following a play-off final loss, mid-table mediocrity and then relegation, the current campaign has been similarly inconsistent for the Wiltshire-based club. They began the season well, and found themselves seriously challenging for promotion. After beating Forest Green on 22 September, they moved up to third spot.
But more recently, results have been less encouraging, with three consecutive losses seeing them drop to 12th.
When you think you've cracked it, football soon hits you with something in your eyes," he says.
"After getting relegated, we're a big fish in a smaller pond in terms of League Two. With the finances in England, to get out of League Two is very difficult. You've got teams like Luton and Coventry — big crowds, big attendances, big budgets. Mansfield have very wealthy owners that are spending a lot of money and we're finding that difficult as well."
But despite Swindon's current troubles and declining fortunes of late, he feels his efforts there have been underappreciated by some of the club's disillusioned fans.
"When I took over at Swindon, they were losing £5 million a season and Paulo Di Canio was manager," he recalls. "They just couldn't sustain it. As an owner again, you try to get the finances right, but ultimately with football supporters, all they worry about is what happens on the pitch. It's very difficult.
"I'm never going to say what's right and what's wrong, but it's very difficult to manage people's expectations and finances. At Swindon, I've probably done the best job in the club's history to get the finances as well as I've got them.
"Yet you'll get dog's abuse, because you haven't spent x million on a player, then you get relegated. It's the hardest gig in the world. The first season I went in on the smallest budget in the league, we got to Wembley on the smallest budget in the league, we got to the play-off final to go to the Championship. So that's how quick things change."
And while Power may not be the most popular figure in England, his efforts in resurrecting Waterford have certainly been appreciated this side of the water.
"I'd always looked at League of Ireland," he says of his decision to take over the club ahead of the 2017 season. "I thought there were opportunities for the league to grow from a commercial perspective. (I thought) one day, you might be able to earn some money or get your money back.
"But at the same time, Waterford is where my family is from. I was having a conversation with someone, (the previous chairman) John O'Sullivan was in Portugal, he wasn't very well at the time.
John was finding it very difficult and (suggested) he wouldn't be able to continue. When I met him, I looked at the club and went there, I think they played Athlone or someone the season before and it was about 200 there, lads hadn't been paid for so long, and the place was on its knees really.
"John had done the best he could. He was putting fires out and had done for many years. But he'd become unwell and needed some help.
"I took on the challenge. I said: 'We're going to pay all the debts off and we're going to try to get in the Premier Division.' They probably thought: 'Yeah, okay, we'll believe it when we see it.'"
Some high-profile players were signed ahead of the 2017 campaign, including Estonia international Sander Puri and Kenny Browne, who had just helped Cork City win the 2016 FAI Cup, while Mark O'Sullivan also made the move from the Leesiders.
With an impressive squad assembled by First Division standards, Alan Reynolds' side comfortably claimed the title, finishing eight points ahead of runners-up Cobh Ramblers and losing just three of their 28 matches all season.
With Browne marshalling the defence, Garry Comerford and Derek Daly proving influential in midfield, as well as O'Sullivan and David McDaid scoring 23 goals between them in attack, the Blues were unstoppable last season.
While McDaid has since departed to Larne FC, the club's acquisitions have again been impressive ahead of the 2018 campaign. The impressive likes of Bastien Hery (Limerick FC), Niall Corbet (UCD), David Webster (Shamrock Rovers), Ismahil Akinade (Bohemians) and Gavan Holohan (Galway United), many of whom were standouts for their respective clubs last season, have all joined the Waterford revolution for 2018.
After taking over the Blues, Power emphasised the importance of developing players at underage level, and everything appears to be going relatively well on that front too, with Waterford emerging as champions of the U17 Southern Elite Division, while they also won their U15 Group 3 league.
Asked if the club have the potential to ultimately challenges the likes of Dundalk and Cork City at the top, Power says: "I personally don't see any reason why not."
He continues: "We don't want to be there to make the numbers up, we want to be very competitive next season. Everyone else wants to be your Dundalks, your Corks and your Rovers, but we're a big club ourselves and people need to believe that."
In addition, season tickets are selling fast, attendances have been growing, while the club's recently launched online shop has taken off, according to Power.
"I learnt a lot off the pitch," he adds. "Things are very different (in Ireland) to the English market.
"When we came over, it was a blank canvas. We had to clear up a lot of debt at the football club. There were a lot of things that came out the woodwork we didn't expect to come out.
The support we had from the fans was second to none, but we thought we'd have a little bit more support from the business community in Waterford.
"I know it was difficult, because they've obviously had a situation down there where there has been a load of financial problems and things haven't gone according to plan.
"I appreciate when a new owner comes in, says they're going to do this and going to invest heavily, tidy up the clubs finances and so on, maybe (they were) a bit sceptical, but we thought there'd be a bit more goodwill from the business community.
"Initially though, we had to get on with that. We had to plough a little bit more money into it than what we thought we'd have to do.
"The underage sides were being introduced… Financially, it's a big burden, but you understand the reasons behind it.
"So from a financial perspective, it was a lot harder than what we thought it would be.
"You also take that for granted in England, you have retail, you have this and that.
"When we came down, there was none of that at the football club, it was completely redundant.
We got a good staff and a good team down there now (put together by Director of Football and former Shelbourne manager Pat Fenlon), whereas before, it was obviously run on a skeleton staff, which was understandable because of the finances.
"We understand that with a lot of companies, it is difficult (to invest), but hopefully they can see now that I've put my money where my mouth was, got the team in there and I'm hoping to get the team to be a sustainable business long after I leave the football club, so that you're not relying on someone to pump hundreds of thousands in every season to keep it afloat."
Power, who has lived in Switzerland for the past eight years but frequently visits both Ireland and Britain, is rare in that he's a chairman with first-hand experience of playing in the Premier League. He made his debut for Norwich in the English top flight in 1990, aged just 17.
The former striker was part of the squad that challenged for the title in the first-ever Premier League campaign (1992-93), ultimately finishing third, 12 points behind Alex Ferguson's first great Manchester United side, while they memorably knocked Bayern Munich out of the Uefa Cup (the competition now known as the Europa League) the following season. However, the frequently excellent form of fellow Canaries forwards Chris Sutton and Efan Ekoku meant Power sometimes found regular football hard to come by.
Source: BarclayBoy59ers/YouTube
Born in London, Power qualified to play for the Republic of Ireland through his Waterford-born father, earning 13 caps at U21 international as well as one appearance at B level.
"I've been blessed in that way and I think I still hold the record for the most number of U21 caps for Ireland at the minute," he says. "So when I look back at my career, I was probably lucky, but unlucky in some ways.
When I was playing in the (English top flight) at 18, any other time in Irish history, I probably would have won a number of senior caps. I was unlucky (that my rise coincided with) probably the best team Ireland has ever had or ever will have.
"It was a golden age (for Irish football) and difficult to dismantle people like John Aldridge and Niall Quinn.
"I was lucky to have a B cap, I was lucky to play in David O'Leary's testimonial against Man United, but I never got that elusive (senior) cap, which always played on my mind.
"I'm very proud to have played for Ireland at 21s level and it did help. I had an illness, my career didn't go the way I wanted it to, but I took in a number of clubs and played at every level.
"I played at Premier League, Championship, League One, League Two, in Scotland and England. So I think I'm quite well versed in understanding the game and knowing it and having played at every level certainly does help.
"I got a bad injury at Hibs, went back down to England and was never really the same.
The season I left Norwich, I scored seven goals in 11 games in the Premier League when I was 20. Nowadays, I'd probably be worth £40-50 million.
"In those days, I went to Bradford for £250,000 and I was their record signing. The problem was with me like (many people) at a young age, I thought I knew everything. I was a little bit of a Jack the Lad and that was probably my downfall regarding Norwich.
"Once I left there, I got a bad block of meningitis at Bradford, which had me out of the game. (Former Ireland international) Frank Stapleton had me there and I was out for a year, and never really recovered. If there are any problems that come up in football, I've probably experienced most of them.
"So it does help in some ways when you're looking at things and you see players' form, when you speak to managers and coaches, even though I'm only 45, I've been there and seen most of it."
The series of debilitating injuries, including two broken legs, forced Power to the retire at the age of just 28.
Many footballers find the transition to retirement difficult, particularly when it comes unexpectedly, but Power has thrived since hanging up his boots, avoiding the pitfalls that many in his position have succumbed to and carving out a career as a successful businessman.
I grew up on a council estate in south London in Peckham, so it was quite a tough upbringing in that way. I think that probably helps a little bit more when you come back to the real world. Because when you play football for a living, you're totally blessed. It's the best job.
"So to find yourself having to earn a living, you have to get your street mentality back and go and find a way to get yourself back on your feet.
"I had a good friend at the time, Richard Dunwoody, the jockey, who was a pal of mine, and he retired at the same time as me. He went into sports publishing, I didn't know anything about it, but he asked me to help.
"Then he went off to do his own thing, charity things, and I opened up my own (marketing) company, mainly doing football programmes and rugby programmes.
"Within five months, we were running the Rugby World Cup in France in 2007. We had three-quarters of the Premier League, 44 clubs in total. We had all the rugby Premiership teams.
"I was fortunate enough to sell that. I then moved to Switzerland and I am where I am now. Obviously, I needed luck along the way. I'm not cleverer than everyone else. I've just found myself very lucky, thank god for that."
The hardest thing I find is the boardroom. I'm not comfortable. I'm not brought up for that really. I wasn't privately educated, I didn't go to university or anything like that… I'm a self-made person. I'm more comfortable downstairs in the dressing room with the lads than I am in the boardroom.
"But I like to think I'm a people person and life in some ways sometimes can be straightforward."
He may be a people person, but Power is in an occupation where he will inevitably have to make unpopular decisions — sacking managers, for instance.
"Every manager I've had to sack or that has left, it's not because they've won five games on the bounce, it's because they've lost 10 on the bounce or so on. You're disappointed to do that to people, but normally, when you're making that call, they're already expecting it if they've got half a brain. So I don't find it difficult.
"There are not many people who have moved on that I still don't talk to or get on with. They understand the game and they take it, and that's in any of my businesses that I've had.
"I'm heavily involved in horse racing and gaming and so on too, and with that side of football (as in all industries), the decision is made because people haven't performed and that's what happens in life unfortunately. I didn't make the rules up, that's how it is."
Returning to the subject of Waterford, Power says that to him, owning the club is a labour of love more than anything else.
"I just want to get a team out there and make them proud of their club, like I was (proud of) where my father was from. I'm proud to do it, nothing made me happier than the day we went up.
We went into Waterford City and there were some people crying, they were so happy. That's what makes it all worth it."
He is aware that many League of Ireland clubs have struggled financially and even gone out of business in some cases, with Bray Wanderers the most recent example of the former.
"I don't know the reasons behind Bray and the other teams. I'm sure the people who were running the club had the best intentions, but things change and things happen.
These are the reasons that the people in Waterford, businesspeople and supporters (are needed). Football clubs anywhere, not just in Ireland, can't be run by one benefactor. Eventually, that benefactor leaves and then what happens to the football club?
"Whereas if you can get a business model for the academy sides, the great project the FAI are putting in, even if the local businesses could come and fund that young blood coming through the club — if they did become short of money, they could sell one of the players to fund the club again. That's how football works and that's fantastic.
"That's all I'd like to do — just be in a position where, whoever's the owner, the football club will always be competitive and not one person can do that, it's got to be the city and whoever loves the football team. Everyone plays their part and that's what we're trying to do at Waterford."
The42 has just published its first book, Behind The Lines, a collection of some of the year's best sports stories. Pick up your copy in Eason's, or order it here today (€10):