WITH TWO GAMES remaining in the Pro12 season, there is nothing left for Leinster to play for except for guaranteeing a Champions Cup place.
Sitting down to ponder a trophy-less season after losing to Ulster in Ravenhill (as 11 other teams have this season), head coach Matt O'Connor found himself ruing, not incidents that went against him on the night, but the missed opportunities that put them in a position of needing a win in Belfast to keep their claws in the playoff race a little longer.
Morgan Treacy / INPHO Morgan Treacy / INPHO / INPHO
"We made it hard for ourselves. We lost games in the course of the league that we shouldn't have lost," said the Australian with Dragons and draws on his mind.
"Across the course of it we've let points slip. We've lost a lot of games with tight margins. We've had a couple of draws that will be costly in the wash-up. We'll look at all those things at the end of the season and we'll make sure that we're better."
Indeed with the incentives removed from the dethroned champions, O'Connor hinted that he may well bring the pre-season 'work-ons' forward with the final two weeks potentially to used as an opportunity for growth and development rather than just the acting as the final throes of a disappointing season.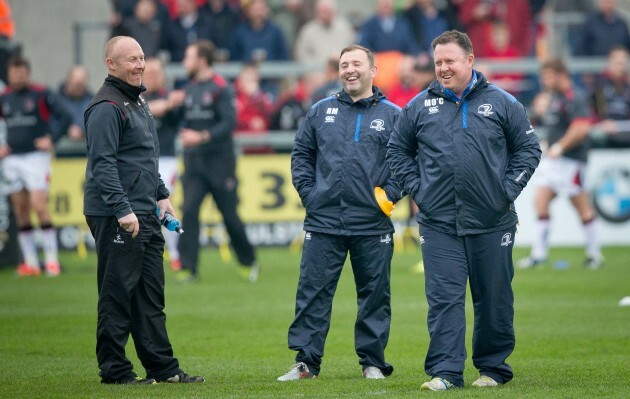 Morgan Treacy / INPHO Morgan Treacy / INPHO / INPHO
O'Connor points to the epic semi-final defeat (his third European exit at the hands of Toulon in three years) as evidence that it might be folly to tear up the gameplan altogether. The 44-year-old believes that consistency of performance is the main aspect which must improve to restore Leinster to the trophy trail at the sharp end of the season.
"There's all sorts of things that we could be better at. I don't think there's one magic remedy that will fix our game. The reality is, as we showed in Europe last weekend, there's a hell of a lot of healthy things in our game, but it's about bringing those every week."
Meritocracy has made the league more competitive. Points every week are at a premium – that's fantastic for the league – we probably haven't mirrored that rise in intensity as well as others and we need to have a look at that and make sure we're better moving forward."
"The league has improved out of sight. You can't be at 80-90% and win in the league currently, you've got to be as good as you can be every week.
"That's the key learning. There's a load of individual things and a load of collective things we can be better at, but that's the challenge moving forward."
Originally published 0600