FORMER IRELAND INTERNATIONAL Shane Horgan believes a Leinster win against Toulon in the Champions Cup on Sunday is "unlikely," but still feels Matt O'Connor's side are capable of exploiting their opponents' defensive weaknesses.
Horgan also played down suggestions made during the week that Toulon were an ageing side and could be vulnerable as a result.
"You have to say that if they are ageing, does it affect their performance, will it mean they can't get round the park as well as they used to?
"Are they not making as big hits or carries, or are they not interested? I don't think any of those are factors in this game."
Nevertheless, Horgan feels that Leinster can do damage to the French side's defence if they get enough of the ball this weekend.
"Where Leinster need to have a look at Toulon is in their defensive system. For a team that has won the last two Heineken Cups, it's not brilliant. It's based on individuals making good reads, individuals making good one-on-one tackles and also a lot of quick players on a team with a strong scramble.
"Also, I think it's based on Toulon having the ball for long periods of the game and dominating possession and territory to a degree.
"So on the occasions that Leinster do have the ball — and hopefully they'll have it for some sort of time — you have to make the most of those chances and look at where you can really get after Toulon."
The ex-Leinster winger specifically believes Toulon are potentially suspect when it comes to rucking, and in the 10 and 12 channels.
"They're not as regimented as Irish teams or teams in the UK, whether it's teams on the pillar or the second defender on the ruck. In Ireland or England, they don't drift and they're not meant to drift until the ball has gone outside the 10.
"I think that doesn't happen with Toulon — they have a tendency to shift out early. And if they do that, there's a big opportunity for a ball back inside — possibly some sort of flick play that we've seen Leinster use, bringing in Rob Kearney from one side of the ruck to the other because there's a hole there.
"I think he also has to try to exploit them in the channel outside 10 and that looks like a position that Michalak and Giteau may play. They're not huge men, they're not big tacklers. I think you have to be quite smart about it — you don't want Armitage having a huge effect on the game, so [it's important to] move his channel out a bit further and lessen his impact."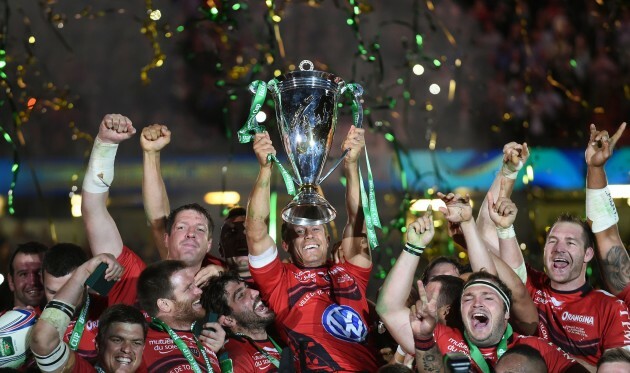 Joe Giddens Toulon won the Heineken Cup last season Joe Giddens
And while emphasising the threat Toulon pose on the wings, Horgan feels this is another area that can ultimately be exploited.
"They really have to go after them on the edges. They have really fast, smart wingers who make brilliant reads in defence. They'll pressurise you into not passing the ball and not delivering it correctly or taking the ball a bit deeper because they're so aggressive. But if you can see that and actually execute your move properly, even as fast as they are, you can get round them."
In addition, although Leinster fielded effectively a second-string team against the Dragons in the Pro12 last week, he feels the result could still have a negative impact on morale going into the weekend's game.
"I think it's increasingly difficult for a coach to defend poor performances the longer they've been in the role and the longer they've had the players.
"They're putting all their eggs in the European Cup basket this weekend, so that does ramp up the pressure on players. Because they didn't win against the Dragons last week, if they don't win an exceptionally difficult game, it doesn't look as if they can win the Pro12, so that's put a huge amount of pressure on this weekend's game. So what does a coach say after that?
"With Leinster, at their most successful, there was a continuity between the teams and the success and the type of results the teams were getting during that Six Nations period, and when they came back from it.
"I think there's been a huge discrepancy there, and it's grown in the last two years. There's a first XV and then players who play when they're away, and the results haven't been good, and that does creep into the overall philosophy and culture of the team. It's much easier if you have consistency and continuity throughout the squad."
And while insisting that a Leinster win is not out of the question, citing the recent performances of Leinster's Irish internationals as potential cause for optimism, the Sky Sports analyst is expecting a Toulon victory in this weekend's encounter.
"If you look at the stats — away wins in France don't happen very often. I don't think they're as formidable a team as last year, but I think they're still a very strong team at home. Although this is not in their own backyard, they're still in France, so it's probably too big of a jump to make from the standard of performances Leinster have had since Christmas to jump to a level to beat Toulon.
"Leinster will have to have their best performance of the year. If they do that, they certainly have a chance of beating them, but if they don't — and it's hard to turn on — that makes it more difficult."
Shane Horgan will be in the studio for Sky Sports for Toulon v Leinster in the semi-final of the European Rugby Champions Cup, which is exclusively live on Sky Sports 2 from 3.15pm this Sunday.