A NOVEL AFTERNOON in Croke Park on Sunday.
As sports fans consulted their calendars that morning, they noted that it was a day cleared for hurling, hurling and more hurling. Nothing would be allowed to smudge the great day ahead.
There was a neat courtesy in that Croke Park was open from early and screened coverage from the Munster hurling final in Limerick courtesy of Nemeton on their big screens, so that those in Dublin wouldn't miss out on a puck of the ball in Limerick.
The screens functioned well. The sound was impeccable. But, oh! How those present in Croke Park might have looked at the scenes in TUS Gaelic Grounds in envy.
Visually, the Munster hurling final looked spectacular. The uncovered stands rising up to the skies with packed terraces and sunshine was dizzying.
The widespread use of drone footage set the ground in the wider context of the city. The contrast of green and white lit up the blue and gold. The brushed carpet of a pitch. The Tulla Band. We're gonna stop now before we break into Ireland's Own territory.
43,756 souls all crammed in to create a special atmosphere.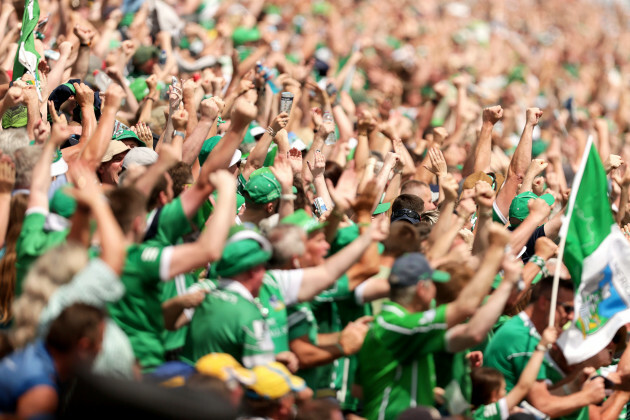 Laszlo Geczo / INPHO Laszlo Geczo / INPHO / INPHO
The Gaelic Games correspondents at Croke Park on Leinster final duty made their own little terrace in the Michael O'Hehir media suite at Croke Park and settled in to watch the game, flung along on the wild ride even at the remove of 130 odd miles and a television screen.
Afterwards, walking out to the media benches, a game equally as special and gripping would unfold. But there was one major fault. It was as atmospheric as walking into a suburban GP's waiting room. 
At a provincial final, you shouldn't hear team mates call for the ball, or the noise of the hurl connecting with the ball. But in Croke Park, you hear it all. It took an incredible contest to breathe some life into a venue that is just far too big.  
Naturally, this causes a little bristle among hurling folk in Leinster. Before Kilkenny captain Eoin Cody accepted the Bob O'Keefe Cup, he noted, "There's plenty of hurling in Leinster."
That may well be the case. But one thing is for certain; with just 24,483 there on the day, there's not that many too keen to pay in to watch it.
This feeling has been dragging on for decades. In 2005, another Kilkenny man in Tommy Walsh said this after they beat Wexford by three points in a thriller; "It hurts when people say how great Munster hurling is, how poor it is in Leinster," said Tommy Walsh after his Kilkenny had beaten Wexford.
"We know Munster hurling is great, but I think we proved out there that Leinster hurling is far from finished, that was at least the equal of the Munster final."
It all sounds remarkably similar to the sentiments flying around yesterday, with one huge difference.
35,010 went to the 2005 Leinster final.
In 18 seasons, the Leinster final attendance has dropped over 10,000.
Better than that, 20 Leinster finals ago, 46,820 turned up to see Wexford beat Offaly in the decider.
At a time when excitement around the game of hurling, and participation levels are higher than ever before, the crowds are getting smaller.
In the last 20 years, there have only been two times the crowd dipped below Sunday's. Naturally, we also make an exception for the Covid-restricted years of 2020 and 2021.
Back in 2012, just 22,171 were there for Galway's ten-point win over Kilkenny.
Obviously, it is a big ask to ask Galway hurling folk – given where the heartlands of hurling are in that county – to come to Croke Park. And Kilkenny's following have grown fattened and content on previous success.
2008 marked the lowest crowd of the last 20 years, with 18,855 turning up to watch Kilkenny hockey Wexford by 19 points.
This figure had context. It was the fourth consecutive meeting of Wexford and Kilkenny. But with 44,081 seeing Kilkenny win by eight points in 2006, that figure went to 34,872 the next year, with Kilkenny winning by double scores, 2-24 to 1-12. Fatigue had clearly set in and the result was almost predetermined.
The underwhelming figures are down to many and varied reasons. But towards the top of any list is a serious lack of occasion and novelty to playing at Croke Park.
This point was picked up by Joe Canning in his commentary.
"One thing I will say, it's a pity that game wasn't on in Tullamore or Portlaoise for the atmosphere and supporters. What was there, 24,000 in Croke Park?" he asked.
"Imagine the atmosphere we had here in Limerick with a sell-out crowd (for the Munster final), you would have sold Tullamore or Portlaoise out.
"Everybody wants to play in Croke Park, but Clare didn't accept going to Páirc Uí Chaoimh, you know that sort of way? For supporters and stuff, we saw more Galway jerseys nearly today at this match (in Limerick)."
There's nothing new in this, but the Munster hurling final is the equivalent of an Ulster football final in Clones. It has fixed itself somewhere high on the sporting bucket list.
It is a cultural event now. One to be cordoned off and preserved, like the Catalan Festival, cheese rolling in Gloucestershire, or wife-carrying in Finland.
Leinster hurling needs a revamp. A quick spin around the grounds of the province would give it more or a roadshow feel, tighten in the crowd and create a buzz around event of going to see a provincial final.
Or, they could always just leave things as they are, with a drop in attendance of 22,337 from where it was 20 years ago.