FROM THE OPENING act last Saturday in Dublin, Leinster showed that they're one of the smartest teams around when it comes to kicking.
With the rain pouring down, it was always going to be difficult for Leo Cullen's team to show off their slick handling in attack against Ulster, so their kicking became even more important.
In reality, Leinster's kicking is always a huge part of their approach, even on the days when their free-flowing attack grabs the headlines. Last weekend against Ulster, Cullen's side leaned heavily on their kicking to stress Ulster.
Leinster kicked 30 times in play for just over 1,000 metres, a notable total compared to Ulster's 630 metres from 28 kicks. The kicking helped Leinster to enjoy nearly 70% of the territory as they frequently pinned Ulster in their own half.
Leinster's success started with the actual kick-off, as out-half Ross Byrne hung his drop kick high enough to allow fullback Hugo Keenan to bat it back for hooker Dan Sheehan to gather.
It's a superb kick from Byrne as the ball hangs in the air for around four seconds, giving Keenan time to get under it.
Keenan is superb in the air and Leinster fancy him in a one-on-one against opposite number Mike Lowry, who they know will be in this central position just behind Ulster's 22-metre line.
It's a simple, smart tactic as Keenan wins the ball back and Leinster have instantly put Ulster into a stressful situation, the pressure already building within seconds of kick-off.
Leinster knock the ball on in the ensuing attack and Ulster get a chance to exit with their own kicking game, but the hosts immediately raise the pressure again.
This time, Byrne kicks down the middle of the pitch, finding grass in the Ulster backfield.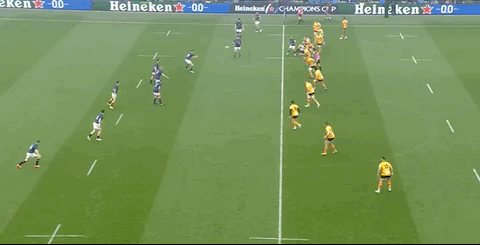 This is excellent identification of space and opportunity from Byrne and Leinster.
Ulster would often have two defenders set up the backfield in this situation to cover all the possible kick options, but on this occasion Lowry [white below] is left with a huge amount of ground to cover.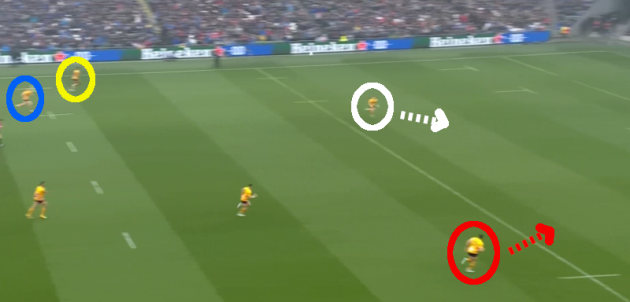 As we can see above, right wing Robert Baloucoune [yellow] and scrum-half Nathan Doak [blue] have been up in the frontline defence covering the shortside in case Leinster run there.
Meanwhile left wing Jacob Stockdale [red] has closed up to the left edge of the frontline defence to cover any possible Leinster attack there and he now has to retreat. 
Lowry starts in line with the previous ruck, meaning Byrne has space to kick into. Finding grass in the backfield usually means a kick is successful because the opposition now have to scramble to gather the bouncing ball while the kicking team chases hard.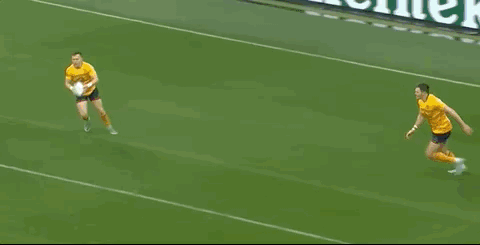 Byrne knows that even if his kick rolls into the in-goal area and Ulster ground it there, Leinster will get the ball back from the goal-line drop out.
Lowry gathers, turns to feel the pressure of Leinster's chase line, and fires his kick away into touch to give the hosts an excellent attacking lineout platform.
However, Leinster make a string of uncharacteristic errors from there, including in their kicking game as Jordan Larmour is penalised for this push when chasing a box kick.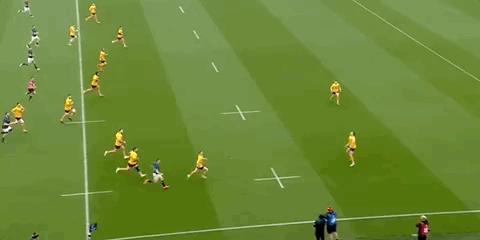 All of that contributes to Ulster getting the chance to open the scoring with three points from the boot of Nathan Doak, but Leinster use their restart to instantly respond.
Again, they target Lowry with the restart as Byrne hangs his kick over the Ulster fullback.
Lowry beats Keenan this time, but Sheehan instantly gets him to ground, staying on his feet to counter-ruck.
James Hume pulls Sheehan clear of the ball, but that leaves it exposed and Alan O'Connor seals off the breakdown as Gibson-Park follows in on the counter-ruck. Penalty Leinster and three points directly from their restart.
The next passage of play gave us a glimpse of the influence James Lowe has on Leinster's kicking game. He kicked seven times for a whopping 393 metres last weekend.
Leinster have just exited after Ulster's restart when Lowry kicks directly down the throat of Lowe.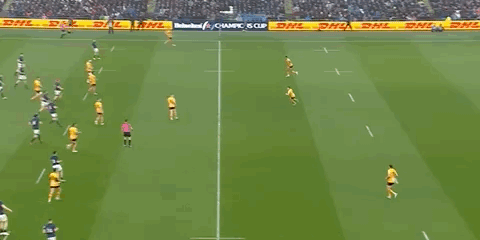 We can see that Doak [blue below] instantly recognises the danger and shouts for Baloucoune [yellow] to drop into the backfield with him.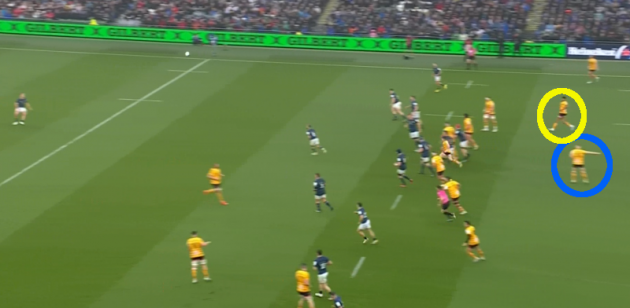 Lowe has spotted the chance and there's no doubt he's thinking about a 50:22 kick here, hoping to roll the ball into touch for what would be a Leinster throw into the lineout.
It doesn't work out that way but he still gets massive length on his kick.
Lowe then leads the chase and though Doak steps him and comes up with a good kick of his own into touch, just consider the overall win Leinster have had here.
Within 40 seconds of Ulster's restart from the halfway line, Leinster have an attacking lineout five metres inside the Ulster half. That's a big success and a fine illustration of the importance of Lowe's left boot.
He wasn't perfect in this game, kicking one exit directly out on the full after Gibson-Park passed back into the 22, but he invariably has a big influence in the kicking game.
From that lineout just inside the Ulster half, Leinster go back to their kicking game. And once again, they isolate Lowry in a one-on-one contest with Keenan.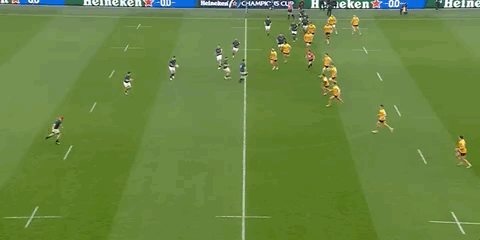 For the second time, Keenan bats the ball back on Leinster's side and centre Jimmy O'Brien gathers it to scoot into the Ulster 22. The pressure mounts, although Stuart McCloskey lifts it on this occasion with a big breakdown turnover penalty win.
Leinster do soon score the first try through Ryan Baird before we get another example of how Lowe's ability to get great power on his kicks often leads to good things.
It's probably not even Lowe's best connection with the ball but crucially his kick finds grass and once again forces Ulster to turn and retrieve.
Lowry then makes the decision to run the ball out rather than responding with another kick, but Baird makes a supremely athletic tackle on the Ulster fullback to allow Josh van der Flier over the ball for a turnover.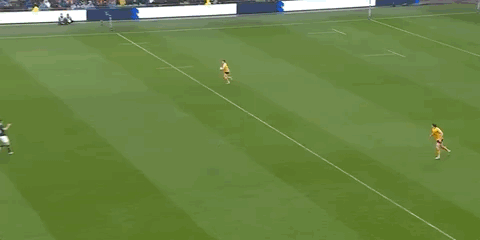 The ball bobbles into touch for another Leinster attacking lineout. Again, the net gain is huge for Lowe and co. who have gone from deep inside their own half to having an attacking lineout on the Ulster 10-metre line.
We didn't see much of Leinster's attacking kicking in this game, but it's certainly another weapon in their repertoire.
They did actually come close to scoring a first-half try from a Byrne grubber.
This comes on penalty advantage and we can see Lowe and Byrne's hands instantly go to their heads in dismay as Ulster lock Kieran Treadwell manages to get a foot onto Byrne's grubber kick to block it.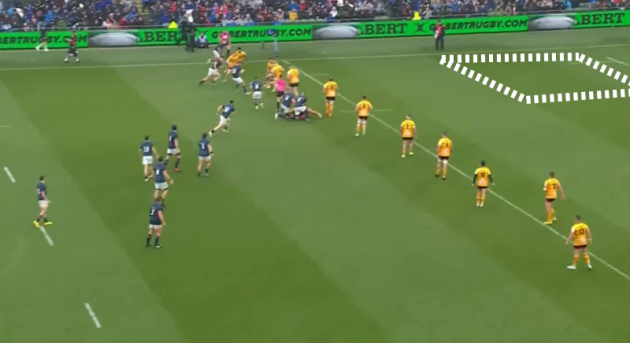 There was huge space beckoning in behind and if Byrne's kick gets through the defence, Lowe probably scores.
Leinster go back to the advantage and kick three more points.
However, the next exchange in the kicking game sees Leinster concede a try.
Ulster restart to Leinster's left and Lowe exits into the Ulster half.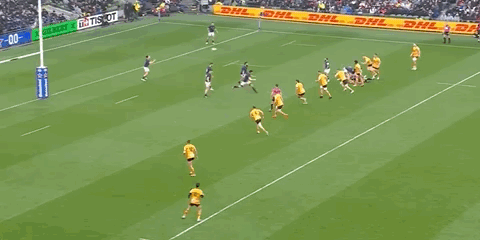 We note that Leinster fullback Keenan is the primary chaser to Lowe's left, with Keenan [white below] bringing everyone else onside by thundering upfield after the kick.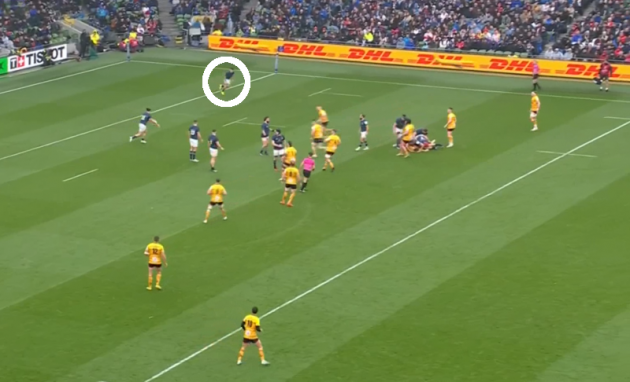 Lowry catches Lowe's kick on the full and passes infield to Stockdale, who assesses his options.
We can't see them initially in the clip below but Gibson-Park and Lowe are Leinster's two backfield defenders after the Lowe kick.
They have stayed deep, seemingly anticipating a longer return kick from Ulster and so Stockdale cleverly launches his bomb in the middle ground between Leinster's chase and their backfield defenders.
Gibson-Park can't close up in time and Stockdale brilliantly regathers his own kick.
While Gibson-Park manages to haul Stockdale down, Leinster are suddenly in big trouble. The shot below shows how exactly why.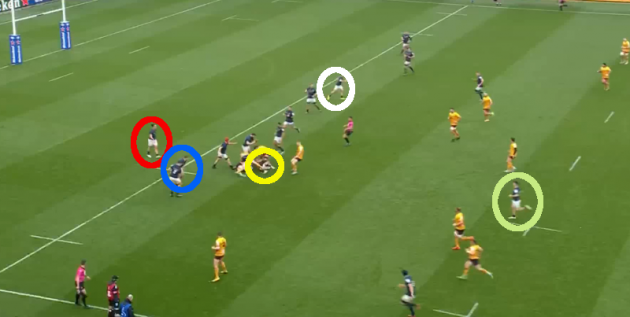 Gibson-Park [yellow] is on the ground, right wing Larmour [right] is positioned close to the ruck, while Keenan [white] has just retreated into the midfield defence in the frontline after chasing the initial Lowe kick.
All three of those players would generally have a role in Leinster's backfield defence, whether set up back there or on the edge of the frontline with the option to drop deeper.
Even outside centre Jimmy O'Brien [green], who has a good understanding of Leinster's backfield work because he often plays in the back three, is upfield and out of play after following up Lowe's kick.
Lowe [red above] is behind the ruck and therefore in the backfield, but he's alone.
In an ideal world, Leinster would have one of Keenan, Gibson-Park, Larmour, O'Brien, Lowe himself [with someone else in his current role] or even O'Brien, Byrne, or Robbie Henshaw somewhere near the space indicated in white below.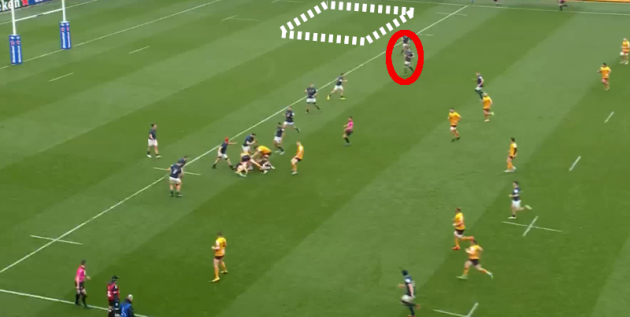 They would likely be in a 'half' position covering both a possible kick or a possible passing attack wide to Leinster's left. They might even be fully in the frontline, but they'd ideally be someone with more awareness and mobility in reacting to the kick threat.
Instead, it's two tight five forwards on the edge of the Leinster defence in Tadhg Furlong and James Ryan [red above].
At a late, late stage, we can see that Keenan has recognised that Leinster have left themselves exposed.
Keenan is signalling urgently to the space on Leinster's left and possibly screaming at Lowe to try to get across.
But Lowe has way too much ground to cover to rescue the situation as Ulster take advantage of Stockdale's good work to clinically take their chance.
Out-half Billy Burns delivers a typically excellent cross-field kick and Hume is able to step the hard-chasing Lowe back on the inside to finish.
"Clearly the backfield issue that led to the cross-field kick for their try, that was poor execution of what we normally do," is how Leinster senior coach Stuart Lancaster reviewed this one.
"We made some system errors there, but credit to Billy Burns for the way he nailed it. To be fair, it was a very good scanning kick by him."
It was a rare enough slip from Leinster.
Later in the half, we get another example of their ability to apply pressure with their kicking game, as well as Gibson-Park's ever-growing awareness of kick space.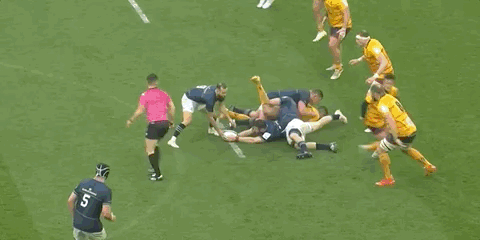 Gibson-Park recognises that Ulster are defending in a 14+1 set-up after Leinster have carried in midfield from a lineout on the right.
That means Ulster have 14 players up in the defensive frontline and only one in the backfield in Stockdale [white below].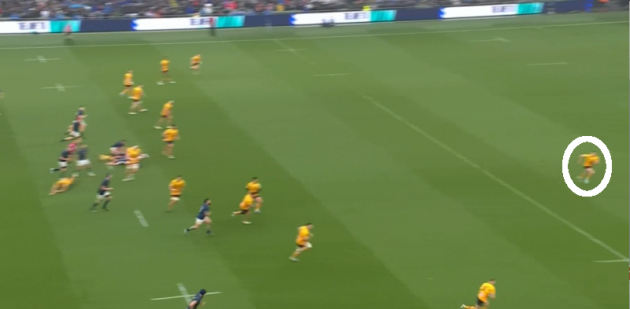 Stockdale is left exposed back there, with space on either side of him, and Gibson-Park calmly pops the ball down the right behind the retreating Doak.
Often, kicking teams want the ball to stay in play in situations like this, magnifying the pressure, but it bounces into touch in this instance and Leinster get a chance to put the heat on Ulster's lineout.
16-8 ahead, Leinster continued to look to their kicking game to both relieve and apply pressure in the second half.
Below, we see Gibson-Park delivering an excellent exit kick from close to the right-hand touchline.
Getting near the halfway line like this is a success, meaning Gibson-Park has done a fine job from a pressurised position. Lowe's left boot generally doesn't come into play on that side of the pitch, so Gibson-Park is even more important there.
And it was a Gibson-Park box kick further up the pitch that allowed Leinster into position to open up a lead that looked close to insurmountable.
In the 50th minute, Gibson-Park hangs his kick up over Lowry in the Ulster 22 and the fullback spills the slippery ball.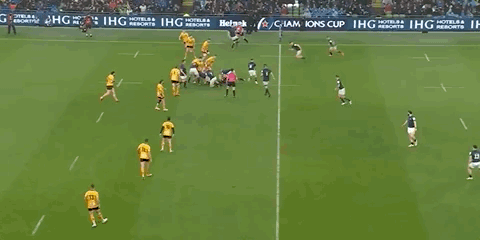 Leinster complete the turnover with some aggressive counter-rucking and though Byrne knocks on as he then attempts a cross-field kick, Cullen's side keep the pressure on in the next passage.
It's captain James Ryan who comes up with a big block as John Cooney attempts to exit.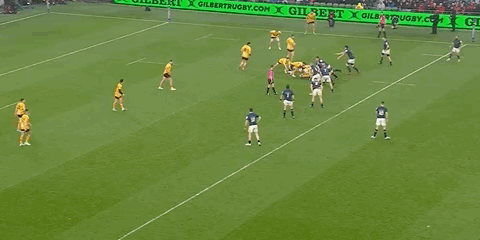 Surely feeling all of this accumulated pressure, Ulster falter at the ensuing lineout and Leinster are back on the attack. Hume is yellow-carded at a defensive breakdown and Leinster score through Gibson-Park on the next attack. 
All in all, last weekend was a fine demonstration of Leinster's kicking quality and it's likely to be crucial again on Friday night against Leicester, who are fond of a kick. No one else in the Champions Cup has kicked more than Leicester's 31 kicks per game this season.
"They kicked their way to the Premiership final, but I think they've expanded their game this season," said Lancaster of the Tigers.
"It's unfair to say they're purely a kicking team because Richard Wigglesworth has come in in an interim role and has nothing to lose. He's going to leave at the end of the season and you can see the evolution of their attack."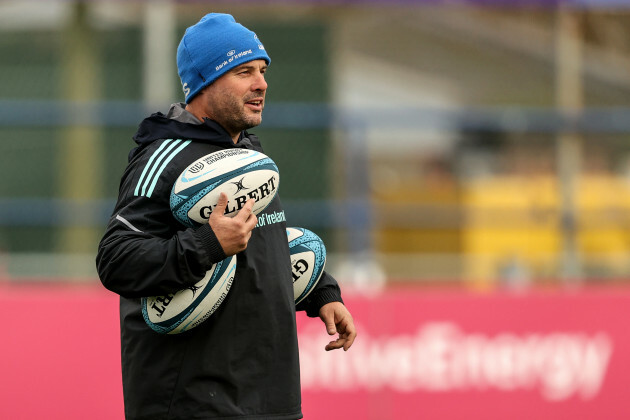 Ben Brady / INPHO Leinster kicking coach Emmet Farrell. Ben Brady / INPHO / INPHO
As for Leinster's ability, Lancaster is quick to credit longstanding Leinster kicking coach and head analyst, Emmet Farrell.
"Emmet deserves great credit in terms of A, kicking but B, the other side is when to kick – how to expose the opposition backfield," says Lancaster.
"We do a lot of work and analysis on the opposition backfield, on making sure our backfield is secure ourselves and that's highlighting the point that we got exposed ourselves [against Ulster].
"It's such a big part of the game now, teams are kicking more so we've got to be good in the backfield, we've got to have variety in our exit plan. We go to James' left foot, sometimes we box kick, sometimes we go to the right and kick open.
"It's keeping the opposition guessing really."