THIS WEEKEND, WE get Leinster v La Rochelle, round three.
Leo Cullen and Stuart Lancaster's side have a bad record to put right in Saturday's Champions Cup final. Their European dreams have been ended by La Rochelle for the last two years in a row.
In 2021, the French side beat Leinster 32-23 in a semi-final behind closed doors at the Stade Marcel Deflandre.
Last year, Ronan O'Gara's men broke Leinster's hearts with a dramatic late try to win the final on a 24-21 scoreline in the searing heat of Marseille in front of a raucous crowd of nearly 60,000 people, the majority of them La Rochelle fans.
Now, Leinster get a shot at redemption on home soil in this season's Champions Cup decider at the Avia Stadium. So what will the Irish side have learned from their two defeats to La Rochelle?
The reality is that last year's final was decided by the slimmest of slim margins, but Leinster will have examined and considered every aspect of it in order to improve. Where do they need to be better this time?
Breakdown battle
As with most teams who play against La Rochelle, there's no doubt that Leinster have suffered at the breakdown.
ROG's side have won nine breakdown turnovers in the two games between the sides, including six in last year's final. This is a superpower in La Rochelle's game and if Leinster aren't ultra-focused and accurate at the attacking breakdown, the French side will do serious damage again.
In the example above, it's hooker Pierre Bourgarit who wins the race with his speed and accuracy over the ball, but they have other jackal threats in number eight Grégory Alldritt, flanker Levani Botia, lock Will Skelton, scrum-half Tawera Kerr-Barlow, tighthead prop Uini Atonio… the list goes on. 
La Rochelle are relentless in their bid to break up the opposition's attacking flow. Like any good team, they're frustrating to play against around the breakdown.
La Rochelle are seemingly willing to accept that conceding penalties is an occupational hazard in their attempts to steal possession, but they're clever at adapting to referees. They tweak their approach depending on the ref's demands. If they're not hot on a clear release, they'll show a little less of that. If the ref isn't fully focused on the tackler rolling clear, they'll linger slightly longer. It's smart rugby and Leinster must adapt too.
From Leinster's point of view, they must avoid situations where their ball-carrier gets isolated and grounded quickly. It has happened too often in the past.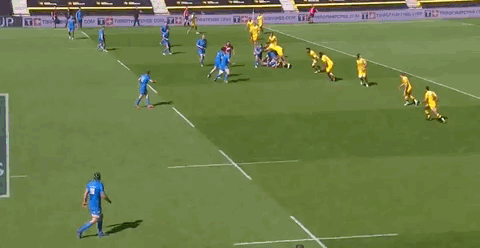 Above, we see James Ryan carrying without close support and getting swiftly tackled, allowing Victor Vito to jackal. Garry Ringrose is penalised for going off his feet in desperation.
Below, Johnny Sexton gets momentarily isolated, Alldritt wins the race to the ball with support from Jonathan Danty on his right, absorbing Tadhg Furlong's clearout attempt as Jamison Gibson-Park struggles to shift Alldritt.
Alldritt dislodges the ball and La Rochelle grab the scraps to complete a third-minute turnover that set the tone in the final last year.
Leinster have had strong moments of their own at the defensive breakdown in this rivalry, but it's crucial that they do a better job of limiting the La Rochelle jackals' influence this time around.
Expect real venom in the Leinster clearout, as well as great urgency in their support play, and probably some pressure on referee Jaco Peyper.
For La Rochelle, the mission is to bring more of the same breakdown brilliance as before. They had five breakdown turnovers in their semi-final win over Exeter, when Peyper was also referee, and a whopping 10 breakdown steals against Saracens in the quarter-final.
Numbers, decisions
One of the other big frustrations for Leinster in their two meetings with La Rochelle has been their inability to make numerical advantages count.
In the semi-final two years ago, La Rochelle flanker Wiaan Liebenberg was sin-binned and Leinster only won that 10-minute period on a 7-6 scoreline. When James Lowe was yellow carded in the second half, La Rochelle won that period on a 10-0 scoreline. 
La Rochelle lock Thomas Lavault was sin-binned in the 65th minute of last year's final with Leinster already 18-17 ahead and it looked like a huge blow to the French side's hopes. But similarly to the year before, Leinster only won that period 3-0 before being overhauled in the endgame.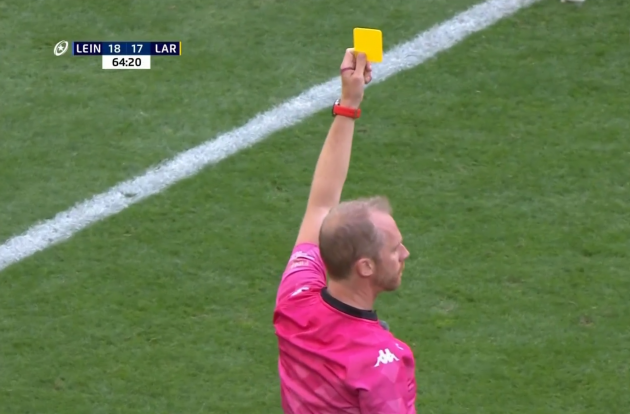 These days, Leinster are known as a team that is ruthless during yell0w-card windows. In their recent semi-final, Toulouse had two yellow cards and Leinster won those periods 28-0. That's the clinical edge they need if handed opportunity against La Rochelle again.
Of course, that might not be the case this time around and we hope that it remains a 15 v 15 contest for the entirety of the game. But this subject also brings up Leinster's decision-making in last year's final.
The Irish side consistently went for the posts with penalties and those decisions made sense in nearly every case. However, the penalty immediately after Lavault's yellow card is the one that Leinster have surely considered several times since.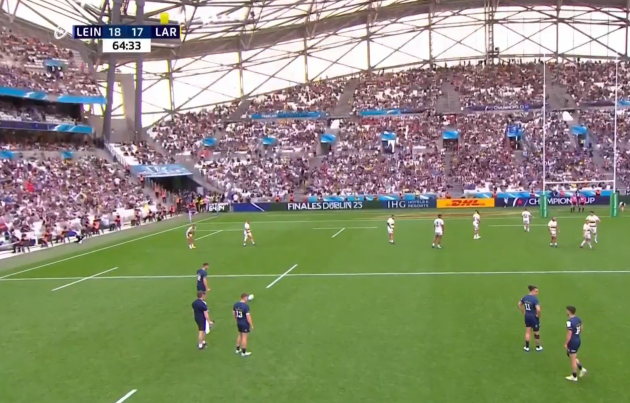 Ross Byrne kicked this penalty to give them a four-point lead but Leinster must have strongly considered going into the left corner and trying to drive over, especially given that La Rochelle had just lost a lock into the sin bin.
It felt like time to go for the kill, all the more so given that Leinster's previous two-score lead of 18-10 hadn't lasted long. Leinster didn't score a try in last year's final and this may have been their best chance.
More recently, we associate Leinster with being brave in going to the corner when there is a sniff of weakness in the opposition but they opted against it in this instance.
Of course, all of this stuff is easy to consider in hindsight but that's how teams must learn. It will be fascinating to see what Leinster do with their penalties within sight of the posts this time around.
Stop the maul
Leinster take pride in their set-piece work, so conceding tries from mauls in both games against La Rochelle will have hurt.
In the semi-final in 2021, La Rochelle did major damage with their attacking maul, repeatedly eating up metres and winning several kickable penalties as well as essentially finishing the game off when their maul laid the platform for Will Skelton's try.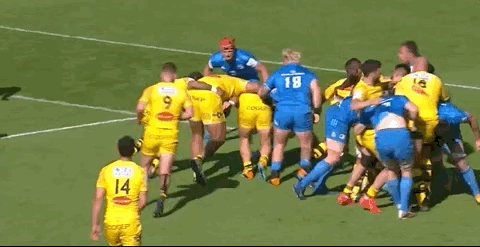 Another powerful effort from the Top 14 side in last year's final was key, eating into the aforementioned two-score lead and putting pressure on Leinster as the game ticked into the final quarter.
Leinster chase the dummy movement to the front…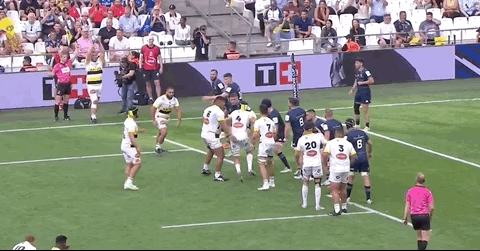 … meaning they're down bodies in the initial contest, allowing La Rochelle to get into strong shape to shift drive infield and score through hooker Bourgarit.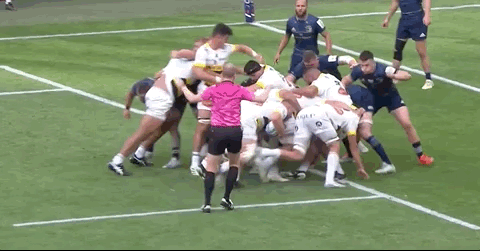 As important as stopping the maul is not letting La Rochelle have these close-range mauling chances in the first place.
Teams as good as O'Gara's are extremely difficult to stop from this distance and Leinster will be determined not to give up easy access into their 22.
That feeds into the need to nail the kicking game.
Kicking calm
La Rochelle have edged the kicking battle in both games against Leinster and it shapes up as being pivotal once again this weekend. The Irish side have been superb in this area of the game this season but La Rochelle's qualities should not be overlooked.
We get an example of La Rochelle's ability to pressure Leinster below, as fullback Brice Dulin's pinpoint exit kick draws a rare error from Hugo Keenan.
La Rochelle clearly work hard on their kicking game under O'Gara and they're good at landing the ball in the five-metre channels as above or with their box kicking, allowing their chase to force errors from the opposition or limit the counter-attacking possibilities.
La Rochelle have edged the territory in both games against Leinster with 55% and 56% shares, so Leinster will be keen to use their own kicking game to good effect in that sense. Lowe being fit will be vital in that sense, with his booming left boot such an important part of Leinster's armoury.
La Rochelle have a different out-half this time around, Ihaia West having moved on to Toulon, but Antoine Hastoy has been superb at number 10 and will relish the chance to become a European champion. He is a fine kicker of the ball.
It's worth remembering that a key moment in last year's final was Leinster's inability to exit effectively just before La Rochelle's maul try. In this instance, Dulin misses with a long-range drop goal attempt but Sexton opts to run when he has a brief chance to kick clear.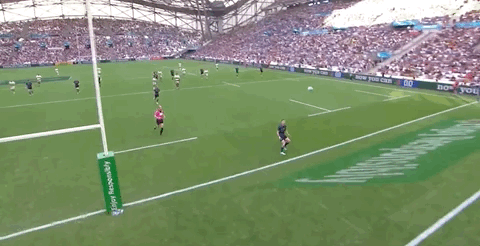 Sexton is unable to beat the chasing Thomas Berjon and offloads to Keenan, who is now under pressure. The Leinster fullback buys some time but Leinster give away a penalty after their retreat as Gibson-Park goes off his feet at the breakdown.
La Rochelle stick the penalty into the left corner and score their maul try through Bourgarit, underling how costly a failure to exit can be.
As well as using their kicking to relieve pressure and gain territory, Leinster will likely see it as a key attacking weapon in this final too.
Kick to score
La Rochelle are an impressively strong defensive side. Only Leinster and Toulouse have conceded fewer points and tries this season in the Champions Cup. La Rochelle's oppressive linespeed has caused Leinster problems in their two meetings so far. 
While Leinster have deep faith in their attacking skills and shapes, which have seemingly only improved this season, there will be times when it makes no sense to run at the La Rochelle defence. They have possibly overplayed against the French side on occasion in the past.
We haven't seen a huge amount from Leinster's attacking kicking game in the battles with the French side but it may well be a key weapon this time around.
Below, we see a missed chance from Leinster in the 2021 semi-final when a Ross Byrne cross-kick just evades Lowe with opportunity beckoning.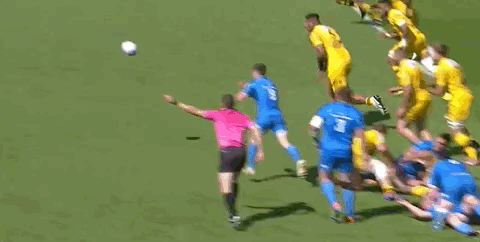 This kind of space often opens up when a defence is so keen to bring aggressive linespeed, although it takes great skill to exploit it.
The example above comes with penalty advantage playing but bravery from Leinster with cross-kicks, short chips, and grubbers could bring great reward. 
Strike early
Another aspect of Leinster's play that has been razor-sharp this season has been their first-phase attack from set-piece, with backs coach Andrew Goodman directing that part of their game.
Given La Rochelle's miserly and powerful abilities in phase defence, Leinster will be determined to score tries or make big busts on first-phase attack from lineouts and scrums.
They've also honed their five-metre tap plays this season and are now one of the most lethal teams in the world from that range, which should be useful given their occasional struggles against La Rochelle in this 'kill zone' close to the tryline.
Below, we see a failed five-metre play in the last year's final as Gibson-Park's pass to Sexton goes to ground.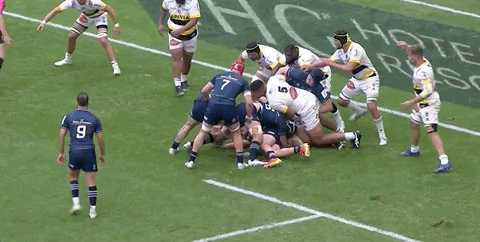 This is a play Ireland and Leinster had used in the past but it's jarring to see Leinster make an error in an area where they're usually so accurate.
That was true of other attacking passages in the final, with the nerves of the occasion and the pressure from La Rochelle's defense affecting the Leinster passing and handling at times. The reality is that some of Leinster's players weren't at their best in last year's final.
Leinster had eight visits in the La Rochelle 22 last year but didn't score a try, whereas the French side had seven visits and scored three tries, including the winner from Arthur Rétire at the end of an extended onslaught of close-quarters combat involving tireless carries from the likes of Skelton, as below.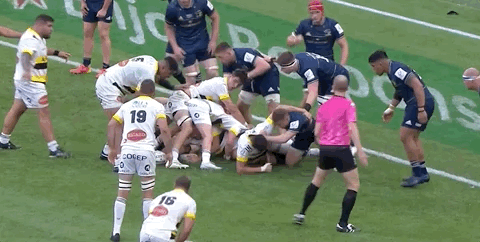 While the Irish province did score from close-range in the 2021 semi-final through Tadhg Furlong, La Rochelle will probably feel they have got the better of Leinster when it comes to these exchanges in the trenches. They came up trumps when it mattered most last season.
For Leinster, who pride themselves on this close-range work, it's another score to settle.
Chop the totems 
There are few sides who so thrillingly and suddenly create momentum as La Rochelle. One strong carry and they can utterly spark into life, flooding through in support of the carrier and stringing together three or four consecutive offloads to create a try.
It's easier to do when you have as many explosive, large athletes as they do, particularly when they're all skillful too. Skelton, Danty, Alldritt, and Atonio are among the momentum-makers La Rochelle possess. If they get two or three phases of go-forward, it's extremely difficult not to concede a penalty or try.
The key for Leinster is limiting their ability to generate that momentum early in La Rochelle's possession. The first phase or two are essential.
It's easier said than done when all 140kg of Skelton is running at you, so Leinster will need to defend in pairs and trios against those big men.
In the instance above, Skelton skittles the first two defenders to generate instant momentum for La Rochelle, who immediately threaten wide on the left on the next phase before being held up over the tryline shortly after.
In managing the likes of Skelton, who La Rochelle sometimes use to carry off lineouts, Leinster realistically need to make strong double tackles that really stick – one chopper, one targetting the ball for offload attempts.
James Ryan makes a snappy chop tackle on Atonio in the instance below and we're likely to see Leinster bringing more of this.
It's important to note that scrum-half Kerr-Barlow missed last year's final and while Berjon did well stepping up at number nine, the Kiwi has been playing at a world-class level this season.
His physical strength is useful on both sides of the ball and he's a confident decision-maker who is always alert to opportunities close to the ruck or set-piece.
Kerr-Barlow has a strong relationship with Alldritt, who is intelligent at providing options for his scrum-half and often pick-and-jams immediately after Kerr-Barlow has sniped, continuing that flood of momentum in the same channel.
Given that La Rochelle are also more than skillful enough to whip the ball to width if opportunity beckons there, an all-court test awaits the Leinster defence.
Scrum solidity
Leinster so nearly withstood a 12-minute onslaught from La Rochelle at the end of last year's final but they cracked with just over 60 seconds of the game remaining.
Part of that remarkable passage was a string of scrums that the French side edged, winning a scrum penalty at one point.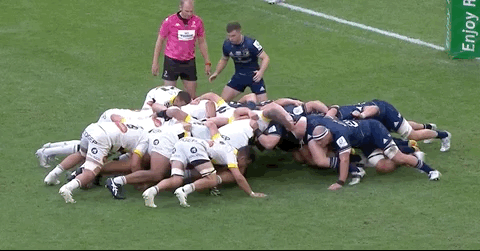 Leinster had been under pressure at times earlier in the game too and we saw them using lightning-quick channel one ball at scrums, getting the ball in and out as swiftly as possible to avoid extended scrum battles.
But we must note that Leinster have had strong scrum moments against La Rochelle too. They won a penalty and a free-kick off the Top 14 outfit in last year's final, having more than held their own in the 2021 semi-final.
It promises to be an intriguing contest this time around given that both teams have strong starting and replacement front rows. Last year, Rónan Kelleher started at hooker for Leinster but only lasted 15 minutes due to a shoulder injury, meaning a lengthy shift for Dan Sheehan off the bench.
There's no doubt that both sets of replacements will have a vital role to play again in this final.
Finish strong
Leinster have been winning at half-time of both games between the sides, holding a 13-12 lead in the semi-final in 2021 before having a 12-7 advantage at the interval last year.
But La Rochelle have been able to finish stronger than Leinster, excelling in the final quarter in both games to seal their wins. 
In 2021, La Rochelle won the final quarter of the game on a 14-7 scoreline, while they enjoyed a 14-3 win in the last quarter of the final last year. Again, this is a trend that will have dented Leinster's pride.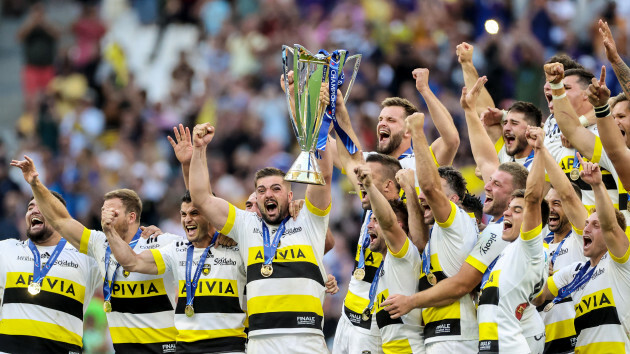 James Crombie / INPHO La Rochelle are the reigning champions. James Crombie / INPHO / INPHO
In the Champions Cup so far this season, the fourth quarter has been Leinster's strongest by some distance, with a points difference of +73 in that period of the game. La Rochelle's points difference in the final quarter so far has been -15.
The French side has tended to dominate the second quarter of games, with a points difference of +81 in that period.
What's clear is that Leinster will have to finish much stronger against La Rochelle than has been the case before. They think they have a stronger 23 this time around but O'Gara's men have also improved their squad.
If it goes down to the wire, La Rochelle will back themselves to have the steel again but Leinster believe they are fitter than they have been in the past. A thrilling contest awaits.