FROM THE START of the second half up until the point where Georges-Henri Colombe scored La Rochelle's game-winning converted try in the 73rd minute, Leinster had just 16 seconds of possession in the French team's half of the pitch.
It would be an incredible stat for anyone who didn't see the game, but that remarkably low figure simply backs up the impression we all had watching the Champions Cup final.
Leinster couldn't get out of their own half.
It meant they had to deal with wave after wave of pressure from La Rochelle and though Leinster produced some huge turnovers in defence, they finally cracked when Colombe smashed over, with Antoine Hastoy popping over the two extra points to give his side the 27-26 lead they clung onto until the final whistle.
Leinster's woes were self-inflicted on several occasions, with major struggles in the kicking game a prominent feature of the second half. 
Scrum-half Jamison Gibson-Park kicks out on the full in the instance below, despite clear warnings from referee Jaco Peyper that Leinster have taken the ball back into their own 22.
The error from Gibson-Park hands La Rochelle an opportunity to attack and they win a penalty in the ensuring passage, allowing Hastoy to bring the visitors within six points of Leinster at 26-20.
Just two minutes later, Leinster again fail to get out of their half as they look to use a kick play from a lineout near the halfway line.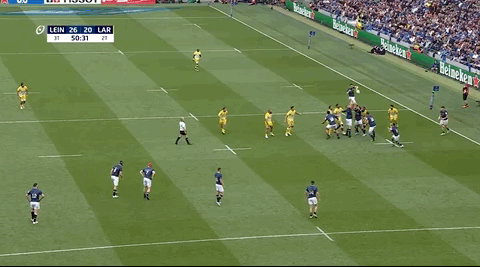 Out-half Ross Byrne is blocked down on what is a basic Leinster play that really invites La Rochelle tailgunner Tawera Kerr-Barlow to put Byrne under intense pressure.
The deception ahead of Byrne from Caelan Doris and Josh van der Flier is unconvincing, while the pass from Gibson-Park is out to Byrne's left, meaning he has to adjust, catch the ball, and bring it back across his body before kicking. Those split seconds matter.
Kerr-Barlow gets a good block on the ball and Leinster wing Jimmy O'Brien kicks into touch under pressure after scrambling to prevent La Rochelle from breaking away.
A breakdown turnover from Dan Sheehan lifts the subsequent pressure and Gibson-Park produces an excellent clearing kick to touch, but Leinster are soon back in trouble due to their kicking game.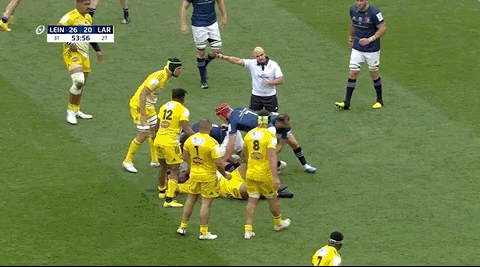 This time, Leinster look to James Lowe's big left boot to get them territory but he miscalculates and blasts the ball out on the full after Gibson-Park has passed back into the Leinster 22.
Again, Leinster manage to turn the ball over on the next defensive set as van der Flier strips Grégory Alldritt, but Lowe produces another poor kick.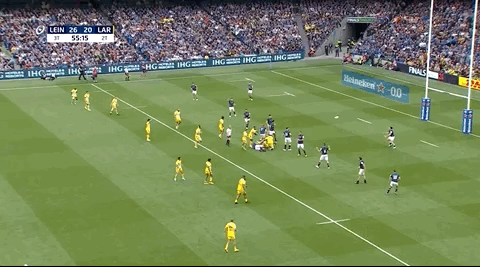 The most frustrating thing for Lowe about this slice is that he had time and space to kick earlier, particularly given that the La Rochelle backfield was wide open after the ball being turned over.
Lowe delays his kick, possibly looking to wind up for a more powerful connection, but leaves himself under pressure and slices into touch just outside Leinster's 22. 
La Rochelle respond with an imposing maul effort but van der Flier does an excellent job of getting onto the ball to force another turnover in the Leinster 22.
What follows? You guessed it – another unsuccessful Leinster exit effort.
Leinster usually use Lowe's left boot in this position but Gibson-Park takes on the responsibility here. It's a difficult position for a right-footed box kick and he's unable to get the ball beyond Leinster's 10-metre line, which is often seen as the minimum target distance on an exit kick.
Fortunately for Leinster, there's a knock-on from La Rochelle centre Jonathan Danty as they run the ball back.
Gibson-Park's next kick is a stronger effort as he gets the ball into La Rochelle's half and Robbie Henshaw then wins a breakdown turnover in the middle of the pitch, with Leinster kicking directly off Henshaw's clean steal.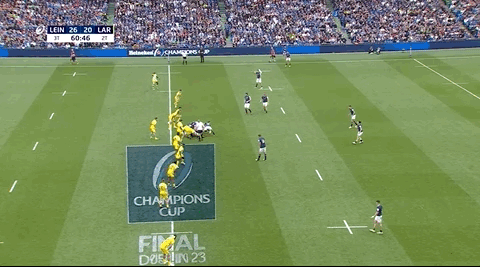 It's a good kick from Byrne as he finds grass down the middle of the pitch and forces the La Rochelle backfield to scramble, although La Rochelle fullback Brice Dulin responds with a big clearing kick to touch on the halfway line.
Finally, Leinster have an opportunity to take the game into the La Rochelle half of the pitch and they opt to do so by kicking again on second phase of their lineout attack.
Gibson-Park hangs up a box kick over La Rochelle wing Raymond Rhule for Jimmy O'Brien to chase.
O'Brien gets off the ground to compete for the ball in the air and manages to force an error from Rhule, but Peyper blows his whistle and gives La Rochelle a penalty.
"Played the man in the air," says Peyper. It's a tough penalty against Leinster. O'Brien is in a position to win the ball. It's a frustrating call for Leinster, given their desperation to finally lift the pressure of being in their own half for so long.
La Rochelle kick the penalty back down into Leinster territory and thunder at the Leinster defence once again, only for replacement centre Charlie Ngatai to win a breakdown turnover.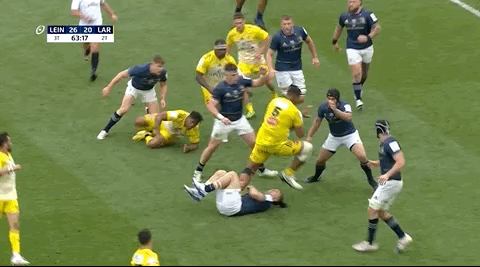 It's obviously crucial defensive work but once again, it's a clean turnover for Leinster rather than a turnover penalty. As we can see above, that means Leinster don't get a chance to blast a penalty kick into touch down in the La Rochelle half and attack from the lineout.
Clean turnovers often create good counter-attacking chances but Leinster would have dearly loved for one of their second-half breakdown steals from Sheehan, Henshaw, or Ngatai to have come as penalties.
In this instance, it's Ngatai who ends up clearing for Leinster and, yet again, Leinster's work in the kicking game leaves them in trouble. Initially, Ngatai gets good distance on his kick.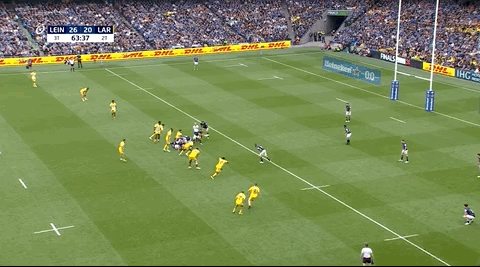 But Leinster don't get organised quickly enough in the backfield as Dulin gathers the ball.
There appears to be confusion over who should drop into the right-hand side of Leinster's backfield. 
That delay in getting cover to the right side of the pitch is an invitation for a player as sharp as Dulin, who finds grass with his kick to that space.
As we can see, Gibson-Park has to sprint across the pitch to gather the ball on the bounce and he's now under pressure close to the touchline.
The Leinster scrum-half uses a banana kick to clear but it's not the greatest connection.
So La Rochelle end up with a lineout almost in line with where Ngatai made the breakdown turnover just 35 seconds before. 
This proves to be the period of occupation that ends with Colombe scoring his try, although there's yet another turnover in Leinster's favour on the next play as La Rochelle's maul is free-kicked for obstruction.
Leinster have a scrum and another chance to get out, but La Rochelle loosehead prop Joel Sclavi gets underneath and across Leinster sub tighthead Michael Ala'alatoa to help spin the scrum and allow Kerr-Barlow to nip in and steal the ball.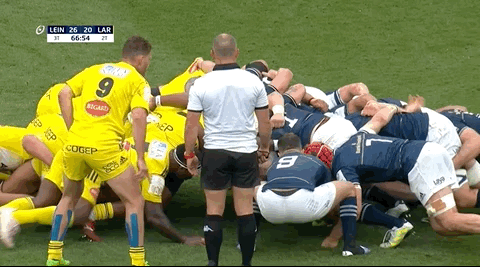 La Rochelle switch back into attack mode once again and Leinster search for yet another turnover in defence.
Back row Doris thinks he has it as he jackals over a tackle on Will Skelton.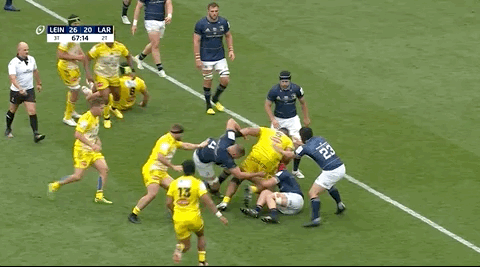 Again, Leinster are aggrieved about the penalty against them. Doris gets both hands onto the ball initially and then his left arm is hit by La Rochelle replacement hooker Quentin Lespiaucq's arrival. Lespiaucq is off his feet, although he clearly trips over tackler van der Flier on his way into the breakdown. It's impossible for Lespiaucq to stay up. Doris' left hand ends up on the ground and Peyper penalises him for not being on his feet while jackaling.
Oddly enough, Doris really needed Lespiaucq and/or UJ Seuteni to be on their feet as they hit him, which would probably leave Doris in a better, more upright jackal position if he could cling onto the ball.
As it is, this call goes against Leinster and La Rochelle are presented with a big decision in the 68th minute. Kick for goal and close Leinster's lead to just three points at 26-23? Or kick into the corner and try to get ahead with a converted try?
Ronan O'Gara's men opt for the latter and after piling the pressure on, winning two more penalties at the maul, they barrel over through Colombe, with Leinster sub hooker Rónan Kelleher also sent to the sin bin.
After Hastoy puts La Rochelle in front, there's a lifeline for Leinster with Danty's yellow card. Finally, Leinster get possession down in the French side's territory but their desperate last shot is in vain.
Get instant updates on your province on The 42 app. With Laya Healthcare, official health and wellbeing partner to Leinster, Munster and Connacht Rugby.