BACK TO WORK for Leinster after a day off, but concentrating on the job was always going to be difficult following the incomprehensible events of the weekend.
Even after a big European result, the atmosphere around the province's headquarters was tempered by the sense of grief shared by the rugby fraternity.
Leo Cullen, Girvan Dempsey, Guy Easterby and John Fogarty were all part of Anthony Foley's generation, lining-up alongside him in green and against him in provincial colours.
In this morning's coaches meeting at UCD, the focus ought to have been on Leinster's trip to Montpellier on Sunday; but at such a time, a game of rugby becomes so trivial.
Mike Ross and Fogarty, two of Leinster's Munstermen, bravely composed themselves and spoke at the weekly press briefing. They spoke emotionally of a former team-mate and friend whose passing has left so many in complete shock.
"Like a lot of people I was hugely shocked," Ross said, fighting back the tears.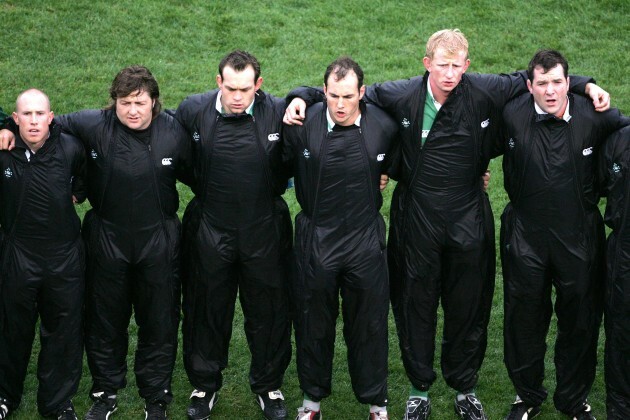 ©INPHO Girvan Dempsey, Leo Cullen and Foley lining-up for the national anthems before Ireland v USA in 2004. ©INPHO
"I was sitting down watching the Ulster-Bordeaux game when it came up on screen, I think it was half-time, and I was thinking, 'this can't be real', but unfortunately it was and it's just a huge tragedy.
"A man like that taken at the age of 42 – and the worst part about it is he leaves a wife and two young kids behind. That's got to be absolutely terrible.
"We'd all know Axel, we all played against him or encountered him in a coaching sphere. It's kind of strange, we're in a bubble playing rugby but something like this reminds you that there is a world out there outside of it and a tragedy like this will hopefully bring people closer together, but it's just one of those unfortunate things in life and it's going to take people a while to get over this."
Fogarty, now Leinster's forwards coach, spent two years in the same dressing room as Foley at Thomond Park. Two short weeks ago, the pair had dinner together after the province's Pro12 clash at the Aviva Stadium.
"The person he was it's difficult to comprehend where we all are and what has happened," he said.
"Myself, Leo, Guy, Girvan would have all played with and against Anthony. We're not chatting about how good of a player he was, it's the type of person he was and how good a team-mate he was and that will be sorely missed.
"Off the field, he was a good man. His whole family and Munster should be proud as I know everyone here is. When my Dad died in 2007, Anthony showed up to support our family. It's all so surreal, and God…it's going to be very difficult."
Dan Sheridan / INPHO Mike Ross alongside Foley at an Ireland press conference in 2012. Dan Sheridan / INPHO / INPHO
While preparations must go on as normal, these are not normal circumstances. Fogarty and the rest of the Leinster staff must try, somehow, to put it all to the back of their mind as the week goes on and game day approaches.
"There's a game going ahead on Sunday and we have to prepare for it as best we can," Ross, a Cork native who was coached by Foley back in 2013, added.
"At the same time, we'll all be thinking of him and whenever they make the arrangements I'm sure there'll be a busload of us heading down to pay our respects. Until that happens we have to just keep going and take each day as it comes.
"It is a huge blow for Munster and a huge blow for Irish rugby in general."
Fierce rivals on the pitch, Leinster are feeling Munster's pain.
The42 is on Snapchat! Tap the button below on your phone to add!