SATURDAY WAS A day of mixed emotions for any Irish international player not involved on Soldier Field in Chicago.
But for Sean O'Brien and his Leinster team-mates, it was even tougher than most.
After playing 57 minutes of the 10 – 33 win away to Zebre, O'Brien huddled around a laptop with Leinster team-mates in Parma airport to watch what turned out to be a historic first-ever win over New Zealand.
History hadn't quite been made when they were forced to close the screen down though.
"We got the first half. Well, nearly all the first half and then we were on the plane."
Once airborne, communication with Chicago and the outside world is nigh on impossible. But O'Brien sussed out the one place on the aircraft which still had open lines.
I kept popping up to the pilot and asking him to check the score. He did, eventually."
Perhaps it was for the best if the captain was not fully engrossed in a roller-coaster second half that saw New Zealand roar back to 33 – 29 before Ireland killed the game off in style.
40 -29 is now in the record books and O'Brien smiles as he sits in a chilly Carton House. But the competitive edge that makes him such a formidable force from openside shines through when raking over Joe Schmidt's decision to leave him this side of the Atlantic.
"Yeah, I wouldn't say I completely agreed with it," O'Brien says with a half laugh.
"But that's the call that they made. I did need more game time, but you always back yourself if called upon to do a good job.
"Looking at it now, I'm probably better off getting more game time like I did at the weekend and being introduced back in this week."
He added: "I've had no issues (since returning from a hamstring injury). I felt better every week and getting that game conditioning under my belt. I would have been 100% if selected."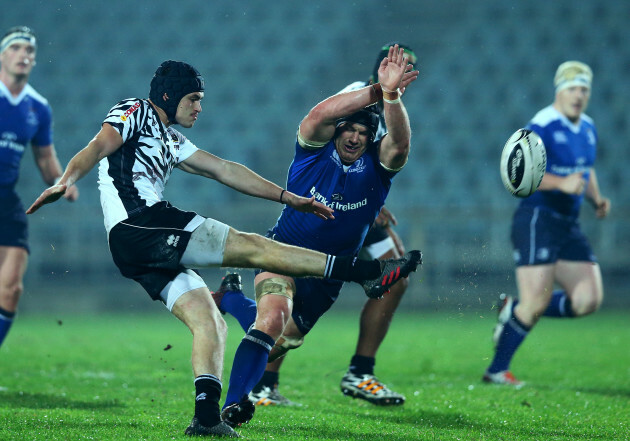 Matteo Ciambelli / INPHO Matteo Ciambelli / INPHO / INPHO
With the Chicago and Zebre trip now well passed, the Tullow Tank has set his full attention on Canada. To us outsiders, it's a definite halfway house between two clashes with the world champions. In the Ireland squad this week, particularly the men who feel they can force their way into the starting XV when the All Blacks come looking for revenge on 19 November, it's a big one.
"It's a huge game for everyone. Younger guys, the likes of Pete (O'Mahony) with a lot of caps… it's another international game.
"You can be damn sure Canada – they've been here a week already in Johnstown House – they'll be preparing to come and beat us.
"We've to  treat it like any test match this week.  Once you've been away from the setup for a long time, pulling on an Irish jersey is going to mean a lot this weekend. So that's what we're looking forward to.
"The lads know they've to get their feet back on the ground very quickly after a win like that. They made history, you draw  a line in the sand then and move on to what's ahead of us this week."
The42 is on Snapchat! Tap the button below on your phone to add!