THERE WAS MUCH to admire about the way Blackrock College methodically and clinically ripped defending champions Belvedere asunder in yesterday's Leinster Senior Schools Cup final, with some outstanding individual contributions only bettered by the collective effort.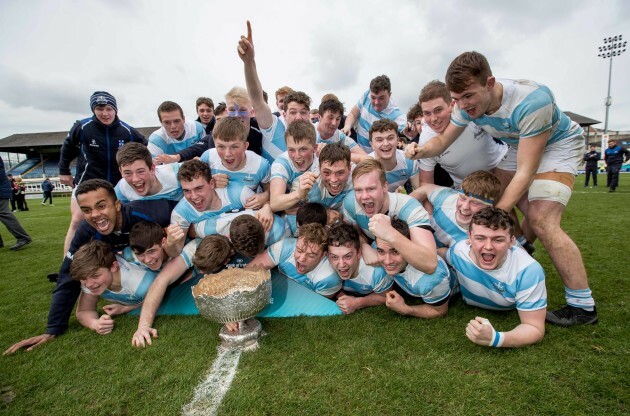 Morgan Treacy / INPHO Blackrock celebrate their win at the RDS yesterday. Morgan Treacy / INPHO / INPHO
Justin Vanstone's side produced a superb display of attacking rugby, saving their best performance of the campaign for the final, to deliver a 69th title for the school and cap a memorable double following their Junior Cup success earlier in the way.
Belvedere didn't help themselves at times — they looked weary throughout the first half, often walking between rucks and failing to organise themselves defensively — but Blackrock were utterly ruthless in scoring four tries to take a 28-7 lead into the break.
Flanker Michael McGagh set them on their way before Liam McMahon followed up his semi-final brace with another double, either side of James Tarrant's sniping score.
Blackrock were well-drilled and accurate in their attacking plan, with a dynamic pack demonstrating their handling skills with deft offloads out of the tackle. Quick ball allowed scrum-half Louis O'Reilly feed a thrilling backline, led by captain Liam Turner and winger McMahon.
"You've got to happy when your best performance is in a final really," Vanstone said.
After a four-year wait for Senior Cup glory again, Blackrock weren't prepared to let yesterday's opportunity slide by, and the head coach admitted he knew this team had the credentials to go all the way as early as last summer.
"That's what we aspire to do and that's what we've talked ever since the St Mary's game. I don't think you get away with just plateauing and doing the same again. I think you've got to step to the next level, and I think that is where we were disappointed last year.
"We've been talking about last year's final since last May, when we were preparing to go to New Zealand. When we went to New Zealand, we weren't able to train much while we were over there, we just went out and played. What was great about that was, we got an idea as coaches of where the strengths of the group lie. Because we weren't getting much of an input.
"It was up to us to recognise where these boys are strong, and just try and suit them. Delighted that the type of rugby they played today was one that suits the way they play."
McMahon was central to that as he finished off a perfectly executed set-piece move for Blackrock's fourth try, effectively sealing the win after Belvo had briefly threatened to mount a comeback.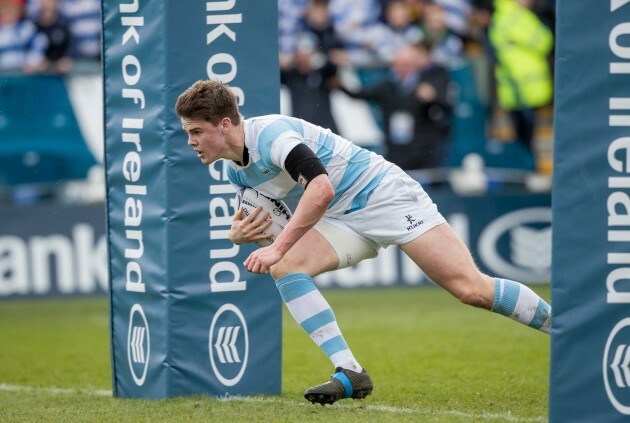 Morgan Treacy / INPHO Liam McMahon scored two tries in the final. Morgan Treacy / INPHO / INPHO
The semi-final tie against St Mary's was the winger's first appearance of the campaign after suffering a series of injury setbacks.
"He has dislocated his shoulder four times in the last three years," Vanstone continued.
"You talk about resilience and perseverance. I remember last year was my first year with the seniors, and his first game was against Campbell in September. He came on the pitch off the bench. Two minutes, first carry, dislocated his shoulder. He was gone for the whole of last year.
"He came back in this year. He worked very hard to get on the New Zealand tour. Got through that which was great, and managed to dislocate it again in November and again in January. His perseverance, strength of character, good family backing meant he was able to stick at it. To get four tries in two games, he's going to enjoy this when he looks back."
As will Turner, who became the latest Blackrock captain to lift the Senior Cup.
"I'm not going to lie, it feels pretty good," the centre said. "After the New Zealand trip, I knew there was something very special about this team. Maybe before the year started, there wasn't so much talk about our players, but there's a fantastic amount of character and attitude in our group.
"We were all about just staying within our own group, always trying to improve and thankfully it was enough today."
The42 is on Instagram! Tap the button below on your phone to follow us!