GIVEN SOME OF the talk around Leinster at the moment, it would be easy to think that they'd already won the URC and Champions Cup double if you weren't following things closely.
But while they are still favourites in both competitions, nothing is guaranteed.
Leinster's brilliance so far in this campaign has earned them home advantage for the entire knock-out stages of the URC and Champions Cup, yet Leo Cullen and Stuart Lancaster will be stressing that things are only really getting going now.
Let's not forget they ended last season empty-handed, losing the Champions Cup final to La Rochelle and then being beaten by the Bulls in the URC semi-finals in Dublin. It's painfully recent evidence that Leinster have their hardest work ahead of them.
Being at home is a huge advantage, of course, but there are two big hurdles to come in the Champions Cup, starting with the visit of Toulouse in the semi-final on Saturday 29 April.
Leinster hammered les Toulousains in the Aviva Stadium at this stage last year, scoring four tries in a 40-17 win, but there were extenuating circumstances. The French side had gone all the way to a penalty shoot-out with Munster at the same venue a week before, travelled home and then back to Ireland. So a tired performance wasn't entirely unexpected. To be fair, Leinster were phenomenal that day but Toulouse felt they didn't do themselves justice in any way.
They've been pining for another shot at Leinster. Back in January when we were at Stade Ernest Wallon for Munster's pool game, Toulouse boss Ugo Mola was already talking about the semi-final in Dublin. There was lots of water to run under the bridge, it was pointed out, but Mola and his men had clearly circled the possible date in their diary. 
The Top 14 side had to work hard for last weekend's quarter-final win over the Sharks at the Ernest Wallon. They led by just six points with 12 minutes to go, the South Africans having shown some of their threat in transition to stay in touch.
Toulouse finished over the top of the tiring Sharks to rack up a 54-20 scoreline that wasn't totally reflective of the contest. At the same time, those 54 points were reflective of the sheer quality of Toulouse's attack on a day they made 11 linebreaks, beat 36 defenders, and offloaded 11 times.
Toulouse could have notched more than the seven tries they managed but their scores underlined the threat they will pose to Leinster in the semi.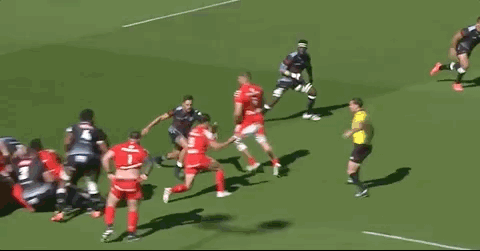 The first-phase strike above was a crucial score soon before half-time, allowing Toulouse to bring a well-earned lead into the break.
The slick handling from ex-Connacht centre Pita Ahki, out-half Romain Ntamack, and wildly in-form fullback Thomas Ramos allow them to get around the Sharks' aggressive defence. Wing Juan Cruz Mallía is the man to finish.
Toulouse were more clinical in the second half and scrum-half Antoine Dupont came up with a remarkable five try assists. In the instance below, he opts against finishing himself to instead pass inside for Ramos to score under the posts.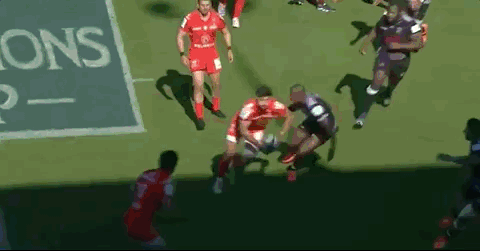 The conservative in us all probably baulks at Dupont taking the risk with an extra pass here, and even more in the example below as the France skipper ignores the two men unmarked outside him to instead go back inside to Ramos again.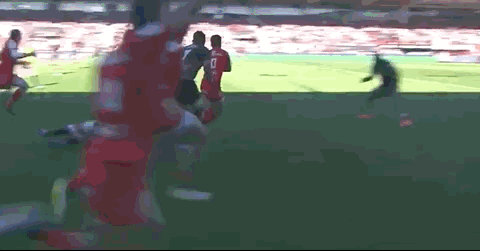 We can see the two Toulouse players on Dupont's right reacting in dismay as he cuts inside, but the scrum-half has total confidence that he'll make his decision the right one. 
Invariably, he does exactly that. Here, he draws in the last two viable defenders and fires the basketball-style pass to Ramos.
Leinster almost certainly won't give Toulouse as many opportunities to attack like this in the semi-final. The Irish province will limit their visitors' chances in transition, where they're so dangerous.
So Toulouse will have to show the other aspects of their game they've been working hard on following lessons from the likes of Leinster.
Toulouse kick more frequently than most teams in the Champions Cup, including Leinster, with the likes of Dupont, Ntamack, and Ramos helping them to kick for more total metres than anyone else in the competition.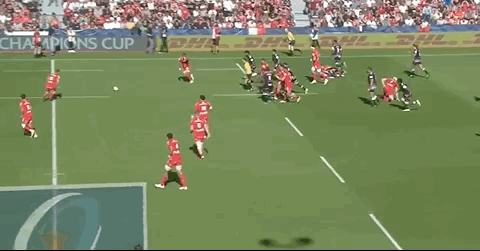 In the example above, Ramos produces a superb 50:22 kick. Toulouse score from their ensuing maul as Dupont darts and offloads to hooker Peato Mauvaka.
Kicking is a big part of Toulouse's approach, while their physical power is another major strength. Their pack is full of large human beings. Last weekend's starting eight weighed in at around 950kg.
140kg second row Emmanuel Meafou is likely to be the only non-Test player who starts against Leinster but that will change after the Australian native qualifies for France later this year.
24-year-old Meafou isn't just a big boy. Like the rest of Toulouse's forwards, he is comfortable passing and offloading too.
Statistically speaking, Leinster's set-piece is the best in the Champions Cup but Toulouse's scrum, lineout, and maul are all weapons on their day so this semi-final will be a complete test of Cullen's side.
It will be interesting to see how many of Toulouse's frontliners feature in their upcoming Top 14 games against Lyon and Stade Français. The Irish province have left the vast majority of their leading players and senior coach Lancaster in Ireland for their two-game URC tour of South Africa.
Meanwhile, Mola's men are six points clear at the summit of the Top 14 and 11 points clear of third, so they have earned themselves a little bit of breathing room but it seems more likely that their stars will play at some stage over the next fortnight.
Toulouse are also set to welcome Italy sensation Ange Capouzzo and centre Sofiane Guitoune back from injury this week, while world-class hooker Julien Marchand hopes to return for the Leinster game.
If Leinster do advance into a home final at the Aviva, it's expected that they'll face a rematch against La Rochelle, who are strong favourites to win their semi-final against Exeter.
Rob Baxter's side delivered their best performance in some time as they beat the Stormers last weekend but this hasn't been a vintage season for the 2020 Champions Cup winners. The fact that the semi-final is in Bordeaux rather than La Rochelle might help, but the Top 14 side are fancied to advance.
Ronan O'Gara's defending champions enjoyed a 24-10 quarter-final win over Saracens last weekend as they recovered from their round-of-16 scare against Gloucester in impressive fashion. The performance from les Maritimes wasn't perfect but it involved far more of the qualities that helped them to last season's Champions Cup glory.
For starters, they had a remarkable 10 breakdown steals, according to Opta.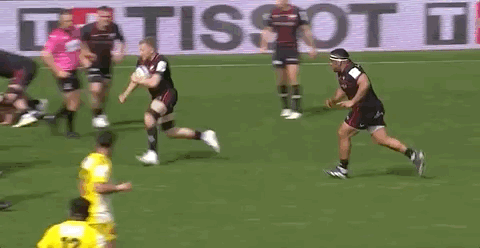 34-year-old back row Levani Botia had four breakdown turnovers in this game as he led the charge with his mixture of intelligent timing, remarkable athleticism, and technical skill.
Botia started the 2021 final against Toulouse at inside centre but has shifted more permanently into the back row since, even if La Rochelle still use his skillset in midfield positions. He's a breakdown menace while number eight Grégory Alldritt is their other key jackal. The likes of Will Skelton also chip in.
La Rochelle have won more turnovers than any other team in the Champions Cup and their ferocity at the defensive breakdown has already proven to be a very useful tool against a Leinster team that thrives on attacking flow.
O'Gara's team are also potent when they get momentum and we got further examples against Sarries. As the English side stood under their posts following Tawera Kerr-Barlow's first try, hooker Jamie George pushed his team-mates for more in defence and said, "They're good when they get the momentum going, aren't they?"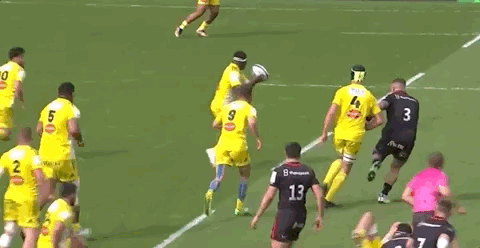 The passage starts with wing Jules Favre claiming a Saracens kick on his own 10-metre line before an Alldritt offload and the pass above from Botia wide to classy centre UJ Seuteni.
Off the touchline, 140kg second row Skelton makes a typically percussive carry.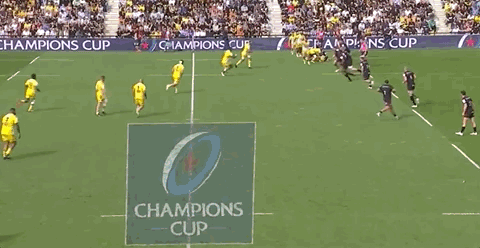 The Australian lock's initial footwork gets him into a situation where his rampaging power is even more prominent.
La Rochelle have major momentum and after another tackle-busting carry in midfield from hooker Pierre Bourgarit, it's blindside flanker Ultan Dillane – formerly of Connacht and Ireland – who thrusts forward out on the right off out-half Antoine Hastoy's pass.
The next big carry comes from powerful loosehead prop Reda Wardi, who runs a nice line off Hastoy back in the middle of the pitch and is helped by Skelton's latch.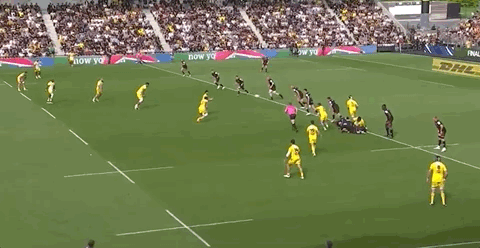 Left wing Raymond Rhule smashes onto a short pass from scrum-half Kerr-Barlow and then, just as Sarries anticipate another direct carry from Alldritt, the number eight drops off a delightful return pass to Kerr-Barlow.
It's an irresistible 77-second passage of attack from La Rochelle that combines their brute power with sharp footwork, good decision-making, breathtaking ruck speed, and skillful passing.
This is the complete threat that La Rochelle offer, while they also have a smart kicking game and a solid defence that is augmented by their breakdown ability.
While one-time winners La Rochelle still have ground to make up on four-time champions Leinster and five-time victors Toulouse, they're determined to secure the first back-to-back Champions Cup trophies since Saracens did it in 2016 and 2017.
Leinster remain the favourites for this competition given their home advantage but this is no fait accompli for Cullen's men.