Liveblog
Hello!
GOOD EVENING, EVERYONE, and welcome to our live coverage of Leinster's Heineken Champions Cup pool fixture with the Northampton Saints.
The Premiership outfit were on the wrong end of a rinsing on their own patch last week, and will be seeking to make amends with a smash and grab in Dublin this evening.
Leinster, meanwhile, will look to build upon their hugely impressive start to the season.
We'll have team news and more shortly!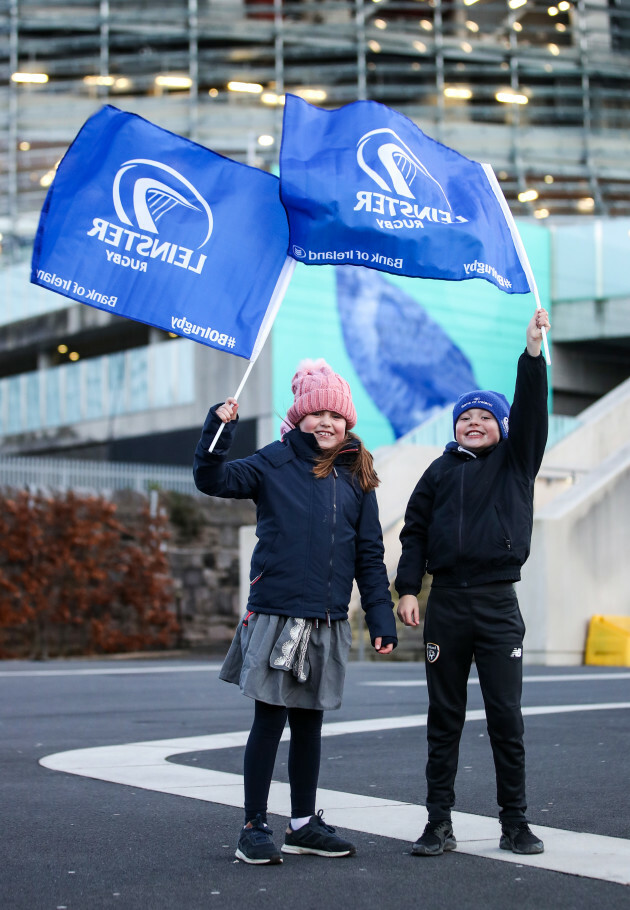 Leinster fans Patrick and Ali McDonald. Source: Bryan Keane/INPHO
Heads or tails?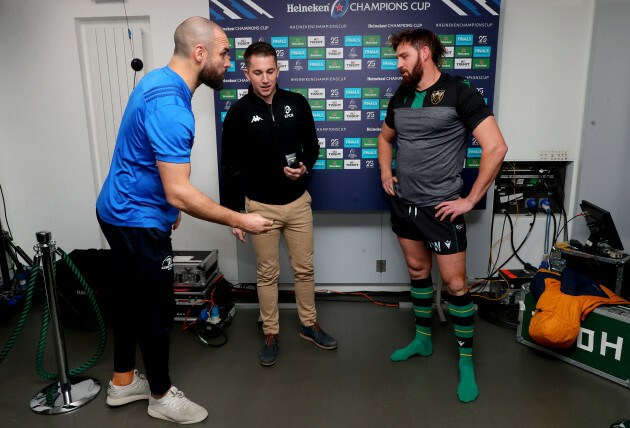 Leinster's Scott Fardy, referee Daniel Jones and Northampton Saints' Tom Wood during the coin toss. Source: Ryan Byrne/INPHO
Team news
Leinster
With Johnny Sexton sidelined through a knee injury, Scott Fardy captains the side and there are five changes to the XV that defeated the Premiership side 43-16 last weekend.
Ross Byrne replaces Sexton, while Luke McGrath, James Tracy, Tadhg Furlong and Fardy all come in.
Ciaran Frawley is named on the bench and could potentially make his European debut for the province.
15. Jordan Larmour
14. Dave Kearney
13. Garry Ringrose
12. Robbie Henshaw
11. James Lowe
10. Ross Byrne
9. Luke McGrath
1. Cian Healy
2. James Tracy
3. Tadhg Furlong
4. Scott Fardy (c)
5. James Ryan
6. Rhys Ruddock
7. Josh van der Flyier
8. Caelan Doris
Replacements
16. Bryan Byrne
17. Ed Byrne
18. Andrew Porter
19. Devin Toner
20. Max Deegan
21. Jamison Gibson-Park
22. Ciaran Frawley
23. Rob Kearney
Northampton
15. Ahsee Tuala
14. Ollie Sleightholme
13. Matt Proctor
12. Andy Symons
11. Taqele Naiyaravoro
10. Dan Biggar
9. Connor Tupai
1. Francois van Wyk
2. Michael Van Vuuren
3. Paul Hill
4. Api Ratuniyarawa
5. Alex Coles
6. Tom Wood (c)
7. Jamie Gibson
8. Lewis Ludlam
Replacements:
16. Sam Matavesi
17. Alex Waller
18. Ehren Painter
19. Lewis Bean
20. JJ Tonks
21. James Mitchell
22. James Grayson
23. Fraser Dingwall
10 minutes until kick-off at the Aviva. Luke McGrath seems excited.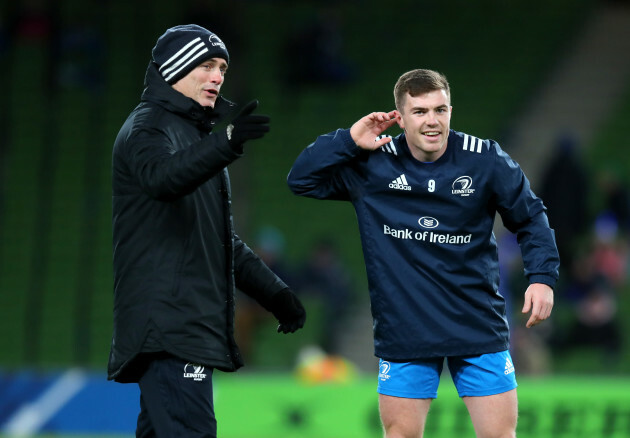 Source: Ryan Byrne/INPHO
Flag
Kick-off
Northampton get us under way in Dublin.
Try Leinster!
What. A. Start.
A box-kick by Luke McGrath is brilliantly taken by Dave Kearney and Leinster begin to motor early doors. James Lowe with a nice burst down his left wing, and although Leinster wind up losing the ball forward in the 22, Garry Ringrose charges down the clearance kick and gathers the loose ball to fall over in the left-hand corner.
Less than two minutes gone, and Leinster lead 5-0 with a conversion to come.
Ross Byrne splits the posts! 7-0.
Try Leinster!
Good Lord.
It's that man Ringrose again!
Ross Byrne plays a lovely reverse pass inside for James Lowe, who produces a sumptuous left-handed offload to put Ringrose under the sticks.
Byrne, again, does the rest.
It's 14-0 after six minutes!
Lovely break by Larmour who slaloms through midfield, and Northampton are pinged for a high tackle in the next phase.
Byrne points towards the posts, and then he avails of the fairly simple opportunity. It's 17-0.
This could be a massacre, folks.
Tadhg Furlong breaks 30-odd yards upfield — a sight to behold — and Saints captain Tom Wood is pinged for offside. It's an almost identical position to where Byrne slotted his last kick from, but this time Fardy and Leinster kick to touch. Lineout about six metres from the Saints' line.
Leinster go wide left and Lowe nearly beats Ollie Sleightholme on his outside. The ball comes loose and goes into touch off the defender.
Leinster attack again inside the Saints' 22′, but this time they concede a penalty as Rhys Ruddock is pinged for sealing off.
A moment's reprive for Northampton, who have been torched in this opening 16 minutes.
Dan Biggar makes a break through the middle following the resulting lineout and Northampton win another penalty as Leinster infringe at the breakdown.
Northampton go to the maul and rumble towards the Leinster five-metre line.
Try Northampton!
Ohhh, what a piece of skill by Andy Symons! It's Biggar who crosses for Northampton, but his 12 made the most outrageous offload from under the posts to put the out-half over. Symons, from the ground, flicks the ball out the back door and Northampton claw their way into proceedings!
17-7 as Biggar converts from close-range.
So close to another Leinster try as they scythe the Saints' apart once more.
Larmour feeds Lowe who cleverly waits for the support of Luke McGrath, but the scrum-half is unable to find Lowe on the reverse as Leinster maraud into the Saints' 22′.
The visitors are penalised, however, as Ahsee Tuala is found to have pulled Lowe back after his pass to McGrath. It was unlikely that Lowe would have caught McGrath's pass anyway, hence no penalty try, but Tuala is binned and Leinster go to the corner again!
Try Leinster!
There's number three for the hosts!
Wonderful maul technique and it's Furlong who falls over the line as Leinster continue their rampage.
Two more from the tee for Byrne, and it's now 24-7 to Leinster after 22 minutes.
Leinster come within a whisker of sealing their bonus-point try as Lowe cuts loose again after a beautifully timed pass by Larmour.
Tracy, though, can't quite hold his depth on his support run, and Lowe's pass comes off him, hits Ruddock and spills forward with the line beckoning.
Missed opportunity, but one gets the sense that there'll be plenty more — probably even in the first half alone.
This is electric stuff by Leinster.
Saints pinged on the ground again. Byrne goes to the corner again. And Leinster, again, have a real opportunity here.
Leinster try to maul it over again but Northampton are penalised — one of their forwards, I didn't see who — lost his bind before coming through the maul. To the corner again, for Leinster.
Another penalty, and skipper Tom Wood — who had been penalised moments before — is binned.
Saints will be briefly down to 13, here. And Leinster go to the line once more.
Well! Saints win the turnover scrum as Leinster's maul, on this occasion, stalls and hits the deck. A big stand by the Saints who remain two men short, although Tuala will rejoin the action shortly.
Northampton win the scrum penalty and Biggar brings them up towards their own 10-metre line with a kick to touch.
Try Leinster!
Irresistible stuff, but all too easy at the same time.
Ruddock with the turnover near midfield, and Byrne reverses the play to Ringrose who produces a moment of real quality to dummy inside and then release outside to Dave Kearney, who waltzes home down the right flank.
Bonus point in the can. Game over. And still three minutes to go in the first half.
Oh, hold on, referee Dan Jones is looking at a potential knock-on in the build-up. Nah, nothing in that.
Try given! And Byrne converts. 31-7. Stick a fork in this one.
Try Northampton!
Wow, there's still a bit of fight in the visitors!
Lewis Ludlam with a sublime interception of a McGrath pass from a ruck — this deep in the Saints' 22′ — and the big number eight nearly takes it to the house only for Robbie Henshaw to sprint back and make the recovery tackle. But Northampton go wide right, and Tuala feeds Sleightholme on the overlap who walks it under the sticks.
31-14, and the 14-man Saints aren't going down without a fight even if they really haven't a hope of turning this around.
Second half
We're back in action at the Aviva.
Try Leinster!
We've picked up where we left off, here. Northampton do well as they power into Leinster's 22 but the hosts weather the storm and Larmour breaks two-thirds of the field until he's stopped by Sleightholme.
A few phases later, a wonderfully weighted kick by Byrne is picked up on the bounce by Lowe, who has enough to power over from point-blank range on the left wing.
Byrne is just off the mark with his conversion on this occasion.
He's enjoying himself today.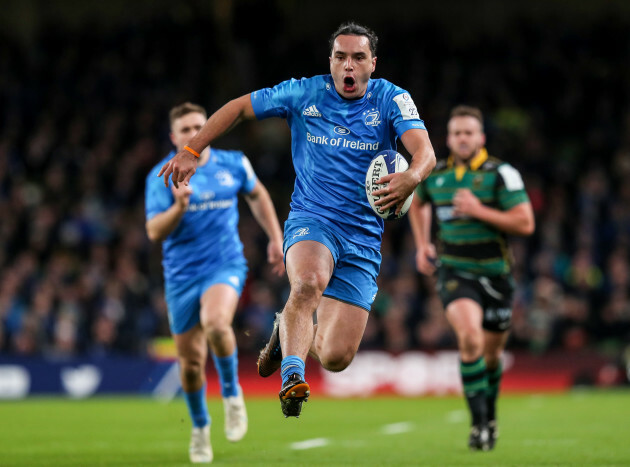 Source: Ryan Byrne/INPHO
Taqele Naiyaravoro spills inside his own 22′ and Leinster are on the march again.
They have a penalty advantage and Byrne kicks wide towards Lowe, who produces a lovely pop inside to Henshaw. The centre fights and rolls towards the line, and may very well have another score, but Jones is going to check upstairs.
Actually, that one looks like it has been held up — pretty remarkable defensive play by one of the Saints, whose face is obscured by the pile of bodies.
No try, but Leinster go to the line with their previously earned penalty.
Try Leinster!
And it's ANOTHER hat-trick for Garry Ringrose!
Well, there was an air of inevitability about that Leinster score once Byrne kicked towards the five-metre line, but it's a bit of a weird try: the ball appeared to have spilled forward out of Leinster hands but Jones rules that it was indeed ripped backwards by a Saint, and Ringrose pounces on the loose ball to stroll over for his third try.
Conversion good. 43-14.
Leinster have a seventh try chalked off — poor Dave Kearney had sprinted nearly the length of the field to touch down!
Northampton were held up on the Leinster line, and from the resulting five-metre scrum they appeared at first glance to make an absolute bags of it.
On second glance, Biggar was tackled by Ringrose before collecting a pass from scrum-half Tupai, and though Kearney collected the loose ball and charged home, Jones brings it back for a penalty to the Saints. Correct decision — Ringrose just a fraction too early on Biggar.
Last week's man of the match Van Der Flier comes up with a serious turnover on the deck, and Northampton's opportunity erodes.
By the way, Ciaran Frawley is on for his Champions Cup debut for the hosts, replacing Ross Byrne. He converted Ringrose's hat-trick try.
Try Northampton!
Tuala, sin-binned in the first half, bags Northampton's third try!
Huge clearout by Dan Biggar, of all people, near Leinster's 22′, and Tuala breaks from the back of the ruck straight through the middle and under the posts. Biggar converts quickly.
Nice break by Frawley and Leinster win the penalty inside Northampton's 22′ as the Saints are penalised for going off their feet.
Frawley pops it pretty close to the five-metre line.
Gibson-Park on for McGrath but he can't dig the ball out as Leinster's maul is taken to ground. Scrum Northampton. Again, a good turnover by the Premiership side at maul time.
Try Leinster!
There's the seventh!
It's Caelan Doris this time, and it's not dissimilar to Tuala's score a few moments ago. Fairly straightforward, just finds a soft spot on the blind side of the ruck and skips to the line unchallenged.
Frawley adds the extras, and that's 50 for Leinster.
Saints win a penalty just outside the Leinster 22′ as Larmour infringes at the ruck.
They pop it towards the five-metre line in pursuit of a four-try bonus-point of their own.
The resulting maul, however, comes to a standstill and Jones warns them to use it. Rather than get the ball out of there and go wide, they look for one last shove and concede the turnover scrum. Poor stuff, really.
The hat-trick hero.
Source: Bryan Keane/INPHO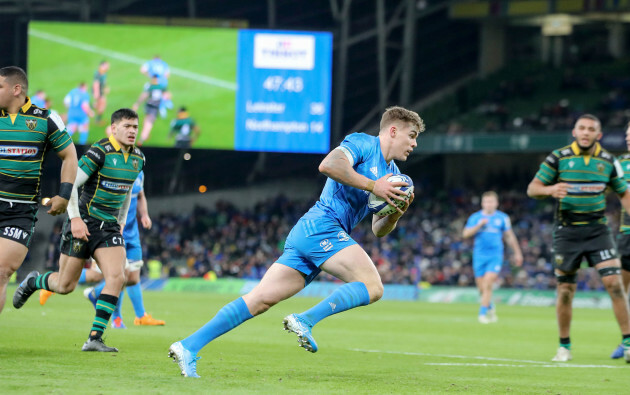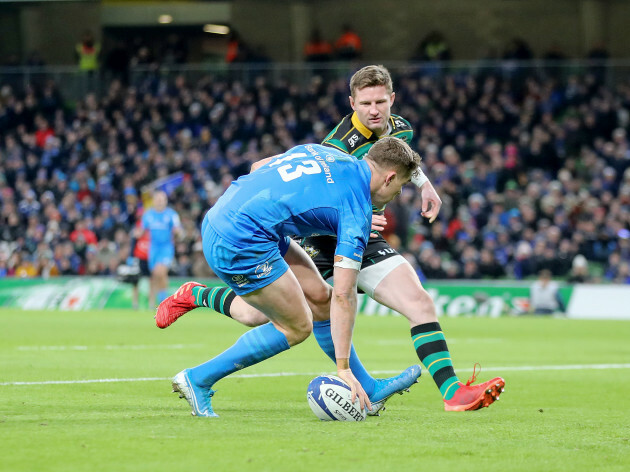 Larmour, there, with some outrageous footwork to take the ball up towards halfway. I'm pretty sure he actually beat a couple of the same defenders twice. It was almost like an NFL punt return.
Upon seeing the replay, he left seven players for dead. Great to watch.
Jordan Larmour named man of the match and while he's been magisterial, Garry Ringrose must be wondering what a man has to do…
Flag
Full-time: Leinster 50-21 Northampton
And there goes the final whistle. Leinster are in the quarter-finals with two games to spare. An emphatic victory and a frankly frightening performance at times. They're going to take some stopping this season.
Contribute to this story: