IT WAS NEVER the plan that Leo Cullen would be in charge of Leinster so early.
He retired from playing in 2014 and moved straight into the forwards coach role with his beloved province, working under Aussie head coach Matt O'Connor.
But after a frustrating 2014/15 season in which Leinster failed to reach the Pro14 semi-finals and agonisingly lost a Champions Cup semi-final after extra-time against Toulon, O'Connor left "by mutual consent." Perhaps it was a coincidence, but the Leinster boss had also just had a spat with the IRFU over the player management system. 
O'Connor had still had another year on his contract, so Leinster suddenly had to get moving to find a new head coach. Cullen was promoted into the role on an interim basis but the plan was to recruit a new boss for the 2015/16 season.
It never happened. At the time, Leinster were surprised at the lack of interest from experienced coaches. It's hard to imagine now. So as the pre-season rolled around, Cullen was still in charge and Leinster set about convincing him to take the role permanently.
Initially, it's thought that he was hesitant. He had only just started his coaching career and while being Leinster's top man had clearly been his dream and the province's long-term plan, it was all happening very quickly.
Having accepted the job, Cullen could have been forgiven for having doubts in his first season in charge. Leinster won only one of their pool games in the 2015/16 Champions Cup, while they lost the Pro12 final to Connacht. There were worries on the outside, but those who were inside Leinster say that Cullen kept things calm behind the scenes.
"He had come from being captain to head coach in a very short space of time," says former Leinster hooker James Tracy, who was forced to retire due to injury in December.
"To be honest, it wasn't too much different to how it is now. We weren't playing well, that was the difference. The off-field stuff, it was the same messages but the environment has grown since then.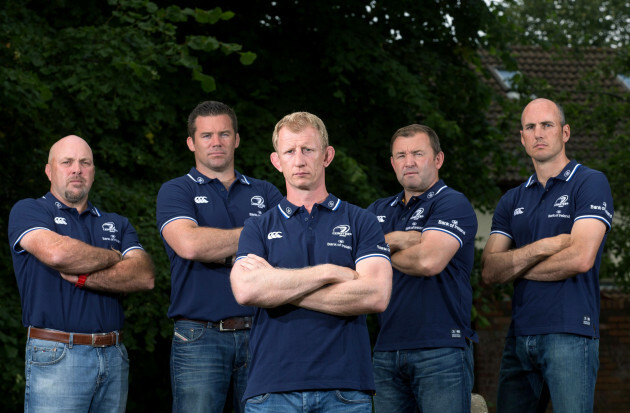 Ryan Byrne / INPHO Cullen with his coaching team of Kurt McQuiklin, John Fogarty, Richie Murphy, and Girvan Dempsey in 2015. Ryan Byrne / INPHO / INPHO
"We were probably a very immature group at that point but now you've had cohesion over a long time, you've brought in a lot of brilliant coaches and Leo has run the behind-the-scenes really well and taken away a lot of the shit work for those coaches that allows them to be the best at what they're doing."
Another former Leinster hooker, Sean Cronin, who retired last year, has similar memories.
"It was never a case of panicking," says Cronin. "We knew we had quality there and it was just trying to get it producing over the seasons that followed. I can't remember any crazy stuff, it was methodical and planned out."
But Cullen recognised that he needed more support, all the more so when popular defence coach Kurt McQuilkin had to move home to New Zealand in the summer of 2016 after tragic family news.
Graham Henry had been in for a consultancy stint but Cullen initiated the surprise signing of Stuart Lancaster as 'senior coach' in September 2016. It was a masterstroke. Let's not forget that Lancaster wasn't fighting off suitors at the time. England's failed 2015 World Cup campaign had rather unfairly left him tarred and other clubs turned their noses up when he applied. Cullen saw the possibilities and reached out.
"Leo's strength is his ability to understand what his strengths aren't and fill those deficiencies with people who are world-class at that thing," says Tracy.
Cullen – whose current contract runs until 2025 – has certainly done well with his coaching team. When Girvan Dempsey left the backs coach role in 2018, Leinster brought in Felipe Contepomi and when 'Dr Phil' left for Argentina last year, they signed up the highly-regarded Andrew Goodman. 
John Fogarty took on the Ireland scrum coach job after the 2019 World Cup, so Cullen recruited the extremely experienced Robin McBryde from Wales. 
Lancaster's departure for the Racing 92 job this summer will be a huge change. But again, Cullen and Leinster have brought in major coaching clout with World Cup winner Jacques Nienaber to join later this year.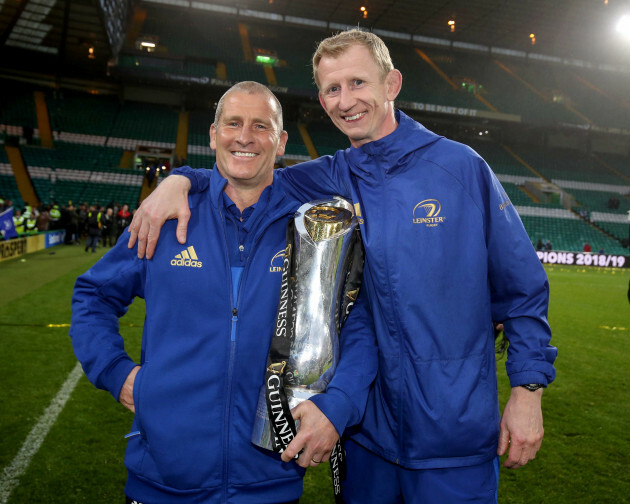 Dan Sheridan / INPHO Lancaster and Cullen. Dan Sheridan / INPHO / INPHO
"Leo has developed really strong coaching teams and got them all working in the one direction," says Cronin, who is now St Mary's College RFC head coach.
"Since I've gone into coaching, I can see how hard a thing that is to do. That's an evident strength for Leo."
At the start of his time as Leinster boss, Cullen still did on-field coaching – the lineout, maul, ruck, restarts, and so on. But he gradually moved away from those duties, particularly with Lancaster and McBryde and co. being so strong on the training ground.
Cullen cleverly morphed his role towards focusing on the bigger picture. He selects the team, deals directly with players around that, leads the strategic planning, plots out Leinster's structures, and does other things that aren't all that glamorous. 
"He's plugging people in to make sure the coaches and backroom staff and players have what they need to do the best job they can do," says Tracy.
"Leo is the glue behind the scenes that keeps everyone together and ties the other side of the business in with the performance side."
Cronin explains that Cullen has driven a "culture of player ownership" in Leinster, whereby the players are the ones who embody and uphold the standards on a daily basis. New signings from abroad and academy graduates are immediately aware of what's expected of them when they turn up at Leinster's training centre in UCD.
Cullen's player management skills are another thing that players constantly flag as being among the Leinster head coach's main qualities.
"You're kinda ducking and diving on a Monday morning so he doesn't meet you in the corridor!" jokes Cronin, highlighting that Cullen is direct in his communication when there is bad selections news.
Tracy had disappointments in that regard but always respected Cullen's frank manner.
"He was always very fair," says Tracy. "He wouldn't give you a bullshit answer, it would always be about, 'This is what you need to work on if you want to be a starter in this team. This is what these guys are bringing." That was it, always very black and white.
Ben Brady / INPHO Cullen speaks to the media. Ben Brady / INPHO / INPHO
"His door was always open for a conversation. If you disagreed, he would happily hear you out and he'd always say things to your face. If it was a hard conversation, he would never hide behind the team announcement and run back to his office.
"He was never talking to you in riddles about some ruck you didn't hit right two or three years ago. You hear stories of lads getting wild reasons they weren't playing."
Having given his reasons, Cullen challenges his players to set about changing his mind and works with them on a clear plan to improve the relevant aspects of their game.
The Leinster boss is also good at defining each stage of each season, so players know when their opportunities will come. For example, periods where the Ireland internationals are set out as a chance for emerging players to 'own the jersey.'
The structure in Leinster means Cullen is not responsible for negotiating contracts with players. Head of rugby operations Guy Easterby is the man in charge of that, meaning Cullen and his assistants don't have to be in that sometimes difficult setting where relationships can be tested.
What the Leinster players get with Cullen is consistency. They are never in doubt as to how much it all means to him.
"He's so focused on winning, that's what he gives all his energy to," says Tracy.
"What makes the ship go faster? He commits his whole life to making Leinster successful. It's very admirable."
As a player, Cullen won three Heineken Champions Cups, four Celtic League/Pro12s, and a Challenge Cup.
Now as head coach, he has led Leinster to another Champions Cup title and four Pro14/URC crowns. Tomorrow, he hopes the province will have another huge success to celebrate as they clash with La Rochelle in the Champions Cup decider in Dublin.
It would mean a lot to so many people, but none more so than Cullen.
"He's the same character he was when he was playing," says Cronin.
"No bullshit about him. He has high standards and expects a lot from people.
"He bleeds Leinster." 
Get instant updates on your province on The42 app. With Laya Healthcare, official health and wellbeing partner to Leinster, Munster and Connacht Rugby.