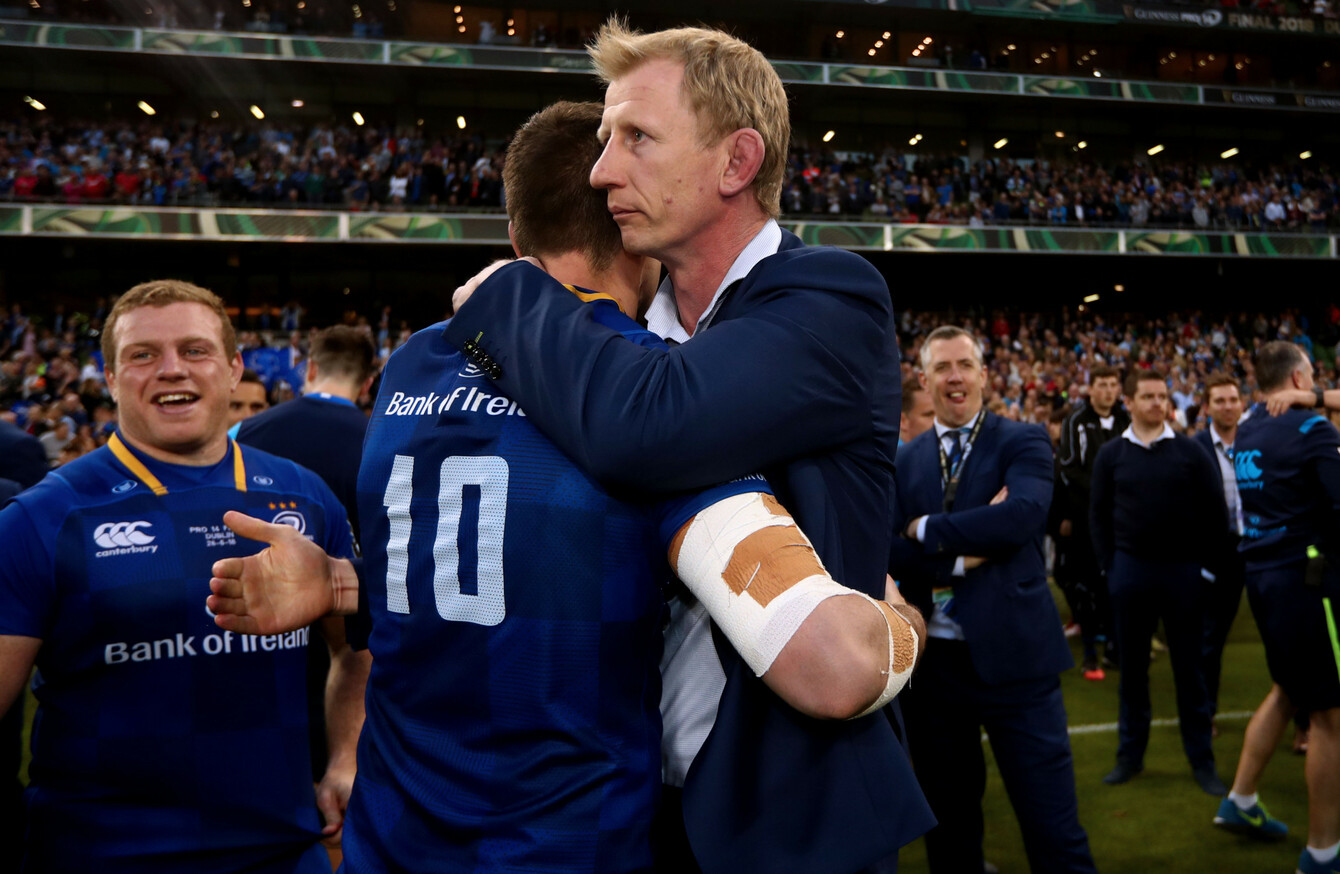 Cullen celebrates with Johnny Sexton at the Aviva Stadium.
Image: James Crombie/INPHO
Cullen celebrates with Johnny Sexton at the Aviva Stadium.
Image: James Crombie/INPHO
THERE WASN'T QUITE the emotion of Bilbao, but with the double that had escaped three previous European title-winning teams now secured, Leo Cullen could finally sit back and revel in the achievement alongside the two pieces of glistening silverware.
It has been a long, hard season for everyone involved and the last few weeks, in particular, have been a real examination of Leinster's physical and mental credentials as much as anything else as they battled with fatigue, injuries and general weariness to deliver one final performance.
To park the emotion surrounding a fourth Champions Cup and grind out a hard-fought win over Munster a week later was testament to the attitude and hunger of the players, while also underlining the province's remarkable resource pool in the fact they could get over the line without the likes of Johnny Sexton, Rob Kearney and Dan Leavy.
Even by Leinster's sky-high standards, the level of performance seemed to increase week-on-week as the season went deeper and the big games kept coming at an unrelenting rate, culminating with Saturday's Pro14 final defeat of Scarlets.
So it was understandable that Cullen was relieved as much as anything post-match, the Leinster head coach visibly shattered from a demanding couple of weeks, but delighted and proud of what a special group of players have been able to achieve under his tutelage.
Perhaps there is greater appreciation, too, because Cullen saw first-hand how far the province has come in a relatively short period of time having fallen away from the standards set by Michael Cheika and Joe Schmidt during those heady years.
Cullen, with no experience, was appointed to succeed Matt O'Connor in August 2015 after the Australian's ill-fated tenure came to a premature end and has, alongside Stuart Lancaster, Girvan Dempsey and John Fogarty, managed to haul the club away from those turbulent times and back to rarefied heights again.
Leinster's ascent is incredible when you think where they were just two years ago, having lost five of their six European pool games and then being blown away by Connacht in the final if the Pro12 at Murrayfield.
Safe to say the last two years have been a rollercoaster ride, then, and while this will go down as Leinster's greatest-ever season, a lot of hard work has gone in behind the scenes to make days like Saturday happen.
"I think the club were probably a little bit brave as well to give it to me in the first place," Cullen said. "You feel quite privileged to be able to do it. It's probably earlier than I ever thought it would happen, certainly when I stopped playing rugby, I wasn't too sure about getting involved in coaching rugby in the first place.
"When I was in England, in 2007, I was coming back and the big thing was really just trying to play for Ireland again, that was one of the big motivations. I remember talking to Cheiks at the time, during that stint while I was away, and you could see he had something special about him as well, and he had this hope of doing well in Europe and that was definitely a big obsession for me as you get to the end of your career.
"My last game for Leicester Tigers, we lost a European final. One of the reasons I went there in the first place was I thought they had a better chance of winning trophies, and we were lucky enough to win a couple, but the big one eluded us over there, and we lost that last game against Wasps when Leicester were going for a treble at the time [Premiership and Anglo-Welsh Cup].
"So yeah, you come back at that stage and it's incredible to think really. Like, three trophies as a player, and what the guys have achieved this year is pretty special, so I feel very lucky to be involved with the team, and it's been a rough ride at times but very enjoyable as well."
Cullen admits the rigours of the job take their toll over the course of an exhausting season with every decision and selection call placed under the microscope and left open for criticism.
But all of the difficult days, sleepless nights and sacrifices have been rewarded, and being able to end Leinster's four-year wait for silverware is vindication for the former second row, even if he still questions what this coaching lark is all about.
"I think I probably saw a lot of other coaches and I thought I don't really fancy what they're doing, because it looks like it's going to be quite draining on your mind, is probably the best way to describe it," he continued.
"I'm very thankful to Matt [O'Connor] as well, because Matt gave me the opportunity to step in when I stopped playing, and obviously taking over from Matt after that was a reasonably turbulent period for the club, so to see the work that has gone in behind the scenes to get the club to this point, it probably makes it all a little bit better in many ways, because it hasn't been straightforward.
"It hasn't been straightforward at all, but I feel very lucky because you get a huge amount of support from behind the scenes.
"There is so much that goes into this guys, and this is not cliche stuff. There's so much that goes into it because all the families, friends and supporters, and that's probably the unique thing about the provinces, because you see the connections with supporters that are there.
"It's not just stuff you make up, it's real, because they live it probably more than anybody, particularly when things aren't going well. They have to read stuff that's not nice, when the team is not going well and you guys potentially write things that aren't nice, they're the ones who have to face it more. It's easier for the players and staff to get on with things.
"One of the big things is the strong connections and the love that the team gets from everybody else, so it's unbelievable reward."
Cullen's stock has soared in his time in the Leinster job and alongside Lancaster has gained huge experience as a head coach, as well as continuing the success he achieved on the pitch with the province into his coaching career.
The former Ireland international became the first man to win the Champions Cup both as a player and coach, but for all the good days this year, Cullen admits he still questions why he does it every day.
"I still ask myself the question every day," he explains. "But it does take it's toll, that's part and parcel of it. The scrutiny is huge, I think of the other coaches, and particularly the Irish coaches this year, I'm the only one that's left in situ [Rassie Erasmus, Les Kiss and Kieran Keane have all left].
"Obviously three have left for different reasons, so that's just part of the job spec. For every team going well there is probably a team not going as well, and when a team is not going as well it's almost like, one team is going well so another coach comes under pressure for his job. Not everyone can go well fellas, not everyone can win.
"So I feel for some of the other coaches. I talk to them, post their departures as well. It's not a straightforward job so we'll enjoy today while we can."
Enjoy the next few days, but the nature of the job demands the page be turned pretty quickly and attention will turn to next season and building on what has been achieved this time around.
"This week, half my mind sort of lives in the present, so this week we spent a bit of time just talking about pre-season and mapping out what that looks like, trying to bring some more players through," Cullen added.
"You think back to pre-season and we played our first game against Perpignan at the start of August, and here we are now. Jordan Larmour played that game and look at the season he's gone on to have, so basically trying to get the next Jordan Larmour is probably at the forefront of our minds now."
The42 is on Instagram! Tap the button below on your phone to follow us!