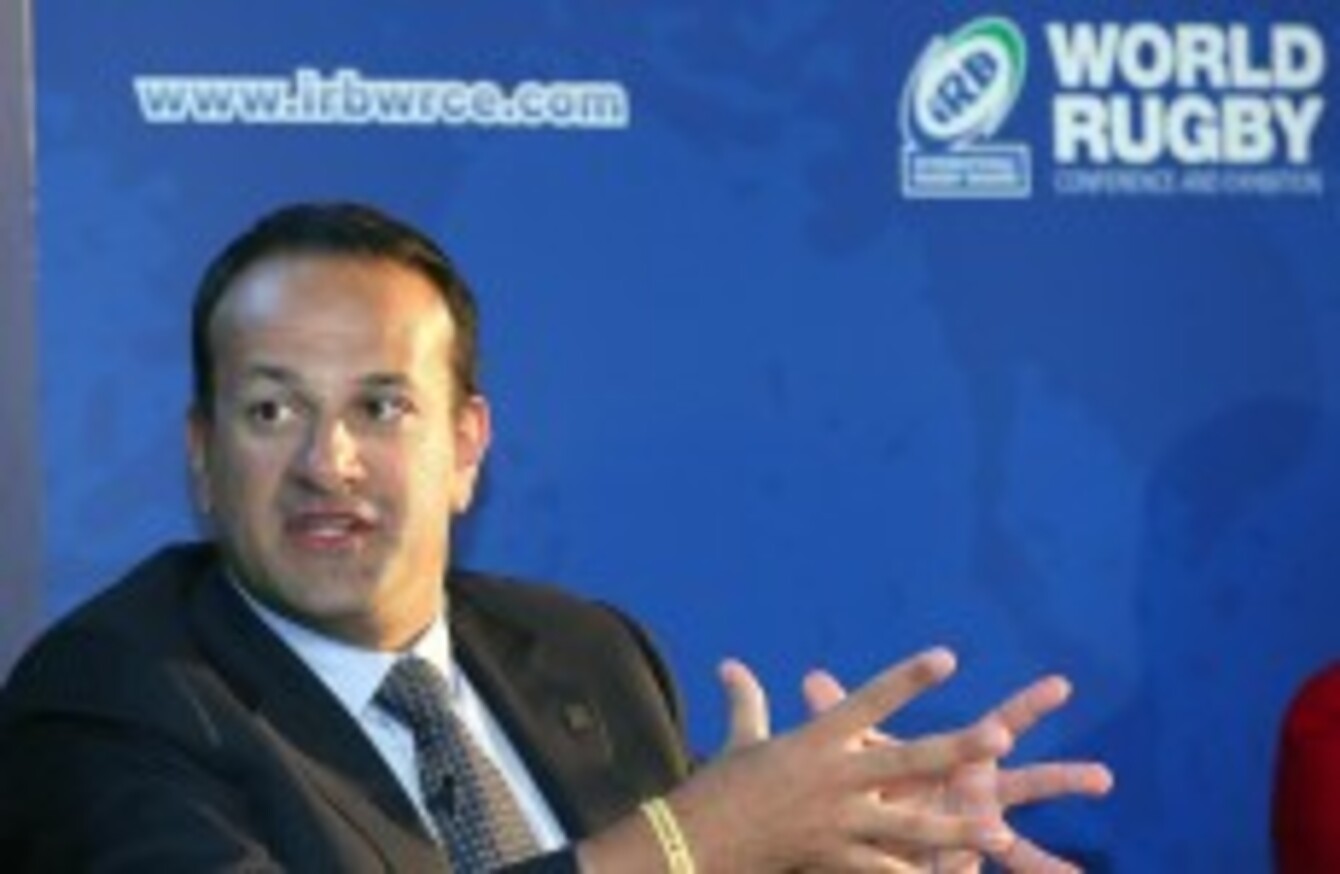 Sports Minister Leo Vardakar.
Image: Dan Sheridan/INPHO
Sports Minister Leo Vardakar.
Image: Dan Sheridan/INPHO
SPORTS MINISTER LEO VARADKAR has rated Ireland's chances of hosting the 2023 Rugby World Cup as 50/50. The Minister believes South Africa represent Ireland's greatest threat to securing hosting rights.
"I think [our chances] are very good," he said. "Our main competition is going to be South Africa, Italy might make a bid as well. A big thing is that we have full government backing and that makes a big difference.
"The only thing that might go against us is that the next two World Cups are in the Northern hemisphere so people might take the view that it's the Southern hemisphere's turn, and it is the first time we're going for it. I think there's at least a 50/50 chance that we'll pull it off and if we don't, I think we'll be in a very strong position for 2027."
Speaking on Newstalk's Off The Ball, Minister Varadkar said the Irish bid would focus, in part, on rugby bringing people together on both sides of the north-south border.
"The other aspect of this," he said, "which I think is a big positive, is the north-south aspect of it and the kind of theme that we'll be developing is the whole idea that rugby is a sport that can bring people together.
Remember the World Cup that was held in South Africa after the end of apartheid, and it had been a very white Afrikaaner sport and they managed to get the whole nation to embrace the Springboks. I think we can tell a similar story around Ireland, not so much political unity but the fact that rugby is a sport that brings people together.
"Sport in general brings people together but even in the Troubles, even in the worst of times, the rugby team still travelled. We'll be recalling that particularly when we need to get a story and we're trying to get the vote in Japan or the vote in Canada."
Minister Varadkar noted that there will be a large cost in putting the bid together and, if successful, staging the event. The International Rugby Board, he said, will look for a fee 'in the region of €120m' for the hosting rights but that does not have to be paid until after the tournament.
He added, "There are all sorts of different numbers floating out there. Roughly speaking if we got more people to come to Ireland than went to New Zealand but fewer people that went to France, somewhere in between, we would get in an extra €200 million in tax revenues. [It's] not quite 300,000 people but not far off.
"You have to do the economic analysis but a lot of that stuff is a pseudo-science quite frankly. You can point to things that did produce a genuine economic return. The Notre Dame-Navy game that was held in Dublin a couple of years ago, the government put about €250,000 in marketing into that and we had 30,000 Americans who came here for nearly a week. If each of those Americans spent €10, it was a net benefit to the state. There are things that do add it but promoters will always claim that their idea adds up and most of the time it doesn't."
The Minister continued, "When I think about the numbers when it comes to the Rugby World Cup, I want to do it because I want to do it. I think it would be great for the country and great for sport. I just don't want to be left with a massive bill at the end of it so if it's anywhere around break even, or even if it costs a small amount, I think it's worth doing.
"Once we're not left with some huge bill like Athens was left with after the Olympics or Sheffield after the Student Games, that's the territory we don't want to get into."
For the full audio click here — interview starts at 49:45.