Murray Kinsella reports from Bilbao
COINCIDENTALLY ENOUGH, THE first local who crossed our path was a rugby fanatic.
Bilbao isn't globally renowned as a rugby hotbed but there is serious interest from people here in tomorrow's Champions Cup final.
They may not all be hardcore enough to travel to England to take in a Premiership clash between Saracens and Harlequins – as this one local man and his son were – but many of tomorrow's sell-out crowd of 53,000 will be natives of the Biscay province.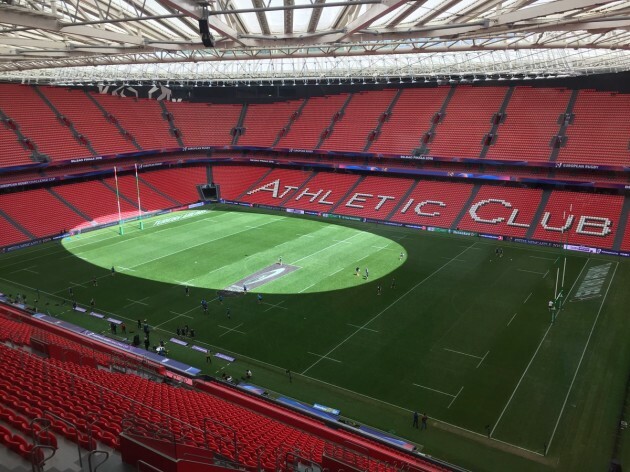 The42 Leinster had their captain's run at San Mamés today. The42
The city of Bilbao itself doesn't have a club in Spain's top-flight league but sides from the nearby towns of Gernika and Getxo compete in the División de Honor de Rugby.
The venue for the final, San Mamés, is impressive and the tight, tiered stands should ensure a superb atmosphere when it's full tomorrow, after Gloucester and Cardiff Blues have warmed the place up in this evening's Challenge Cup decider.
Home to football club Athletic Bilbao, a proud Basque institution, a first visit to San Mamés for Leinster and Racing 92′s captain's runs today brought several accurate suggestions that this is what the Aviva Stadium in Dublin would look like were it not for the Havelock End.
San Mamés is definitely a slick stadium and the city of Bilbao is a very cool place for a European rugby decider.
But the main issue around this year's finals weekend has, unfortunately, been the extortionate pricing of hotels and accommodation in the city during the build-up to the final.
The ridiculous costs have dropped at the last minute this week, hoteliers apparently realising that they've been left with empty rooms, but some of the travelling Leinster fans have instead opted to base themselves in places like San Sebastián and Santander, both more than an hour away by car or bus.
One photographer who went looking for Leinster fans this afternoon in order to get a few snaps of the atmosphere in Bilbao reported that he had come across more of the province's players than their supporters.
There were likely plenty more of the Leinster support enjoying their pintxos and patxaran in San Sebastián, the price of staying in Bilbao having made that far more cost-effective.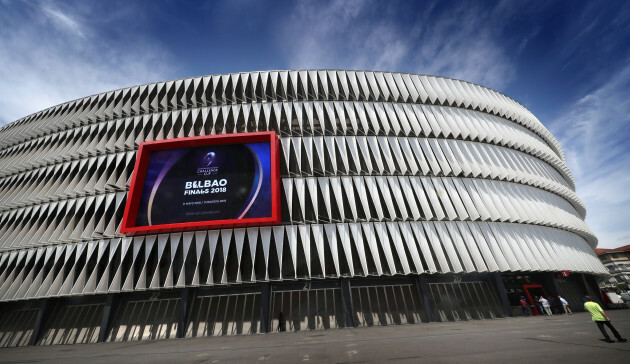 Billy Stickland / INPHO The stadium in Bilbao is an impressive structure. Billy Stickland / INPHO / INPHO
That said, the travelling support's presence will build in Bilbao over the course of this evening and tomorrow morning, with Leinster head coach Leo Cullen expecting to see plenty of blue covering over the bright red seats of San Mamés.
"I came over here last week to look at the stadium and it is an amazing place," said Cullen. "I'm glad we're not playing Munster because it is very red out there! The players are pretty excited being out there today."
Cullen also drew an interesting parallel between Leinster and Athletic Bilbao, whose policy is to sign only players who are from the Basque Country.
"[Leinster's players] understand some of the traditions with the club," said Cullen. "It's very similar to ourselves in that we base a lot of things on homegrown players.
"It is a fantastic setting and hopefully we will get a good crowd of supporters to the city today and tomorrow."
The Leinster squad arrived last night, their flight from Dublin also carrying some of the province's fans, who took the opportunity to applaud their team when the captain of the Aer Lingus flight wished the team good luck.
Leinster were relaxed and confident-looking at their captain's run today, although much the same could be said for Racing 92 who took to the pitch after Leinster.
Donnacha Ryan was of obvious interest to the Irish journalists present and he was in good spirits, reporting on his affection for his second row partner, Leone Nakarawa.
"He'll greet you every morning with a big hug, which is unusual but incredible and it makes me smile," explained Ryan.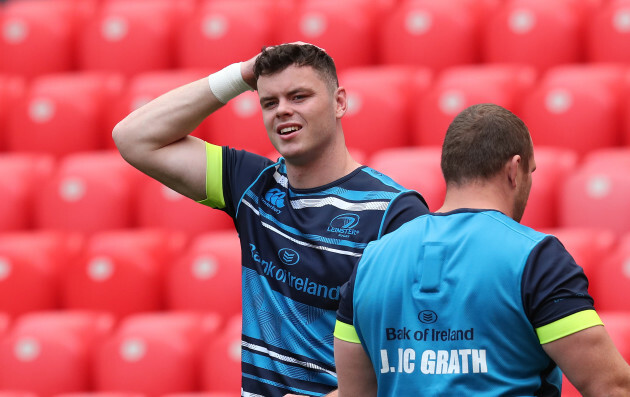 Billy Stickland / INPHO James Ryan during Leinster's captain's run. Billy Stickland / INPHO / INPHO
With their captain's run out of the way early this afternoon, many of the Leinster players grabbed the opportunity to take in some of the sights in Bilbao today, the famous Guggenheim museum chief on the hit list for most.
The weather in the city today was pleasant, starting off sunny and warm before clouding over. But the rain that has been forecasted for tomorrow looks certain to fall, which could alter how the Champions Cup decider goes.
Tonight's Challenge Cup final provides an early taste of European action in Bilbao, while tomorrow's Continental Shield final between Russia outfit Enisei-STM and German club Heidelberger in Getxo will hopefully get a decent crowd.
But the most highly-anticipated moment of the weekend from a Leinster point of view comes at 4.45pm Irish time tomorrow as Cullen's players get their bid for a fourth Champions Cup title underway.
It might have been a stressful and costly journey for many Leinster fans, but trophy success tomorrow would make it all worthwhile.
The42 is on Instagram! Tap the button below on your phone to follow us!