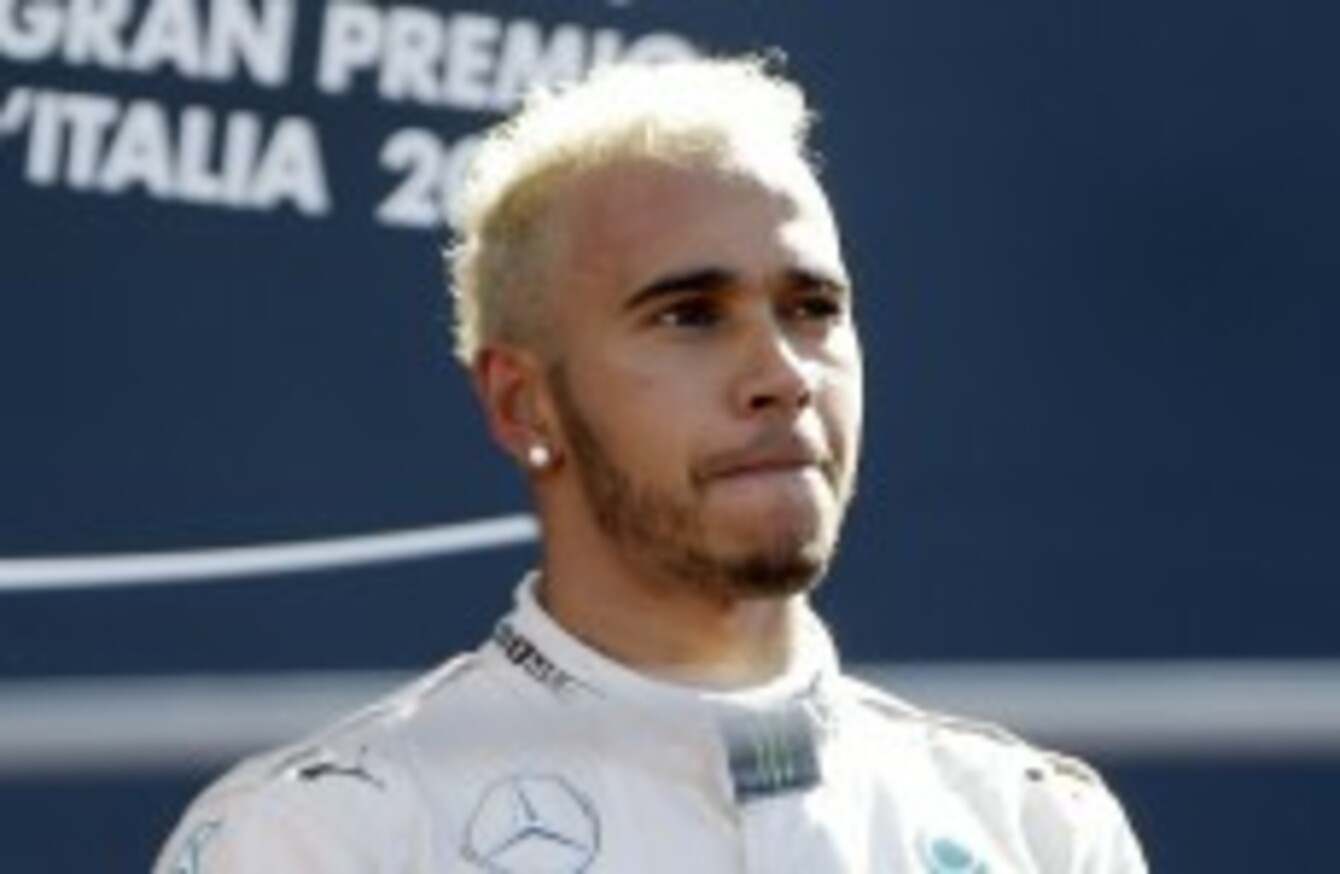 Lewis Hamilton on the podium after winning the 2015 Italian Grand Prix today at Monza.
Image: Associated Press
Lewis Hamilton on the podium after winning the 2015 Italian Grand Prix today at Monza.
Image: Associated Press
LEWIS HAMILTON'S VICTORY in today's Italian Grand Prix was confirmed this evening when the race stewards decided to take no further action after investigating claims his Mercedes car was running on low pressure tyres that infringed the regulations.
Mercedes were summoned to explain the issue by racetrack stewards, leaving the result in suspense.
The newly-blond defending two-time world champion, who had produced a flawless drive on his way to a consummate victory by 25 seconds, said he knew nothing of the controversy, which erupted during the post-race ceremonies conducted by Star Wars film director George Lucas.
Hamilton's win gives him a luxurious 53-points lead over his nearest championship rival and Mercedes team-mate Nico Rosberg in the drivers' title race. The German retired with a blown engine with two laps remaining while running in third place and chasing second-placed Ferrari driver Sebastian Vettel. Both Hamilton and Rosberg's cars and tyres were under investigation.
The technical delegate Jo Bauer's report claimed that Hamilton's left rear tyre was 0.3 psi below the required pressure and Rosberg's was 1.1 psi below when their tyres were checked on the grid before the race. Bauer's report was referred to the stewards. The same tyres on both Ferrari cars were also checked and found to be within tyre suppliers Pirelli's specification for 19.5 psi.
Hamilton was told by his team to push hard in the closing laps to build up an advantage ahead of the second-placed Ferrari of four-time champion Vettel. He finished ahead by 25.042 seconds, a significant margin if he were to face a possible post-race penalty of 25 seconds. Rival teams claimed that Hamilton could, or should, have been disqualified.
Williams' chief technical officer Pat Symonds told Sky Sports television: "I expect quite a big penalty — a disqualification. It's out of my hands, but I don't think it's a tough decision if the measurements are verified."
The Williams team drivers Felipe Massa and Valtteri Bottas finished third and fourth in the 53-laps race.
Italian tyre suppliers Pirelli had increased its specified tyre pressures ahead of the race after much criticism of their performance at the Belgian Grand Prix where Rosberg and Vettel both suffered high-speed tyre failures.
Mercedes technical chief Paddy Lowe said he and his team did not understand why they were being called to see the stewards: "We don't understand it to be honest. We've been summoned to the stewards, so we'll go there and explain it. All I know is we set our pressures fully supervised by the Pirelli engineer. He was perfectly happy with them as they were set."
Lowe confirmed that the late instructions to Hamilton to push hard were related to the possibility of a penalty. He added: "With an abundance of caution, we thought let's make a gap."
Hamilton said he knew nothing about the controversy when was quizzed at the post-race news conference: "I wasn't aware of it."