THE BEIJING GAMES in 2008 is exactly when Liam Jegou decided he wanted to represent Ireland in the Canoe Slalom at the Olympics.
Beijing marked Ireland's most successful performance in the event since its introduction in 1992, Ireland's Eoin Rheinisch put in a heroic performance to finish 4th, just off the podium after a disappointing start.
Watching from France at 12 just years-old, Jegou was inspired to one day emulate what Rheinisch had already achieved.
And the Clare native was already well versed in tackling the tides of Galway Bay from a young age, but the waters would widen in the future.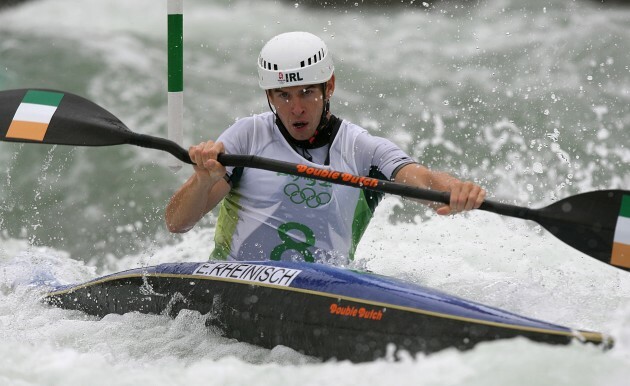 EMPICS Sport Rheinisch in action at the 2008 Beijing games. EMPICS Sport
In October last year and now a 22-year-old, Jegou was awarded a scholarship from the Olympic Council of Ireland to help him achieve that aim and train to qualify for the 2020 Olympics in Tokyo.
Still based in France, he has enjoyed tremendous underrage success and even narrowly missed out on qualifying for the 2016 Games in Rio. The Olympic ambition still very much burns this time around.
"The Olympics has always been the dream," he tells the42.ie.  "I remember watching the Olympics in 2008 and just thinking 'wow', it's amazing.
"I started paddling slalom then. I had started kayaking when I was five or six with my dad in Ballyvaughan but when I moved to France is when I really started slalom.
"I remember seeing Eoin Rheinisch on the telly and thinking 'wow there are Irish paddlers out there' and thinking that I can be an Olympian too."
Jegou competes in the C1 category of Canoe Slalom event. Competitors race against the clock to cover a course of various gates to paddle through, all while tackling intense rapids white water rapids. Errors are penalised by additional seconds added to a competitor's time.
He made waves at under-age levels; winning a silver medal at the 2014 Junior World Championships and was among the best at the U23 World Championships last year, catching the attention of the OCI.
But at the age of 7, he left the Clare village of Ballyvaughan with his family to live in France and last year relocated to Pau to aid his training.
"My dad is French and my Mum is Irish, I've been living in France for the bigger part of my life. We moved to France in 2003.
"As of the end of last year, I decided to go and train in Pau in the south of France, far away from all my family and friends just to have the best conditions possible for training.
"Pau is one of the best areas to train in my sport, there's an international course there and a lot of athletes training there from France and abroad," he explains.
But he does find it difficult, training away from his family. An Irishman first and foremost: he misses his family at home and within France.
The sacrifices made are not only a choice but are necessary for him to compete at the highest level.
"I come back to Ireland quite a bit. I have my family in county Clare and in Mayo. It's all just been a lot of back and forth to see the family but the training has been done in France.
"There are some difficulties to being an Irish athlete training in France but in canoe slalom you're up against guys who are training on white water (the sport's conditions) every single day.
"They are physically excellent in every area, if you want to be able to compete with them, you need the white water," he says.
Years of steady progression from the junior ranks into senior level has seen Jegou gradually work his way into the Olympic picture heading for Tokyo, but that was almost a reality four years earlier than expected.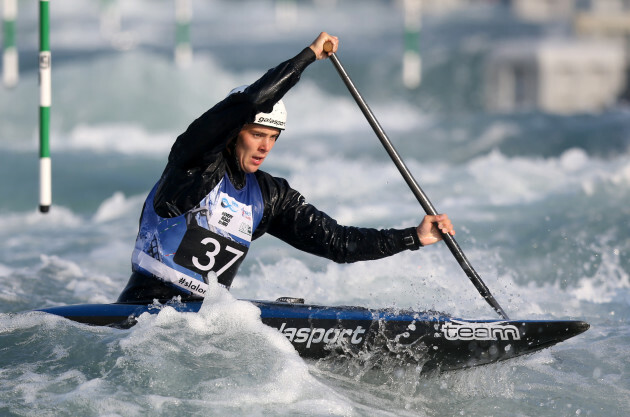 PA Archive / PA Images Jegou in action at the 2015 World Championships in London. PA Archive / PA Images / PA Images
In May 2016, Jegou put in a career best performance at the European Championships to put him in contention for qualification for the 2016 Rio Olympics.  A mammoth 98 second effort with no penalties saw him in the mix.
The 20-year-old narrowly missed out and his disappointment was further compounded by an injury that would ultimately affect him for an extended period and bring his blooming career to a near stop.
What he felt started out as just a niggle, proved to be much more serious than first thought. He would miss out on nine months of competition and training until just over a year ago.
The concerns even led Jegou to doubt if he would ever get back to where he was before.
"I had been lucky so far in my career with injuries. I only had small back injuries and nothing serious.
"At the end of 2016, I picked up a pretty bad injury on my hip. I tore a labrum in my hip, basically. It's some boney tissue that I tore in my hip just from the positioning in my canoe and a lot of training.
"That stuck with me for a long time. That's the thing, we took a while to figure out what was wrong with so I had hurt myself in the middle of 2016 and I just powered through it, I thought it was a muscle injury.
"I thought I could manage it myself without seeking any proper help and I just made things worse for myself.
"At the end of 2016, I seen a professional at the Institute of Sport in Ireland and they directed me as to what I should be doing and they really put me back on the right path to recovery," he says.
Jegou feels that the recovery has made him stronger and has served as a chance to mature, but feels it was difficult for a man who knew nothing but canoeing.
"It was really tough, I've always been pretty well season-after-season but in 2017 it was all about managing the injury. Getting back into the boat first of all, I had a couple of months: from October 2016 until June 2017 I didn't paddle in C1 at all.
"I had a tough winter to say the least, but I feel like it made me better. I learned a lot of stuff off the water and hopefully that will help me for the rest of my career.
"I'd say I matured quite a bit, I realised that in order to perform in slalom, there's a lot of stuff outside of the sport that you need to get right.  I needed to sort myself out with studying, where I train, with who I was going to train with and how I was going to train.
"I think I organised myself a bit better and also you realise when you get injured that you're not invincible and you need to take care of yourself a bit more. It's good that it happened now," he feels.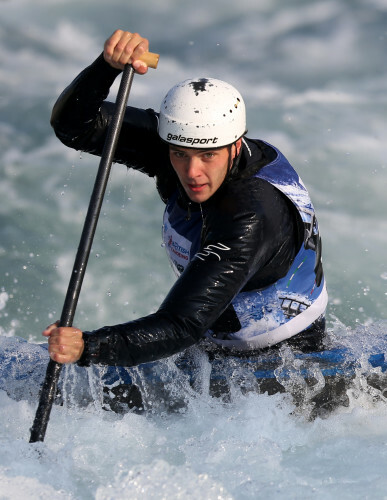 PA Archive / PA Images Jegou has gotten his career back on track after his problems in 2016 and 2017. PA Archive / PA Images / PA Images
The last year has been a return to the climb for Jegou, back on the steady trail to surpass his original feat.
The European Championships in the Czech Republic last month have really seen him reclaim some of his best form.
A 25th-placed position fails to resemble how close he was to qualifying for a semi-final as he explains. A small error meant that he didn't progress and although disappointing, he's encouraged by his performance and feels he's on the right path.
"I had really high expectations for the European Championships in Prague. I was there to go for a top-10 (finish), which I've never done in my career. So it was a bit ambitious.
"In the second run, I had a good run and I just picked up a stupid touch. It kicked me out of the semi-final, so I had no opportunity to make the top ten.
"I was happy with the way I paddled all week, I was heading into the race very confident. I was happy with what I was doing out on the water but the result was a little bit disappointing.
"It's never easy when it's a European Championships, there's a lot of competition. There's only 15 boats that go through the first run and 5 in the second run.
"So in the second run: there was a lot of very good athletes who had messed up their first," he says.
There's no time for a rest for Jegou, however. The Canoe Slalom World Cup will see him compete in the first of the five events later this month; the overall winner after the five events will take the momentum into the World Championship in September.
"The World Cup works out like, there's five World Cups in a season and at the end of the season there's the overall result. That's the World Cup ranking. There's the World Championships after the World Cup series.
"I'm very pumped. I've trained a lot this winter, I've been training for a couple of years now at a very high intensity. Last year was complicated, I was injured so it was a tough season.
"Back in 2016 I was really close to making finals before I injured myself and so I'm really hoping to get back to that level or better it. (I aim to be) close to a final or making a final at senior level at the World Cups to prepare for the World Championships at the end of the year," he says.
The42 is on Instagram! Tap the button below on your phone to follow us!