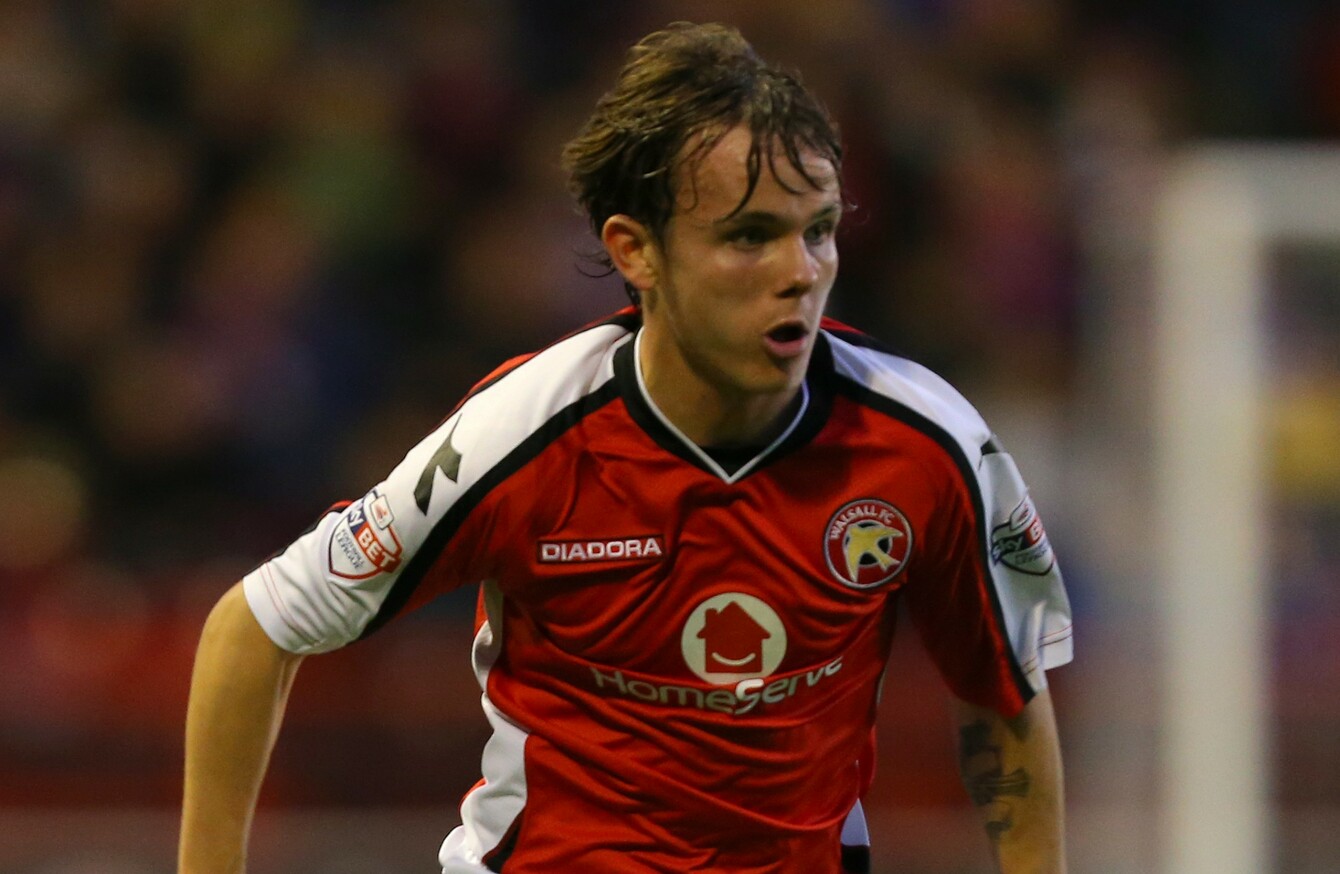 Walsall's Liam Kinsella is highly rated.
Image: Dave Thompson
Walsall's Liam Kinsella is highly rated.
Image: Dave Thompson
THE DIFFICULTY FOR young Irish players hoping to make the grade at top English clubs has been well documented in recent times.
Some studies have suggested that of the players deemed good enough to get a deal, only 6% go on to earn a second contract, while 75% of those who return home after failing in Britain never even play at League of Ireland level again.
However, there is one potential alternative, which may reduce the chances of future players becoming part of these disconcerting trends.
Niall Quinn and others that The42 have interviewed in recent months haven spoken of the benefits of starting off at a lower tier side.
Rather than getting lost amid the wealth of unfulfilled potential at the academy of a Chelsea or a Man City, it has been suggested that many young players may be better off beginning their career at League One or League of Ireland level, before graduating to a higher standard.
One player currently reaping the benefits of playing at a lower division level is Walsall's Liam Kinsella.
If the name rings a bell, it's because Liam's father Mark was a well-established footballer in his own right. Kinsella Sr earned 48 caps for Ireland and played in all of the side's games at the 2002 World Cup. The former Irish Footballer of the Year also made over 500 appearances as a professional, more than 100 of which were in the Premier League with Charlton and Aston Villa. He began his career in the Fourth Division of English football and played at every level from Conference to Premier League at some point, before briefly acting as caretaker manager of Drogheda United in the League of Ireland recently.
Like his father, who also had a stint at Walsall towards the end of his career, Liam Kinsella hopes to gradually work his way to the top with a combination of talent and perseverance, and his patience is already paying off, as at 19, he has already enjoyed some first-team action — not many teenagers at top Premier League clubs could say the same.
Having been at Walsall since the age of eight, Kinsella is well aware of what it takes to be a professional footballer. After signing his first professional contract, roughly a decade after joining the club, in Match 2014, he has cited the League One side's willingness to place faith in young players as a key reason for his optimism regarding the future.
"I know that the hard work is only just starting," he told reporters at the time. "It's time for me to knuckle down and continue to learn.
"But seeing so many lads come through the ranks here and make it into the first team really motivates me.
"I look at what the likes of Jamie Paterson have gone on to achieve and I know that I'm at the right club to develop me as a player.
"I certainly have the desire and willingness to work.
"The set-up and the coaching staff that are in place here will give me every chance to progress and I intend to take this opportunity."
And while his coaches are understandably reluctant to play the teenager regularly, there have been signs of progress in recent times. In total, Kinsella has made 10 appearances for the club, five of which have been this season and three of which were over the past month, under the watchful eye of ex-Ireland international Sean O'Driscoll, who is Walsall's current head coach, after a short stint as Liverpool assistant boss came to an end earlier this season.
Kinsella scored in his first league appearance of the season this year back in October against Burton Albion, coming into the team because regular right-back Jason Demetriou was away on international duty with Cyprus. However, despite an impressive showing in the 2-0 victory, it wasn't until December that the youngster featured again in League One.
"That was probably one of the best moments of my career so far against Burton," he tells The42. "It was a top-of-the-table clash."
He continues: "The last two games I've started (before being on the bench for Saturday's 3-2 win over Bury). It's been exciting.
"I'm taking it game-by-game. Hopefully I can keep playing, but every time I play, I'm going to give it my best shot, as I want to play as many games as possible."
The club are currently chasing promotion in League One and Kinsella is optimistic that they will be a Championship side next year.
"The aim at the start of the season was obviously to get promoted and we've put ourselves in a brilliant position now with 20 odd games to play. We want to continue that towards the backend of the season and hopefully get promoted."
Despite deputising as a full-back recently, Kinsella sees himself more as a midfielder and says he shares "similar characteristics" to his father, who also played in the latter position.
"I've obviously been watching (my dad) play while growing up. He's been a great influence. My mum and dad have both been great influences. My mum's been taking me to all my games and making my meals. So hopefully that'll help me as a player and a person.
"I prefer to play midfield rather than right-back, but I'm enjoying playing right-back at the moment. I love tackling and defending, trying to break up the play and start counter-attacks. That's what I'm trying to do and why I'm in the first team at the moment."
(Kinsella scores for Walsall reserves against Stoke City)
Having been born in Colchester, Kinsella is eligible for both Ireland and England at international level, though he seems keen on representing the Boys in Green, after recently featuring for Paul Doolin's U19 side.
"I've played for the Ireland U19s and the aim towards the future is to play my way into the U21s. I'll just have to play the best I can and hopefully get recognised, get a call-up and play for them soon."
Kinsella is also an avid fan of the Irish team, having watched all of their Euro 2016 qualifiers, citing Robbie Brady and Wes Hoolahan as two of his favourite players in the side.
"I'm very excited about watching them in the Euros this summer," he adds. "I know they've got a really tough group, but hopefully they can get past the group stage."
And speaking of Irish footballers, 22-year-old winger Anthony Forde has been a regular presence in Walsall's side this season, and Kinsella believes the Limerick native is good enough to represent Ireland one day.
Anthony's a quality player — he's got great ability on the ball. I'd definitely say he's one to watch for the future. I watch him in training every day and he has a lot to give, so I reckon he would be a good player for Ireland to look at."
Moreover, the success of young players like Forde will inevitably give Kinsella hope that he can establish himself in the side, fulfilling a genuine childhood dream in the process, given that he has been at the club since he was a young boy.
Though he has joked about his love of Formula One and an alternative career as a driver in the sport, in reality, Kinsella has been obsessed with emulating his father and enjoying a long career in the game practically since birth.
Nevertheless, the prospect of playing in the Premier League, or moving to a top English club, is not something that the youngster is currently contemplating.
"I've been at Walsall since I was eight years old and all I've wanted to do was play first-team football and I feel at Walsall, there is a great opportunity for me to play first-team football.
"I obviously want to play as many games as possible and give my all to Walsall. If that takes me somewhere else, it takes me somewhere else, but at the moment, I want to focus on Walsall.
"I enjoyed school but football is the one thing I've been focused on pretty much my whole life. I didn't really want anything else apart from football. As I'm playing it now, I'm going to have to give it all I've got and hopefully, it takes me to the top level, as it's all I want to do."